We saw what a great year it has been for Bitcoin and the whole industry! 2020 has been an incredibly productive year for our team! ChangeHero team is going to round up the main updates to our platform. What steps have we taken to provide the best crypto exchange experience to our users? Let's recap!
Wallet Partners of 2020
Early into 2020, Trezor and ChangeHero announced that ChangeHero is integrated in the native client for the Trezor hardware wallets. This partnership is significant because Trezor is one of the leaders on the hardware cryptocurrency wallet market. ChangeHero, at the same time, is a non-custodial exchange platform which neither holds users' funds nor requires an account to use. Thanks to this synergy, users don't give up their funds, which are securely stored on the device.
In June, another hardware wallet, CoolWalletS incorporated exchanges with ChangeHero into the companion app. CoolWalletS is unique since it was designed to work with mobile devices. Want to know how it works? Check out the guide to exchanging crypto in the CoolWalletS app we prepared! Michael Ou, CEO of CoolBitX (the developer of the wallet) left a ChangeHero review commending our quality: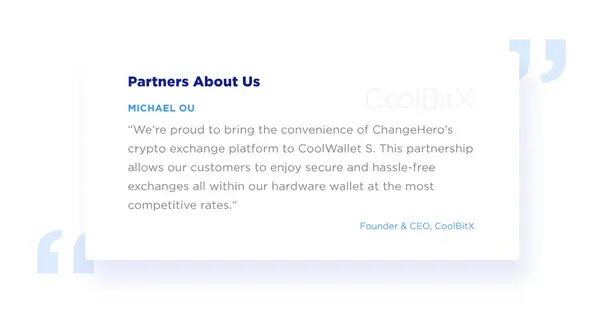 Fiat-to-crypto Partners of 2020
To introduce crypto to more users, the ChangeHero platform took care to include on-ramps. In 2020, we significantly expanded on the fiat-to-crypto and crypto-to-fiat capabilities of the platform. By partnering with Mercuryo, we introduced buying and selling dozens of crypto assets for USD, EUR and RUB.
In mid-2020, these capabilities were bolstered by Coinify, which helped introduce even more crypto and fiat options for purchasing on ChangeHero. The number of new local currencies introduced with their widget is 28. The cryptocurrencies you can buy with them are BTC, ETH, BCH, BSV, LTC, NANO, OKB, QTUM, USDC, USDT, XLM and XRP.
New Partner Aggregators in 2020
Cryptocurrency exchange aggregators are handy services that help you compare rates of different services in real-time. ChangeHero has been featured on a variety of these services in 2020!
Invity.io, exchange and on-ramp provider aggregator by SatoshiLabs, was launched this year offering a strong lineup since day one. As a SatoshiLabs partner, ChangeHero is available as an option among top crypto exchanges on Invity. The new Trezor Suite has the support of the service so you can enjoy the best crypto exchange experience by ChangeHero in updated clients, too!
Another platform that integrated ChangeHero in 2020 is SwapSpace. The aggregator collects offers from a dozen of providers and lets you compare them. Check them out to see for yourself that ChangeHero finds the best crypto exchange rate on the market! ;)
Finally, more recently, ChangeHero became featured on DApp.com. We have the highest rating in the category, and you can see the ChangeHero reviews on the platform!
New Currencies on ChangeHero in 2020
At the start of the year, ChangeHero was offering swaps for 46 coins and tokens. By the end of 2020, though, we had a massive expansion! Now ChangeHero users can exchange 88 cryptocurrencies against each other. Yet another step taken in making ChangeHero the best crypto exchange option.
New Features on ChangeHero
In 2020, we introduced zero confirmation crypto exchanges for the most popular pairs on the platform. This unique feature has helped us make crypto swaps truly fast and improve the user experience significantly. If you are curious about how it works, we have a guide for you!
This year, we have updated the design of our landing page and introduced a few new handy pages. Now you can see useful market stats, blog articles, ChangeHero reviews and shortcuts on our home page, all in one place.
This is not to mention our blog, which is available in three languages and hosts plenty of educational and informative articles.
Collaborations of 2020
Press about us
ChangeHero was published and featured in crypto-related media throughout the year. Our content was published in The Capital and The Startup . Among the outlets that wrote about ChangeHero this year are U.Today and The Money Mongers. Press releases about our partnerships were featured in Chain Bulletin and AMB Crypto.
Interviews
In 2020, we got a chance to host a number of interviews with prominent community members and blockchain professionals. Here are some of them:
Campaigns
Of course, the ChangeHero team has had a few exciting campaigns with our partners in 2020. Giving back to the community is something we enjoy and would love to keep doing! During these events, we held giveaways on Twitter, published handy guides and offered exchanges with no fees.
We held 12 giveaways of sats, wallets and merch for our user base and jointly with partners; 
You asked and we delivered: so far, there have been 5 zero-fee offers, and there is certainly more to come.
For the Christmas and New Year, we have decided to try something new. During this holiday season, we will be collecting donations to the TOR Project. To contribute, make an exchange using the link in our posts, and after January 7, 2021 we will donate all the fees collected from these swaps to TOR. ChangeHero supports digital privacy, and you can contribute to the statement!
2020 ChangeHero Statistics
What are the fees on ChangeHero? Throughout the year, we managed to keep Best Rate commissions at 0.5% and Fixed Rate commissions at 1% on average. A lot of you have used the chance to swap crypto at zero fees during the campaigns!
The median time of exchanging was 16 minutes. The quickest swaps took only a few seconds (23s, ALGO_ETH).
Top 10 Pairs of 2020
Here are the largest and most popular exchange pairs of 2020 so far:
BTC_ETH (7165);
BTC_USDT20 (4113);
ETH_BTC (4068);
LTC_BTC (3520);
BTC_BSV (3342);
BSV_BTC (3020);
BCH_BTC (2640);
BTC_XMR (2356);
BSV_ETH (1986);
BTC_XLM (1469)
What to Expect in 2021?
We are dedicated to continuing to provide the best crypto exchange experience, especially to the newcomers in crypto. For sure, you can expect more campaigns with fun activities and collaborations. 
We are working on integrating services that will further improve the user experience of ChangeHero. It goes without saying that you can definitely look forward to more wallet integrations and coins. Who knows, maybe they don't even exist yet? No one can predict for sure what 2021 will bring.
Key Takeaways
In 2020, ChangeHero was integrated into Trezor and CoolWallet S hardware wallets and is featured in several novel aggregators: SwapSpace, Invity, Dapp.com;
ChangeHero expanded the platform with fiat on-ramp by Mercuryo and Coinify, as well as a zero confirmation service for faster swaps;
Is ChangeHero safe to use? ChangeHero reviews and the reputation of our partners can serve as a proof of it;
ChangeHero has made more than 35 thousand transactions over the course of the year, and the exchanges took 16 minutes on average.
Conclusion
At the start of 2020, who would have guessed how well this year will go for all crypto community? New partnerships, features and fun campaigns — 2020 has been an awesome year for us at ChangeHero, too! We hope to exceed any expectations in the year to come and wish you all a happy New 2021!
Our team is also active in social media, often offering giveaways and zero fee campaigns to the followers. You can join in, too, by giving us a follow on Twitter, Facebook, Reddit and Telegram.
---
Learn more:
Quick links: