In December, ChangeHero team is making a series of articles summing up this year in crypto. The first part of our crypto recap 2020 was dedicated to Ethereum and DeFi. This time, our team will give a 2020 altcoin recap! Who made it into the top, who outperformed Bitcoin and what altcoins to watch in 2021.
Altcoins Recap 2020
What exactly is an "altcoin"? It's a term for any coin or token on the crypto market, other than Bitcoin.
There are currently more than 8 thousand assets listed on CoinMarketCap. 8,041, to be precise!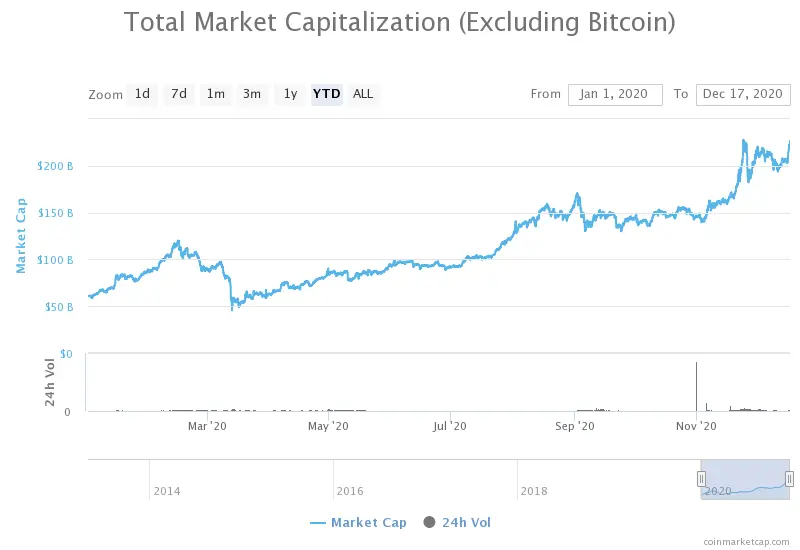 Out of the total $645 billion market cap, 35% is split among these thousands of coins and tokens. That would make the total altcoin capitalization about $225.946 billion, on par with Netflix, Coca-Cola, Nike and AT&T stocks. Since January, the capital invested in altcoins has increased by 272%.
What alts have led the trend? Here is the list sorted by altcoin performance in 2020 in decreasing order.
Chainlink
Without any doubt, Chainlink turned out to be the biggest winner in our 2020 altcoin recap. It made its way into the top-10 cryptocurrencies and gained 650% in value.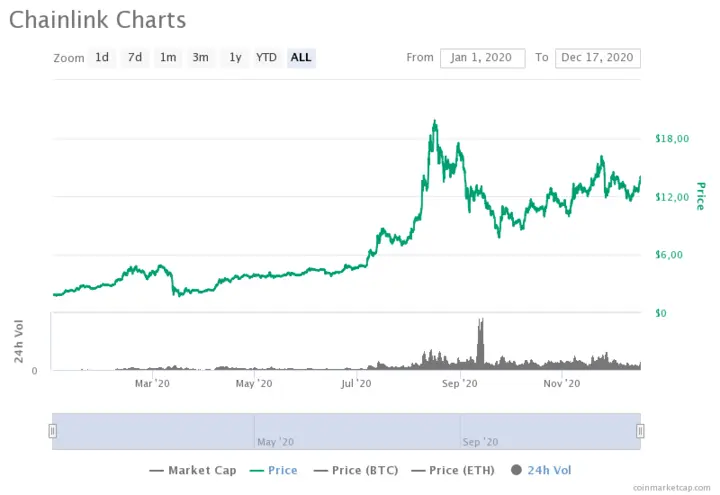 Chainlink showed the power of Ethereum as a platform, as well as pioneered the DeFi trend that would explode later this year.
This year, the developer foundation introduced the verifiable randomness function to the Ethereum-based part of the network. Random number generation is a function that enables hundreds of use cases in statistics, simulation, cryptography and software design.
On the other hand, the community launched a grant program and awarded several blockchain researchers and developers. They even have specific blockchain integration grants to enable Chainlink on other distributed networks. Solana, xDAI and BSN have already joined the list.
Cardano

Another large winner of 2020 is Cardano. It has also entered the top 10 altcoins this year and firmly took its place there. Not surprising! Cardano transitioned to an original Proof-of-Stake consensus algorithm Ouroboros in July, immediately gaining the attention of investors. This was a step toward the next phase in Cardano's roadmap.
The new phase made the network permissionless and set the stage for next updates, such as tokens and smart contracts. ADA holders definitely should look forward to these developments in 2021.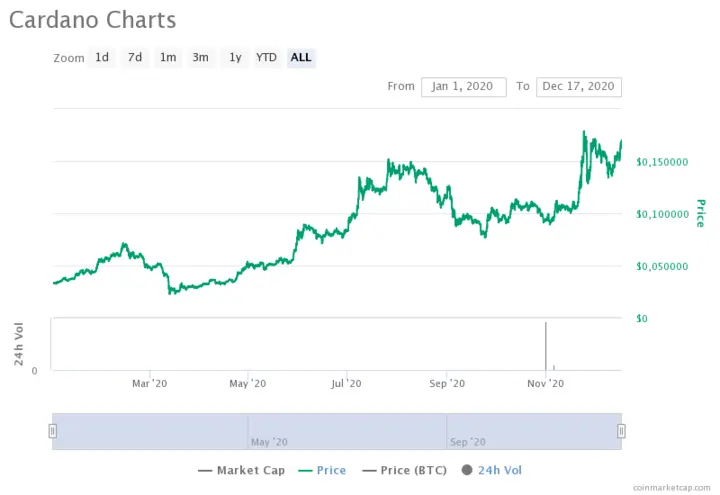 In comparison to the start of the year, ADA grew by 398%.
Ethereum
The best known and influential altcoin, Ethereum, had an extremely productive year. First, when the markets were the most volatile, Ethereum-based stablecoins offered investors a safe haven. Next, Ethereum-based protocols exploded in a DeFi craze, driving the network to the limits of its capacity. Finally, in December, Ethereum 2.0 Phase 0 finally hit mainnet. No wonder ETH appreciated by 381% since January.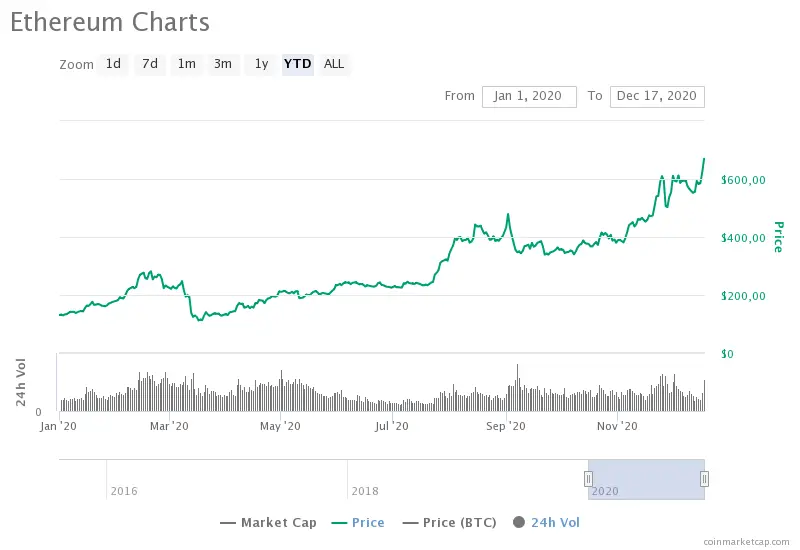 It is too early to judge how the launch of Ethereum 2.0 has influenced the entire platform, but 2021 will definitely show if it is an improvement.
We covered Ethereum performance and the rise of DeFi in the previous part of our crypto 2020 recap, check it out if you haven't already!
Tether
Tether USD, the most used stablecoin in the whole crypto space (and the whole world, for that matter), ranks fourth in the list. Its capitalization has grown almost fourfold, by 381% since the start of 2020. The most adopted version of USD Tether is the ERC-20 token. The reasons for its growth are mostly the same: volatility hedge and the wide spread in DeFi.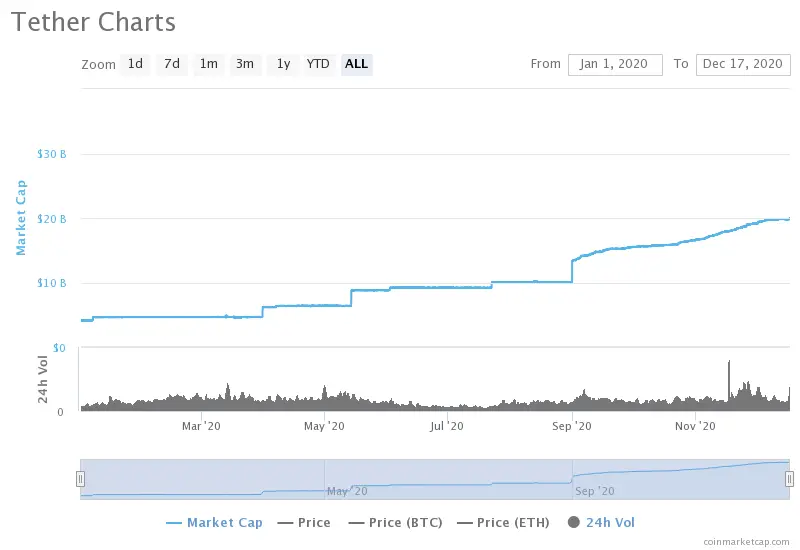 Anyway, Tether has a lineup of tokens on different blockchains and tokens pegged to different fiat currencies. It might be a good idea to not limit your research range to the ERC-20 USDT only. The dollar is on the decline at the moment, and Ethereum gets overtaken by other blockchains in terms of speed and fees.
What else can we expect from Tether in 2021? Tether and Bitfinex seem to be close to resolving the legal controversy which damaged their reputation. It has been surrounding both since their partner Crypto Capital allegedly pocketed $850 billion of the companies' investors.
Stellar
A stellar (pun intended) year for XLM, too! So far, it has grown by 335%.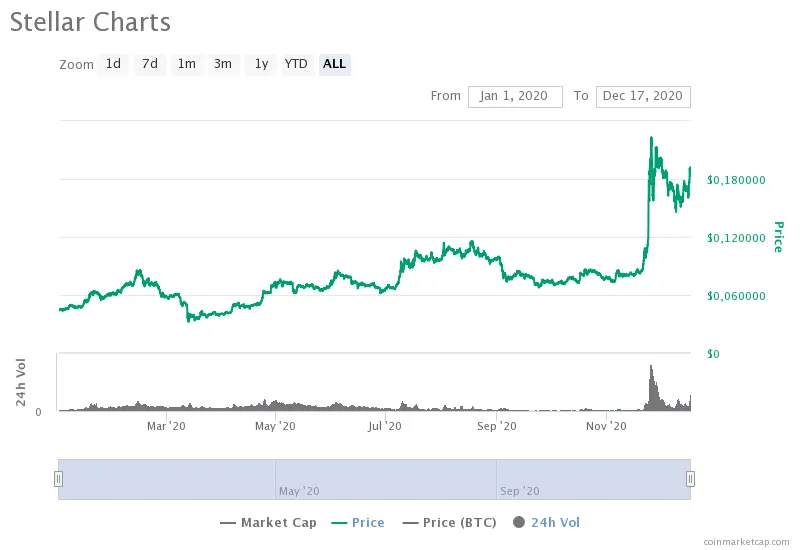 Bankhaus von der Heydt and Circle, issuers of USDC, were some of the better known entities to join the Stellar's cause this year. The former is going to use the platform for issuing a Euro-pegged regulated stablecoin. Governments are becoming more aware of private stablecoins, and CBDCs emerge, so the future of Stellar is unpredictable but more probably bright.
XRP
XRP Army was not disappointed in 2020, after all. The coin has shown a 165% increase.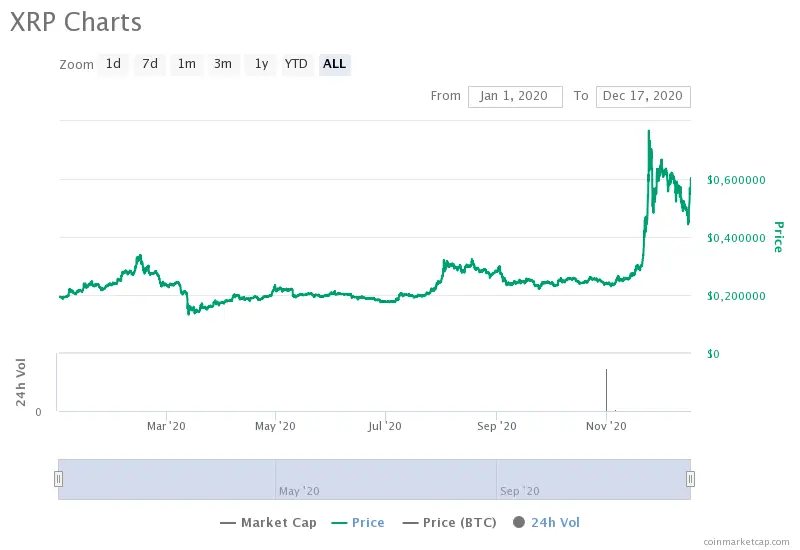 There were many reasons for that throughout the year. The new partners that joined the ecosystem this year are Intermex, Azimo, DeeMoney, RAKBank, Coins.ph — all payment and remittance processors. Rumors of a new product and IPO from Ripple and the Spark airdrop were some of those, so XRP news will be worth following in 2021. 
On the other hand, Ripple was sued for allegations of securities fraud and tried to sue Google for dismissing scammers impersonating on YouTube. It's better to remember that XRP is not owned by Ripple: they use it but the coin is decentralized.
Litecoin
Litecoin is a strong contender for the title "comeback of the year". In late 2019, it was almost left out of the top-10, but ultimately, made its way back. Last large update happened in July, and the Litecoin community has a MimbleWimble privacy protocol to look forward to. This, and unyielding work put into raising awareness by the Litecoin Foundation drove the LTC price up by 117%. PayPal crypto listing has accounted for the major part of the boost.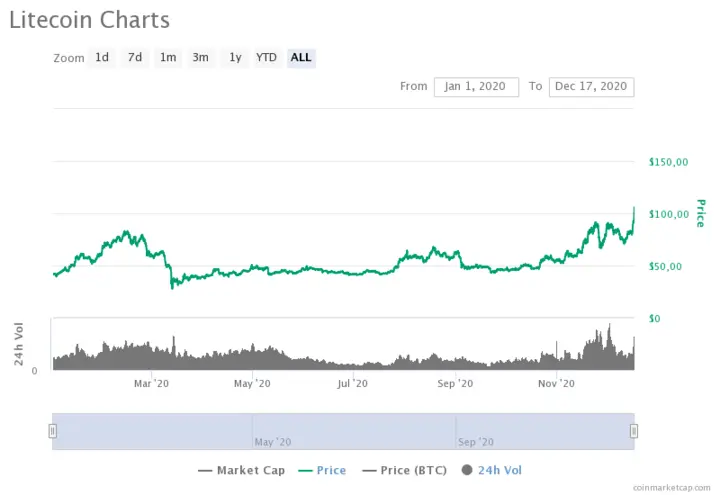 If MimbleWimble arrives in 2021, Litecoin will become more than a modified version of Bitcoin, so it is definitely worth keeping an eye on the news.
Binance Coin
Another newcomer into the top-10, Binance Coin feels like it belongs there in 2020. BNB is worth more than it was in January by 119%.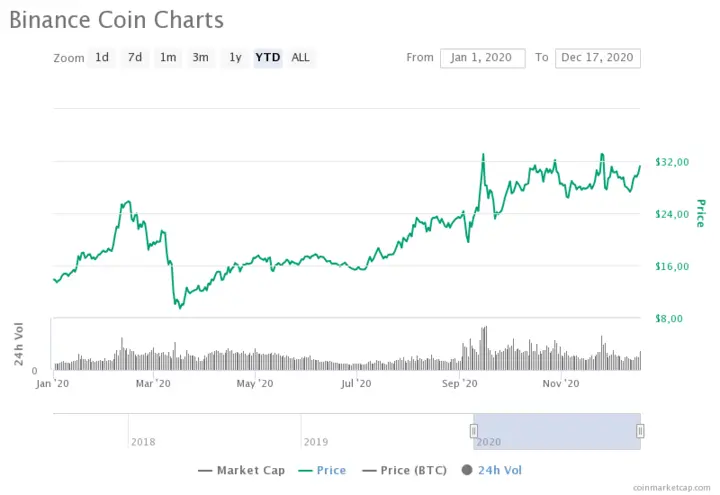 The coin most likely has the progress Binance made this year to thank. Binance launched BNB futures trading on their platform this year, Card, developed Binance Smart Chain and expanded the service coverage. It's expected they are going to expand their service more and introduce more use cases for BNB. For now, no one has any idea what they'll come up with in 2021!
Bitcoin Cash
Bitcoin Cash sure has had a challenging year. The major event that this network saw this year was, of course, the BCHA/BCHN chain split. An event, which last time resulted in a turmoil, did not bring the currency down from its spot in the top. Despite the crash back in March and more than modest price performance this year, BCH holders are in black: it is worth more by 48%.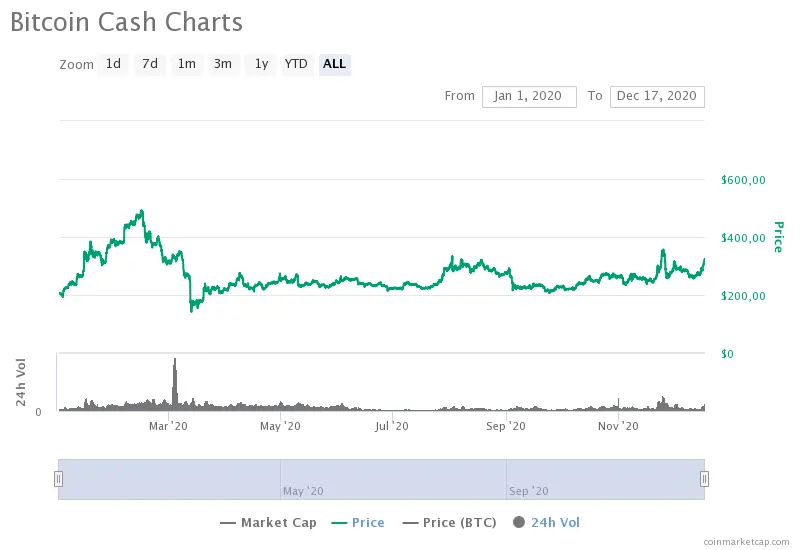 It is not as impressive when we compare it to the rest of the entries in our altcoin recap. Who knows, maybe in 2021 one of the new coins will rally and win the spotlight back?
Polkadot
Unlike the rest of the entries in the list, DOT has finally hit the market only in 2020.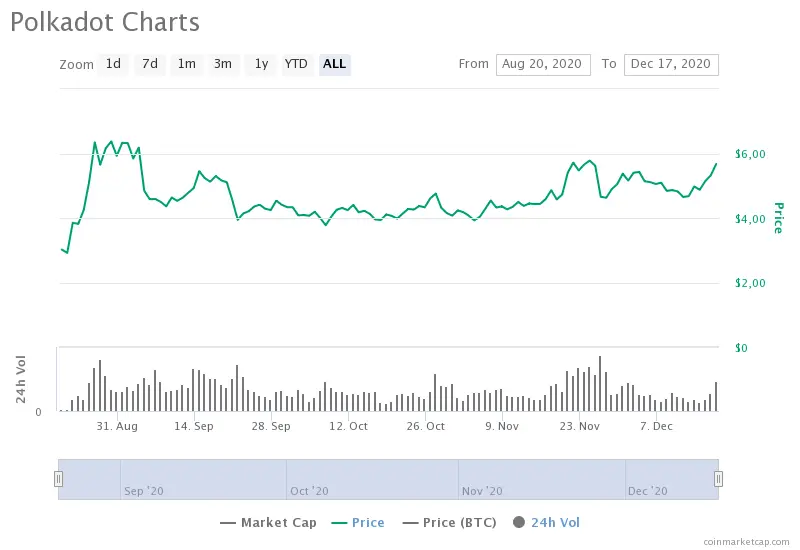 Nevertheless, its fantastic fundamentals make it an asset worth keeping an eye on. What other altcoin has started in the top ten from the get-go? Not only that, but DOT is also actually up from its earliest known price by 90%. Polkadot is a great bet to keep watching and a strong contender for the best altcoin 2021.
Key Takeaways
Altcoin performance in 2020 is comparable with Bitcoin's. Half of the assets from the top 10 actually outperformed Bitcoin;
The new entries in the top 10 covered in the altcoin recap, Chainlink and Polkadot, have performed well but look even more promising in 2021;
The coins that made their way into the top, Cardano and Binance Coin, rank high in the altcoin recap and do not seem to be losing steam anytime soon;
Long-time top projects like Ethereum and XRP also rank high in the altcoin recap and show gains;
Finally, even though Bitcoin Cash and Litecoin did not outperform Bitcoin, they made it into our altcoin recap: the former — for resilience, the latter — for prospects in 2021.
Conclusion
Even when we don't consider Bitcoin, 2020 turned out to be a great year for development in crypto. Altcoins consistently pushed for innovation and proved their worth in investors' eyes. We would be curious to compare the 2020 altcoin recap with the next year's!
Next week, we will publish another entry in the series in our blog. To not miss it, sign up for ChangeHero's updates on social media: Twitter, Facebook, Reddit and Telegram!
---
Learn more:
Quick links: