Do you often wonder how powerful would Ethereum be if they finally implemented sharding? Good news: there is no need to wait for years because a blockchain powered by sharding already exists.
In this guide, we will introduce you to Zilliqa, explain how it works, and tell you everything to know about ZIL.
Key Takeaways
Zilliqa is a blockchain protocol that originates from the National University of Singapore and now is supported globally. Its defining advantage is sharding, a technique of processing transactions in parallel, which scales better as more nodes join the network;
Zilliqa tokens ZIL were launched on Ethereum and converted to coins in 2019. Now they are used in gas fees, staking, and in the apps on the platform;
The blockchain is currently hosting hundreds of dApps for multitudes of use cases: from DeFi to play-to-earn.
Zilliqa Network and How It Works
Bitcoin set a standard for the first generation of blockchains, and Ethereum — the second. However, while it massively improved the capabilities of the technology, some issues remained. In particular, Ethereum in the state in which it launched scaled extremely poorly, and its throughput could not exceed 15 transactions per second on a good day.
Ethereum developers laid out ambitious plans to upgrade the network without interruption in a few years, and it is still a long way from happening. Meanwhile, the demand for blockchain networks is still high, and thus, layer-two solutions and alternative smart contract platforms started to appear.
Zilliqa Blockchain Protocol
Zilliqa is a solution to the scalability issue of its contemporary blockchain platforms. The technology they employ to solve it has been described before and is called sharding. Therefore, Zilliqa is a sharding blockchain protocol at its core.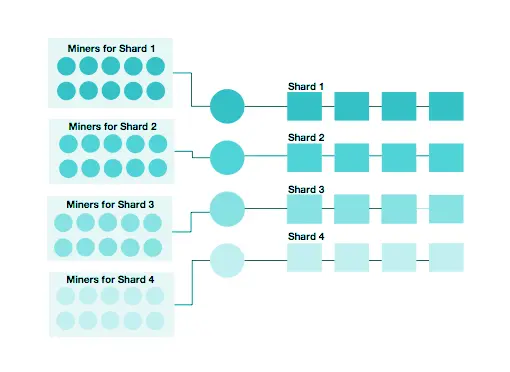 Sharding means a network is split into smaller networks called shards that can process actions simultaneously, in parallel to each other. Sharded networks are designed in a way that their throughput is in direct proportion to the number of participants. So, the more nodes the Zilliqa network has, the more transactions per second can be processed.
Zilliqa blockchain network is a multi-layered structure:
Cryptographic layer that defines primitives of the protocol: digital signatures and Proof-of-work;
A data layer stores the state of the blockchain, as well as addresses, and accounts;
A network layer, where network and transaction sharding take place;
Consensus layer, executing the Practical Byzantine Fault Tolerance (PBFT) protocol;
A smart contract layer;
And an incentive layer, where block rewards in ZIL are produced.
Smart Contracts
To maximize the positive effect of sharding and expand it to smart contracts and computations, Zilliqa uses a special-purpose native programming language Scilla and an execution environment. These use dataflow programming, which views a smart contract as a directed graph. In simpler terms, smart contracts in Zilliqa can be executed in parallel to transactions and each other.
Another great thing about Zilliqa is that Practical Byzantine Fault Tolerance operates with deterministic finality. Translating from technical terms, you won't need to wait for a few blocks for a transaction or a contract call to finalize. It makes the whole process much faster and lowers latency.
History and the Zilliqa Team
The roots of the Zilliqa project go back to the National University of Singapore. The technical documentation (white paper) for the Zilliqa protocol was published in 2017 by a collective "Zilliqa team". Prior to its release, the design had been in research and development for two years. After it was finalized, it took until 2018 to launch a testnet and 2019 to release the Zilliqa mainnet.
The Zilliqa team is not anonymous. Its founding members who went on to establish Zilliqa Research are Prateek Saxena, Max Kantelia, and Juzar Motiwalla. Having founded Zilliqa Research, they were joined by Dong Xinshu, who took the CEO seat, the CTO Yaoqi Jia, and chief scientist Amrit Kumar. Currently, Mark Hensley is the Chairman of the Board, and the CTO is Richard Watts.
What is ZIL Coin?
Did you know that the native or intrinsic tokens of the Zilliqa network are called zillings? They are more commonly known for their ticker ZIL. ZIL is used across all layers of the Zilliqa blockchain, but mainly on the incentive and network layers.
| | |
| --- | --- |
| Total Supply | 21 billion ZIL |
| Token Issuance | Smooth curve |
| ICO Price | $0.0038 per ZIL |
| Transactions per second | 0.30 (at the time of writing) |
In December 2018, Zilliqa held a public token sale, in which 30% of the total ZIL supply was distributed. Another 40% is reserved for mining or staking rewards, and 30% went to the founders and investors.
How to Use ZIL Token
ZIL tokens are not widely used outside of the platform. However, there is a wide variety of use cases for the Zilliqa platform itself. ZIL coins are needed to:
Make transactions on the Zilliqa blockchain in ZIL or ZRC tokens and pay the gas fees;
Secure the consensus within shards through Proof-of-stake;
Pay for the services provided by the applications in the Zilliqa ecosystem;
Mint and purchase non-fungible tokens.
To expand in brief on the latter two, here are a few examples:
XCAD Network for video streaming;
A Singapore dollar-pegged stablecoin XSGD;
Lunr, a utility token of sentiment analytics portal LunarCrush;
The Switcheo decentralized exchange;
Music distribution service Opulous.
Comparison with Similar Projects
Zilliqa vs. Ethereum
As a smart contract platform, the most direct and largest competitor to Zilliqa is Ethereum. We have already mentioned that the throughput of ZIL is much higher than that of ETH by design. However, when (and if) sharding arrives on Ethereum, there would be much less difference between the two. At that point, the main competitive edge would be the robustness of the ecosystem, and right now, Ethereum is in the lead. Nevertheless, this scenario is a long shot from now, and by that time, everything may be completely different.
Zilliqa vs. OMG
Sharding is not unique to Zilliqa or Ethereum, as we mentioned before. One of the projects that attempted to build a scaling solution for ETH with the help of sharding is OMG Network. It used a different from Zilliqa sharding specification, Plasma.
OMG Network was launched later, in 2020 but did not even last as long. A couple of months ago the team that was building it moved on to an Optimistic-rollup solution BOBA.
Partnerships and Future
By now, the present state of Zilliqa is clear, but what about the future? A good glimpse of it can be viewed in the official newsletter. This month, they highlighted their presence on Gamescom Asia and new native decentralized exchanges. They also teased PredictionDEX and an NFT market Zilkroad, among other things.
Even though right now the focus of the efforts is on developing the ecosystem, the team simultaneously works on optimizing the Zilliqa mainnet as well. The Zilliqa development team made an open call for optimization of the Scilla programming language for a grant in ZIL.
Keeping an eye on the official channels of Zilliqa seems to be a great way to stay in the know about the future of the Zilliqa coin and the news about all projects of the platform.
ZIL on Twitter
Why would you use @zilliqa?

🔹The $ZIL ecosystem is up to 50 cheaper than $ETH, making it a more resource-efficient alternative.
🔸The time to the finality of $ZIL is much lower than $ETH, making the network generally faster.
🔹You can bridge ERC-20 assets to ZRC-2! pic.twitter.com/zesCtr10OP

— House of Chimera (@HouseofChimera) November 22, 2022
User House of Chimera on Twitter shared an infographic with a comparison between Ethereum and Zilliqa. Apparently, ZIL operates on a fraction of the ETH's costs.
99.41% of my $ZIL has been staked until market conditions change, I'm good with passive income. No chasing green candles for me. 🫱🏼‍🫲🏽#ZIL #Zilliqa #ZilFam #Staking #Crypto pic.twitter.com/5pCiHmb5Rk

— JonnyBoy (@Jay_CryptoFan) November 15, 2022
Another user, JonnyBoy, disclosed some survival tips for the bear market: keep calm and stake on.
War for Zillarnia - first gameplay 🔥

Soon - selected Beta 👀

Note:
The depicted rounds are not real to minimize speculations on game mechanics! pic.twitter.com/6BSa72Osjp

— The Soulless Citadel (@SoullessCitadel) November 18, 2022
It wouldn't be a total surprise to see blockchain games developed on Zilliqa, given it's a perfect match. Soulless Citadel seems to be one of the most anticipated P2E releases in the Zilliqa ecosystem.
What Wallet to Use for Zilliqa?
Did our guide inspire you to get some ZIL? Don't forget that you need a crypto wallet to store Zilliqa.
The official website gives a long list of wallets in any shape or form. Do you need a desktop application for convenience and extra features? Go for Exodus.
Need a handy browser wallet with staking? How about ZilPay?
Do you want a community-approved mobile wallet for ZIL specifically? Moonlet is your choice.
Would you rather keep ZIL safe in a hardware wallet? Get a Ledger and you're good to go.
How to Exchange ZIL on ChangeHero?
If you want to exchange your crypto to ZIL and need a refresher on how exchanging with ChangeHero works, we're here to help:
Choose the currencies on the home page, amounts, and the type of exchange. Provide your ZIL wallet address in the next step and check the details;
Double-check the provided information, read and accept the Terms of Use and Privacy Policy;
Send the sum of the cryptocurrency for the swap in a single transaction. In Fixed Rate transaction you have 15 minutes before it expires;
Sit back and relax. At this step we are doing all the work: checking the incoming transaction and doing the exchange as soon as it arrives;
As soon as the exchange has been processed, your ZIL is on its way to your wallet. And so, the transaction is finished!
If you ever run into any issues during your swap, our support specialists are always available to help you in the chat or through the email: [email protected].
Conclusion
2023 is shaping up to be a good year for Ethereum and an even better one for platforms like Zilliqa. Despite the financial trouble in the crypto market, platforms geared toward builders are bound to flourish in the near future and especially in the next bull cycle.
If you enjoyed this beginner's guide, check out our blog for more. Follow ChangeHero on Twitter, Facebook, Reddit, and Telegram for daily updates and more content.
---
Frequently Asked Questions
Is Zilliqa a good investment?
Zilliqa is an asset that is regularly traded and has a solid long-term potential supported by its fundamentals. Despite not being free from risks inherent to all cryptocurrencies, it has solid arguments in favor of holding it.
What will Zilliqa be used for?
Zilliqa (ZIL) is a smart contract platform that scales in direct proportion to the number of nodes with the help of sharding. Zilliqa coins ZIL power the economy of the ecosystem built on top of the blockchain which encompasses most modern dApp, NFT, and DeFi use cases.
Is Zilliqa built on Ethereum?
The company introduced the Ethereum ERC20 token in 2017 which would later be converted to ZIL coins. Zilliqa (ZIL) is a native blockchain and asset with wrapped versions on Ethereum, BSC, etc.
Is Zilliqa good for the long term?
For the longer-term investor, Zilliqa can be a decent option due to its fundamentals and growth. Before making a decision to buy Zilliqa (ZIL), doing your own research is advised.
Learn more:
Quick links: