While Ethereum congestion is a flash point in the news, projects like OMG Network can help solve it. Last year the project made news after being acquired by Genesis Block Ventures. What is OMG Network, how does it help Ethereum and what's in store for the project — in this article!
What is OMG Network?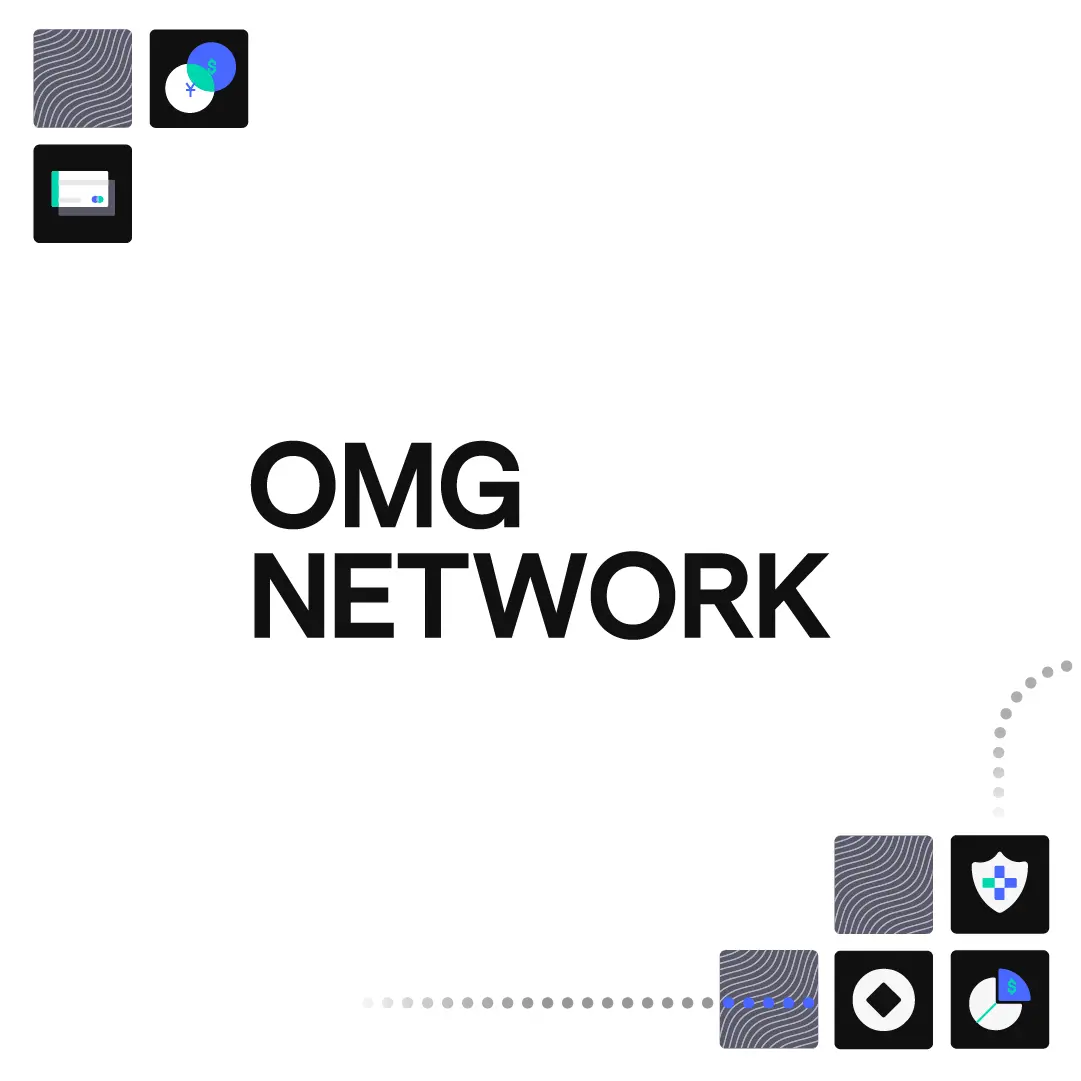 OMG Network (previously OmiseGo) is a Layer-2 solution built to scale the Ethereum network. It is non-custodial and lets users transfer ETH and ERC-20 tokens faster and cheaper than on the Ethereum network directly. For example, the OMG Network can process thousands of transactions per second compared to Ethereum's transaction limit of 10–14 tps. By making the transactions faster and more lightweight, the general cost of operation is decreased as well.
History and Team
OMG Network was founded by Jun Hasegawa and in December, 2020 was acquired by Hong Kong-based OTC trading firm Genesis Block. OMG Network's objective is to build a financially inclusive and accessible payment rail on the blockchain. The firm also plans to create decentralized finance solutions on the OMG Network.
What does the OMG Network do? Find a detailed recount further in our OMG guide.
How Does the OMG Network Work?
From a technical standpoint, OMG Network is an implementation of Ethereum's Plasma. It serves as a child chain to the ETH network. The relation between the parent and child chain is governed through smart contracts. The OMG Network uses an iteration of Plasma known as MoreVP (More Viable Plasma).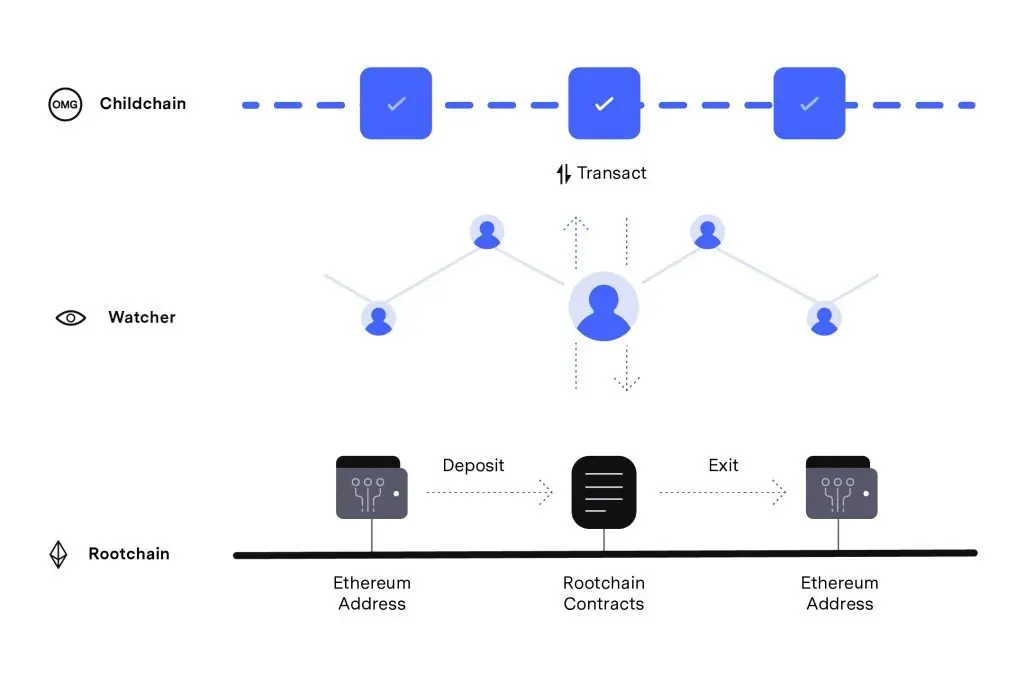 The OMG Network V1 Mainnet Beta uses the More Viable Plasma specification to increase the processing capacity of Ethereum. MoreVP trustlessly scales ETH and ERC20 transactions by grouping them up and sending them to Ethereum for confirmation. Processing batched transactions enables high throughput and significantly lower-cost transactions for the end-user.
The OMG Network V1 Mainnet Beta relies on the security properties of Ethereum and a decentralized watcher network. Both mechanisms verify and validate every transaction, preventing malicious actors from stealing funds.
The OMG Network is also trustless. Trustless means users can recover their funds even if the OMG Network is inaccessible or fails. This is because your tokens are deposited on Ethereum and never leave it, meaning users can withdraw their funds by directly communicating with the root chain.
Transactions on the OMG Network look like this:
Layer one: Ethereum, smart contracts and entry/exit points;
Layer two: MoreVP, a child chain that handles transactions and sends blocks to Ethereum for verification;
Watcher network: another layer of OMG Network, through which anyone can observe the fairness of operations on the chain.
To send a transaction via OMG Network, you would need to deposit ETH of ERC-20 tokens to the smart contract. This deposit is recognized by both Ethereum and OMG Network, but the following transactions are registered only on the latter. The Operator bundles a transaction with others in a block and sends its hash to Ethereum for validation. When you are done, you can withdraw the assets from the smart contract, even if OMG Network goes offline.
What is the Cryptocurrency OMG Token ?
OMG Network has a native token OMG. Being a Layer-2 Ethereum scaling solution, it is logical that OMG is a ERC-20 token. OMG is supposed to be used as a means of transacting within the network. In the original design, OMG acted as a currency-agnostic intermediary for the on-chain DEX. In more recent iterations of the network, it is also used to secure the network by staking.
OMG Price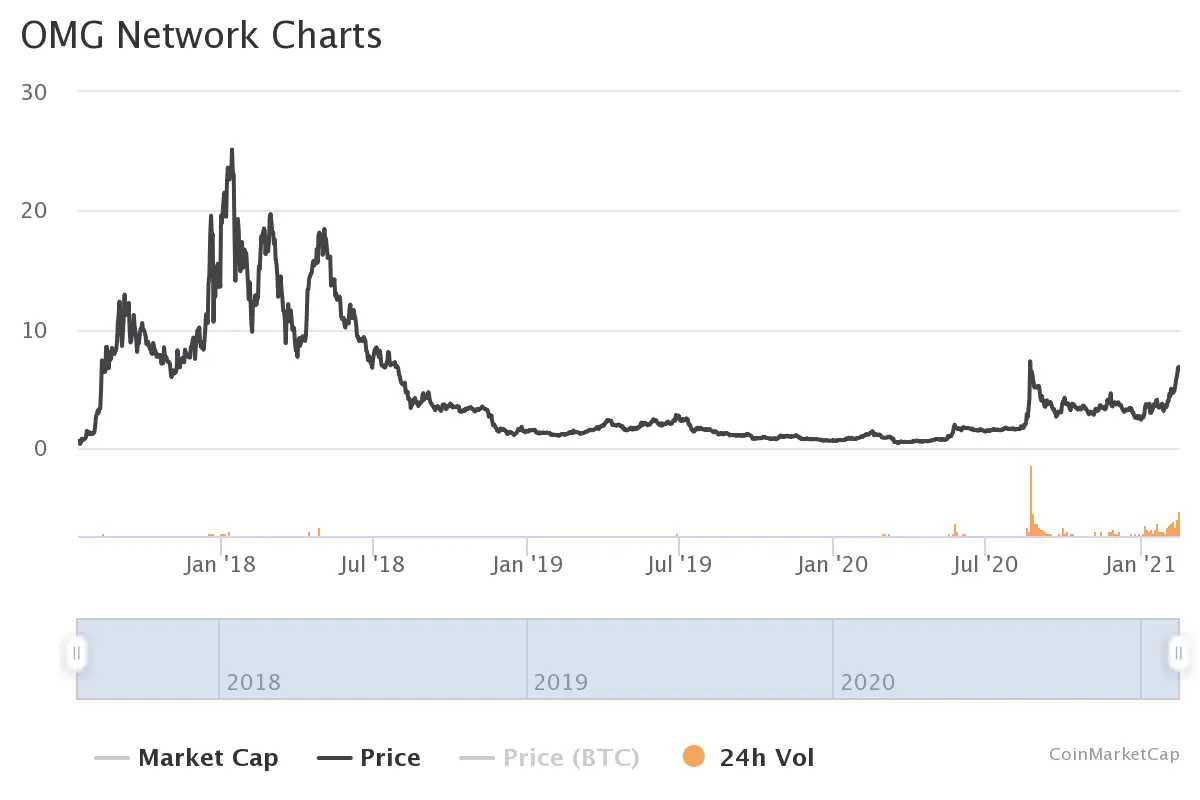 In ICO held on July 23, 2017, OMG was sold for $0.2283 per token. OMG entered the market during a rally and on January 8, 2018 reached its current ATH: $28.35. In 2018 the cycle shifted into a bear market, and OMG price entered a downtrend which lasted for two years.
In 2020, OMG Network has shown great performance. OMG Network's time to shine came with the boom of DeFi, when Ethereum network started suffering from congestion.
In 2021, OMG is on the rise but it's only warming up. What is OMG Network price today? At the moment of writing, OMG Network price is $6.19.
OMG Use cases
A number of vendors online also accept OMG token as a payment. The gateways such as Coinify and CoinGate let merchants accept OMG.
Comparison with similar tokens
Other Plasma iterations were developed by the Polygon (previously Matic Network) and Gluon teams. What is OMG Network's difference from these platforms and tokens?
Matic Network utilizes a Delegated Proof-of-Stake consensus algorithm, in which chain operators are stakers and delegators. MATIC token also has a role in governance and is wired more to work within the dApp ecosystem.
Gluon's L2 token is primarily used in staking and governance. Only ~30% of the total supply is in free circulation.
What Is OMG Network Criticized For?
Even Vitalik Buterin is vocally supportive about OMG Network, but you can never please them all.
All Plasma implementations have been criticized for being partially centralized. The sidechain that mirrors Ethereum and handles transactions by design is similar to standard (and centralized) payment processors like Visa. In OMG Network's case, this design flaw is mitigated by having a decentralized network of watchers controlling the Operator.
What is OMG Network's Future?
In addition to the Genesis Block Ventures mentioned in this OMG guide, the project keeps securing new partnerships. In the latest OMG Network news, Enya.ai joined OMG Network as a strategic partner. The collaboration will make the dApps on the OMG Network's Plasma solution even more censorship-resistant and privacy-preserving.
This news also signals the plans of the platform to build an ecosystem of dApps. Another application OMG Network is researching in 2021 is tokenized loyalty points. With their technology, users and companies can transact freely with tokens representing loyalty points with the security of Ethereum.
Social Media posts
People not from Asia don't understand.. @genesisblockhk is the quiet giant of Asia, probably most well connected group.. partnered w/ @binance @FTX_Official + many more

— 👾 (@macro_diary) December 4, 2020
User @macro_diary weighed in on the news about the Genesis Block Ventures acquisition of OMG Network. In their words, the new parent company is the sleeping giant of a growing Asian market.
Send $OMG pic.twitter.com/q4h3K6Hp6J

— bull sayler (@thebull_crypto) February 13, 2021
OMG price charts seem to be quite popular with traders and technical analysts. Here, bull sayler predicts a breakout of the price to $16 in the near future.
ICYMI: Here's a short description of the minds behind @enyaai ! If you're more of a video person, watch: https://t.co/ixKM4taIfc pic.twitter.com/4C82tNOo0P

— OMG Network (@omgnetworkhq) February 5, 2021
The official Twitter account shared some more insights into their new partner, Enya. The background of its founders further proves that OMG Network's values of decentralization and privacy are still in play.
How to Buy OMG?
Now that we have reviewed all the fundamental features of the project, let's get to the practical advice of this OMG Guide.
Trading on an exchange comes with the hassle of creating an account and depositing funds into an exchange's custody. What is the alternative? Use ChangeHero! It's extremely easy and you can trade OMG against any currency supported by the service. ChangeHero is a non-custodial instant cryptocurrency exchange, so you won't have to worry about losing access to your funds or setting up an account.
Which Wallet to Choose for OMG?
In general, ERC-20 tokens are widely supported by many cryptocurrency wallets. We suggest Exodus if you have a diverse crypto portfolio and would like to access it from mobile and PC. In case you need cold storage, Trezor wallets are a sound option. In both cases, you will be able to enjoy hassle-free swaps with ChangeHero right in the wallet applications.
How to exchange OMG Network Crypto?
For your convenience, OMG Network can be bought on ChangeHero in five easy steps:
Choose the currencies on the home page, amounts and the type of exchange. Provide your wallet address in the next step and check the amounts;
Double-check the provided information, read and accept the Terms of Use and Privacy Policy;
Send in a single transaction the sum of cryptocurrency you will be exchanging. Fixed Rate transactions have a 15-minute limit;
And now, relax! We are doing all the work: checking the incoming transaction and doing the exchange as soon as it arrives;
As soon as the exchange has been processed, your OMG are on the way to your wallet. We'll be happy to hear your feedback if you enjoyed using ChangeHero.
Our support Heroes are available anytime in the chat on our website or through the email: [email protected].
Key Takeaways
OMG Network was rebranded in June 2020, previously it was known as OmiseGo. In December, 2020 Genesis Block Ventures started the project acquisition process;
OMG Network is a Plasma implementation, a Layer-2 scaling solution for Ethereum. The solution developed for the project is called MoreVP. It is a child chain that processes  transactions in batches and refers them back to smart contracts on the parent chain (Ethereum) for validation;
The native OMG Network crypto, OMG token can be used as a means of payment;
In 2021, OMG Network plans to venture into DeFi, develop a dApp ecosystem and further explore tokenized assets. The year started with the news about a strategic partnership with Enya, a computer security company.
Conclusion
What OMG Network is doing is vital and useful not only for their partners or users. Scaling Ethereum today is as crucial as ever, when the DeFi is rapidly growing. Protocols like OMG Network prove that there is no need to wait for years until the update to Ethereum itself.
Did you find this OMG Guide for Beginners useful? Share it with your friends on social media: we're on Twitter, Facebook, Reddit and Telegram. Check out more educational content on all things crypto in our blog!