Tezos is on a roll again thanks to Ubisoft launching an NFT platform for AAA gaming. What other Tezos news played into it and how it affects XTZ price prediction 2022 — we answer in this article.
Tezos Price Prediction 2022-2030
[table id=38 /]
The XTZ price prediction 2022 gives a large range between $2.31 to the downside and $16 as the high target;
By 2025, XTZ can reach $10 and fix above this threshold, according to the forecasts;
The targets given for XTZ in 2030 are moderate, only $1–2 above the 2025 targets.
What are Tezos and XTZ?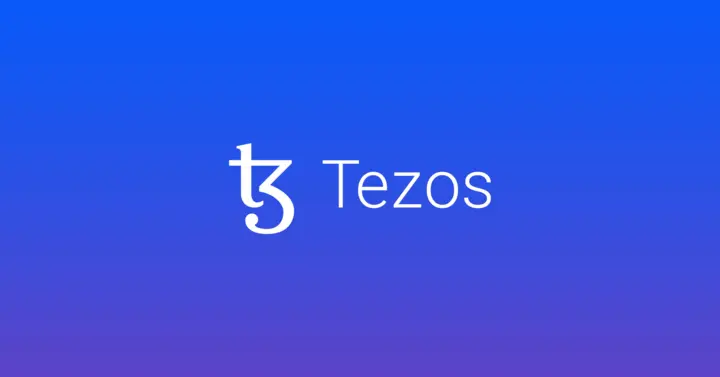 Tezos is a self-amending smart contract protocol with modular architecture. In other words, it can be used for self-executing functions and programs, like Ethereum. Tezos was founded by ex-Goldman-Sachs and Google X research engineer Arthur Breitman. With the assistance of his wife Kathleen he wrote its codebase from the ground up, and the two founded the Tezos Foundation. The motivation to create it was the governance problems in crypto communities: particularly, contentious forking of Bitcoin and Ethereum. By introducing delegated staking and modular architecture, Tezos achieves resistance to hard forks. Tez or XTZ is the native coin of the network, though colloquially it's also known as "Tezos". XTZ are needed to keep track of addresses and secure the network through staking. If you feel like catching up with what Tezos is before reading the price predictions, we recommend our Beginner's Guide to Tezos.
XTZ Price History
XTZ Price in 2017-2019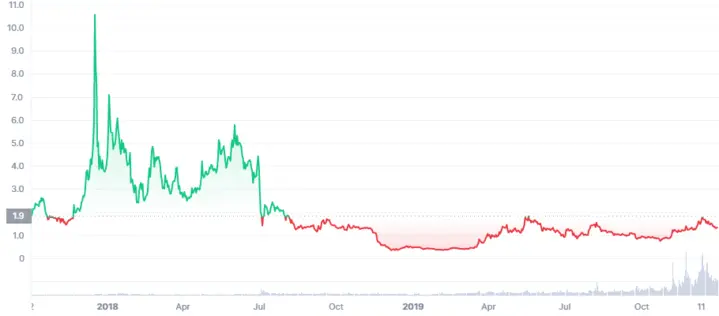 Tezos was launched after one of the largest Initial Coin Offerings in history, raising $232 million USD. In October, 2017 preliminary valuations put it at about $2. Soon the Bitcoin rally caused the rest of the market to rise, and XTZ reached its all-time high of $10.56 on December 17, 2018. However, after that a correction followed, and even despite the mainnet launch in July 2018, XTZ closed 2018 at $0.4626. In 2019, over the course of the year its price gradually grew up to $1.3 at the end.
Tezos Price in 2020-2021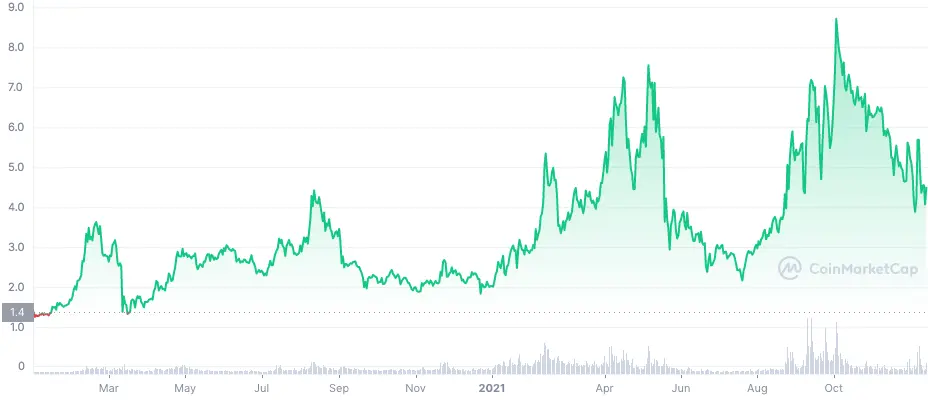 In early 2020, Tezos kept growing until the March 2020 crash, when it lost 58% in a couple of days. It quickly recovered from the low of $1.3 and even renewed a yearly high at $4.4 in August. 2021 started relatively low to that, at $2, but by May rallied up to the yearly price record: $8.40 on May 7, 2021. The price corrected to $2.43 almost as quickly. The second leg-up started in July and lasted until October 10. It was then that XTZ was able to reach the current yearly top of $9.18 on October 10, 2021. At the time of writing Tezos is worth $4.52 and ranks 41st by market capitalization according to CoinMarketCap.
What can Influence the XTZ Price?
Protocol Upgrades
The most recent upgrade Hangzhou introduced several quality-of-life features like caching, timelocks and views — new entry points for smart contracts. The previous upgrade called Granada introduced liquidity baking for the XTZ-tzBTC pool. A constant product market making contract produces block subsidies for liquidity providers and burns a small portion of the fees. Thus, liquidity providers can gain benefit from baking liquidity and participate in decreasing inflationary pressure. Other improvements Granada brought are reductions in block times and gas fees for smart contract calls.
Adoption
Tezos is actively establishing itself as a platform on which banks and other financial institutions can build solutions. It supports almost all currently existing instruments for DeFi and tokenization. Societe Generale, for example, is using Tezos to issue digital assets. Game publisher Ubisoft has introduced an NFT platform for AAA gaming on the Tezos blockchain. NFTs on Tezos in particular are a popular use case: for example, F1 team McLaren issued collectible tokens on this platform. The City of Reno, Nevada, home of the Burning Man festival, issued NFTs of the art piece 'Space Whale' and built a DAO on Tezos.
Supply Dynamics
In addition to the already mentioned burn fee from liquidity baking, Tezos has more mechanisms to keep inflation in check. Particularly, delegated staking makes it so that 72.45% of the circulating supply (according to TzStats) is locked. Reducing the actively traded supply while keeping it liquid creates opportunities for the price to grow.
Latest Twitter posts on Tezos
Sneakpeek of @Rarible's @Tezos integration

They're also working on supporting EURTZ (@Euro_Tez) pic.twitter.com/Yl4I5nQWnK — Jane Manchun Wong (@wongmjane) December 13, 2021
Tech blogger Jane Wong, who specializes in finding hidden features, discovered an integration of Tezos in Rarible's website. It will supposedly let users pay with XTZ and EUR-TZ, a Euro-pegged stablecoin on the Tezos blockchain.
FWIW I think $XTZ is going a lot higher soon after reading about the integration

Gamers will have Tezos wallets and be able to trade in game NFT's. That's about as bullish as you can get in regards to adoption, and actually using XTZ Going to be buying any and all dips pic.twitter.com/LHg4rBmzmO — Pentoshi 🔺satsdarts lover (@Pentosh1) December 8, 2021
Crypto trader Pentoshi highlighted a piece of news on Ubisoft-Tezos NFTs and shared some ideas about it. Simply put, this is a real use case for XTZ and the platform that is being implemented potentially for millions of users.
This #tezos dip, regardless of how low it goes or how long it lasts, is probably the last one before a significant market share jump. The ecosystem is absolutely exploding.

— FR3UD.tez (悟,悟) (@FR3UD_) December 13, 2021
Twitter user Fr3ud is confident that the price of XTZ is about to break out to new highs. The reason for this is the surge in NFT and dApp usage.
Tezos Price Prediction 2022
CoinQuora XTZ Price Prediction 2022: $16.5
CoinQuora's technical analysis assumes that a bullish scenario is more likely to come true. If the price keeps up the bullish impulse, in early 2022 XTZ can reach $16.5 and cool down the rally at $15.
LongForecast XTZ Price Prediction 2022: $4.80
LongForecast projects that the uptrend in XTZ will reverse. The highs will be getting lower to a yearly high of $4.80 in December. For the rest of the year, XTZ will stay in the $2.31–$4.14 range.
CoinTrades XTZ Price Prediction 2022: $16
On a daily chart, YouTuber CoinTrades spots a bounce from the oversold area in the relative strength index, which is a bullish sign. This could potentially lead to an upside move up to $16. That would need XTZ's market capitalization to reach Avalanche's $19 million, which is a little short of entering top-10 at the moment of writing.
Tezos Coin Price Prediction 2023–2024
CryptoNewsZ Tezos Price Prediction 2023: $7-7.50
In two to three years, the CryptoNewsZ team says, XTZ will be more widespread but due to unforeseeable circumstances they keep their expectations low. The 2023 target for XTZ is only $7–7.50.
Digital Coin XTZ Price Prediction 2024: $12.03
Going by projections of the DigitalCoinPrice prediction service, on average XTZ will be worth double digits as soon as in 2024. Moderate volatility will be observed, with highs reaching $12.03 and lows being $8.75.
Tezos Price Prediction 2025
CryptoNewsZ XTZ Price Prediction 2025: $10+
In four to five years we can expect a new market cycle to follow after the next Bitcoin halving. As such, the XTZ forecast is optimistic and reaching the $10 mark is reasonable to expect.
Digital Coin Tezos Price Prediction 2025: $14.07
In a more bullish forecast, DigitalCoinPrice gives an average estimate of $12.93 for XTZ in 2025. Monthly averages range from $11.18 to $14.07.
Gov.Capital Tezos Price Prediction 2025: $23.77
The most bullish forecast for the next few years is given by the Gov.capital service. Using historical data for XTZ, they predict growth from $18.112 in January to $23.767 at the year's close.
Tezos Price Prediction 2030
It's hard to predict the price even in the short term, so the more distant future forecasts are even less reliable. Cryptopolitan expects XTZ to rise by 760% by 2030, which would make its price $34.77. The XTZ Price Prediction 2030 by Coin Price Forecast also assumes that the growth will be happening slowly over time, and by then XTZ will appreciate to $12.40. However, you never know what can happen in almost a decade!
ChangeHero XTZ Price Prediction
Summing all predictions up, it gets obvious that XTZ will eventually reach $10 and even higher. At the very least in 2025, $10 will be the lowest expected estimate. The Tezos platform is used by plenty of companies and applications, so their future is secured.
How to get XTZ on ChangeHero?
The process of buying XTZ with crypto on ChangeHero is as easy as it gets. It only takes five steps:
Choose the currencies on the home page, amounts and the type of exchange. Provide your wallet address in the next step and check the amounts;
Double-check the provided information, read and accept the Terms of Use and Privacy Policy;
Send in a single transaction the sum of cryptocurrency you will be exchanging. Fixed Rate transactions have a 15-minute limit;
And now, relax! We are doing all the work: checking the incoming transaction and doing the exchange as soon as it arrives;
As soon as the exchange has been processed, your XTZ are on the way to your wallet. We'll be happy to hear your feedback if you enjoyed using ChangeHero.
Support team is always available in chat on our website, official Telegram group or through the email: [email protected].
Conclusion
When it comes to NFTs, Tezos seems to be a real competition to Ethereum: the ecosystem and community are absolutely blowing up. This is especially evident thanks to impactful partnerships and deals in the news. You can always find more about Tezos and similar projects in our blog. For daily content, subscribe to ChangeHero on Twitter, Facebook, Reddit and Telegram.
Frequently Asked Questions
What is Tezos?
Tezos is a blockchain-based platform that supports smart contract programmability, like Ethereum. Its main difference from it is energy-efficiency, which is achieved thanks to the Delegated Proof-of-Stake algorithm.
What is XTZ used for?
XTZ is used in applications developed on the Tezos platform, including DeFi protocols and NFT marketplaces, to transfer value and pay for network fees. Staking or delegating XTZ lets one take part in the governance and can serve as a source of passive income.
How much will XTZ be worth in 2022?
According to different analysts, in 2022 Tezos price can grow to $5.70-11.
How much will XTZ be worth in 2025?
Depending on the source, XTZ coins can grow up to $23.17 in 2025.
How much will XTZ be worth in 2030?
While not certain, analysts predict that in 2030 XTZ will be changing hands for up to $34.77.
Is Tezos a good investment?
Most opinions reviewed here agree that Tezos is a profitable investment.
---
Disclaimer
This article does not constitute financial or investing advice. No price prediction or forecast is guaranteed to provide exact information on the future price. Past performance is not indicative of future results. When dealing with cryptocurrencies, remember that they are extremely volatile and thus, a high-risk investment. Always make sure to stay informed and be aware of those risks. Consider investitions in cryptocurrencies only after careful consideration and analysis and at your own risk.
Learn more:
Quick links: