In this weekly crypto digest, ChangeHero team compiles in short Bitcoin news, as well as other cryptocurrency news and gives an update on our progress. What positive signs we saw in Bitcoin? Check out our Bitcoin digest section! How did Ethereum outperform it? Find the answers in our article!
ChangeHero Updates: UNI and XEM Supported
This week, we continued to expand the list of our supported cryptocurrencies, as well as return some currencies after fine-tuning. Now ChangeHero users can exchange the new Uniswap governance token UNI. NEM is also back and available for exchange!
Interview with Francisco Sarrias from Jelurida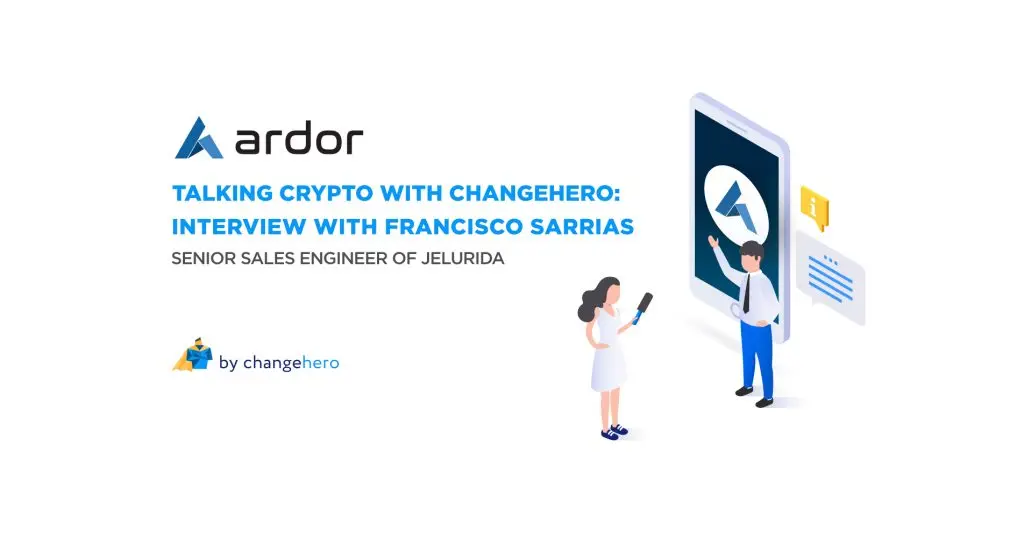 We also talked with Jelurida's Francisco Sarrias about the projects of the company: Ardor, Ignis and NXT, as well as the experience of working in the blockchain industry in 2020. Why is he sure that Ardor is better than Ethereum? What was included in the Ardor hardfork that happened earlier this week? Check out the full interview.
And now, we'll give the Bitcoin digest of the news and review other cryptocurrency news.
Highlights of the Latest Cryptocurrency News 
Short Bitcoin News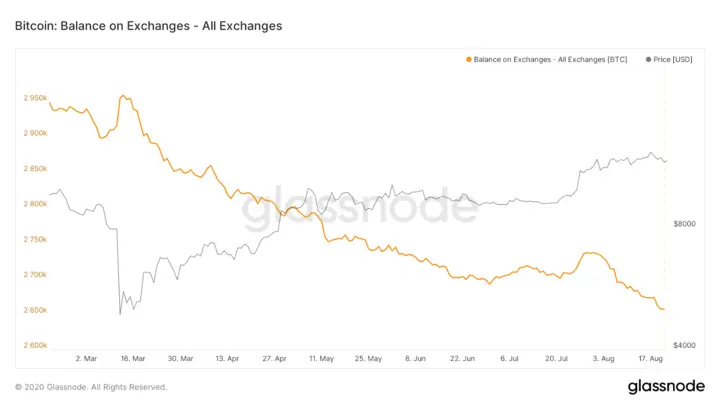 To start our Bitcoin digest, Delphi Digital reported that in comparison with the previous year, Bitcoin is showing more sustainable growth. Bitcoin holders are more inclined to hold rather than sell and speculate. Among the metrics that let them come to this conclusion was a decrease in the amount of BTC held on exchange addresses.
Anthony Pompliano hosted Dave Portnoy on one of his recent podcasts. Portnoy became famous in the crypto community when he entered the market this August. He confessed that the volatility was indeed too much for him to handle, so he bailed out. Little did he know that he in fact sold the top. Regardless of his rather harsh stance on crypto trading, now that he got the taste of it, he still thinks the community is his people, and he will likely be eventually back.
We have more Bitcoin-related news covered in this article. Make sure to read it until the end for other short Bitcoin news!
Blockchain & Tech Cryptocurrency News
Earlier in June, Coinbase presented Rosetta, an open-source set of tools and specifications to build solutions for integrations with blockchains. This week, they introduced rosetta-bitcoin specification as an application of it in practice. Rosetta is supposed to facilitate blockchain explorer, dApp and wallet development.

Source: IOST on Medium.com

IOST shared their progress in collaboration with Japan's Pracs, association of medical experts. They have developed the Pracs application which enables secure and reliable transfer of sensitive medical data. The application is used as a secure channel of communication between patients and medical workers, and the cryptographic encryption guarantees that only the authorized users can gain access to the medical records.
Cryptocurrency News on Regulation
Reuters reported that the European Commission plans to create an all-encompassing regulation for cryptocurrencies by 2024. It will make cross-border payments and operations easier and cheaper for all EU residents and institutions.
Cryptocurrency News on Adoption
Payment provider Visa keeps exploring the blockchain space. In a recent interview with the head of crypto research at Visa, Cuy Sheffield, he cleared up some of the company's plans. They are certainly exploring the possibilities for blockchains to become a part of their grandiose undertaking, an interoperability network for all major payment systems. Visa is also investing in blockchain companies and is working with central banks to help them develop CBDCs.
DeFi Cryptocurrency News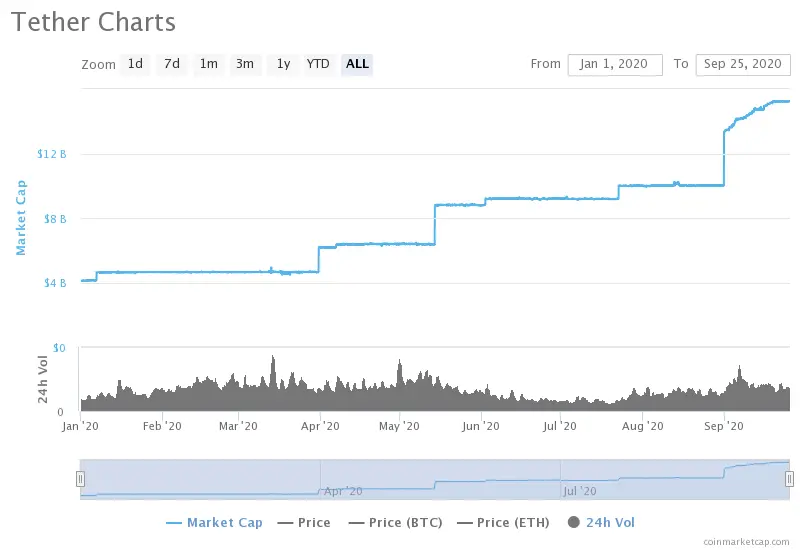 2020 is shaping up to be the year of stablecoins. Tether (USDT) capitalization has grown threefold since January. This week, it exceeded $15 billion. Analysts connect it with the growth of the DeFi sector.
Cryptocurrency News on Twitter
Ethereum miner's revenue from fees surpass #Bitcoin's (7d avg) pic.twitter.com/vNPjHUYkSH

— Unfolded (@cryptounfolded) September 18, 2020
In an analysis provided by Unfolded, we see that Ethereum miner revenues have recently overtaken Bitcoin miner revenues. The Ethereum network is very busy these days, and the revenue of miners includes gas fees paid by the users. This also means that the network fees in Ethereum are even higher than in Bitcoin, but surprisingly this does not drive the users away.
The herd is coming. Slower than I once thought but the future is now. Buy Bitcoin. Learn and invest in DEFi. 2021 these old guys are in. So beat them to it. 😉 pic.twitter.com/bHsYQwgb5f

— Mike Novogratz (@novogratz) September 17, 2020
Mike Novogratz, CEO of Galaxy Investments, reminds us of another reason he invests in Bitcoin. Looks like his endorsement of DeFi, though, turned out to be quite divisive.
1/ Lightning is great, but can't say it is battle-tested. If script kids would be interested, they could take down those shiny new 5 BTC #wumbo channels with negligible cost and no effort at all. pic.twitter.com/9PTkxfF042

— Joost Jager (@joostjgr) September 22, 2020
A new update to Lightning Network, Wumbo channels, came with a shortcoming that could have been exploited. The severity is underlined by the fact that it is not a costly endeavour, which Jager explains down in the thread. To solve this problem, which may curb the enthusiasm of Bitcoin-as-a-global-payments-system apologists, Jager started working on a firewall solution.
With all these Bitcoin-related tweets, we're going to wrap up the cryptocurrency news and Bitcoin digest and analyse the changes in the prices of top cryptocurrencies.
Top Crypto Digest
When it comes to crypto markets, this week was not easy. In the end, very few currencies saw gains in the 7-day time frame, though the movements might set up some of them for a comeback.
At the moment of writing, the market's dynamics for the last 7 days are the following:
Total Market Cap: $335,092,742,547 (-0.94%); 
BTC Dominance: 61.14% (was 59.96%).
ChangeHero Top-10 7d Change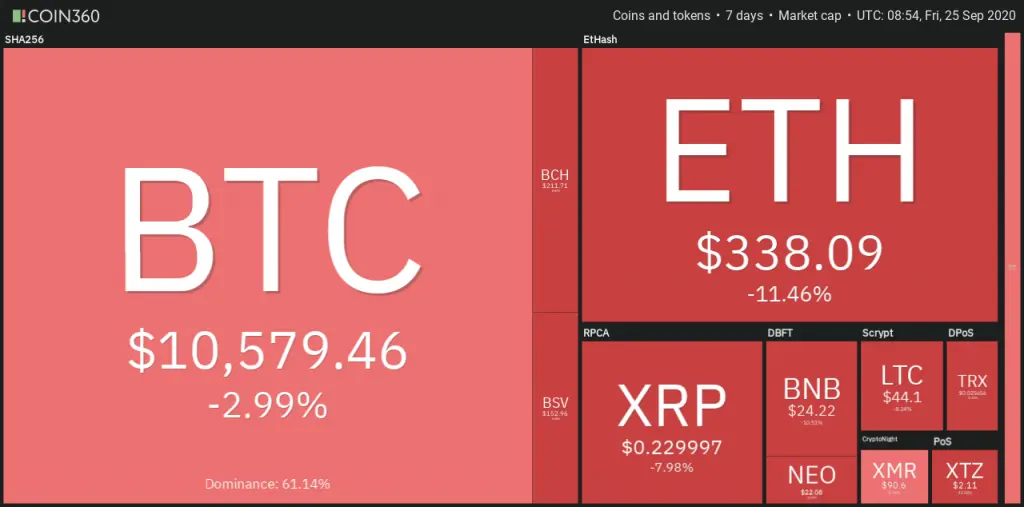 This week, the markets were constantly shifting between ups and downs, but in the end, many top-capitalization currencies ended up with losses of about 10%. Nevertheless, as we mentioned in short Bitcoin news in the article already, Bitcoin might as well grow rather soon.
In our top-10 we included cryptocurrencies that can be exchanged on ChangeHero. You can buy and sell some of them with your credit card, too. At the moment of writing, the 7-day change of the top currencies is the following:
ChangeHero Gainers of the Week
Since the markets are trading in the red this week, very few currencies saw gains. At the time of writing this crypto digest, the top three are:
Round-up
In terms of cryptocurrency news, that was an interesting and intense week. Only more the reason to be looking forward to the next one!
We hope you enjoy our weekly crypto digests. To not miss them, don't forget to subscribe to our blog and follow ChangeHero on Twitter, Facebook, Reddit or Telegram.
---
Learn more:
Quick links: