Massive news on the front of cryptocurrency adoption this week: the most popular social networks plan to introduce crypto and NFT features to millions of users worldwide. The rest of major events in the cryptocurrency news and market recap — in our week-to-week cryptocurrency news digest!
Key Takeaways
Bitcoin and the crypto market grew by up to 20% this week, and most of this growth happened in mere hours on Friday;
Twitter and TikTok, which account for more than a billion users worldwide, are doubling down on NFTs. Twitter plans to introduce NFT profile picture verification badges and TikTok is dropping a collection with the most prominent creators;
In other news, Visa is developing an interoperability hub for digital assets. El Salvador is rounding up the first steps of introducing Bitcoin in their financial system.
ChangeHero Updates
ChangeHero Goes Live on Swapzone!
We're excited to announce a new partner — exchange aggregator Swapzone! Compare live rates and make instant crypto conversions on the same page in the same few easy steps as on ChangeHero.
One-liner Contest on Twitter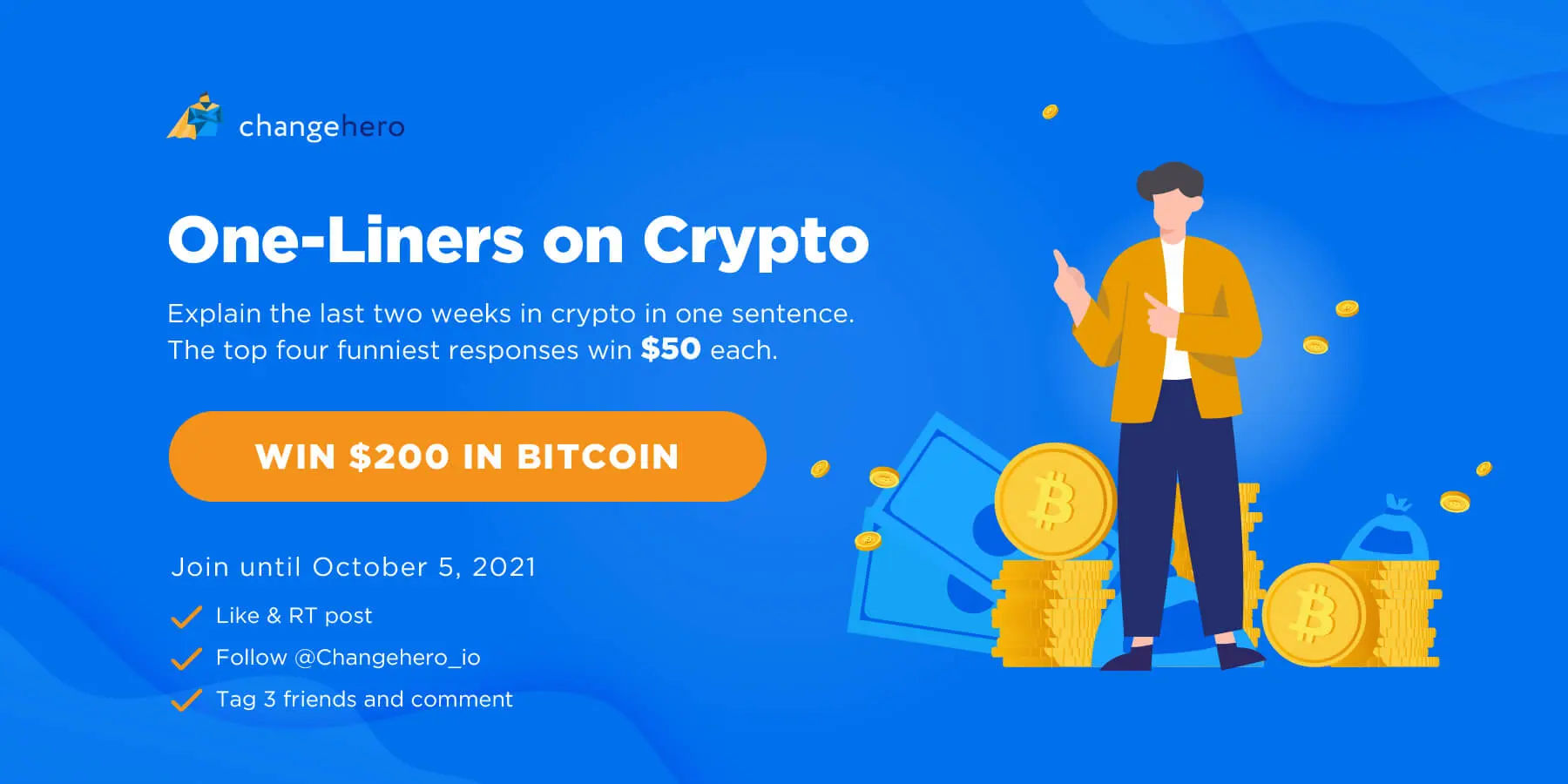 Many things have been said about the last couple of weeks in crypto but can you make it funny? If you're feeling up to the task, absolutely do try it out in our contest for a chance to win $50 in BTC! Follow the rules in the banner and join it on Twitter!
Limited Offer Extended! Exchange DOGE with Zero Fees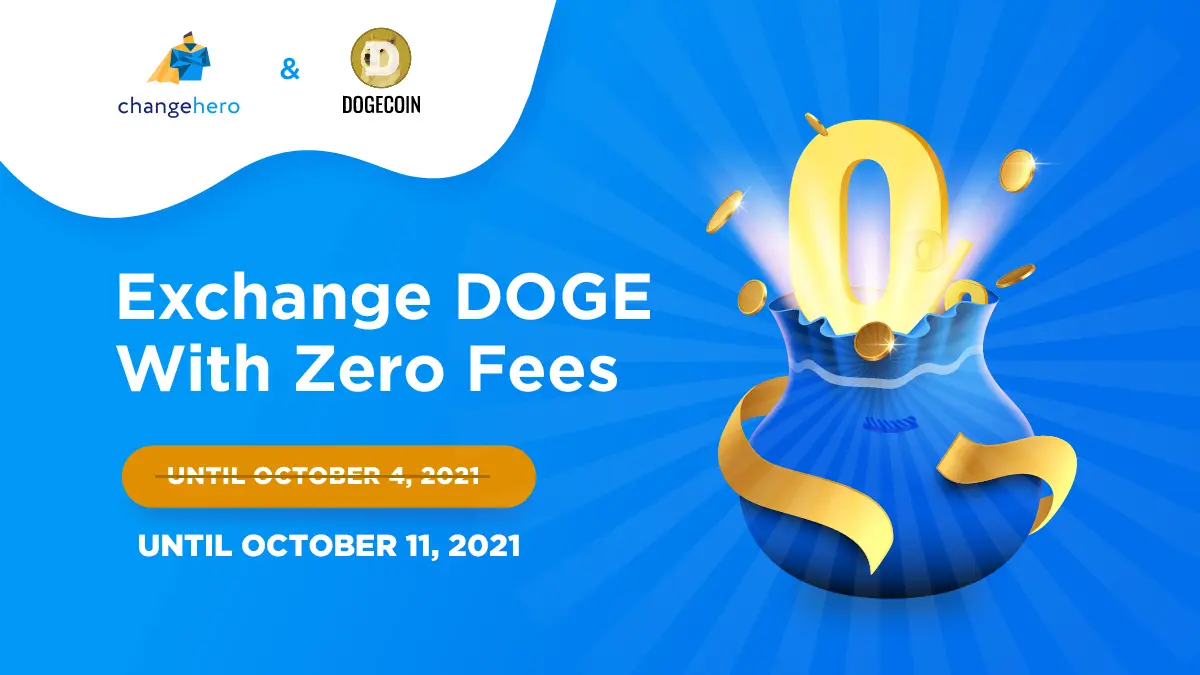 The limited offer for Dogecoin seems to be a huge success! Which is why we have decided to prolong it for a week more. Exchange Dogecoin with no fee attached — no pressure this time!  — on ChangeHero until Oct 11, 2021.
Latest Cryptocurrency News Digest
Bitcoin This Week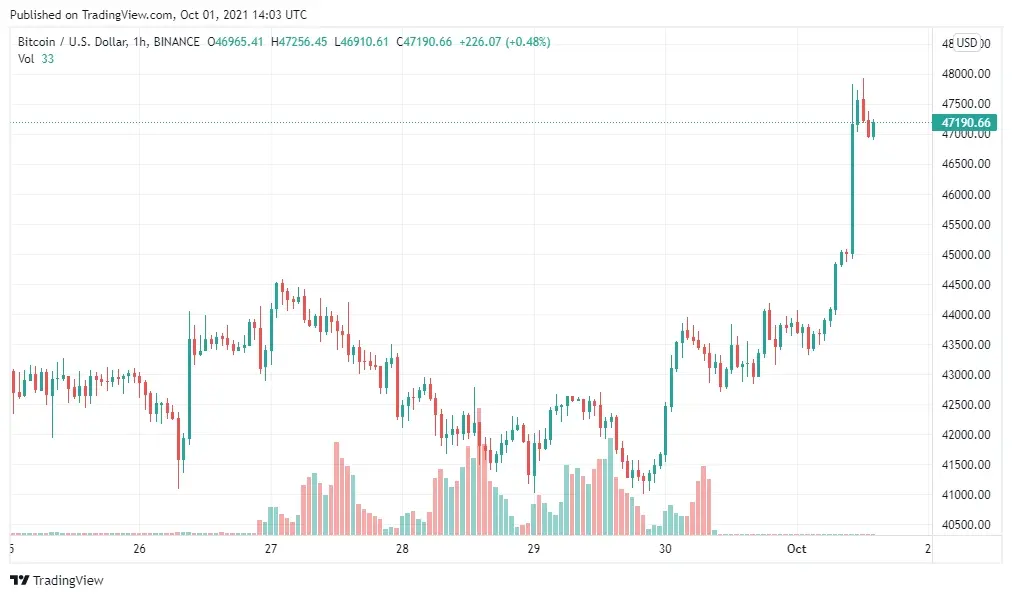 For the most part this week, BTC was trading in the $41-44.5k range, printing somewhat impressive green candles on September, 26 and 30th. However, these are nothing in comparison to an unexpected Friday pump (supposedly connected with the Fed clarifying future regulation — more on that in the next sections). It let BTC break through the $44k resistance all the way up to $47.5k.
Will Bitcoin crash again after this pump? It's reasonable to expect a pullback but the bullish sentiment prevails.
Latest Bitcoin News
El Salvador President Nayib Bukele shared the first results of helping Bitcoin get more widely accepted in the nation. There are 2.73 million users of Chivo with 180 new users every minute, $1 million remittances daily, and the geothermal mining facility mined its first Bitcoin.
Meanwhile Lightning Network has renewed its all-time high capacity record: 2,955 BTC (at current prices over $140 million). The push was most likely driven by El Salvador's Chivo and Twitter Tips using LN.
Altcoin News
Compound Finance introduced a proposal which contained a bug that resulted in disproportionate payouts in COMP. Since the hotfix also has to be voted on, the community has to rely on precautionary measures to prevent excessive COMP issuance.
The Columbus-5 update was finally launched on Terra, introducing economic changes to treasury and oracle fees and cross-chain capabilities. The latter makes Terra compatible with other Tendermint-based networks like Cosmos Hub and Secret Network.
Cardano will integrate Chainlink oracles for their smart contracts to have access to real-world data. The first implementation will introduce market price feeds but potentially it can see all kinds of oracles for the various use cases for dApps on Cardano.
Business Cryptocurrency News
Visa published research insights into building a digital currency interoperability hub. Named Universal Payment Channel (UPC), the hub aims to provide interoperability for CBDCs and private stablecoins alike.
The newest Kraken Research Labs report highlighted the vulnerabilities in General Bytes BATMTwo Bitcoin ATMs used across the US. All types of ATMs by General Bytes, including BATMTwo, account for 22.7% of BTC ATMs installed worldwide.
Cryptocurrency News on Adoption
TikTok revealed a collection of non-fungible tokens made in collaboration with TikTok creators and celebrities like Lil Nas X and Grimes. The tokens will be issued with Immutable X, which claims to be the first carbon-neutral Ethereum layer-two protocol.
The city of San José in California is going to pilot a program in which low-income families' Internet access will be subsidized by Helium (HNT). 20 Helium-compatible hotspots will mine HNT which will then be converted to prepaid cards and distributed to these families.
Regulation & Politics Cryptocurrency News
The US Federal Reserve Chair Jerome Powell stated that the US government has no intention to ban cryptocurrencies. He was clearly referring to the current stance of China to cryptocurrencies and would choose to provide regulation instead.
In preparation for the launch of a separate platform for US customers, DEX aggregator 1inch started geofencing American users' IP addresses.
Social Media Digest
Video of the Week
Twitter and YouTube influencer Lark Davis rounded up Ethereum news from this week. There is a lot: TikTok and ImmutableX collaboration, Deutsche Bank report, bonds and Twitter profile pic verification.
Cryptocurrency News from Twitter
Bitcoin's daily transaction volume quietly hit an all-time high of $29 billion on Sunday.

There have only been 5 days in history where the Bitcoin network has settled more than $20 billion. 3 of those days were this week. 👀 pic.twitter.com/dSZNx9uUeJ — Kevin Rooke (@kerooke) September 29, 2021
User Kevin Rooke pointed out that this week Bitcoin was beating transaction records. That is not even counting Lightning Network, which also scored an all-time highest capacity this week.
September was bad.

October is great. November is great. December is great. Buy the f*cking dip. pic.twitter.com/Ze9nXFdztT — Michaël van de Poppe (@CryptoMichNL) October 1, 2021
Q3 is finally over, and Q4 is in. Crypto Twitter is already celebrating Uptober and waiting in excitement for the historically positive October, November and December.
Here's a sneak peek👀 on what we're working on for NFT profile verification.

What do you think? pic.twitter.com/Z8c6tH3BBy — Justin Taylor (@TheSmarmyBum) September 29, 2021
Twitter exec Justin Taylor teased a preview of another crypto function for Twitter: verified NFT profile picture badge. There is no set date for this feature to arrive yet.
Influencer of the Week
Historical performance for BTC during Q4 pic.twitter.com/4xjMvj22kr

— Will Clemente (@WClementeIII) October 1, 2021
This time we're highlighting the Gen Z wonder Will Clemente. At his age he is already providing in-depth analysis and trading strategies, as well as is active on Twitter and runs a newsletter.
This Week on the Market
How is the market this week? At the moment of writing the cryptocurrency news digest, the general stats are:
Total Market Cap: $2,048,388,463,976 (+9.59%);
BTC Dominance: 43.2%.
7d Change in Top Coins
At the moment of writing, the weekly change of the top currencies is:
Gainers of the Week
What is the best crypto to buy right now? The highest returns on a weekly scale were brought to the holders of these coins:
Conclusion
Adoption of digital currencies and NFTs is making massive strides, but will the market follow? We will have to wait and see to know for sure. In any case, you will know it from our next weekly crypto news digest in our blog. Follow ChangHero on Twitter, Facebook, Reddit and Telegram for daily updates and more content.
---