Software crypto wallets are the easiest way to manage one's cryptocurrency holdings. Most apps nowadays have an array of useful features which make using crypto more accessible and profitable. In this Exodus wallet review we will explain why it is one of our team's favorites and how to make use of it.
Key Takeaways:
Exodus crypto wallet is a software application for smartphones and desktop computers that lets users interact with dozens of blockchains. Despite what the name implies, Exodus is non-custodial, it does not store any funds;
In addition to being non-custodial, Exodus routinely undergoes security audits. This wallet is renowned for its ease of navigation, which may come at an expense of more advanced features;
One of the most handy features of the wallet is in-app cryptocurrency exchange powered by ChangeHero.
What is Exodus Wallet?

Exodus is a software crypto wallet developed and maintained by the Exodus Movement, publicly traded company in the US. It is arguably one of the most popular software wallets, and in our Exodus wallet review we will explain why.
Despite what the name implies, Exodus is a non-custodial application for managing one's crypto funds and keys. Crypto wallets do not store the cryptocurrencies but rather the public and private keys with which transactions are signed. While this is what defines cryptocurrency wallets, Exodus and other apps are successful because they offer features to the users.
Exodus is a multi-currency wallet, which means it can generate keys and addresses for hundreds of supported coins and tokens. To do so, though, it uses its own single seed phrase, because it is a hierarchical-deterministic wallet. Loss of this seed phrase would mean losing all portfolio, so store it securely and never share it with anyone.
Exodus Wallet is available on desktop computers (MacOS, Windows, Linux) and smartphones (iOS, Android).
Features of Exodus Crypto Wallet
Like we already said in this Exodus wallet review, it is full of features useful for newbies and pros alike. Let's review what this wallet has under the hood!
Portfolio Tracker
For example, the most striking feature of Exodus, both on mobile and desktop, is portfolio tracker. When you open the app, you can see the information about your asset performance conveniently on the home tab. It also updates balances and displays them as a currency of your choice in real time.
In-app Exchange
Another life-saving feature for a multicurrency wallet is the in-app exchange. With it, you won't have to go to an exchange to buy one cryptocurrency with another. Since this feature is provided by ChangeHero, we'll definitely give a walkthrough to it later in this Exodus wallet review.
DeFi Features: Staking & Compound
Exodus allow holders of Cardano, Solana, Tezos, Cosmos, VeChain and other PoS currencies to easily delegate a stake. And they even have a YouTube tutorial with an explanation how to do it.
For more savvy crypto holders and yield farmers, Exodus integrated Compound Finance, a DeFi protocol focused on lending and providing liquidity.
Exodus Shares
For US customers, they offer Exodus Shares, which is self-descriptive. Exodus Movement Inc. has gone public and registered with the SEC. **Now users can even buy their stock in the wallet, which is a unique offer on the market. **
Note that this feature is region-locked and requires providing personal information for authorization as a stockholder.
Exodus Wallet Pros and Cons
Pros
User-friendly: The interface is pretty easy to navigate and customer support service and resources are available right in the application.
Utility: The wallet supports 132 coins, and the list grows with each biweekly update.
Accessibility: The desktop and mobile versions of Exodus can be synchronized for maximum convenience.
Cons
Our Exodus wallet review wouldn't be complete without mentioning the cons because, after all no app is perfect.
Lack of fee modification: Users note that sending altcoins can be costly as the wallet will automatically set the fee for the fastest sending.
Not entirely open-source: Not all code of Exodus is open but the software routinely undergoes security audits.
Hot wallet: Exodus can be connected to Trezor wallets, though, so users can have secure storage and great user experience.
How to use the in-app Exchange feature?
As we already mentioned in this Exodus wallet review, we will provide a look into its Exchange option.
How to make an exchange without leaving the Exodus crypto wallet?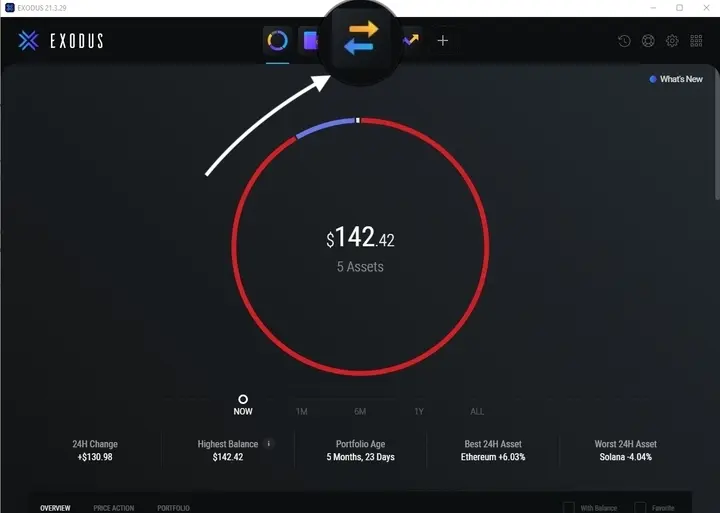 Step one: Go to the Exchange tab from the Home page.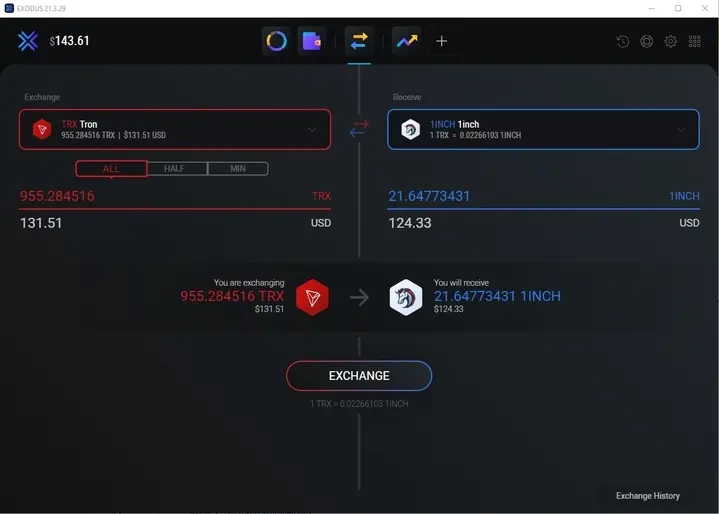 Step two: In the tab, choose the currencies of exchange and the amount. We will be exchanging TRX to 1INCH.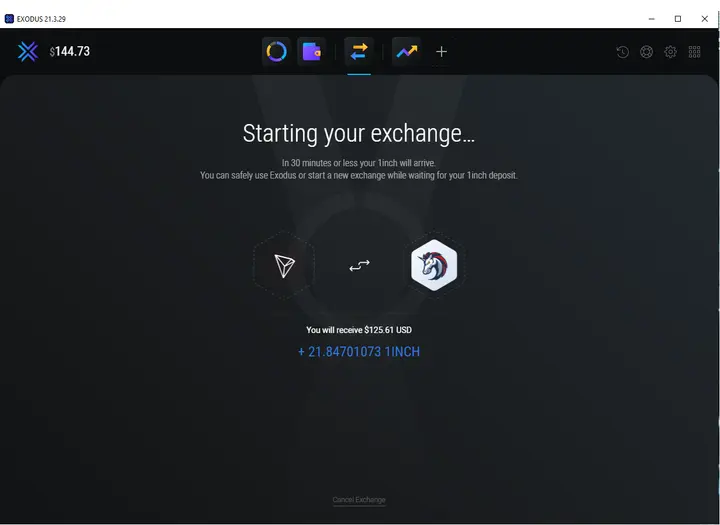 Step three: Once you hit the "Exchange" button, your funds are being exchanged. You do not need to leave the tab open, as we are doing all the work.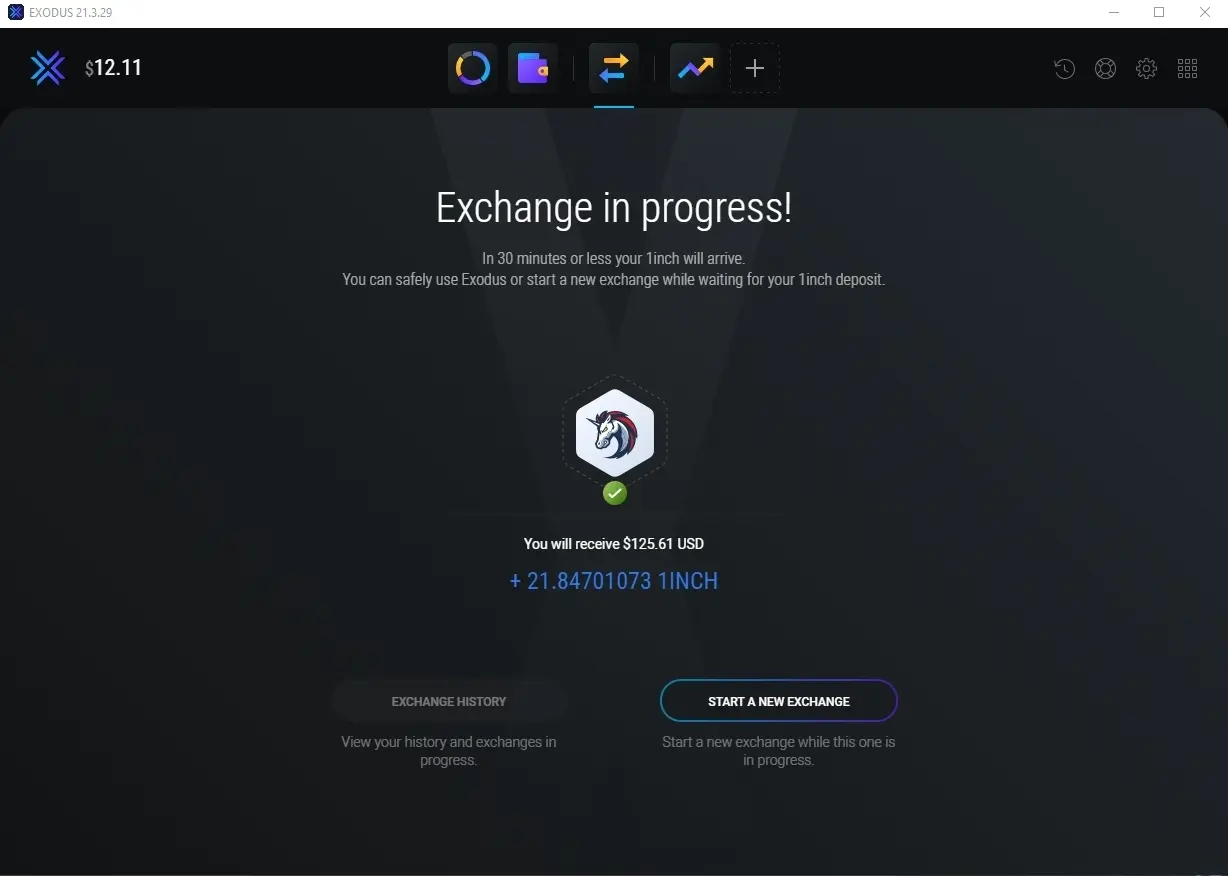 Step four: Exchange completed! You will be shown the result amount and prompted to either see the history of exchanges or start a new one.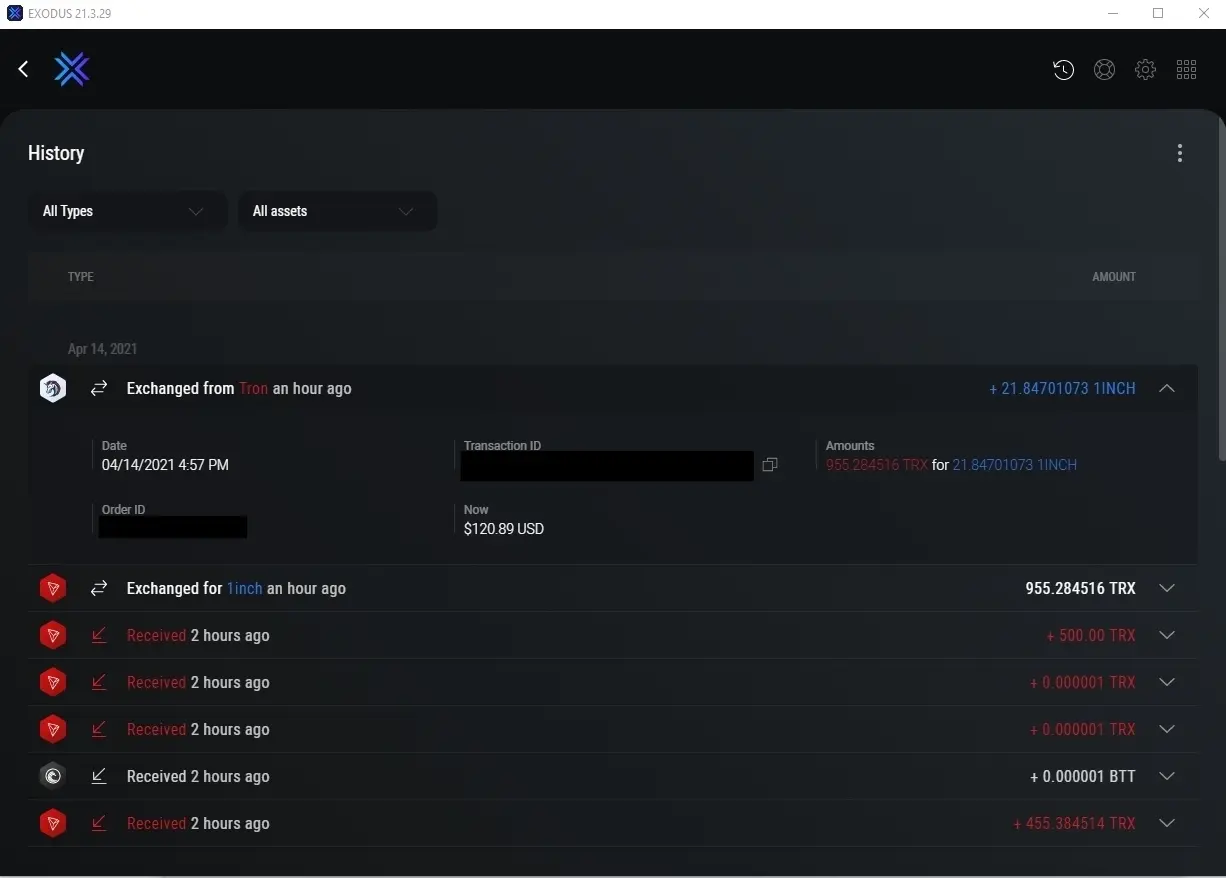 You can double-check that your funds have arrived in the Exchange History.
Conclusion
To conclude this Exodus wallet review, we could recommend it to casual crypto users and beginners. More seasoned holders can still enjoy it, too, with the Trezor integration. 
We hope that you found our review helpful. You can check out more content in our blog and social media: Twitter, Facebook, Reddit and Telegram,
Frequently Asked Questions
What is Exodus Wallet?
Exodus crypto wallet is a non-custodial software application in which users can send, receive and exchange more than a hundred cryptocurrencies.
How to exchange crypto in Exodus Wallet?
To exchange cryptocurrencies in Exodus Wallet, go to the "Exchange" tab, choose a pair, provide amounts, double-check and click "Exchange".
How does Exodus wallet work?
The wallet serves as an interface to interact with blockchains. It does not hold any currencies but only helps you sign transactions with the private key.
What coins does Exodus Wallet support?
There are 132 supported coins in total. About 90 of them have full support of sending, receiving and exchanging.
How do I fund my Exodus wallet?
Go to the "Wallet" tab, choose a cryptocurrency you need, click "Receive". You will see your address of the currency of your choice. Provide it as a withdrawal address to the exchange or service where you are buying crypto.
---
Learn more:
Quick links: