Bitcoin's spectacular growth in 2021 is attracting a lot of newcomers into crypto. Which is why it is as vital as ever to let them easily find the basics of the crypto experience. In this series of articles, we will explain why it is so important to pick a suitable cryptocurrency wallet. Let's talk about the best software wallets 2021 in the first one!
Key Takeaways
There are several types of cryptocurrency wallets, and one of them is hot wallets. Most often they come in a form of software wallet, an application which lets users access their keys and blockchain. Hot software wallets require Internet connection;
Software wallets are best suited for newcomers who would like to use their crypto and do not hold large amounts. Usually these come as desktop or mobile apps;
Some of the best software wallets 2021 according to our team are Exodus, Atomic, BRD, MEW, Trust Wallet, Coinomi and Enjin;
What is a Cryptocurrency Wallet?

First things first: what even is a cryptocurrency wallet and why do you need one?
In early times, to send and receive cryptocurrencies, users had to run a node. Nodes store an entire copy of the blockchain and need constant Internet access to synchronize. To address the impracticality of using nodes, crypto wallets were developed.
Cryptocurrency wallets come in different forms: applications, devices, even paper printouts. Their purpose is to store the user's public and private keys with which transactions on the blockchain are signed. They don't store a copy of the blockchain like a node does and synchronize only when needed.
Modern cryptocurrency wallets not only provide a UI to interact with the blockchain but also can have additional features. Some wallets can act as dApp browsers and let users swap cryptocurrencies on the go.
What are Hot Wallets?

There are two categories of cryptocurrency wallets depending on whether they connect to the Internet or not. The ones that do are called hot wallets. Others which only store the keys and do not connect to the Internet are called cold wallets.
Most hardware wallets act as cold storage and software wallets are usually "hot". In theory, connection to the Internet might make a wallet susceptible to hacking or interception. This begs the question, are software wallets safe?
Generally, the answer is yes. Most software wallets come with built-in encryption and can have 2FA. Also, not every software wallet is for hot storage exclusively, as some of them can connect to cold wallets, too.
So now you should have a clear idea what the difference between hardware and software crypto wallets is. Let us present a list of the best software wallets according to the ChangeHero team!
Best Software Wallets 2021
Software wallets are a great choice for small crypto holdings, which are often transferred and used. It is also the best option for beginners since all of the apps are free to use! The picks by our team are provided in no particular order.
Exodus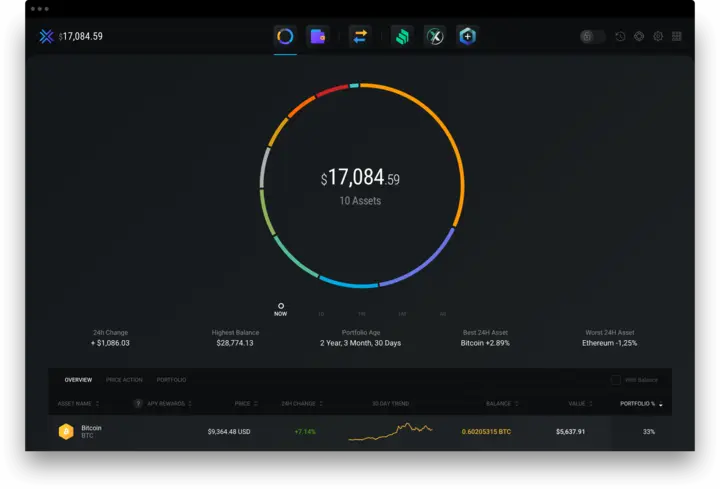 One of the best software wallets that most of our team members would recommend is Exodus. It is available on desktop (for MacOS, Windows and Linux OSs), as well as Android and iOS mobile apps. The desktop and mobile versions can sync with each other.
Its most prominent features include portfolio tracker, Trezor integration and in-app exchange. We'll let you in on a little secret — you can swap currencies with ChangeHero right in the Exodus wallet. Both our teams are always at work to make sure the wallet users get the best exchange rates. 
Exodus also includes safety features like backups and encryption, and undergoes security audits by independent parties from time to time. It's a hierarchical-deterministic (HD) wallet, so all the keys you store in it will be generated from one unique seed phrase. It can be convenient because you do not need separate seed phrases and can generate multiple addresses for privacy. On the other hand, when using HD wallets, take extra care not to lose the seed phrase. Without it all your funds in the wallet are gone forever!
Pros
User-friendly;
A Swiss-knife-like functionality;
In-app exchange with ChangeHero;
Top-notch support
Cons
The number of supported currencies is different on desktop and mobile;
No 2FA
Atomic Wallet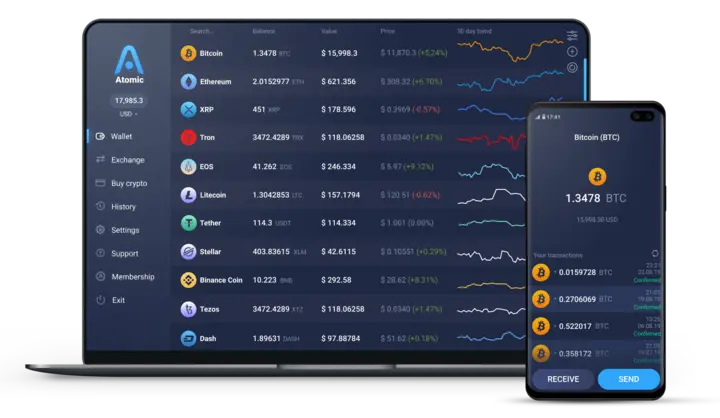 Another popular pick with the team is the Atomic wallet. While not as pretty-looking as the previous one, this product embodies the idea of functionality over aesthetic appeal.
Atomic wallet is available on Windows, macOS, Ubuntu, Debian, Fedora, as well as on smartphones as apps for Android & iOS.
In addition to the standard features, Atomic wallet supports fiat purchases and staking for PoS currencies (ATOM, XTZ, ONT, KMD, TRX, NEO, ALGO and VET). Should it also be mentioned that their range of supported currencies is crazy — about 500? We think it should.
Like Exodus, Atomic Wallet is hierarchical-deterministic. If the seed phrase is compromised, your whole portfolio might be gone, so never share it with anyone.
Pros
Reliable;
No account or signup;
Relative ease of use
Cons
Single seed phrase;
Users report connectivity issues
BRD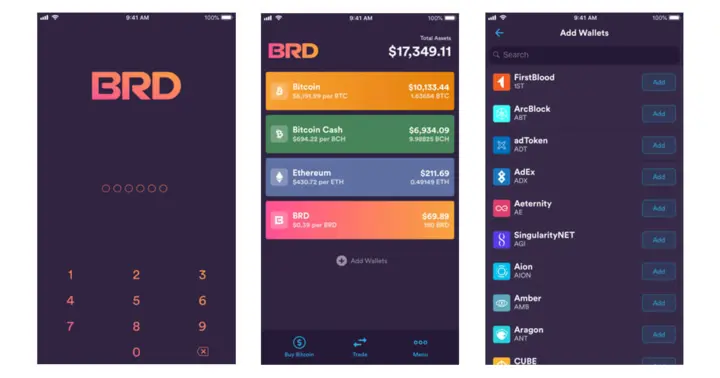 What is the best software wallet for beginners? Some of our team's members have taken a liking to this Mobile-only wallet app. While it has fewer unique features, BRD has to be one of the most newbie-friendly wallets out there. 
For accessibility, they implemented an in-app knowledge base to access from every section of the app. Another important point is that this application is entirely open-source. BRD has a loyalty program which utilises the BRD token to unlock different perks like discounts on fees.
In terms of security, BRD is solid all around. The wallet is non-custodial, meaning that the keys are stored on the device and no account or deposits are needed. The app is open-source means anyone can audit it.
If you'd like to own BTC/ETH and a few altcoins, this is a solid option that we can recommend.
Pros
User friendly;
Open-source;
Loyalty program
Cons
Smaller selection of currencies;
Mobile only
MyEtherWallet (MEW)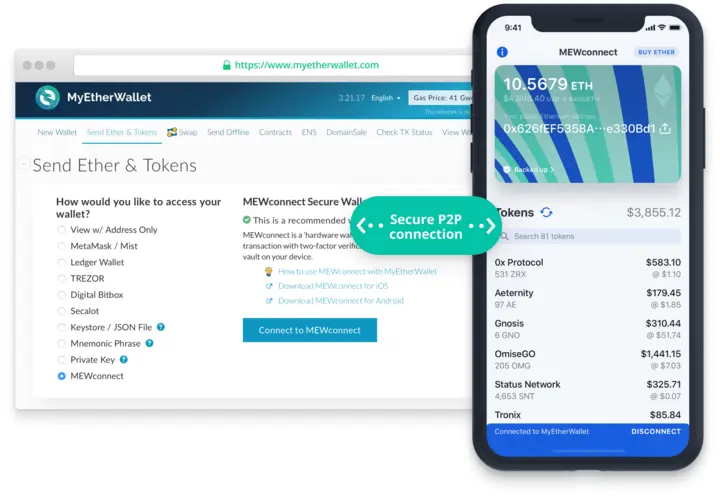 As the name suggests, MEW is focused mostly on the ETH and ERC-standard assets. In fact, it is one of the best software wallets for the storage of Ethereum-based assets. You can access the interface through the website or with a new and improved mobile app for Android and iOS. 
If your MEW wallet is connected to your MEW Web, you get to enjoy using smart protocols and DApps. Moreover, it's entirely open-source! 
To secure the user's funds, MEW uses multi-layer encryption and stores data locally on the device. Using a PIN code instead of a password is an intentional design choice. The code is not used to encrypt the data, and PIN brute-forcing is thwarted by having limited login attempts.
A solid choice if you don't need to include a lot of non-Ethereum based currencies in your portfolio.
Pros
Ethereum-focused;
Open-source;
Reputable
Cons
ETH and ERC tokens only;
Less user-friendly than others
Trust Wallet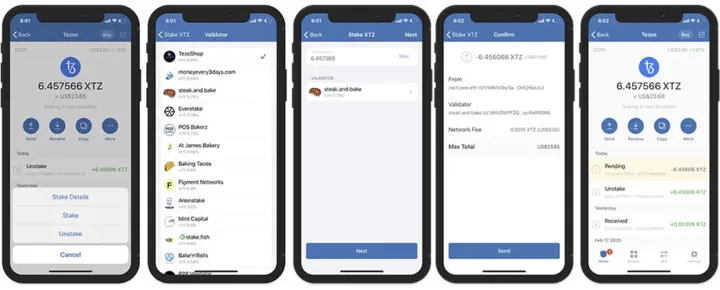 If you prefer products with a reputation, we can recommend having a look at Trust Wallet. This multi-currency wallet is the official partner wallet of the Binance exchange.
Basically, it covers all the ground major software wallets have to cover these days to be competitive: encryption and backup? Check! Swaps? Check! DApp browser? It's there! Price tracker, fiat-to-crypto purchase, major token chains support? They've got it all. 
As some extra features, they have a watch-only mode (a mode in which checking the address status is possible but signing transactions is not) for hardware wallets and dedicated wallets for DEX and game accounts. Trust Wallet is one of the best software wallets if you'd like to use your cryptocurrency to the fullest.
Pros
Easy to navigate;
Loaded with useful features;
Wide selection of currencies
Cons
Some features require workarounds;
Plenty of features make it confusing at times
Coinomi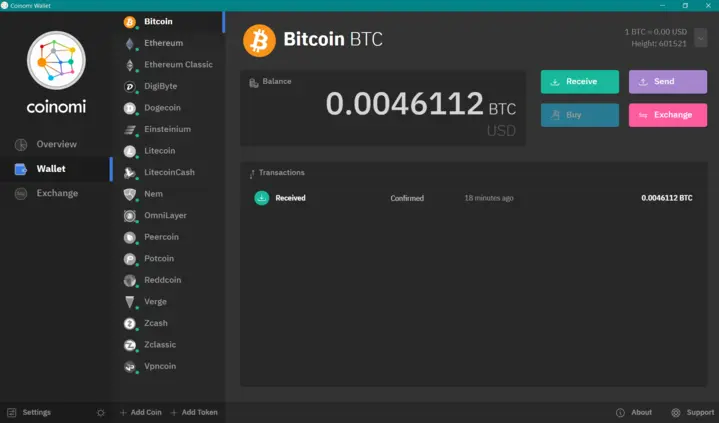 Speaking about wallets with reputation, Coinomi absolutely has to be mentioned. As they claim, no wallet has been hacked or compromised since they started the business back in 2014. When it comes to security, Coinomi is at the top of the best software wallets.
Another selling point they have is native support of about 125 blockchains and fully native SegWit support. It has exchange and cross-chain payments functions, it's got both streamline for new users and advanced options. A version for any major platform and OS is available, be it desktop (Win/Mac/Linux) or mobile (iOS/Android).
It's important to notice **Coinomi is hierarchical-deterministic with a one-time backup passphrase. **
Pros
Secure and reputable;
Long list of supported coins and tokens;
Useful features
Cons
High traffic causes connectivity issues;
Misses some top currencies like ADA and XRP
Enjin Wallet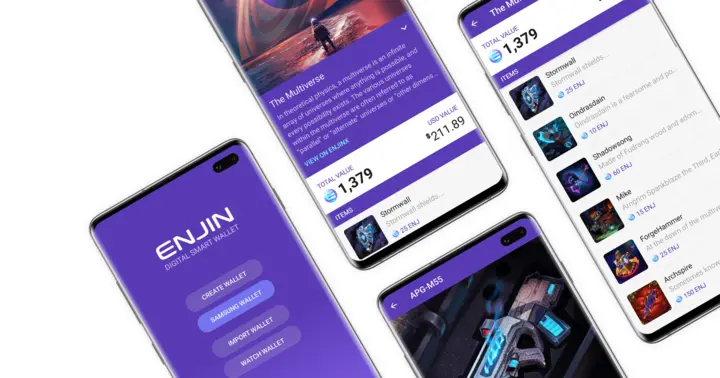 Last but not least, another wallet that is focused on the Ethereum blockchain (though other major coins are also supported). Enjin is also developing their own blockchain ecosystem, tailored for blockchain gaming.
While being a software wallet, Enjin utilizes the strengths of the medium for the sake of security. This wallet uses a custom Enjin Keyboard to prevent any input tracking and it regularly undergoes security audits. Additionally, completing the seed phrase creation, it is purged from the phone completely.
While useful to all kinds of crypto enthusiasts, Enjin is heavily targeted at gamers. In fact, Enjin was the first wallet to have fully-fledged NFT support. There is no other option among other best software wallets suited better for NFT storage.
Pros
Extra security measures;
Complete NFT support;
DApp browsing
Cons
Limited number of supported currencies;
Custom keyboard also means limited interactions with the device OS (i.e. iOS password manager)
Conclusion
We hope you found a suitable wallet in our best software wallets 2021 list. All of those are tried and true options tested by cryptocurrency experts.
Stay tuned for the next article on hardware crypto wallets next week! See it in our blog, and posts on Twitter, Facebook, Reddit and Telegram will let you know it's up!
Quick Links