In the first full week of the year, we have already seen plenty of news. Crypto news, too! Check out our first crypto digest of 2021 for the highlights, Bitcoin digest and market analysis.
Latest Crypto News
Bitcoin Digest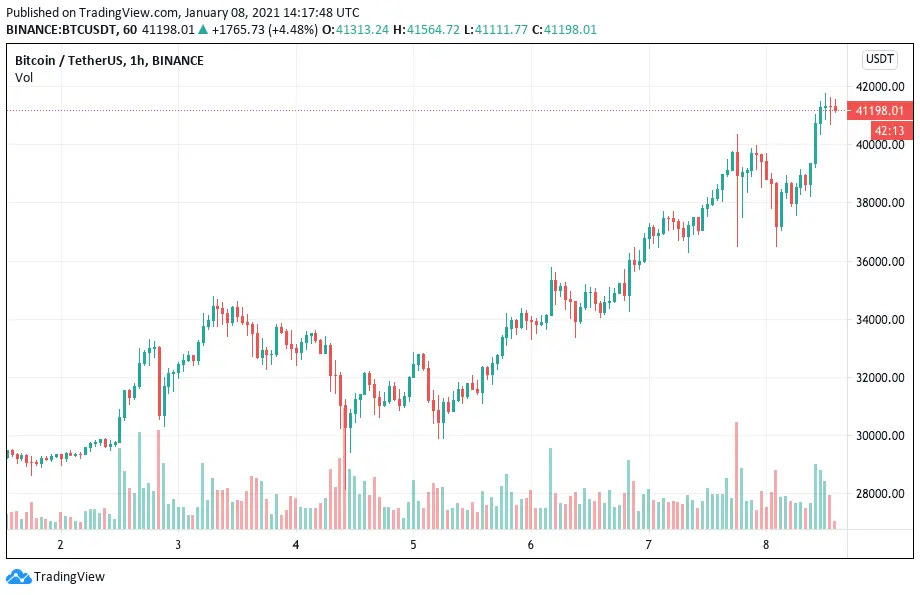 New Year — New all-time highs. Just a couple of hours ago, Bitcoin was trading for as high as $41,785.90. No one in 2020 would have thought that the $28k would be considered a buying opportunity, but here we are.

However, this growth looks almost vertical. Which begs the question, is Bitcoin going to crash again? It is not improbable, but for now most of the technicals are in the "strong buy" area.

In other Bitcoin news: last weekend was the anniversary of the genesis block of Bitcoin. In 2021, the message "The Times 03/Jan/2009 Chancellor on brink of second bailout for banks." is as timely as ever.
Tech News
Optimism, a second-layer scaling solution for Ethereum, is getting ready for the mainnet launch. Chainlink and Uniswap have plans to use the solution to improve the transaction speed.
Business & Crypto News
NASDAQ-traded Internet and gaming company The9 is cooperating with cryptocurrency businesses to branch out into the industry. The company is planning to establish a cryptocurrency mining operation, the goal of which is to contribute 10% of the global hashrate of Bitcoin, Ethereum and Grin;
Bakkt is reported to be in preparation for the merger with a blank-check firm VPC Impact Acquisition Holdings. The vehicle, associated with the Victory Park Capital, is set to partner with and help grow fintech businesses. However, there is no official comment from the parties involved in the deal yet.
Crypto News on Adoption
For the first time, the cumulative cryptocurrency market cap has hit $1 trillion. To compare, it is more than the market capitalization of Tesla and Facebook, and about a half of Apple's capitalization.
Mediterranean Hospital of Cyprus has successfully performed a wave of COVID-19 vaccinations, tracked with an app built on VeChainThor blockchain. The same app was developed in June 2020 to help track PCR test results for international visitors to Cyprus.
Crypto Regulation & Politics News
Bittrex announced the delisting of Zcash, Monero and Dash. The most probable reason is compliance concerns, and the currencies responded by sharp price declines last Friday.
The US Office of the Comptroller of the Currency officially allowed the banks and thrifts to use stablecoins in operations. In practice, it means that now banks can run nodes of their own and exchange digital currencies on blockchain. Essentially, this puts stablecoins on the same level as an established transfer system like SWIFT, and can set a precedent for other nations.
Twitter Crypto Digest
🚨🚨 The number of unique Twitter accounts tweeting about #Bitcoin has just hit an all-time high of 66,832, surpassing the previous high of 64,652 set on 12/27/2017. pic.twitter.com/wW8t4fqeIT

— The TIE (@TheTIEIO) January 3, 2021
Data outlet The TIE published statistics on the number of unique Twitter accounts posting about Bitcoin. It turns out that this number, 66 thousand accounts, is currently even higher than in 2017, 64 thousand.
Zcash $ZEC is easily the most underrated crypto right now. It brings privacy to money, which is a fundamental building block of a free and open society. Proud that @Gemini supports this noble project with @NYDFS approval.

— Tyler Winklevoss (@tyler) January 1, 2021
It was a tough week for privacy coins, but Gemini's founder, Tyler Winklevoss did not change his mind about Zcash. 
Youtube channel: MrBeast is now a verified #Brave browser publisher. Subscribers count: 50,200,000 https://t.co/gIzZTW2xpg

— batgrowth.com bot (@batgrowth) January 6, 2021
Mr Beast, a YouTuber with a 50-million audience, has joined the ranks of verified Brave creators. The current users of Brave Browser are now able to tip him directly in the browser with BAT. But there is a more great thing about this: his sizable audience may gain exposure to crypto as a whole.
Influencer of the Week
Every market out there is going up. It's a great start to the year 🚀

— Crypto Sara (I also like Bitcoin so GFY) (@AltcoinSara) January 4, 2021
Altcoin Sara is a rare female member of the crypto community — and what a member she is! Civil engineer, bodybuilding model and, of course, a crypto enthusiast. Despite the handle, she does not ignore Bitcoin, but the attention she gives to altcoins is much appreciated.
Top Coin Digest
What is happening to cryptocurrencies? Well, looks like altcoins have finally started moving to follow Bitcoin. Some are already outperforming it, too!
At the moment of writing the crypto digest, the general market stats are:
Total Market Cap: $1,044,369,383,396
BTC Dominance: 70.37%.
7d Top Coin Change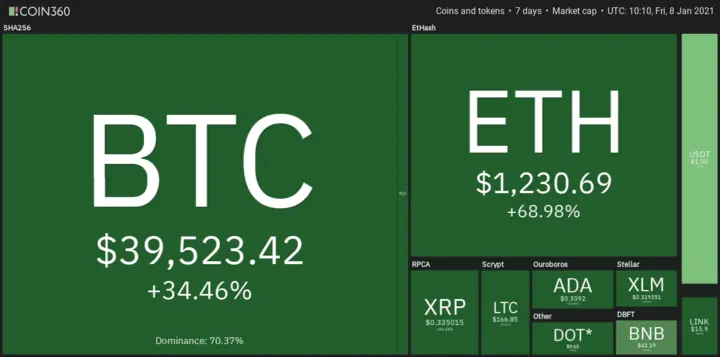 At the moment of writing the crypto digest, the 7-day change of the top currencies is the following:
Gainers of the Week on ChangeHero
At the time of writing this crypto digest, the altcoins that saw the most gains are:
Nano (NANO) $4.30 (↑321.51%);
Stellar Lumens (XLM) $0.320726 (↑142.45%);
Status Network Token (SNT) $0.06606 (↑118.83%).
Key Takeaways
Shortly prior to publishing this crypto digest, Bitcoin reached a new all-time high, $41,785.90, which is common in the discovery phase;
Altcoins are also seeing rapid growth after stalling for several weeks. Among those that outperformed Bitcoin are Nano, Stellar Lumens and SNT;
The exchanges are starting to act on compliance concerns over privacy coins. For now, it was only Bittrex and three currencies (ZEC, XMR, DASH). At the same time, Gemini shows that it is possible to trade privacy currencies in a regulated environment.
Conclusion
As far as crypto is concerned, the start of the year is going quite well. Let's hope the impulse lasts well into 2021.
If you enjoyed roundup in this crypto digest, our blog is the place to find more content about blockchain and crypto. To keep up with the updates, subscribe to ChangeHero's Twitter, Facebook, Reddit and Telegram.
---
Learn more:
Quick links: