In the month of June, ChangeHero team has had a few exciting announcements, made several informative blog posts and shared a few snippets of our daily work. Let's see once more what we managed to tell you!
CoolWallet S Integration Announcement and Collaboration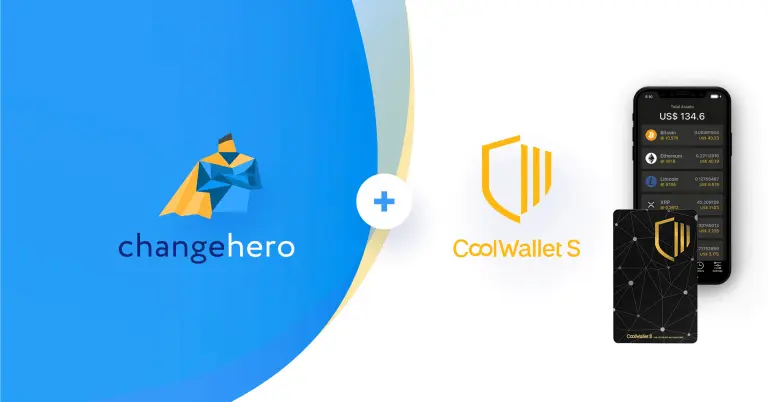 In June, CoolBitX and ChangeHero announced a major update that introduced the ChangeHero exchange option to the leading mobile hardware wallet CoolWallet S via API integration into the companion app. To see for yourself how easy the process is, check out our step-by-step guide on how the in-app exchange works. To celebrate this occasion, we have had a joint giveaway of CoolWallet S devices to lucky winners, which attracted almost a thousand participants! But this is not the end of the exciting events tied to this collaboration, make sure to follow our Twitter for more news to come.
ChangeHero in DailyHodl and AMB Crypto
This partnership was also announced in top crypto media outlets, dailyhodl.com and ambcrypto.com. These media are visited daily by hundreds of thousands of viewers, and are go-to places for the most recent crypto news and announcements.
Algorand on ChangeHero
Last month, we introduced native support of Algorand (ALGO) on ChangeHero. This means that the exchanges with ALGO are processed quickly and reliably without any delays. Check it out! You can also buy and sell it right on our website.
Champion Pair of the Month
This month, the absolute champion in popularity with the users was the BTC–ETH pair. Both currencies were showing surprising highs, especially in the beginning of June, therefore traders exchanged the coins to score some gains. It's true that some other altcoins like DigiByte or Chainlink showed more impressive results, but most traders seem to stick to the top currencies.
Top Currencies of the Month
In addition to the already mentioned BTC, which is an undisputed champion, and ETH, the currencies that ChangeHero users swapped most often this month were BCH, BSV, DGB and USDT. DigiByte was also featured in the blog content published this month, feel free to check out the Altcoin Season article and Price Prediction for DGB to learn what the fuss is all about!
ChangeHero Tweets in July
The giveaway with CoolWallet S sure did make waves on Twitter, but this was not the only content we shared on our Twitter! We got some love from the DigiByte community for the articles, as well as for the announcement of the champion pair of the week when they got listed on Binance.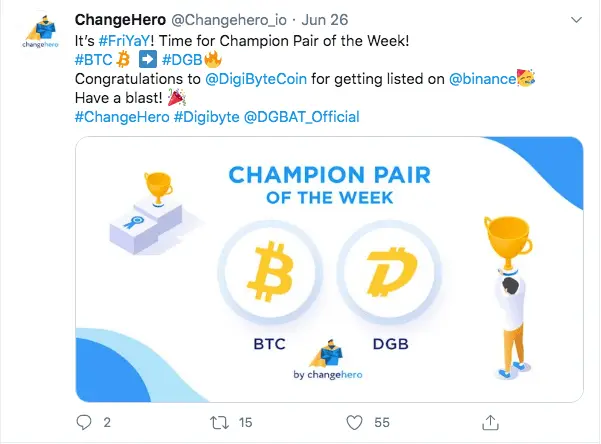 The TRON community seemed to like and share the Beginner's Guide we wrote in celebration of TRON Independence Day. With TRON 4.0 just around the corner, they seem to be buckling up for the Great Journey ahead, so the tweet was just on time!   That's about it with the most interesting things you might have missed in June. Stay tuned to ChangeHero Blog for more content, news and announcements like these! Follow us on Twitter, Facebook, Reddit, Telegram and be the first to get notified.
---
Learn more:
Quick links: