These days, Ethereum hosts the majority of decentralized finance infrastructure but it has a persistent scalability and fee problem. Second-layer solutions like OMG Network can solve these problems, and Genesis Block Ventures are focusing on DeFi protocol development. In this follow-up article, we will give detailed instructions how to exchange OMG with ChangeHero.
What is OMG Network?
OMG Network is a protocol which is a second-layer solution to scale Ethereum. Particularly, it is an implementation of Plasma, or sharding. The technology which OMG Network uses is called More Viable Plasma. It processes transactions with a centralized Operator, packs them into blocks and records block hashes on the parallel chain. This way, the network can process about thousands of transactions for the same time it takes Ethereum to process ten.
The parallel chain which has the information about the transactions in OMG Network is called a child chain. A child chain relies on Ethereum's security guarantees to validate and verify transactions. Compared to a sidechain which relies on its own security mechanisms.
If you need more information, we have an extensive OMG Network guide with everything you need to know about it. Already did your research? Then without further ado, let's move on to the instructions how to exchange OMG!
How to exchange OMG? Step-by-step Instructions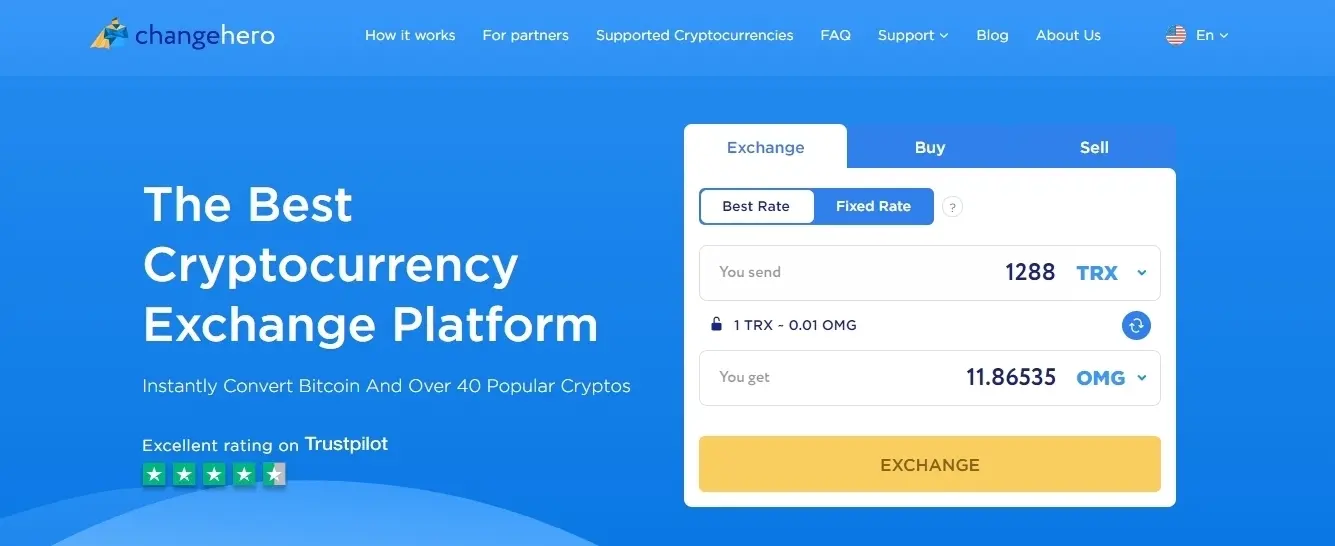 Step one: Go to ChangeHero. In the widget on the home page you can choose currencies, amounts and rates. We want to exchange some TRX for OMG. In this type of exchange, the amount of OMG we get will be the same as when creating the transaction. Hitting "Exchange" will take you to the next step.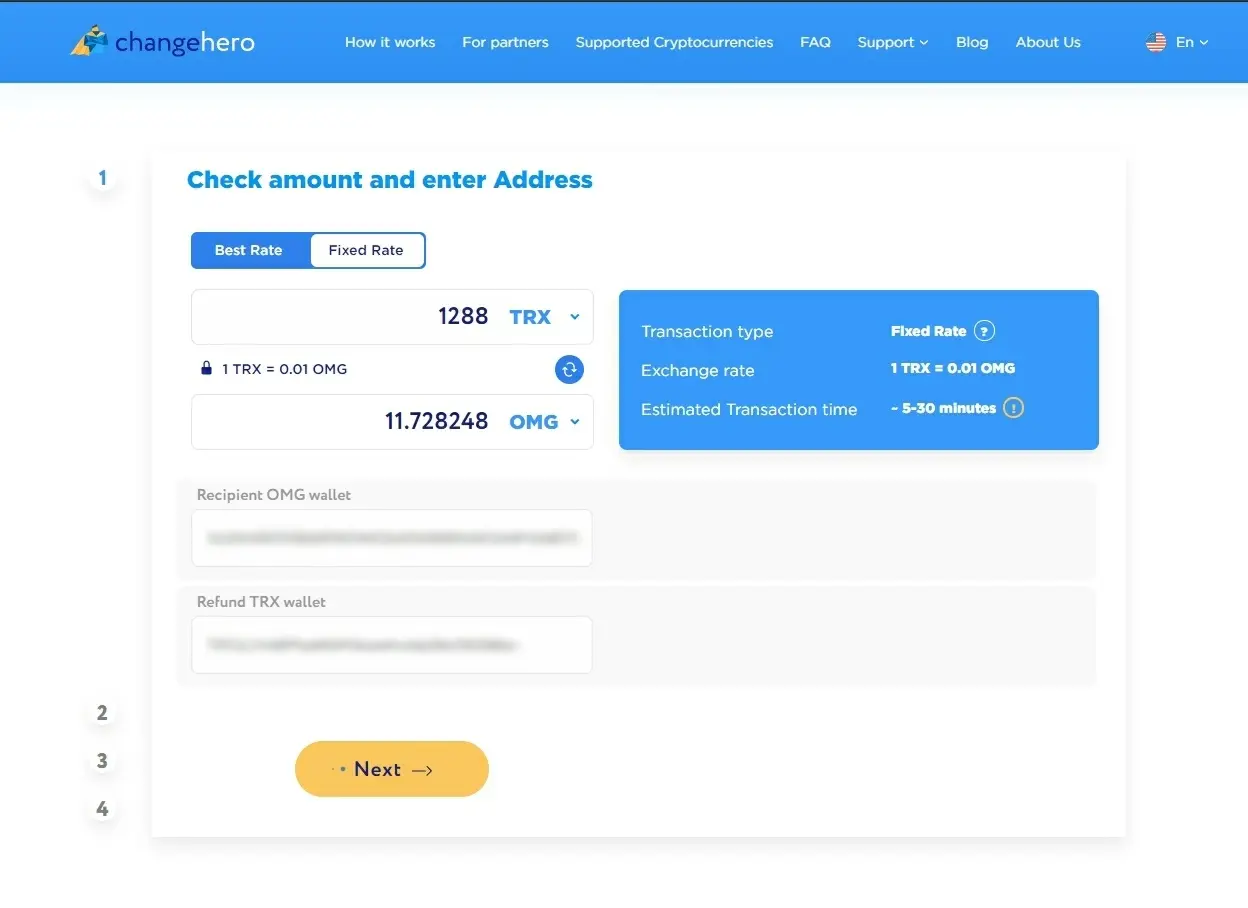 Step two: Enter the OMG wallet address. You can edit the amounts, currencies and transaction type at this step, too. We chose Fixed Rate. For Fixed Rate transactions, you will be prompted to enter a refund address. This is for the case a transaction expires before your funds arrive at ChangeHero's address. Should it happen, your funds will be instantly refunded to the address you put in that field. Hitting "Next" will take you to the third step.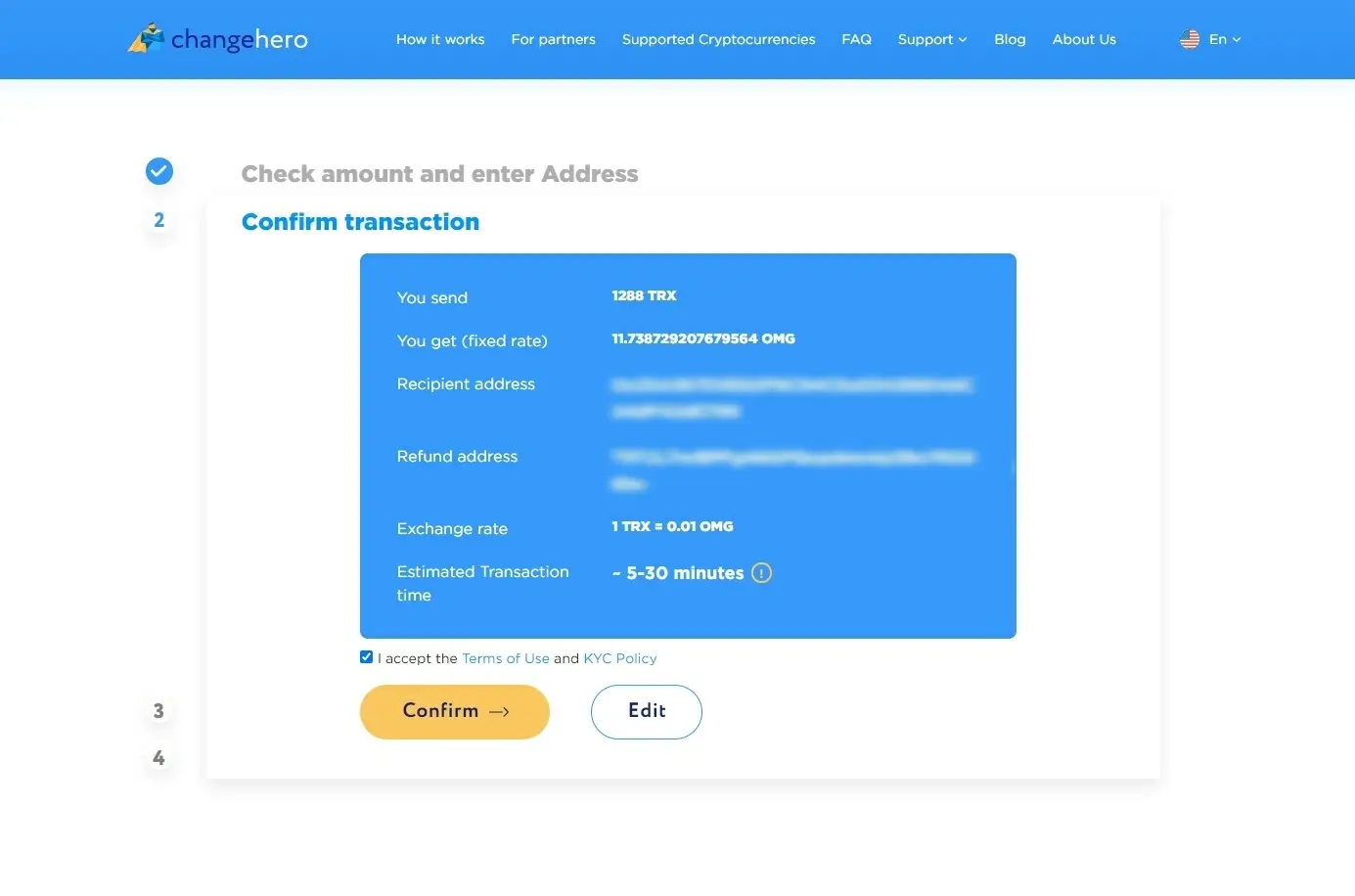 Step three: Double-check that you entered the right addresses and picked the right details of a transaction. If you notice a mistake, you can go back by pressing "Edit". If you want to proceed, read and accept the Terms of Use and KYC Policy, then press "Confirm".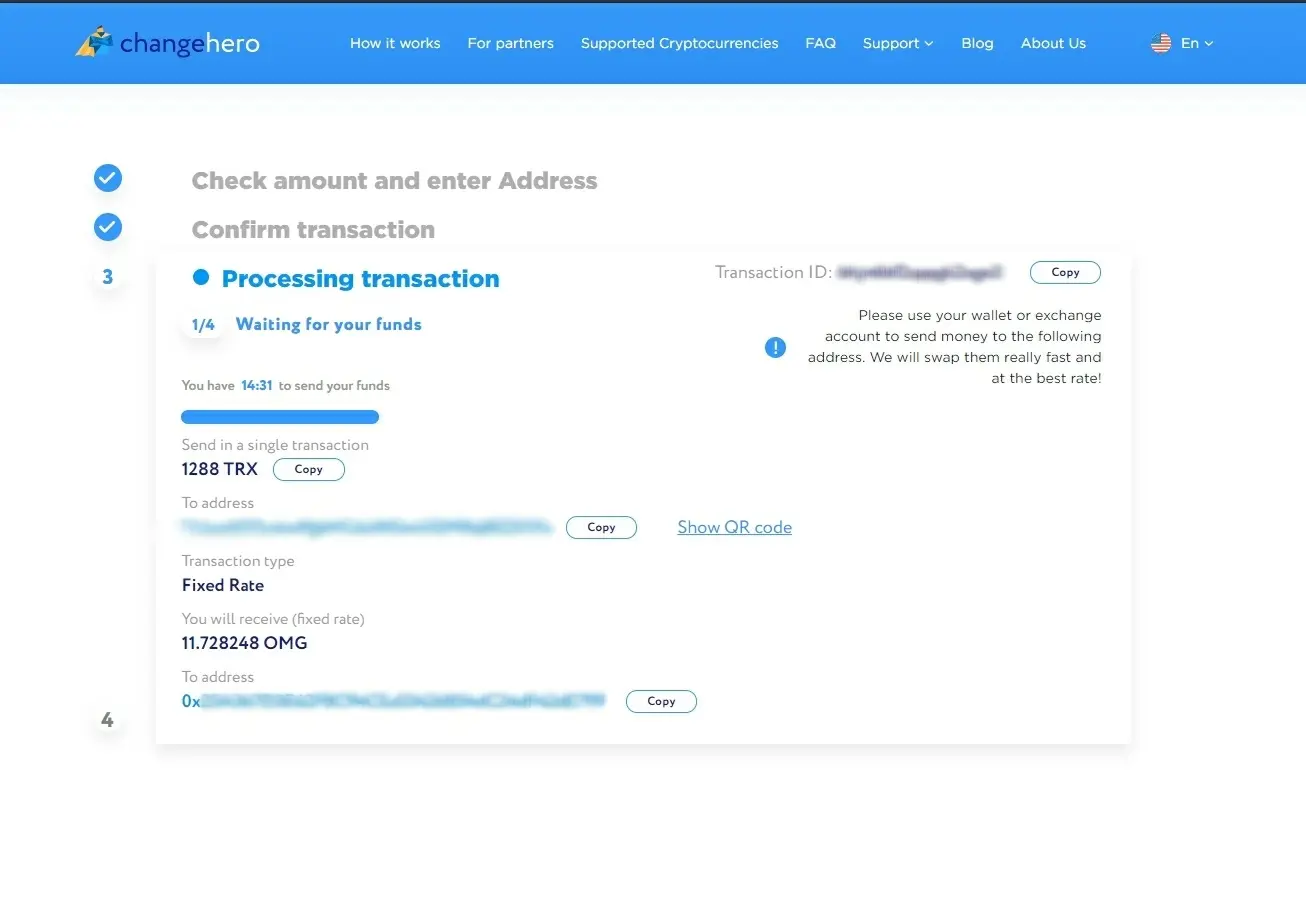 Step four: Send the cryptocurrency you are exchanging to the address generated by ChangeHero. Notice the timer: Fixed Rate transactions have a 15-minute limit. There is no such limit for the Best Rate exchanges but the conversion rate is less predictable because of volatility.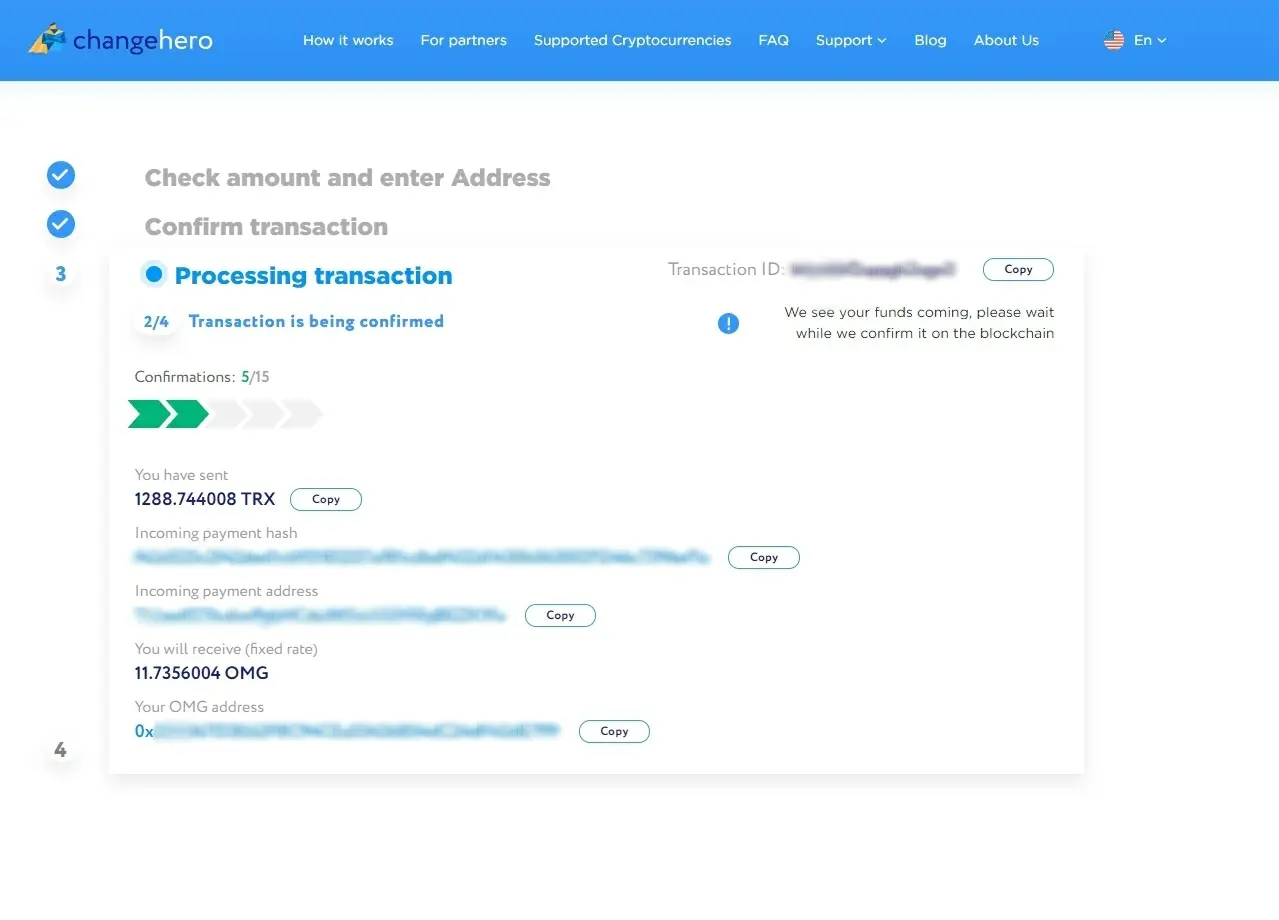 Once you have sent the cryptocurrency, you can relax. We will be tracking the status of your exchange in real time.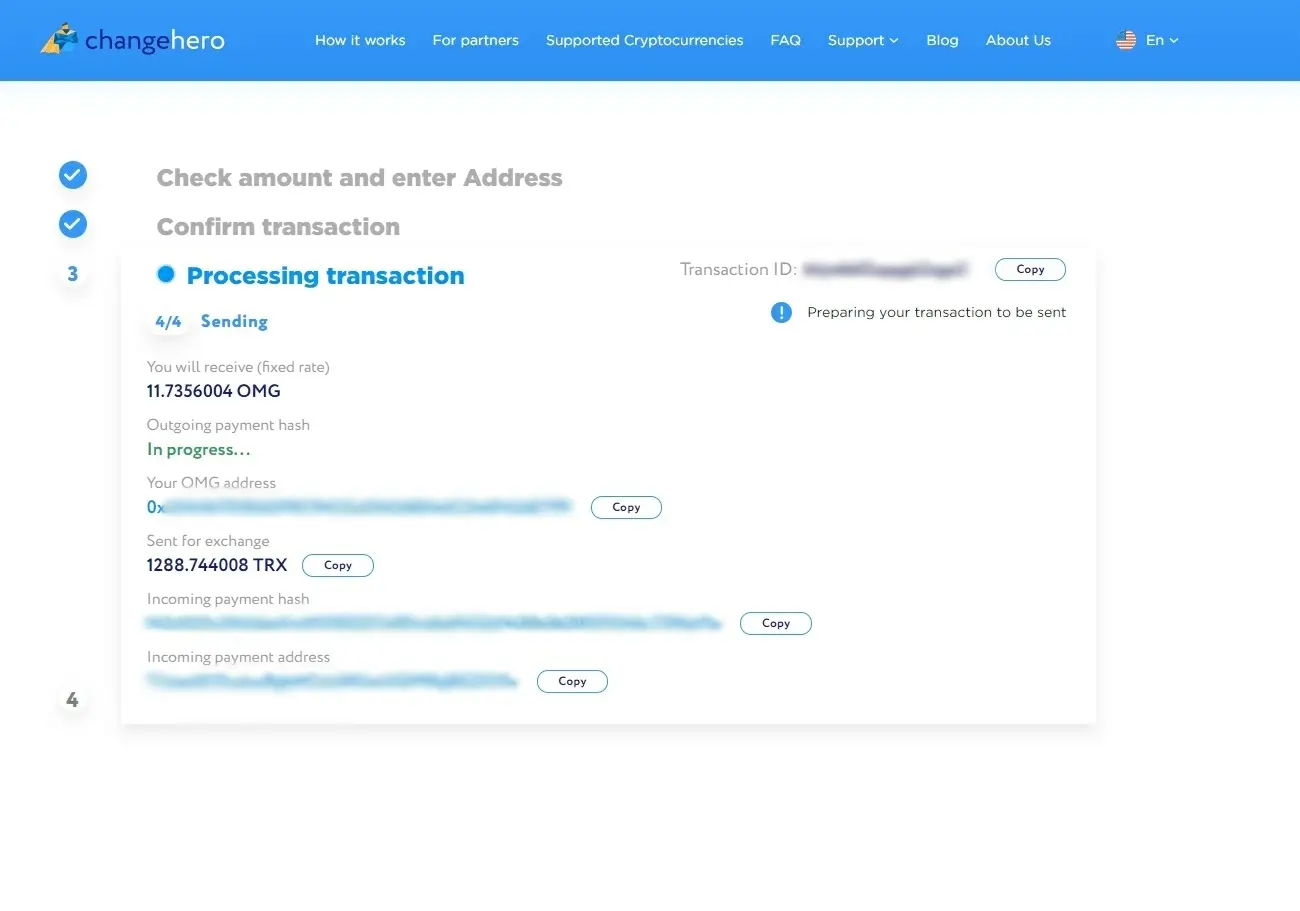 Once the funds reach the address, exchanging is performed and your OMG are sent to your wallet. All the information like hashes and addresses is displayed for clarity and convenience.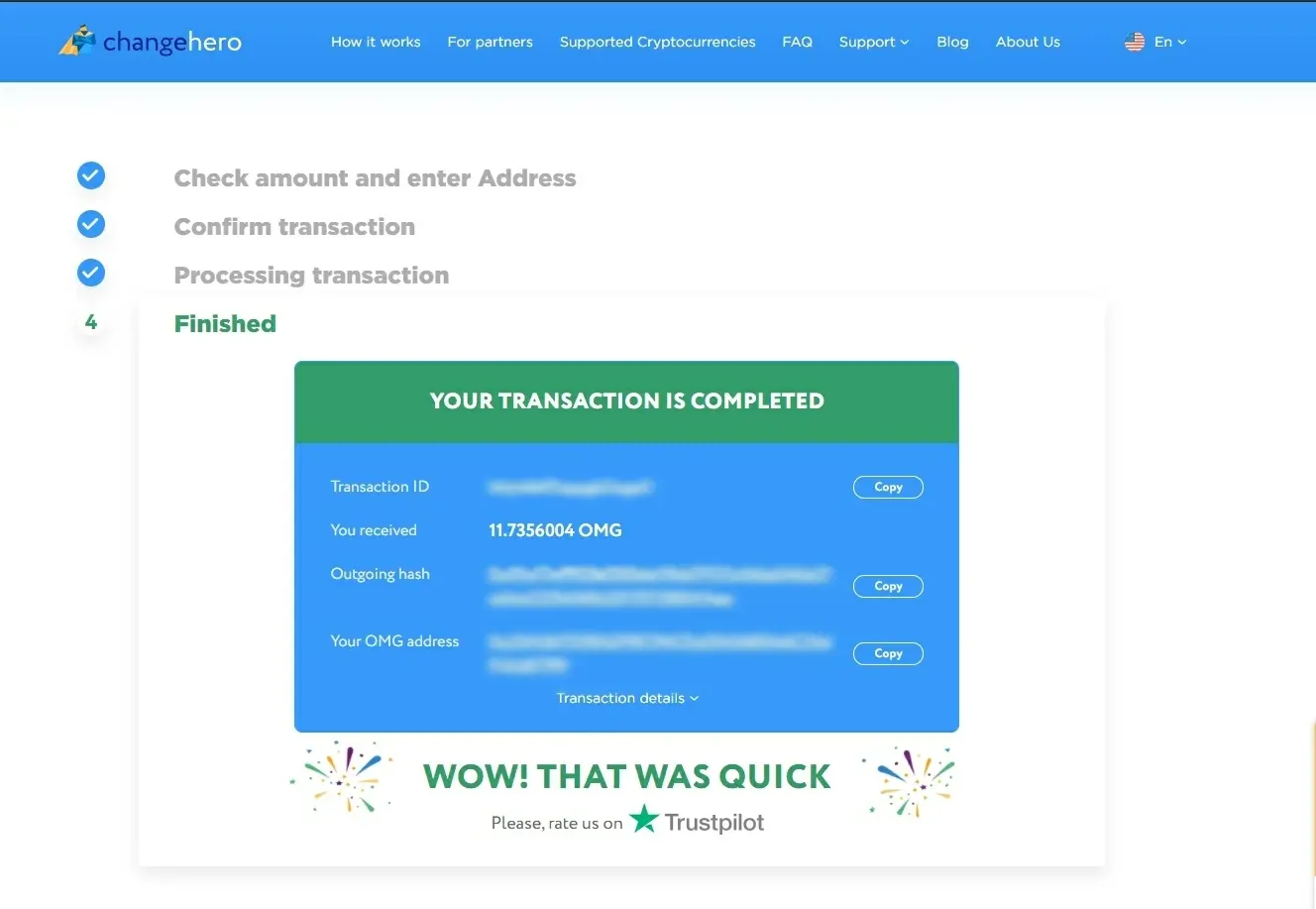 Step five: Exchange completed! The whole process took us only a few minutes and clicks.
There's your guide to how to exchange OMG in five easy steps! If you have any further questions or something goes awry, our support team can help you. They are available in the chat on the website or by email: [email protected], 24/7.
How to Exchange OMG in Wallets?
Wouldn't it be nice to be able to swap OMG without opening a website, though? Well, it is possible in most popular wallet applications. For example, in Exodus apps, on any platform, users can just open the Exchange tab and have their assets swapped.
Where can I buy OMG? How do I sell my OMG? You can do both with your Trezor. Trezor Suite app has the options to easily swap, buy and sell OMG. All this comes with an extra security of a hardware wallet.
Conclusion
How to buy OMG instantly and securely? On ChangeHero: you don't need to verify or even make an account, and ChangeHero doesn't keep your funds. A few easy steps and you have a supply of tokens for any DeFi apps coming to the OMG Network.
If you found the instructions helpful, our blog has more educational and informative content. You can subscribe to updates in ChangeHero's social media: Twitter, Facebook, Reddit and Telegram.