The bullish sentiment that returned to the crypto market in Q4 is finally showing itself. Many stories this week revolve around a reinvigorated bull run in Bitcoin. This and more news in other topics are summed up in our new weekly crypto digest!
Key Takeaways
Bitcoin broke above $50,000 for the first time since July and above $1 trillion market cap since May;
New portion of Tether FUD emerged on Bloomberg. A report claimed the company backed USDT stablecoins with questionable assets, which was obviously denied;
JPMorgan and BitGo shared some evidence that institutional interest in cryptocurrencies is increasing, as whales ramp up purchases once again.
ChangeHero Updates
Dogecoin Discount: No Fees for DOGE Exchanges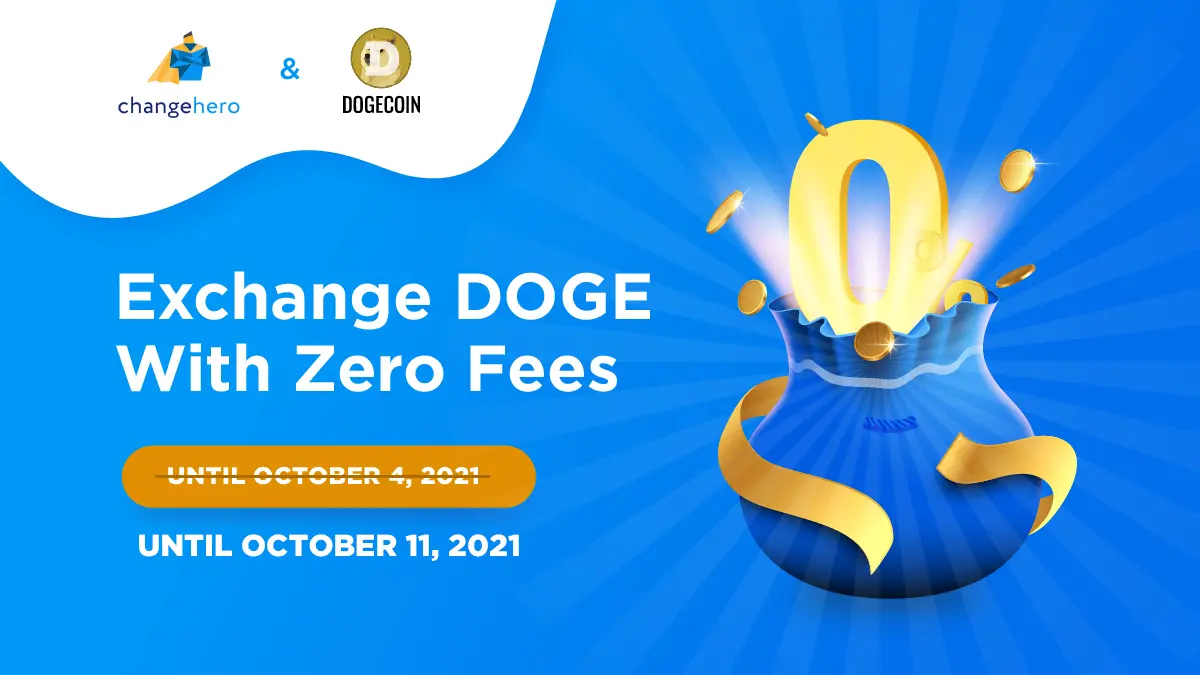 Here is your reminder: the offer for DOGE exchanges with no fees attached lasts until Monday, October 11. Get it while it lasts!
Latest Crypto News Digest
Bitcoin This Week
Bitcoin is looking pretty bullish again having broken above $50,000 for the first time since July. The reason is entirely native to the market this time around: such is the effect of Uptober, simply put!
Latest Bitcoin News
Bullish action has also pushed the market capitalization of Bitcoin above $1 trillion for the first time since May.
Altcoin News
Another week, another DeFi exploit: Fantom protocol Stake Steak was hacked and the native token STEAK plummeted from $5.18 to $0.95. The devs of the protocol warned the users to not consider this a dip and buy in, suggesting they might not make out of it easily;
Ethereum 2.0 is so close yet so far: a critical bug which put staked tokens at risk was urgently patched this Monday. Had the bug not been fixed, even trustful node operators could remove users' Ether from the liquid staking pool;
Bloomberg BusinessWeek report this week alleged Tether is backing their stablecoin USDT with some questionable assets. The ones that caused particular controversy were billions in Chinese debt, Evergrande commercial paper (which Tether denied) and $1 billion lent out to Celsius, high-yield crypto lending protocol.
Business Crypto News
Mexican stock exchange Bolso Mexicana de Valores (BMV) is considering adding crypto-based financial instruments, according to their CEO. BMV has been in talks with local financial authorities about the possibility of listing crypto futures.
In a recent report, JPMorgan analyst Nikolaos Panigirtzoglou noted an influx of institutional interest in Bitcoin in comparison to gold. In his reasoning, failure of gold to react to the news of Infrastructure Bill, which includes a $1 trillion injection in the USD supply, made investors remember the inflation hedge narrative on Bitcoin, and is driving the bullish rally now.
Crypto News on Adoption
Crypto custodian BitGo executive Darren Jordan shared a similar observation on the Token 2049 conference in London. According to Jordan, corporate clients are repeatedly requesting handling allocation of a small percentage of their balance sheet into crypto assets.
Money transfer provider MoneyGram, previously known as Ripple's largest partner, unveiled a partnership with Stellar Foundation. MoneyGram will utilize Circle's USDC to settle payments and convert payouts to a user's local currency.
Regulation & Politics Crypto News
NBA TopShot developer Dapper Labs has struck a partnership with Chainalysis to keep track of NFT transactions. In a comment to The Block, Naeem Bawla, Dapper Labs' Associate Director of Compliance said "NFTs are one of the most exciting spaces in cryptocurrency, but they will only be successful in the long-term if we can ensure a safe environment for our customers".
After a spree of global expansion events, in the light of regulatory crackdown, Binance has to step back from their progress. Particularly, on Friday the company announced via a blog post that South African users will not be able to use crypto financial products such as options, futures and leveraged tokens.
Social Media Digest
Video of the Week
What we had not mentioned was rounded up in the Davinci Jeremie's recap: mining waterfalls in Columbia, DOJ cybercrime team and more!
Crypto News from Twitter
Huge news Dogecoin fans! As we work to accept online crypto payments, now you can buy @AMCTheatres digital gift cards (up to $200 per day) with Dogecoin and other cryptocurrency using a BitPay Wallet. Accepted on our web site, mobile app, and in theatres. https://t.co/hPubbeq4YG pic.twitter.com/dra7e23tc8

— Adam Aron (@CEOAdam) October 5, 2021
Great news, Dogecoin fans! AMC Theatres CEO Adam Aron announced via Twitter that Dogecoin will be included in the roster of cryptocurrencies accepted in the cinema chain.
Since @jack is going to build Aave on Bitcoin, Aave should build Twitter on Ethereum

— Here for the fur (👻,🐻‍❄️) 👘 (@StaniKulechov) July 17, 2021
Facebook outage this week inspired a new conversation around the decentralized Web. Aave founder Stani Kulechov speculated who would be the one to bridge cryptocurrencies and social networks.
Anyone not like this symbol? I'm a fan. #bitcoin pic.twitter.com/oA7O3qBIC9

— Neil Jacobs (@NeilJacobs) October 7, 2021
Podcast host Neil Jacobs presented a new symbol for satoshis similar to the "₿" for Bitcoin. The video presents a host of meanings and philosophies behind a simple symbol.
Influencer of the Week
Setup Monday is here!https://t.co/4zbIiaIrXz

— Josh Olszewicz (I will not dm you) (@CarpeNoctom) October 4, 2021
Our weekly highlight this time is Josh Olszewicz, popular YouTuber and trader with a no-hype attitude. Nevertheless, he can be very bullish, so if you don't want to miss a certain moonshot, give him a follow.
This Week on the Market
How is the market this week? At the moment of writing the cryptocurrency news digest, the general stats are:
Total Market Cap: $2,315,119,013,923 (+13.02%);
BTC Dominance: 44.3%.
7d Change in Top Coins
At the moment of writing, the weekly change of the top currencies is:
Gainers of the Week
What is the best cryptocurrency to buy now? The highest returns on a weekly scale were brought to the holders of these coins:
Conclusion
Uptober is becoming a self-fulfilling prophecy, even for those who do not realize it. Are the whales going in or are they preparing a dump again? Time shall tell. Catch the next weekly crypto news digest in our blog. Follow ChangHero on Twitter, Facebook, Reddit and Telegram for daily updates and more content.