The crypto community heard about the new Carbon browser loud and clear in February, when they introduced the CSIX token. Since then, they have been appearing in the spotlight more and more often. What is this rapidly growing crypto project about? We prepared a beginner-friendly guide for you as an introduction to the CSIX token and Carbon browser.
What is Carbon Browser?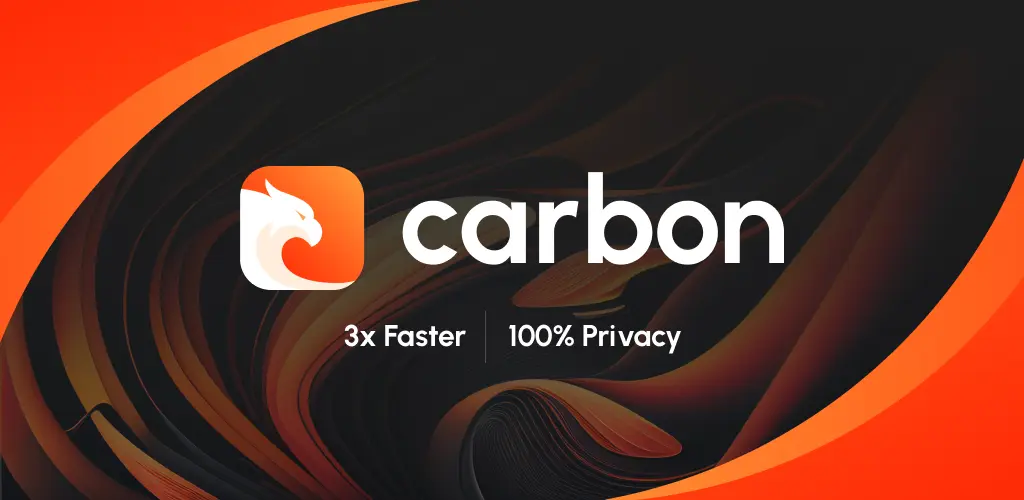 Carbon is the name of the Web3 browser developed by Carbon X Labs with input from Binance, Curate, and Poolz Ventures. At its core, it is a custom fork of Chromium which makes full use of its Blink engine, enabling web surfing that is faster and more protective of the security of the user. At the moment, the Carbon browser is available for Android devices, with iOS and desktop versions in development.
Even if you are not interested in the crypto-focused features of Carbon, it offers protection from ad tracking, 3 times faster loading speed, and up to 56.7% less space in the device memory than its competing web browsers. Carbon also promises to include features that are currently available as third-party extensions, such as Web3 wallet integration or a built-in VPN service.
Carbon's Standout Features
VPN/dVPN, ad block, firewall integrated natively; built-in option to use TOR Network;
Optimized loading speed and storage space;
Native crypto token CSIX.
History of Carbon X Labs and Carbon Browser
Despite that the current timeline of Carbon's development starts in late 2022, Carbon browser used to be known as Super Fast Browser since at least 2013. During the ten years on the Google App Store, it has amassed over 5 million downloads.
Carbon X Labs, the developers of the Carbon browser, is represented mainly by pseudonymous developers and contributors. The core developer team list working experience in tech giants such as Google, Mozilla, Microsoft, and Dell. As their job listings are all remote, it is probable that the team is working from all around the world, with Shanghai and Melbourne mentioned as two of the team locations.
What is the CSIX Crypto Token?
A new wave of popularity and attention to the Carbon browser was caused by the listings of the CSIX token. What is it and how to use it?
The CSIX token is a BEP-20 fungible token, to be used within the Carbon browser partner network. It is distributed to Carbon users in the Browse-to-Earn model.
| | |
| --- | --- |
| Total/max supply | 1 billion CSIX |
| Allocation to staking and rewards | 11.3% (113,037,384) |
| Supply unlocked at the genesis event | 39,955,607.6 CSIX |
| Unlock schedule | Linear liquidity vesting + unlocks every 3 months |
| IDO Price | $0.01/CSIX |
The total supply of CSIX tokens is distributed across multiple destinations that include a PancakeSwap liquidity pool, community incentives, team and seed investor rewards, and marketing. Most of the tokens belonging to the team are locked in smart contracts that govern the distribution of CSIX rewards according to its release schedule.
Right now, the rewards from browsing with Carbon are not fully implemented yet. Otherwise, it is available and freely tradeable on crypto exchanges.
While right now, the total and maximum supply are the same, in the future the developers plan to enable token burn, which will be in effect until 50% of the max supply is burned.
How to Use CSIX Token
​​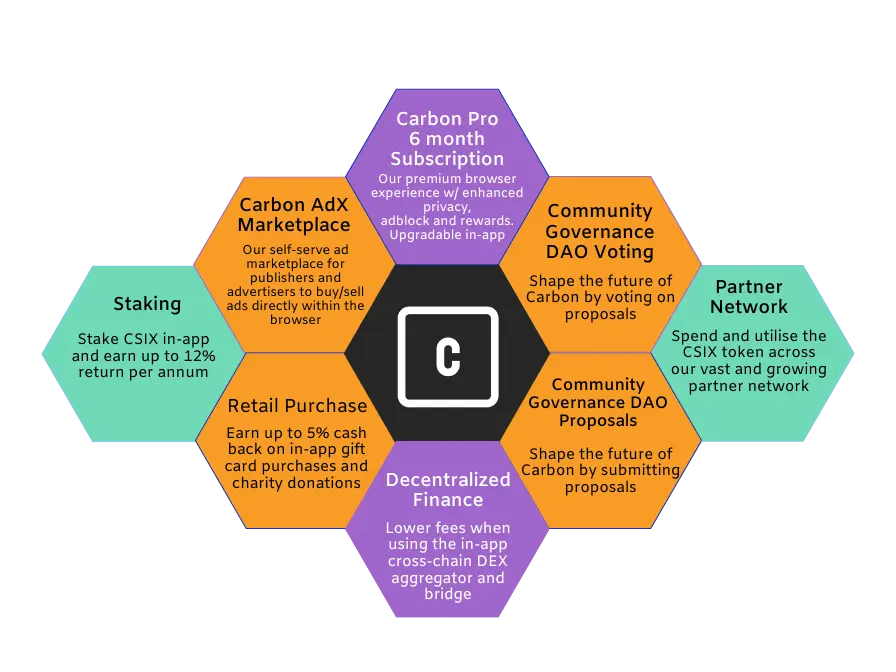 Upgrade to Carbon Pro with enhanced privacy and security features;
Fee discounts for the in-app swap and bridge (launch Q2 2023);
Ad campaign discounts on the AdX marketplace (launch in Q2 2023);
Stake CSIX through the official website.
It is best to think of the CSIX token in its current state as an alpha release. You are not able to withdraw it if received for Browse-to-earn or spend anywhere. Therefore, as of April 2023, it is more of a bet on the future utility of the Carbon browser.
Comparison with Similar Projects
Carbon vs. Opera
As a Web2 browser with innate Web3 features, Carbon draws a comparison to the Opera browser. Opera also introduced features to enable more privacy and make using crypto more convenient with their built-in VPN extension and a crypto wallet respectively.
As of now, Carbon already offers faster loading speeds, and going forward will introduce more compatibility with Web3. In addition to having a built-in multi-chain wallet and a VPN, Carbon will have in-app crypto swaps and a more reliable ad-blocking service.
Carbon vs. Brave
When it comes to browsers geared towards Web3, the main competition of Carbon is Brave. This browser also prides itself on its commitment to privacy: Brave blocks trackers and shows users approved advertisements for a reward in its utility token called Basic Attention Token.
Therefore, there is another point of comparison between the two browsers: they both have an in-app economy enabled by their native tokens. When it comes to the ads on Brave, users can get rewards by giving them attention and receive BAT. Then, BAT can be used to tip creators or sold on exchanges. Carbon intends to give its CSIX rewards more value than that. CSIX is intended to be used on the ad marketplace AdX directly, unlike Brave's one. CSIX can also be spent on Carbon Pro subscriptions for boosted security and privacy features, and later, at the points of purchase in the network of Carbon's partners.
Partnerships and Future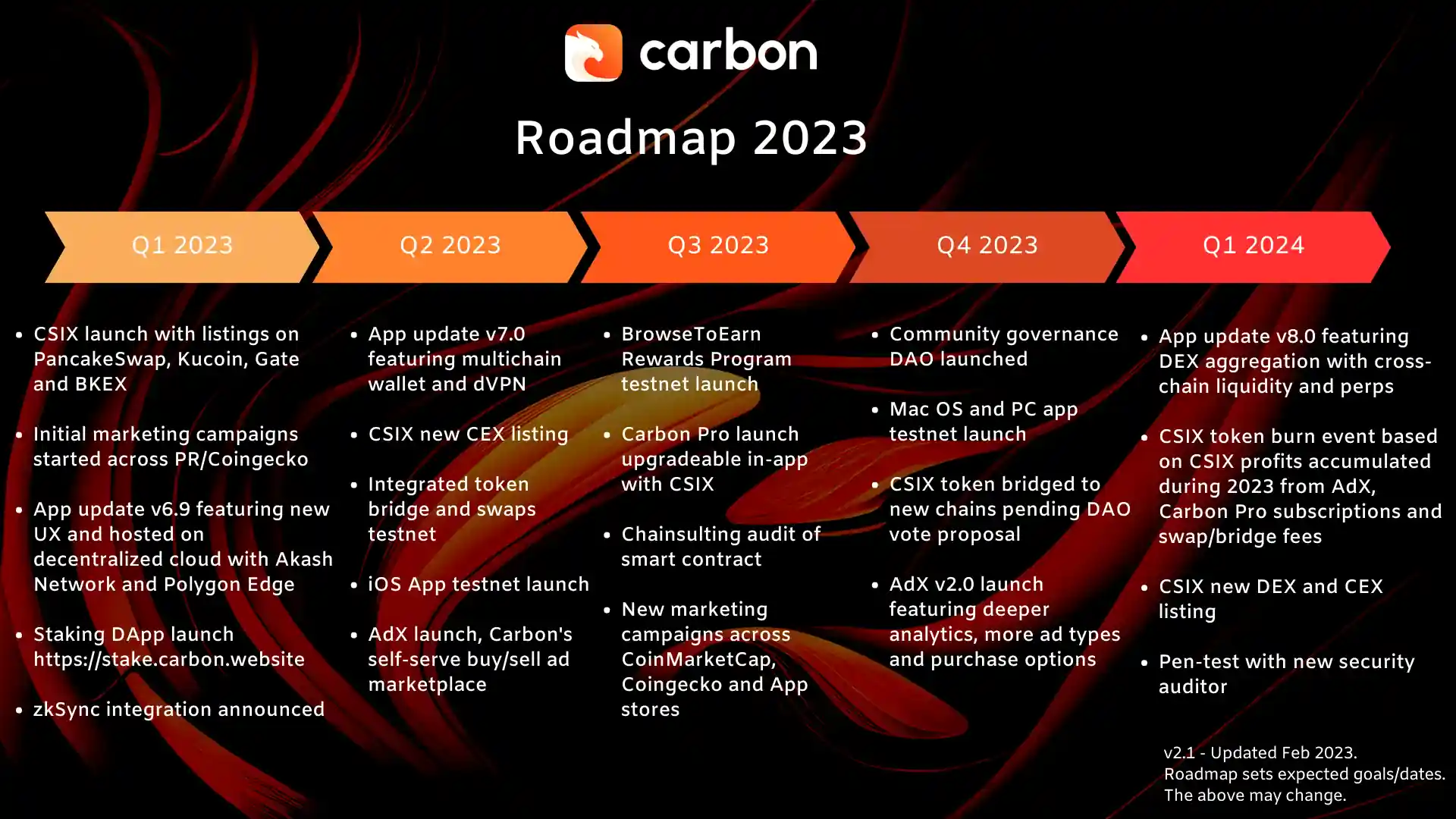 Right now, Carbon is more of a Web2 browser but according to the official roadmap, it is bound to change by Q4 2023. By that time, wallet, swap, and layer bridge solutions are expected to be fully implemented.
Huge emphasis is given to onboarding new partners to the Carbon browser ecosystem to improve the user experience. Some of the latest partners to join the network are Chainge and Presearch. The integration with the cross-chain DEX Chainge makes it possible to stake CSIX in its wallet and send it easily. The latter is a decentralized secure search engine, which is now the default setting in Carbon.
CSIX and Carbon on Twitter
$CSIX

✅ @trycarbonio partnered with @dotbitHQ.

✅ Carbon has successfully claimed "carbonbrowser.bit"

🔹.bit integrated on #CarbonBrowser
🔹Carbon listed on .bit website
🔹.bit listed on Carbon's DApp store pic.twitter.com/IVk90xMyUw

— Cryptopium - Powering the Web3 Narrative (@CryptopiumGroup) April 5, 2023
A steady stream of updates and new partnerships can be found on Twitter through the relevant hashtags and the cashtag $CSIX. Just in, the Web3 news aggregator Cryptopium reported the integration of .bit Web3 domain names into the Carbon browser.
Here's a recap of our major events in Q1 from when $CSIX launched in Feb 17th to Mar 31st

Comment below your favourite event and why from Q1 and the best 4 answers win a share of $100 #CSIX 👇

PS. Q2 will be even BIGGER 👀#CarbonBrowser #Contest #Giveaway #Crypto #DeFi #Web3 pic.twitter.com/XyJqNVFTYg

— Carbon Browser 🌐 (@trycarbonio) April 1, 2023
Of course, the first place you should look for Carbon browser updates is the official account! Here is a list of the new integrations in Q1 2023 alone.
Massive roadmap, IOS coming in Q2! $CSIX about to take off! 🚀 pic.twitter.com/fkG9PgW1yk

— JOHAN14 (@selectionas) April 3, 2023
User JOHAN14 shared a rundown on the updates to the Carbon browser coming in Q2 2023. In the next three months, it will become much closer to its vision.
What Wallet to Use for CSIX?
The CSIX token has just launched in February, and there are already a handful of crypto exchanges where it can be traded. However, if you are a Carbon browser user, you probably realize the importance of self-custody which storing tokens on the crypto exchange account doesn't provide.
CSIX is a token on the BNB Chain, which means it can be accessed in compatible wallets. Some of them include the browser extension by Binance Wallet and SafePal, which is available on mobile and compatible with hardware cold wallets.
How to get CSIX?
If you want to buy or sell CSIX tokens today, ChangeHero is here to help:
Choose the currencies on the home page, amounts, and the type of exchange. Provide your CSIX wallet address in the next step and check the details;
Double-check the provided information, read and accept the Terms of Use and Privacy Policy;
Send the cryptocurrency for the swap in a single transaction. In Fixed Rate transactions, you have 15 minutes before it expires;
Sit back and relax. At this step we are doing all the work: checking the incoming transaction and doing the exchange as soon as it arrives;
As soon as the exchange has been processed, your CSIX is on its way to your wallet. And so, the transaction is finished!
If you ever run into any issues during your swap, our support specialists are always available to help you in the chat or through the email: [email protected].
Haven't got any crypto yet? We got you covered: buy any crypto with a bank card, ApplePay, or GPay from our partner and swap it afterward for CSIX on ChangeHero.
Conclusion
CSIX is blowing up right now, even though the Carbon browser has not fully realized its vision of the product yet. Nevertheless, it seems that thanks to the efforts of the team and community, a growing user base can help make it happen sooner than later.
If you enjoyed our beginner's guide, check out the ChangeHero blog for more. Follow ChangeHero on Twitter, Facebook, Reddit, and Telegram for daily updates and more content.
---
Learn more:
Quick links: