The immutability of blockchain is an asset for tracking supply chains, which is how VeChain came to be. What is VeChain and how does it work? Find all things VeChain explained in our guide!
Key Takeaways
VeChainThor is a blockchain that serves as a foundation for VeChain ecosystem and its main cryptocurrency is VET;
The main use case for VeChain is supply chain management, and the project intends to solve the problems of transparency and reliability of tracking;
VeChain is best known for a large number of partnerships with enterprises like Walmart and Bauer, spanning across healthcare, retail and luxury goods, agriculture and more.
What Is VeChain?
VeChain is a supply-chain platform that is powered by blockchain. Its main applications are in supply chain management, as well as in the Internet of Things.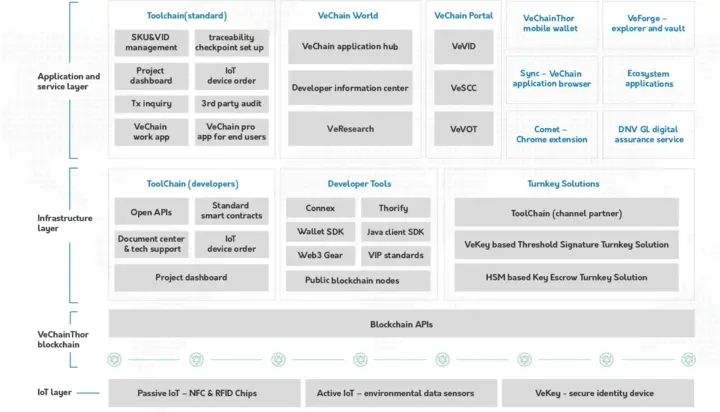 The blockchain that supports the VeChain platform is called Thor, so VeChainThor is the blockchain level of the whole ecosystem. There are several layers to the VeChain ecosystem:
VeChainThor Blockchain
The unique consensus mechanism that VeChainThor uses is called Proof-of-Authority (PoA), which is a spin on Proof-of-Stake. The chain is secured by masternodes which passed "know-your-customer\business" authorization. Authorization in PoA takes precedence over the usual rules for PoS. The validators do not compete with each other for a chance to mine a block, they are assigned at random. Authority Masternodes are responsible for maintaining the blockchain and producing blocks. Any user can run an Economic Node for voting rights and occasional rewards from the VeChain foundation.
IoT Layer
This layer of the system includes all the firmware: RFID chips, identity devices VeKeys and so on. It is mostly used by companies that use supply chain solutions and add these devices to the products.
Infrastructure Layer
This layer includes all protocols and infrastructure built on top of VeChainThor. It can be used by both VeChain developers and independent parties. There are APIs and developer kits available for those who want to develop VeChain-compatible wallets or employ smart contracts. Most of the apps that can use the VeChain platform rely on this layer for functionality.
Application Layer
Finally, using the tools from the infrastructure layer, developers and users can build applications for various purposes: dApps, tokens, research tools. Many of these apps can be found and accessed on VeChain World, the dApp hub for the platform. Those with a stake in VeChain will be interested in the VeChain Portal, where they can manage masternodes and vote.
VeChain History and Team
The project was started in 2015 by Sunny Lu and Jay Zhang, who had worked for Louis Vuitton China and Deloitte respectively. Both of them were well familiar with the pains of supply chain management, particularly, lack of transparency. VeChain received $1.5 billion in backing from prominent investors like BMW and Groupe Renault. They also conducted an ICO in 2017, selling 86,716,263,400 VEN Ethereum tokens at about $0.0007 a piece. The genesis block of the mainnet was mined in June 2018, and VEN were converted into VET at a 1:100 ratio. The project's team now includes dozens of contributors, mainly operating from Singapore.
What Is VET?
VeChain is different from other supply chain blockchain platforms in that it utilizes cryptocurrencies. What is VeChainThor native currency and how to use it? Instead of one coin, VeChain Thor uses two different native tokens, VET and VTHO. VET is used mainly for value transfer. A stake in VET is also a requirement for running a node. Holding VET generates VTHO, a gas token which is used for paying the transaction fees. Separating main and gas tokens helps to keep transaction fees resistant to volatility.
What Is VET Used For?
The VeChainThor blockchain can serve as home to a variety of applications. They can be monetized with the help of VET tokens. To track supply chains, VeChain is used by Walmart China, Bayer and local goods from Ongnuid Banner, Inner Mongolia, China. Consumers can scan codes to get data on the source and authenticity of the product. What else is VeChainThor supporting? For example, Jur Platform uses VeChain blockchain in arbitrage and issues JUR tokens with the help of VET. SafeHaven's app Inheriti is pretty much the same but for inheritance. And, of course, as is often the case with many blockchains today, there are non-fungible tokens. For VeChain users, the World of V platform offers exclusive art deals and drops.
What Is VeChain's Competition?
Of course, VeChain is not a unique project to take on supply chains. There is Waltonchain which itself is an Ethereum token, so on that platform the transactions and actual tracking are separate. In the IoT sphere, VeChain faces serious competition from IOTA. The latter is more focused on the IoT use case so its structure is not of a blockchain but a decentralized network.
What Is VeChainThor Criticized For?
In December 2020, the buyback address of VeChain Foundation was hacked to a loss of 1.1 billion VET ($6.5 million at the time). While the consequences were more or less mitigated, it certainly cast a serious doubt on the degree of decentralization of the platform. Another source of reputation damage is scams posing as official events, and VeChain has been a victim of those.
VeChain Partnerships and Future Plans
VeChain is known for its massive roster of partners utilizing the blockchain. Just a few of them are:
At the very end of 2021, VeChain news reported a new strategic partnership with Schneider Electric. Like in other open-source (and partially open-source) blockchain platforms, developers submit improvement proposals for review and implementation. So what is VeChainThor's future? With VeUSD, the first USD-pegged stablecoin on VeChain Thor, the scope of use cases is set to expand into decentralized finance. Unlike other businesses, like centralized exchanges, which relied on cryptocurrencies, that got banned there, VeChain's position is pretty secure. In fact, they are working with the local government of Inner Mongolia, as previously mentioned.
Twitter Posts
Real use. pic.twitter.com/T8rVyvHfT5

— Dieselhound Crypto Frog Ⓥ (@CryptoFrog777) January 2, 2022
User Crypto Frog posted a video showing off the tracking system by VeChain in real time. The person in the video scanned a tag on the product with an app, getting exhaustive information in return in a few seconds.
Keep an eye on $VET, there will be a boom soon pic.twitter.com/ec2cfC4BDa

— 0xd0n (@0xd0n) January 7, 2022
Trader 0xd0n is with the VeFam in their VeChain price prediction. They believe that the current setback is only a preparation for a bull run ahead.
VeChain x Sustainable Fashion Alliance 🤝

VeChain officially joins the WWD Sustainable Fashion Alliance! As an industry pioneer of #green #blockchain tech, VeChain will continue to participate in sustainable actions through transparent supply chain management.#VeChain $VET pic.twitter.com/o2IIGWlHOE — eisenreich Ⓥ (@eisenreich) January 11, 2022
Another community member, eisenreich shared more news about VeChain partnerships. Sustainability is more than a futureproof business model, it also includes consideration for the environmental impact.
Which Wallet to Choose for VET?
VET can be stored in most popular multi-coin wallets. There is an official wallet readily available at the project's website, too. If you want to store and stake VET, pick the Exodus wallet! It has the option to swap coins and tokens right in the application, powered by ChangeHero. For safer storage, you can choose Ledger hardware wallet but remember, swaps and staking can only be done in a hot wallet.
How to exchange VET?
Where to buy VET crypto? For your convenience, VeChain tokens can be swapped on ChangeHero in five easy steps:
Choose the currencies on the home page, amounts and the type of exchange. Provide your wallet address in the next step and check the amounts;
Double-check the provided information, read and accept the Terms of Use and Privacy Policy;
Send in a single transaction the sum of cryptocurrency you will be exchanging. Fixed Rate transactions have a 15-minute limit;
And now, relax! We are doing all the work: checking the incoming transaction and doing the exchange as soon as it arrives;
As soon as the exchange has been processed, your VET are on the way to your wallet. Your feedback is always welcome!
Customer support is available 24/7 in chat on our website or through the email: [email protected].
Conclusion
The VeChain ecosystem is constantly growing and shows no signs of slowing down. The use case which helps both consumers and businesses basically make the platform future-proof and reliably viable. If you enjoyed this article, you can find more crypto coverage in our blog. And don't forget to subscribe to ChangeHero on social media: Twitter, Facebook, Reddit and Telegram.
FAQ
[sc_fs_multi_faq headline-0="h4" question-0="What is VeChain?" answer-0="VeChain refers to the blockchain platform developed by the company with the same name. It offers solutions for supply chain management and tracking." image-0="" headline-1="h4" question-1="What is VeChainThor?" answer-1="VeChain Thor is the blockchain the VeChain platform uses to support applications and verify supply chain data." image-1="" headline-2="h4" question-2="What is VeChain all time high?" answer-2="VET reached its all-time high of $0.2782 on April 19, 2021." image-2="" headline-3="h4" question-3="What is VeChain coin used for?" answer-3="VET, the main VeChain token, can be used in applications on the VeChain platform. It can also be staked for passive income and voting rights." image-3="" headline-4="h4" question-4="Can VET be staked?" answer-4="Proof-of-Authority, the consensus algorithm in VeChainThor, requires all validators to be authorized before they can stake and earn VET." image-4="" count="5" html="true" css_class=""]
---
Learn more:
Quick links: