Digital identities and data verification are becoming a more vital challenge with AI mimicking humans more and more convincingly. But the solution may already be here: find out more about Ontology in our new guide. Learn what this blockchain platform does, what is special about its dual-token system, and how has its ecosystem grown in five years.
Key Takeaways
Ontology is a high-speed, low-cost, public blockchain that focuses on decentralized identity (DID) and data solutions. Its open-source platform brings its solutions to Web3 and lets developers deploy smart contracts and decentralized apps;
Ontology is powered by a two-token system: governance and staking are fueled by ONT, while transaction and other fees are paid with ONG;
Another vector of development for Ontology is cross-chain interoperability, and it's enabled by multiple virtual machines working on the platform. Thanks to the progress in this field, the Ontology platform has the means for cross-chain decentralized identity verification and reputation management.
What is Ontology and How Does It Work?
Ontology is a high-performance public blockchain platform that provides a secure and decentralized environment for building and deploying decentralized applications (dApps). It focuses on bridging the gap between the real world and the blockchain world by providing a framework for establishing trust and identity verification. Ontology aims to enable businesses and organizations to easily integrate blockchain technology into their existing systems and workflows.
Ontology Blockchain Features
Ontology comes with a host of features and data solutions that help fulfill their vision of decentralized identity (DID) and data sharing.
Using blockchain technology for digital identity was not a new idea but Ontology set out to make a suitable platform just for that. To this end, they created an identity solution ONT ID, a decentralized and self-sovereign identity management system. With it, users selectively share the extent of personal data they would like to share with recipients such as financial services, healthcare providers, or for KYC (know your customer) purposes.
Most blockchains provide full transparency to every record on-chain but as is, it is hardly a suitable solution for personal and potentially sensitive data. Adequate privacy protection measures have to be in place before even attempting to make a DID on the blockchain, so Ontology employs them. Privacy protection measures on Ontology include data encryption, identity protection through full user control over their personal data, and zero-knowledge proofs.
Digital identity is not the only niche where the Ontology blockchain can be useful. This platform was developed to be interoperable with other blockchain networks. It supports its own implementation of Ethereum Virtual Machine, making it able to connect with Ethereum and other EVM-supporting networks. Other examples of blockchains on board include Binance Smart Chain (BSC) and NEO.
By connecting with different networks, Ontology aims to facilitate the seamless exchange of assets, data, and services across multiple platforms, creating a more connected and inclusive blockchain ecosystem.
History Behind Ontology and Team
Before the mainnet launch in 2018, the team built the core infrastructure and established initial key partnerships. They developed a unique dual-token system consisting of ONT and ONG, which will be described in more detail further in the article. By the June 30, 2018 launch of its own blockchain, Ontology had tools to support developers in building dApps and smart contracts. At the same time, the governance model that used the ONT token to let holders participate in decision-making processes was in place.
In subsequent years, the Ontology team continued to expand the ecosystem and partnerships. They collaborated with various companies and organizations, including global enterprises, government agencies, and academic institutions. This helped Ontology establish itself as a versatile blockchain platform with real-world use cases.
Additionally, Ontology introduced various technical advancements, such as the development of a decentralized identity framework (ONT ID) and cross-chain interoperability solutions. These innovations aimed to enhance user experience, security, and the integration of Ontology with other blockchain networks.
What is ONT crypto?
As a public permissionless blockchain network, Ontology is powered by its cryptocurrency. In fact, as we have already mentioned, this blockchain uses two native tokens for separate purposes.
The governance token of the Ontology blockchain is called ONT (or Ontology, the same as the network). It represents voting and governance rights within the platform. ONT's maximum supply has a limit of 1 billion tokens, distributed in airdrops and community distributions. Aside from governance, ONT is the token that empowers the consensus of the network: in other words, it can be staked.
The utility token ONG (or Ontology Gas) is necessary for on-chain transactions and services within the ecosystem. In addition to fees on transactions, it is charged on creating an ONT ID or deploying a dApp. In any case, the fee is fixed and is 0.05 ONG. By decoupling the utility token from the governance token, Ontology makes sure the price fluctuation does not affect the network capacity. ONG has a limit on a maximum supply (1 billion tokens) as well and is generated daily at the rate of 0.01 ONG per ONT but gets distributed to the holders monthly.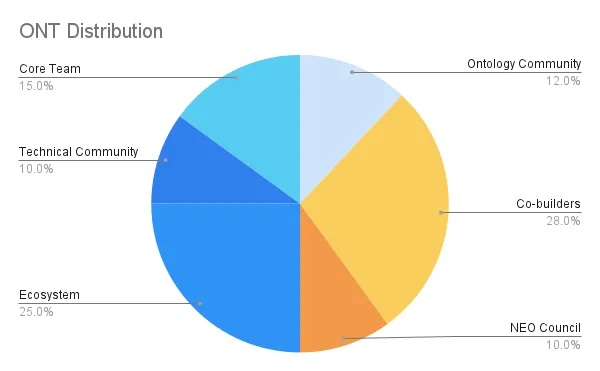 The ONT token distribution is shown on the chart above:
12% of the total supply was allocated for community incentives and partnerships. This includes airdrops, bounty programs, and strategic partnerships to foster the growth of the Ontology ecosystem.
25% of the total supply was set aside for the Ontology ecosystem development;
10% of the total supply was allocated to the technical community, providing incentives for developers to contribute to the development and improvement of the platform;
28% (28,000,000 ONT) went to so-called co-builders or simply put, institutional partners and investors. The team made sure that no single entity would receive more than 2% of the share or circumvent the unlocking schedule;
15% of the total supply was allocated to the Ontology core team, ensuring the project's continued development and maintenance;
And finally, 10% was turned over to the NEO Council, and some of ONT tokens were airdropped to NEO holders. NEO (Antshares before 2017) is a blockchain project developed by Onchain.
How to Use Ontology Coin?
The Ontology coin and Ontology Gas token are two different assets that play different roles on the Ontology platform.
ONT coin is primarily used to participate in staking, and it generates ONG. When delegated to a Triones node, it becomes voting power and lets validators vote on governance proposals on behalf of the stakers.
In turn, ONG is utilized for network and other fees, as well as finds use in Ontology-based applications. These include DeFi applications in the Wing Finance suite or multi-chain protocols, for example, OpenOcean (OOE). Other use cases span from streaming service MovieBloc rewards, and NFT marketplaces, to, of course, games.
Comparison with Similar Projects
Most commonly, Ontology is compared to the largest smart contract platform — obviously, Ethereum (ETH). After all, both these platforms were created for smart contracts and blockchain-based apps. However, Ontology has a more clearly defined focus on trust networks. Ethereum is more about programmable money and decentralized finance.
The NEO blockchain, which we have already mentioned in passing, is also an important strategic partner of Ontology. So much so, that 10% of ONT's total supply was relegated to NEO Council. Both projects are close in origin and share a similar goal of creating a smart economy. What is the difference, then? Aside from slightly diverging goals and focal points, the networks are different in architecture. NEO uses a more common dBFT (delegated Byzantine Fault Tolerance) consensus algorithm while Ontology developed VBFT (Verified BFT). It is a combination of BFT with Proof-of-Stake modified with Verifiable Random Function (VRF).
Ecosystem, Partners, and Future Plans
This July, the Ontology mainnet turned five. In so much time up and running, what did they build by now? The Ontology Web3 Network (OWN) is taking shape: most recently, the developers successfully incubated Goshen Network, an Optimistic-rollup-based Layer 2. In addition to L2s, Ontology is planning to introduce liquid staking, too. Most recent arrivals to the ecosystem include iZUMi Finance, Alchemy Pay, ONT ID-powered ONTO Wallet, and cross-chain reputation managing Orange Protocol.
What is next? The official roadmap is laid out for as far as 2023, which is natural in the crypto and blockchain space that is changing rapidly. This year's plans are focused mostly on optimizing the tech, by improving usage costs and performance, as well as onboarding more developers and fostering DID use cases. For the Ontology EVM fund alone, the team pledged to contribute $10 million this year. With this in mind, we may see even more partners and apps join the ecosystem by the end of 2023.
Which Crypto Wallet to Use for Ontology Coin?
If you plan to use Ontology-based apps and avail of their DID solutions, there is no better option than official or officially recommended applications. They include ONTO Wallet (iOS, Android, Chrome extension) and Owallet (desktop).
Ontology (ONT) is also supported in MetaMask and OKX Wallet. The ChangeHero team recommends Exodus for simple in-app ONT staking and seamless swaps with other cryptocurrencies. If you prefer cold storage, ONT support is available in popular hardware wallets such as Ledger and Trezor.
Where to Buy Ontology (ONT)?
The answer is easy: exchange crypto for ONT on ChangeHero. We will find the best rate across ten liquidity providers in real-time, and you can start right away with no need to sign up.
Choose the currencies on the home page, amounts, and the type of exchange. Provide your ONT wallet address in the next step and check the details;
Double-check the provided information, read and accept the Terms of Use and Privacy Policy;
Send the cryptocurrency for the swap in a single transaction. In a Fixed Rate transaction, you have 15 minutes before it expires;
Sit back and relax. Now we are doing all the work: checking the incoming transaction and making the exchange as soon as it arrives;
As soon as the exchange has been processed, your ONT is on its way to your wallet. And so, the transaction is finished!
The flow is as easy as it gets but if you struggle with something, don't worry. Our support team is available 24/7 to help you in the chat or through the email: [email protected].
Conclusion
In a world where machines are getting harder to distinguish from humans, more and more projects concern themselves with the issue of digital identity. In these circumstances, Ontology may find the perfect use case for their DID solution.
If you found this guide useful, make sure to check out our blog for coverage of other crypto projects. Subscribe to our social media for updates: Telegram, X (Twitter), Facebook, and Reddit.
---
Learn more:
Quick links: