A zero-knowledge rollup-based L2 for Ethereum called Loopring has been trending for a few days now and is on the rise. On a weekly time frame, it's up 23.85% and keeps going. In our Loopring price prediction article, we explain what is behind the rally and give targets for 2023 and the years ahead.
All Loopring Price Predictions 2023–2033
| | | |
| --- | --- | --- |
| Year | Minimum price, USD | Maximum price, USD |
| 2023 | $0.18 | $1.36 |
| 2024 | $1.30 | $1.54 |
| 2025 | $0.33 | $2.06 |
| 2028 | $0.75 | $3.47 |
| 2030 | $0.33 | $6.43 |
| 2033 | $3.7 | $12.73 |
What are Loopring and LRC?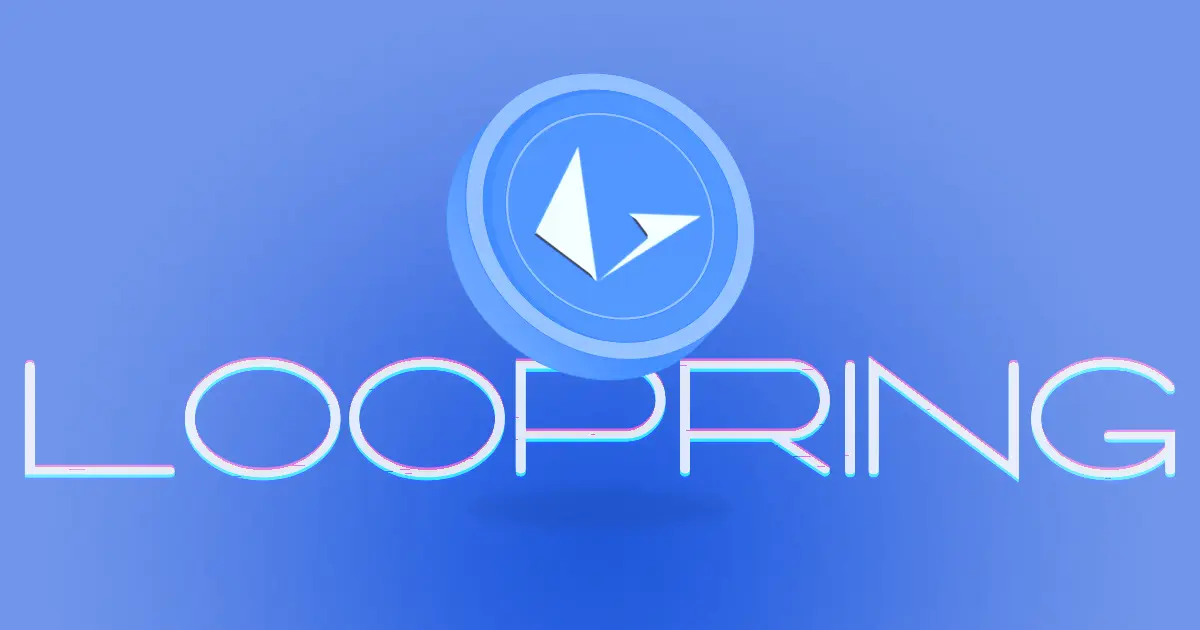 Loopring is an Ethereum Layer-2 protocol first and a DEX platform second. It was launched in 2017, after an ICO, and for a while was housing order book-based non-custodial DEXs. Due to the technology of Loopring, eventually the developers realized that it can double as a L2 protocol for faster and cheaper Ethereum transfers.
It is possible because Loopring uses zero-knowledge rollups to batch and verify transactions. ZK-rollups store some of the transaction data off-chain as a Merkle tree. A batch of transactions gets processed, and as a proof to record on the layer-one blockchain, it generates a zero-knowledge proof of validity.
As a bonus, not only you can transfer funds gas-free when you top up your Loopring wallet but also trade them for other digital assets. Loopring's ring orders can include up to 16 trades and are executed like an atomic swap. What else can it do? You can find it in our Beginner's Guide to Loopring.
Loopring Price History
LRC Price in 2017–2020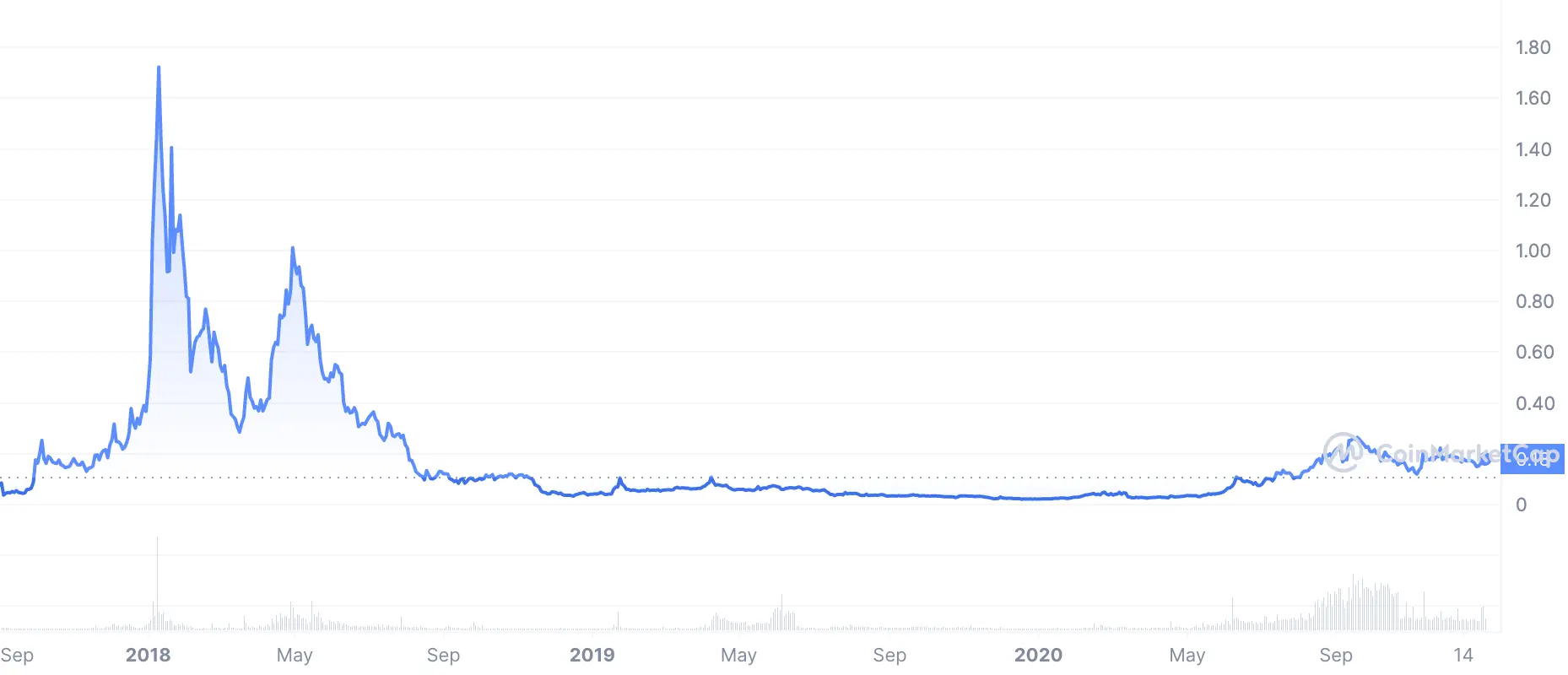 The LRC tokens were released as soon as the 2017 ICO was concluded in August. For reference, the approximate price of a single LRC was $0.067 per token. During the sale, 50% of the total supply was sold to the public and institutional investors such as Xinghe Capital, NEO Council, and Qtum.
Loopring tokens were released just in time before the peak of the Bitcoin bull run in late 2017. At its highest, LRC was worth $1.7228. Afterward, it briefly attempted to recover from a sharp decline in May 2018 but barely reached a dollar. The closing price for LRC in 2018 was only $0.04.
For the most part of 2019, LRC was trading in a range between $0.09 and $0.02. This sideways trend persisted well into 2020 but in the second half of the year, LRC's price picked up steam. As a result, by 2020's end, it was trading closer to $0.74.
LRC Price in 2021–2023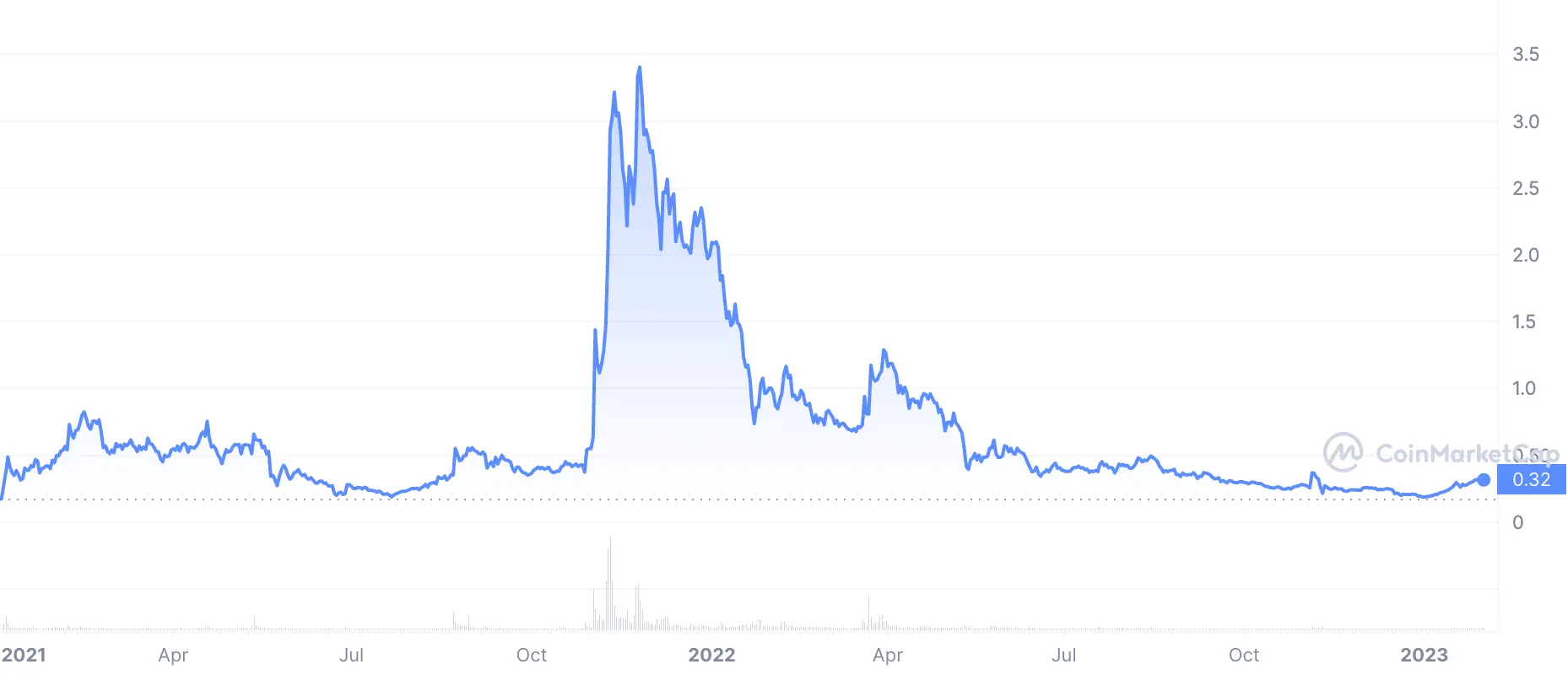 What happened in 2021? Long story short, a new cycle in the crypto market, kicked off by the Bitcoin halving. This time around, the total crypto market capitalization almost reached $3 trillion dollars at the highest point, and LRC gained from it, too. In the first leg up, from March to April, LRC reached $0.75 but really took off in the second one. The Loopring token price reached an all-time high record of $3.83 on November 10, 2021.
"What goes up must come down" was the aptest description for the crypto market in 2022. Over the course of that year, LRC shed more than 90% of the value from the ATH with occasional spikes. They correspond to the news about Loopring's collaboration with GameStop, a gaming-centered retail chain that dabbled into crypto as a part of its revival campaign.
Despite that, it is not doing half-bad in 2023 so far! It opened at $0.1877 and at the time of writing, the current price of LRC is $0.3213. It ranks 86th by market capitalization (according to CoinMarketCap).
Loopring (LRC) Fundamental Analysis. What Influences Its Price?
Ethereum Scaling
Currently, Loopring is positioned as a Layer-2 for Ethereum. Users are encouraged to use it for gas-free quick transfers of ETH and tokens. Even after the Merge, this use case is still relevant because even though Ethereum went PoS, sharding is a long way to go.
Do you need to use L2s now? According to Bitinfocharts, a median transaction fee today is 0.00099 ETH or $1.56. On a daily basis since 2020, Ethereum processes around a million transactions, on the same level as the peak of the bull run of 2018. This data points to the lack of serious congestion in Ethereum at the moment. However, if you make a lot of transfers, one-dollar fees can quickly add up to a hefty sum, so using a L2 for gas-free transfers is optimal.
Narrative Shift
The reason LRC is on the rise right now is because coins of the protocols associated with the rollup technology are trending. Loopring in particular has been undervalued for a long time and is breaking out.
The reason for it could be the buzz generated on Twitter and the crypto media. Multiple users are highlighting that the narrative is shifting toward zero-knowledge technology and rollups. Anticipation is building up in anticipation of the launch of zkEVM projects: first on Polygon.
How does Loopring play into this? First of all, purely by association, and in addition, thanks to the potential of zero-knowledge cryptography to improve privacy on Ethereum.
Ecosystem Developments
In 2022, the news about GameStop launching a wallet on Loopring and testing it for their NFT marketplace moved the LRC price on several occasions. It wouldn't be a surprise to anyone if we said the Loopring news keeps on coming.
Just a week ago, they revealed a collaboration with a studio Protocol: Gemini. The virtual experience developer chose Loopring because of Ethereum-grade security at the fraction of the cost. One of the highlighted features that Protocol: Gemini is excited to trial is counterfactual NFTs — non-fungible tokens that are minted first on Loopring and deployed on the main chain later.
LRC on Twitter
$LRC is up 13% & alot of #zkrollups are trending🔥

Open interest and accounts long are moving parabolic for @loopringorg.

Details: https://t.co/8HCltMy7lB pic.twitter.com/Kq8p4Xl98r

— Huobi Futures (@HuobiFutures_) January 30, 2023
Crypto derivatives exchange Huobi Futures highlights the surge in Loopring and correlates the data up with open interest — one of the important and often overlooked indicators.
#LRC 1D

One of the strong Fundamentally coins. It's reaching strong Res. Zone and if we get rejected from this zone, the buy zone mentioned in the chart is a nice opportunity to buy it back. So keep it in your watchlist#Crypto #Bitcoin $BTC $LRC https://t.co/eEQDd0g7Io pic.twitter.com/2uyxwLziMY

— BinanceMaster ® ( Futures/Spot ) (@master_binance) January 26, 2023
Trader under the moniker BinanceMaster charts a possible trajectory for the continued rally in LRC.
No $GME friends, $LRC is not decentralized, censorship resistant, the future of finance, etc.

It's an unregistered security scam, and you'll all be embarrassed you fell for it in 3 years. (Esp. @ryancohen & @larryvc for leading millions of ppl into it 🤦‍♂️)https://t.co/h881TrsqQa

— ₿en 🦍🖍️ (@benwehrman) January 29, 2023
Not all opinions are unanimous, though. User Ben Wehrman is completely bearish on Loopring, mentions an outage and the signs that LRC may be an unregistered security.
Our Loopring Technical Analysis and Forecast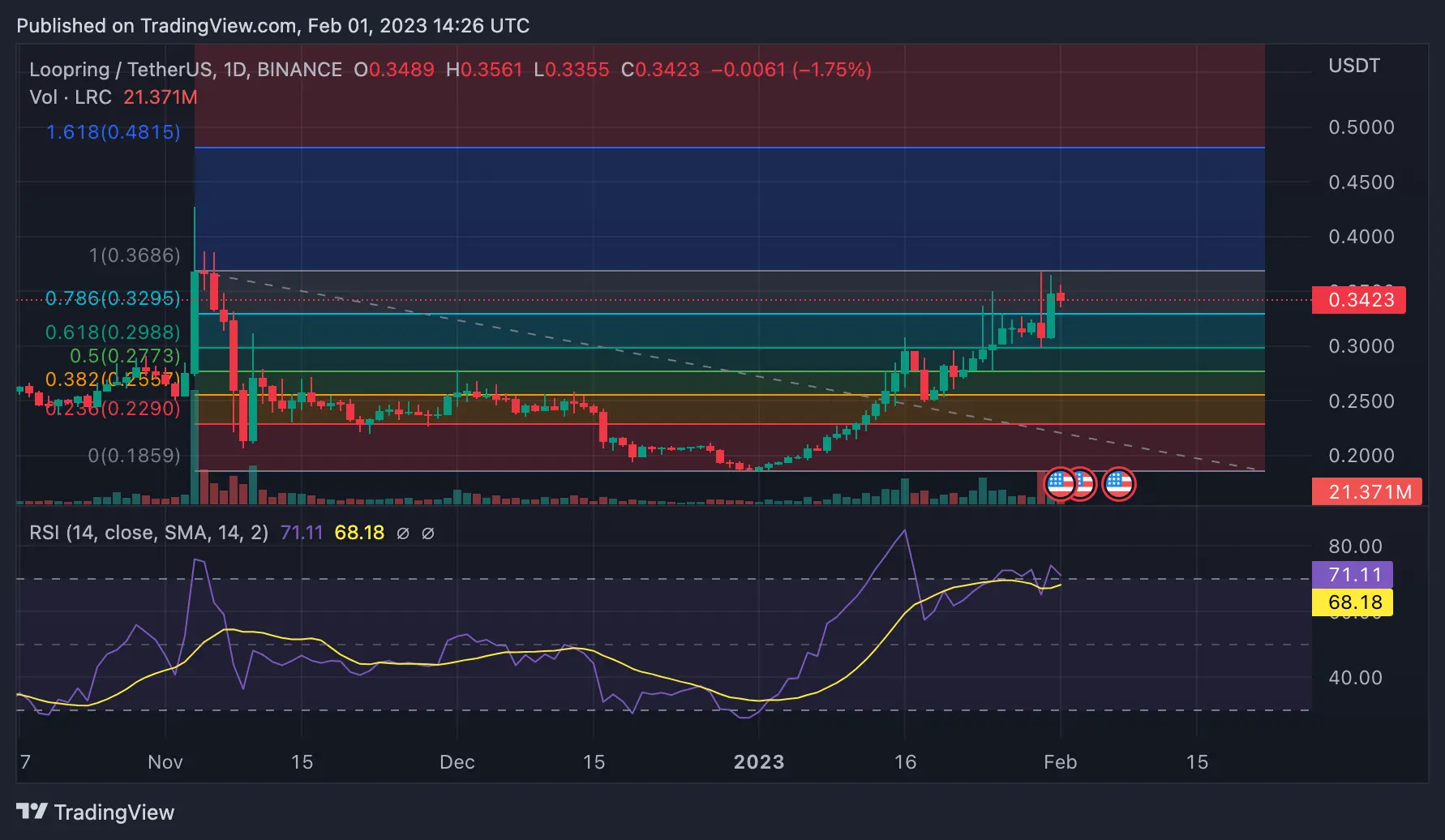 We are analyzing the daily chart since per Coinbase, the average hold time of LRC is 15 days. As we see on the chart, LRC is attempting to retest the local high from mid-November, near $0.368. At the same time, the simple moving average of the relative strength index (yellow) is approaching the overbought zone. In this time frame, it signals that the rally is close to exhaustion. Support levels to watch are $0.3295 and $0.2988, but if the rally continues, $0.4815 is the way to go.
Loopring Price Prediction 2023, 2024
Outlet CryptoNewsZ remains bullish on LRC for 2023 and 2024. This year, they expect it to fluctuate between $1.23 and $1.54, which makes the average price $1.36. A year from now, LRC can be worth $1.30 minimum and $1.54 maximum.
The Coin Republic shares an outlook based on technical analysis for the Loopring token in the short term. The current situation is neutral, meaning both bullish and bearish scenarios can play out. The marks that would validate them respectively are $0.4–0.5 and $0.1854–0.2496.
YouTube channel More Crypto Online took a request to analyze and give a Loopring price prediction for the short term. One of his scenarios he says could or could not play out sees LRC arrive at $0.8.
LRC Price Forecast for 2025 and 2028
To give accurate forecasts for the longer term, technical analysis is not enough. Prediction service CoinCodex projects the growth of the tech sector to the value of a cryptocurrency and using this method they get the following Loopring price prediction. By 2025, LRC should be worth $0.687511 at the very least and $2.06 maximum.
For the same time period, using algorithmic prediction, AMBCrypto arrives at other targets: $0.33 to $0.5 for LRC in 2025, $0.75 to $1.14 in 2028. Even so far in the future, nowhere near the all-time high.
A similar forecast service by PricePrediction.net shows the following. In 2025, the average LRC price will end up being $0.98, calculated from a minimum of $0.95 and a maximum of $1.13. Five years from now, in 2028, LRC can be worth anywhere between $2.83 and $3.47.
Loopring Price Forecast 2030, 2033
The farther we move from the present, the more nebulous the predictions become. Experts still try to use precise tools to provide some approximations. Take BeInCrypto's Loopring price prediction: with technical analysis tools, they chart a possible path of LRC's price years in advance. By 2030, this path arrives at $6.43, and moving forward it goes up to $9.92–12.73 in 2033.
CoinLore's LRC price prediction goes up to ten years as well. It is even less precise, which is understandable, and gives humongous ranges. For 2030, the minimum price is $0.3278540 and a maximum is $5.50. Same goes for 2033: the minimum is $3.70 and the maximum is $11.27.
Where Can You Buy Loopring (LRC)?
If you already have cryptocurrencies, you can exchange them for LRC on ChangeHero in five simple steps:
Choose the currencies on the home page, amounts, and the type of exchange. Provide your wallet address in the next step and check the sums;
Double-check the provided information, read and accept the Terms of Use and Privacy Policy;
Send in a single transaction the sum of the cryptocurrency you will be exchanging. Fixed Rate transactions have a 15-minute limit;
Done? Now let us take care of your exchange as soon as the deposit arrives;
As soon as the exchange has been processed, your AXS is on its way to your wallet.
Our support service is available anytime in the chat on our website or through the email: [email protected].
Conclusion
All in all, Loopring price predictions are positive, even though the project itself is facing some challenges. The ongoing surge of LRC's price is a good illustration of the power of narratives.
Read even more content about crypto's prospects in our blog. Sign up for ChangeHero's updates on Twitter, Facebook, Reddit, and Telegram.
---
Frequently Asked Questions
Is LRC crypto a good investment?
For the short term, the outlook on Loopring is neutral. On a larger scale, the predictions are mostly positive, so most sources agree LRC is worth keeping long-term.
What will LRC be worth in 2030?
Cited forecasts give targets from $0.3278540 to $6.43 for LRC in 2030.
Can LRC reach $100?
None of the forecasts seems to mention a target as high as $100. It is possible for Loopring to reach $10, though, some sources claim.
What is LRC worth in 2025?
If we were to compile a Loopring price prediction from all the sources reviewed, a 2025 forecast would see LRC price in the range between $0.33 and $2.06.
Disclaimer
This article does not constitute financial or investing advice. No price prediction or forecast is guaranteed to provide exact information on the future price. Past performance is not indicative of future results.
When dealing with cryptocurrencies, remember that they are highly volatile and thus, a high-risk investment. Always stay informed and be aware of those risks by conducting your own research. Consider investing in cryptocurrencies only after careful consideration and analysis and at your own risk.
Learn more:
Quick links: