Lisk block reward halving is just around the corner! Halvings have the reputation of price influencing events, so the interest in the future price of LSK is at an all-time high! ChangeHero collected top Lisk price predictions for 2020 and a few years ahead, and we'll even give you a hint on how to buy Lisk. Enjoy!
What is Lisk and LSK?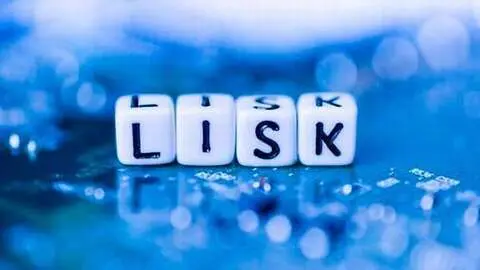 The problem with blockchain application development was in that blockchain platforms like Ethereum use obscure programming languages. Lisk is a platform for the development of blockchain applications, written in Javascript. Lisk has an original SDK (Software Development Kit) designed to onboard developers to the ecosystem in the most convenient way possible. LSK is the platform's native token, the role of which is to serve as a bridge between the native tokens of the apps. While each app is supposed to use its own token, these tokens can be exchanged to LSK and to another token later to use in another app.
If you are interested in learning more about the Lisk platform and LSK, we encourage you to read our comprehensive Beginner's Guide on this project! In this article, we will be focusing on LSK price movements and Lisk price predictions.
LSK Price History
2016–2018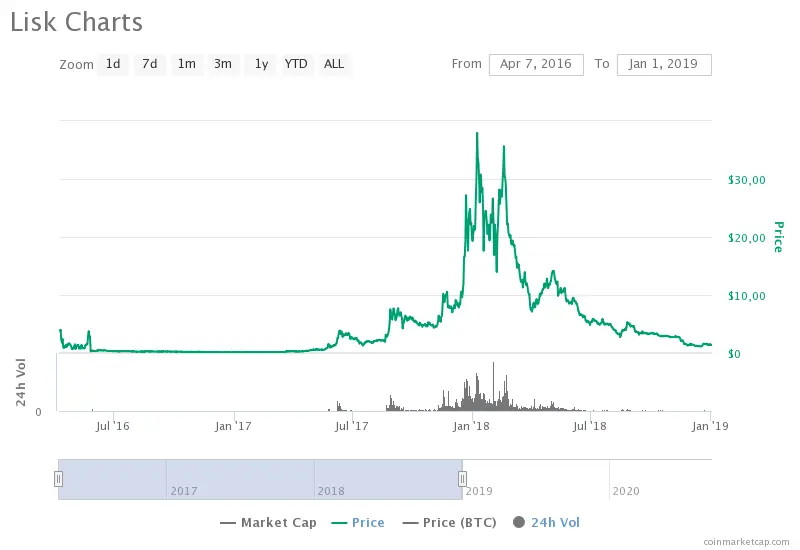 In 2016, Lisk developers held an ICO (Initial Coin Offering) and raised about $6 million dollars while distributing 85 million LSK. This makes the starting price of a Lisk token about $0.07. As soon as it hit exchanges, it rose to $7 momentarily. However, after the initial hype died down, so did the price of LSK. From May, 2016 to May, 2017 it has been trading for approximately $0.2–0.3. Only in mid-2017 it started to grow, just like Bitcoin and the rest of the market at that time. From $1.30 in June it grew to $9 in December, and at the start of 2018 suddenly jumped to double digits. Its current ATH of $39.31 was reached on January 7, 2018. Unlike many other currencies, LSK lingered on this level a bit longer, boosted by a listing on BitFlyer. Aside from that, the correction still got to it, and 2018 ended for Lisk worth $1.30 a coin.
2019–2020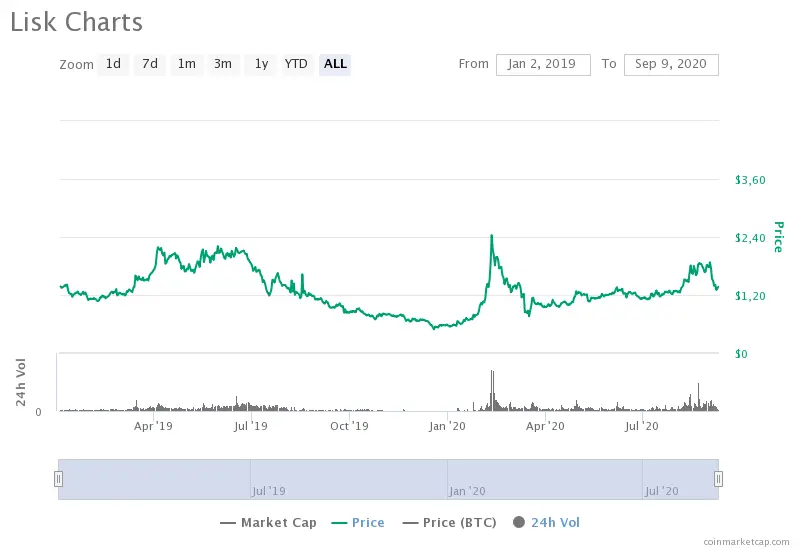 The continuing "crypto winter" for Lisk meant that the price would not fly as high. Roughly one half of 2019 was more or less characterised by an uptrend, when the price climbed to $2.20. But from there on and until the very start of 2020, Lisk price had been in a downtrend. It got as low as $0.5 in December, but bounced back up in January, 2020: Tokyo-based Coincheck announced Lisk staking. However, under the influences outside the market, it sank back down by March. Since March, it has been climbing back up slowly but surely, and the price even followed the bitcoin movements in August. At the moment of writing, LSK's price is $1.36, its market capitalization is $170,749,010, and the circulating supply is 125,651,534 LSK.
But don't hurry to an exchange to buy LSK just yet. Read the article until the end to learn all pros and cons and how to buy Lisk more quickly and easily.
What can influence the price of LSK?
Project Development
Lisk, as many other blockchain projects, is still in ongoing development. For instance, the interoperability features that LSK is supposed to carry out, are not yet on the main chain. This is why each Developer Call attracts investors' attention and was even said to contribute to driving the price up the last time in mid-August. This works both ways, as the delays in network update and rebranding in 2017 drove the price down.
Competition
Lisk's value proposition is the same as with many other projects: a distributed computing platform. Aside from Ethereum, other projects with the same value proposition include NEO, EOS, Cardano, TRON and Tezos. With the exception of NEO, they also operate on the Delegated Proof-of-Stake algorithm. To compete with them, Lisk has to offer other advantages other than a SDK. Right now, the community is working on making the network sound to be used as a monetization channel by making it resistant to forking and introducing a way to reverse transactions.
Adoption
Lisk is built to be user and developer-friendly with the goal of a widespread adoption in the future. This sets this project apart from its competitors, since Lisk is more accessible. The apps that can be developed on the Lisk blockchain are various, from bike renting service to event planning application. Covering these day-to-day use cases certainly helps to grow the ecosystem, and Lisk Foundation has the Builders Program to give out grants for developers.
Now that we know some fundamentals, let's have a look at some news, price analyses and Lisk price predictions.
Halving (Block Reward Reduction)
Projected to happen in late September, this event will reduce the reward for producing a block from 2 LSK to 1 LSK. This time around, nicknaming it halving is actually appropriate! From there on, the issuance rate of LSK will always be 1 coin per block. In theory, reducing supply inflation should have a positive impact on the price, provided the same level of demand persists. In an irrational market, when sentiment also has influence on the price, reward reduction can even cause price increase since halvings are generally considered to be bullish events.
LSK News on Twitter
#LISK (#LSK) Community Continues to Contribute to the Development of the Ecosystemhttps://t.co/w85bg2XQmv pic.twitter.com/WwpDiskzco

— John Morgan (@johnmorganFL) September 7, 2020
Influencer John Morgan shared the news from The Currency Analytics media outlet. It outlines the activity of the community in the Lisk ecosystem: new Proof-of-Concept for automatic on-chain payments, new address system and ID formats and the Lisk financial quarterly update.
$lsk / $btc update. I will try to cathc from support area. 🇹🇷 destek bolgesinden yakalamaya calisacagim https://t.co/smVOXVwGyq pic.twitter.com/2lwos1x3J9

— Gokhan Gark (@GokhanGark) September 6, 2020
Update by the trader Gokhan Gark: while the price failed to overcome a resistance level of 0.0001646 BTC he has mentioned before, he shifts his attention to the support which he estimated to be 0.0001202 BTC. Support and resistance levels indicate the price range when traders usually expect the price to change direction.
Capitulated many positions into $ETH as to not pick up pennies in front of a steamroller$BAT $SC $LSK $ETC - Peace for now.

Currently $DXY is attempting a short term bounce, but this is not its prime time for liquidity. Still on guard for actual reversal, not just attempt. — ant (@ThisIsNuse) September 2, 2020
Twitter user Nuse expects LSK to keep quiet for now. This is very unlike the holders who are impatient for a pump!
LSK/USDT on #BINANCE just printed a HIKKAKE #bearish candlestick pattern #trading #cryptotrading #technicalanalysis #chartpattern #chartpatterns $LSK $USDT Will you trade it? How would you trade it? pic.twitter.com/7Fam6E1H11

— PatternsWizard (@PatternsWizard) September 7, 2020
Trader Patterns Wizard shows that the LSKBTC chart has formed a Hikkake pattern. What does it mean? Hikkake pattern consists of a move in one direction, quick reversal, and prolonged move in the opposite direction. Though a bullish variation is observed more frequently, this time this signal is actually bearish, in their opinion.
Buy or Sell LSK?
$LSK Hit 1655

Target 1 done. Now again in buying zone — Crypto Ankit (@CryptoAnkit) September 2, 2020
Trader Crypto Ankit suggests that the price of LSK is now in the buying zone, as the chart broke out of the pattern and stepped over their first target.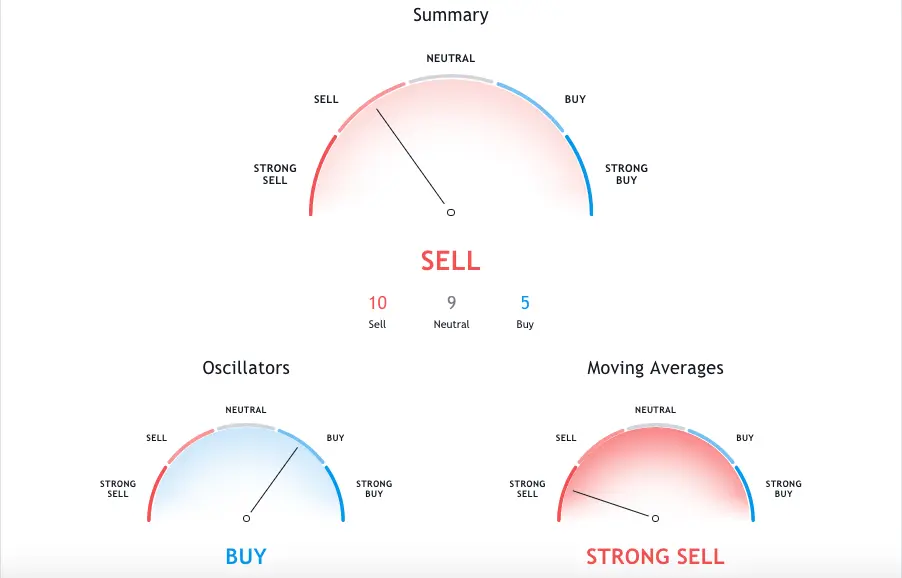 However, according to the data from TradingView, selling signals are more prevalent in Lisk. Oscillators like the momentum indicator (comparison with the price from a number of periods ago) and moving average convergence/divergence (indicator that plots the differences in two separate moving averages (MA) and their exponential MAs) suggest bullish movements, but most moving averages signal selling activity.
Lisk Price predictions for 2020
LSK Forecast from weslad: 0.0004054 BTC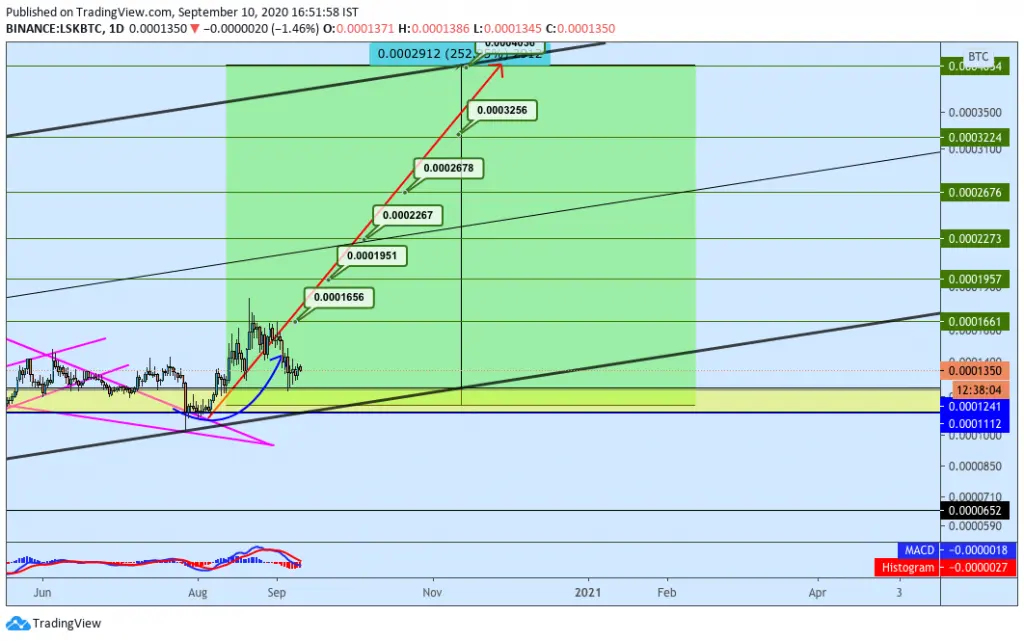 TradingView user weslad suggested the following idea for LSK price prediction: the chart is breaking out of the accumulation zone between 0.0001233 BTC and in the next few months Lisk will surge 100–250%. In 2020, the Lisk price was forming a falling wedge (magenta lines), from which the price is going to break out as well, and an even larger picture draws an ascending channel (parallel black lines on the chart). The highest target they suggest will be reached by December is at 0.000454 BTC.
Gov.capital Lisk prediction: $4.495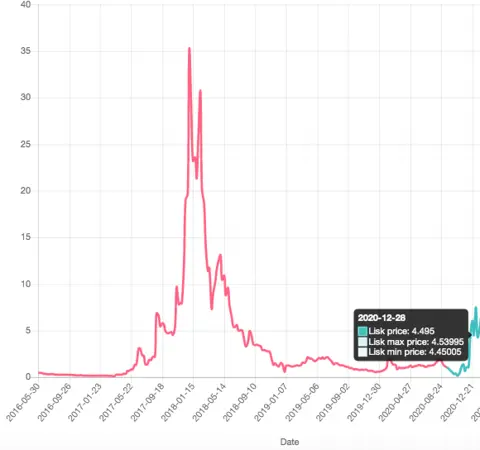 Gov.capital blog's Lisk prediction projects a repetition of 2018 movements on a smaller scale. In December the price would multiply by three to four times, and at the year's close it will be $4.495.
Crypto Rating's LSK Price Prediction: $2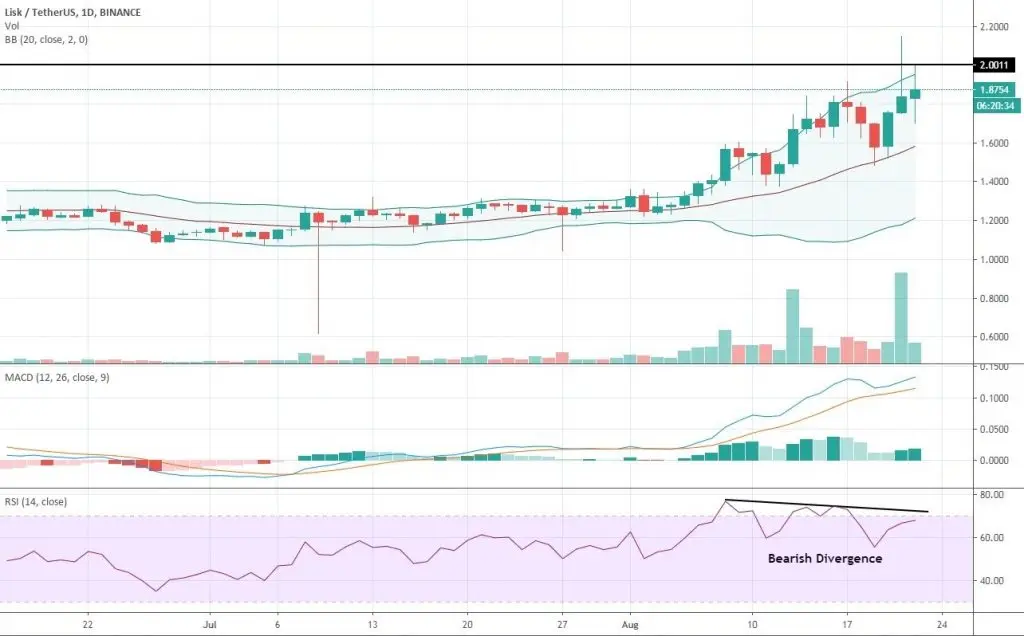 The Lisk price analysis by Crypto Trading experts suggests that it might expect a retracement soon. However, a daily chart shows bullish signals, as the chart stays in the upper half of  Bollinger Bands (momentum indicator that is plotted away from simple moving averages by standard deviations (up and down)) (green cloud). All in all, the levels when a trend will settle are defined as a $1.6 support and a $2 target/resistance.
Lisk Price Predictions for 2021-2024
A LSK prediction for a few years in advance is a more complicated matter. These kinds of forecasts are usually done with the help of an algorithm that analyses historical data and some technical indicators, but these do not take into account any outside factors. With this in mind, let's see what LSK prediction each resource gives.
Previsioni Bitcoin Lisk Price Predictions for 2021 and 2022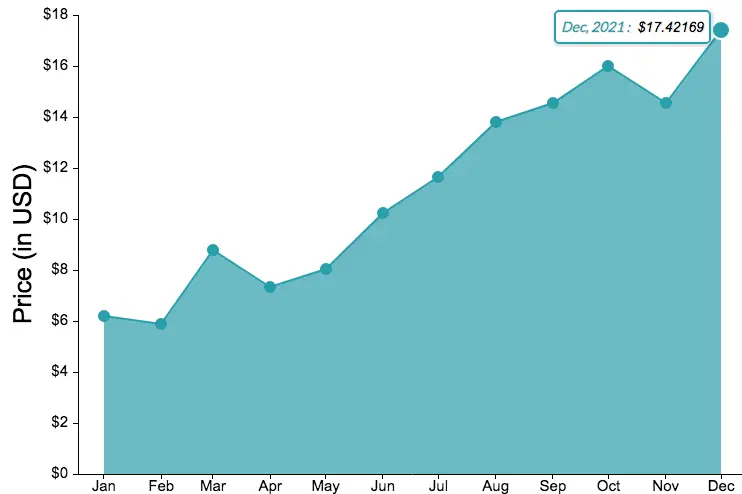 According to this Lisk forecast, in 2021 Lisk price will grow with some minor dips along the way. Over the course of the year, it will almost triple, having started it at $6.18189 and finishing it at $17.42169 on average. The next year, though, will not be profitable for Lisk holders. In the same Lisk prediction for 2022, it will start the year at $13.14414 and finish it down 28%, at $10.25214.
TradingBeasts Lisk Price Predictions for 2021–2023
TradingBeasts forecast Lisk will be trading sideways in 2021. The price range is expected to be between $1.70 and $1.66 with a downward bias. Having finished 2021 at $1.65, the LSK price will see the continuing downtrend in the same way. 2023 will start with LSK at $1.57 on average and finish only slightly higher, at the average price of $1.68.
WalletInvestor Lisk Price Predictions for 2021–2024
WalletInvestor has the most bearish LSK price prediction of all the sources. They evaluate Lisk as  a high-risk long-term investment.
By December 2021, LSK will be worth less than a dollar, and only momentarily will pump, making the closing price of the token $5.204. The same pattern is projected in 2022, but this time the end-of-year pump will boost the price to only $4.321. By the end of 2023, the closing price will be $2.462 and in a year, barely higher than that — only $2.499.
Lisk Price predictions for 2025
The case for the LSK price predictions five years in advance is almost the same as with the previous Lisk forecasts. However, individual experts are more willing to give LSK forecasts of the price in five years, just because it is a more or less round number.
Cryptoground Lisk Price Prediction: $31.9603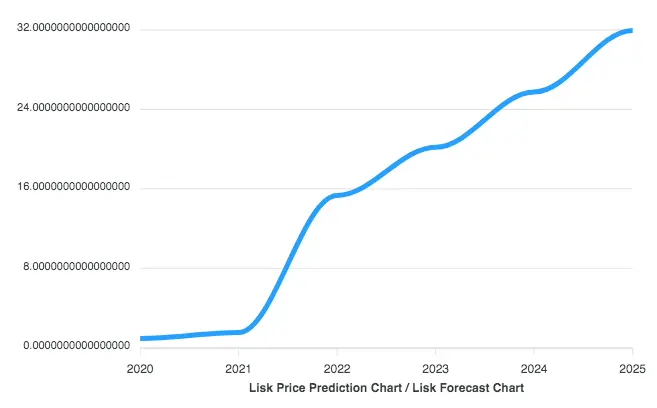 CryptoGround assesses Lisk as a profitable long-term investment for the period longer than 5+ years. As per the Lisk forecast and algorithmic analysis, the price of 1 LSK will be around $31.9603 in 2025.
Digital Coin Price LSK Forecast: $7.02
In the Lisk prediction by Digital Coin Price, 2025 will be the year that will finally bring profit to the Lisk holders. Albeit, not without times of volatility — the average price of LSK in November will dip to $1.84 — Lisk will be trading within the range of $5.86 and $7.02 in 2025.
Captain Altcoin Lisk Price Prediction: $150 (or zero)
Philipp Traugott is pessimistic about the future of Lisk, especially so far ahead. In his opinion, the team behind the project is incompetent, as they keep postponing releases and miss their deadlines. Besides, in his words, Lisk already lost not only to Ethereum which had the first mover advantage, but also to EOS and TRON, which promoted themselves more successfully and gained a larger user base. If Lisk pulls through these five years, we can expect it to be worth more $150. However, he is still sceptical about this LSK forecast.
Lisk Price Prediction for 2030
In the scale of the cryptocurrency market, Lisk is a fairly recent project. And on an even larger scale, the whole crypto market is a recent economic phenomenon, so it is fairly hard to make a LSK prediction for a decade ahead. Besides, it is also impossible to predict the global events that can influence the crypto market. If Lisk completes the interoperability architecture and finds adoption with blockchain application developers, they have a good chance of finding a profitable niche on the market and in the economy. However, in the worst case scenario, should the developers abandon the project, its survival would depend on the community, and it's uncertain if they will manage to keep it afloat.
ChangeHero Lisk Price Prediction
First we will summarize the experts' Lisk price predictions, and then come up with a Lisk forecast of our own.
[table id=5 /]
In 2020, Lisk still has room to grow. It might not break its ATH record, but most LSK predictions say it can go well over $4;From this info, we can say that:
Not many experts expect Lisk to leave its current price range within the next few years. We can expect the price to be somewhere between the current price and its current ATH;
In five years from now, given that Lisk finds adoption and the whole crypto market grows, it can reclaim the previous ATH and even multiply by as much as hundred times. Beyond that, though, it is impossible to predict.
How to buy Lisk on ChangeHero
Need a reminder on how to buy Lisk? Getting it is easy with ChangeHero. You can do it in a few easy steps:
Choose the currencies on the home page, amounts and the type of exchange. Provide your LSK wallet address in the next step and check the amounts;
Double-check the provided information, read and accept the Terms of Use and Privacy Policy;
Send in a single transaction the sum of cryptocurrency you will be exchanging. For  Fixed Rate transactions you have 15 minutes before it expires;
From here on, you won't need to do anything. At this step we are doing all the work: checking the incoming transaction and doing the exchange as soon as it arrives;
As soon as the exchange has been processed, your LSK is on the way to your wallet. And so, the transaction is finished!
Remember that you can reach our support in the chat or through the email: [email protected].
Conclusion
Lisk may not be in its heyday at the moment, but everything goes through ups and downs. Besides, most analyses do not take external occurrences like halvings or economic influence in account, so the influence of these events might become a welcome surprise for investors. In case you would need to get LSK, you know that you can do it with the best rates on ChangeHero! And to stay tuned to our updates on our blog, give us a follow on Twitter, Facebook, Reddit and in Telegram.
---
Learn more:
Quick links:
Disclaimer
This article does not constitute financial or investing advice. No price prediction or forecast is guaranteed to provide exact information on the future price. Past performance is not indicative of future results.
When dealing with cryptocurrencies, remember that they are extremely volatile and thus, a high-risk investment. Always make sure to stay informed and be aware of those risks. Consider investitions in cryptocurrencies only after careful consideration and analysis and at your own risk.