In 2022, the dYdX governance token was often touted as one of the most promising altcoins to hold. And not without a reason: the project found impressive support from the community and investors. In 2023 so far, it is doing alright, although bulls and bears play tug of war here as well. In this new article, we dive deeper into what made dYdX so popular and what kind of dYdX price prediction various sources (and we) can give.
All dYdX Price Predictions 2023–2033
| | | |
| --- | --- | --- |
| Year | Minimum price, USD | Maximum price, USD |
| 2023 | $1.16 | $7.24 |
| 2024 | $4.11 | $7.24 |
| 2025 | $7.96 | $10 |
| 2028 | $14.24 | $27.96 |
| 2030 | $2.74 | $41.13 |
| 2033 | $3.96 | $91.57 |
All the numbers in the table above tell us that the outlook on dYdX in the future is mostly bright. In the short term, DYDX will have to catch wind of a bullish trend to launch up to $7.24. In the longer term, DYDX should be able to grow up to $10 as soon as 2025.
What is dYdX?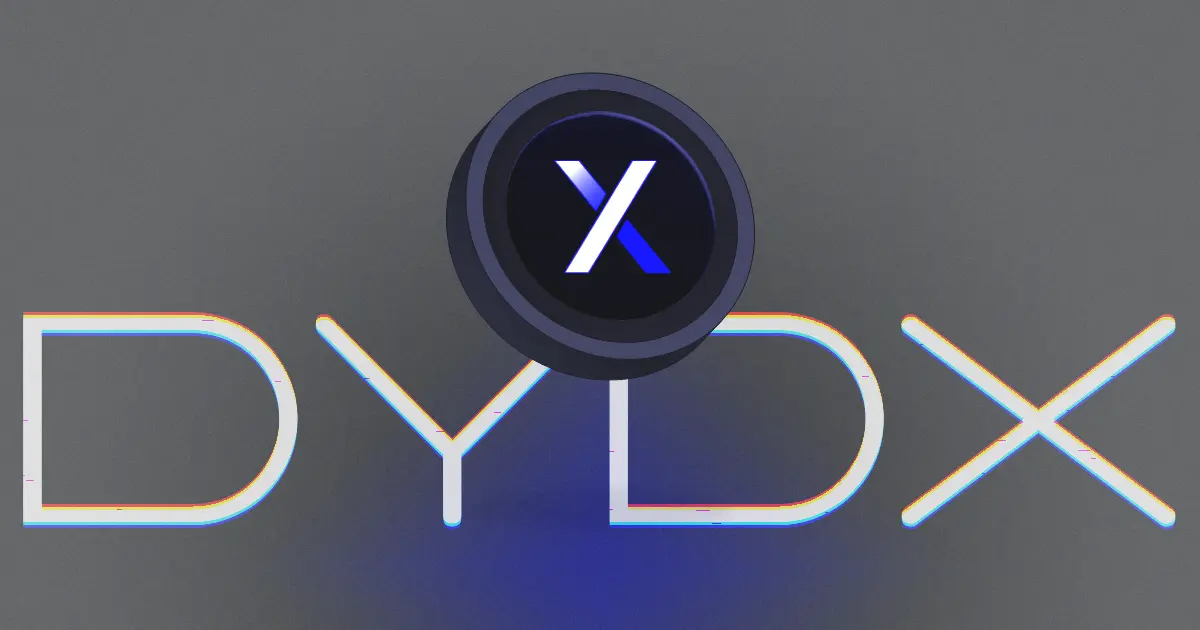 dYdX positions itself as a Layer-2 (based on Ethereum) protocol, with its core being a decentralized derivatives exchange of the same name. On dYdX, users are able to trade perpetual contracts without an intermediary. More advanced users are free to provide liquidity to the pools to receive staking rewards and trading fees.
Perpetual (future) contracts are a type of derivative asset that tracks a future price of an underlying asset and has no redemption or expiration date. Currently, dYdX markets provide exposure to 37 other crypto assets, from Bitcoin to Dogecoin and TRON. In addition to perpetuals, in the future, the dYdX Layer 2 can be used for spot and margin trading, as well as lending and borrowing.
The eponymous token DYDX is used in governance for voting and proposals. Anyone can participate in coming up with off-chain requests for comments but once it becomes an on-chain improvement proposal, only stakeholders or delegees will be able to cast votes.
DYDX Price History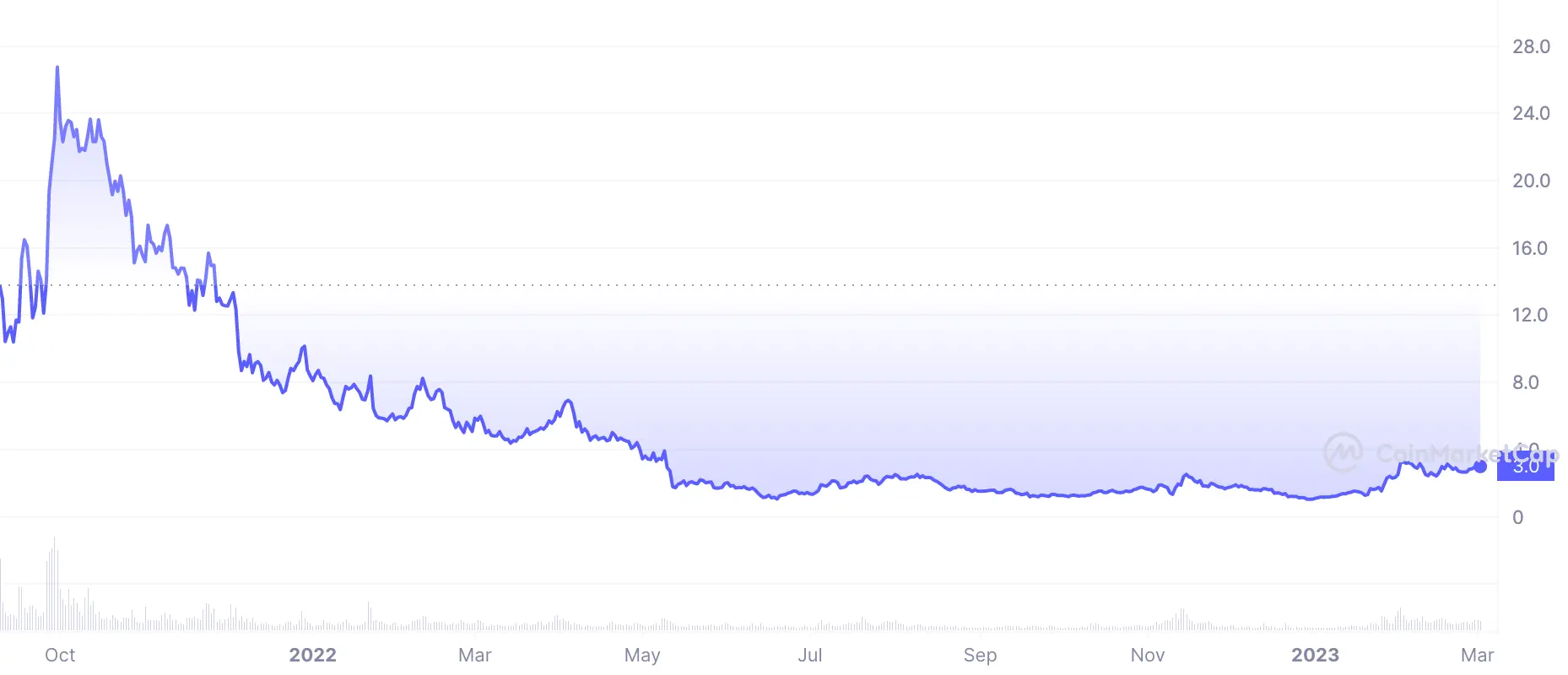 DYDX's historical value should be studied carefully before going deeper into its price prediction. The results of the coin can help to determine how realistic the prediction can be.
dYdX entered the crypto market in late 2021, at the peak of the bull market. Roughly a couple of weeks before Bitcoin hit its current all-time high and three weeks since dYdX was released, the token reached its record-highest price: $27.78 on September 30, 2021. The ATH is often used as a benchmark for future price predictions.
What goes up must come down, so DYDX quickly pulled back and caught wind of the starting crypto winter. In 2022 alone, the price of the DYDX token went down from $8.10 to $1.05. 2023 is turning out to be way more hopeful than the previous year, as so far it has seen DYDX price rise from there to $3.63 at the local high.
At the time of writing, the current dYdX price is $3, and the token ranks 85 by market cap (according to CoinMarketCap).
What Influences the Price of DYDX?
Decentralized perpetuals trading is a use case as niche as concrete and tangible. The current utility of the token can be an upside to one investor and turn away another. Look at it the following way: the team, namely the dYdX foundation, intends to expand the scope of the project to a full-fledged layer 2 of Ethereum. As we mentioned, in addition to perpetual contracts, they plan to support spot and margin trading as well as lending and borrowing. This is made possible because dYdX is powered by StarkEx by StarkWare, a zero-knowledge proofs scalability engine.
It's important to keep in mind that due to this fact, StarkWare received privileges in on-chain voting. The dYdX Foundation is also not a grassroots organization, being established by dYdX Trading Inc. Depending on how you form your investment case, corporate involvement may also be either a plus or a minus to you. The DYDX token is also present in portfolios of institutional investors: Jump Crypto, Wintermute, DeFiance Capital, Amber Group.
In the face of the FTX collapse, decentralized exchanges and non-custodial options became even more attractive to investors. Out of all synthetic asset protocols, dYdX is one of the few established platforms for perpetuals trading, which is also strictly non-custodial. And while the full fallout is yet to settle on the crypto market, new narratives, on which dYdX can also capitalize, are already emerging. Namely, the zero-knowledge rollups and EVM-compatible scaling solutions. We are yet to see the team fully take advantage of the latter narrative but as a future bet, it is already evident.
Market Sentiment Check: dYdX in Socials
$DYDX update

In brief, nothing's changed, but now we have more information #DYDX still looks great

Textbook symmetrical Triangle in Wave 4 consolidating above a strong horizontal level (prior resistance)

🎯 Target still the same https://t.co/5HL7OOwy5Y pic.twitter.com/mfo76gF8P9

— CryptoBullet (@CryptoBullet1) February 26, 2023
Trader Crypto Bullet updates their charts with new info: according to it, DYDX is still going strong.
$DYDX looks like it wants to break a resistance, but not in those market conditions 😄 pic.twitter.com/nePt0vxZ4J

— CryptoTechBakery (@DianaTechBakery) March 3, 2023
CryptoTechBakery is not as optimistic, although she really wants to be. In her words, the time is not now yet.
#DYDX

The price of $DYDX has broken the dynamic resistance and will probably grow up to the specified resistance, and if it can break the resistance, its next target is $3.6 pic.twitter.com/5LN6tTzeoT

— Technical Crypto Analyst (@TechCryptoAnlst) March 1, 2023
Technical Crypto Analyst gives a complete TA on the price of DYDX. They even provide a short-term target at $3.6.
Our dYdX Technical Analysis and Short-Term Price Forecast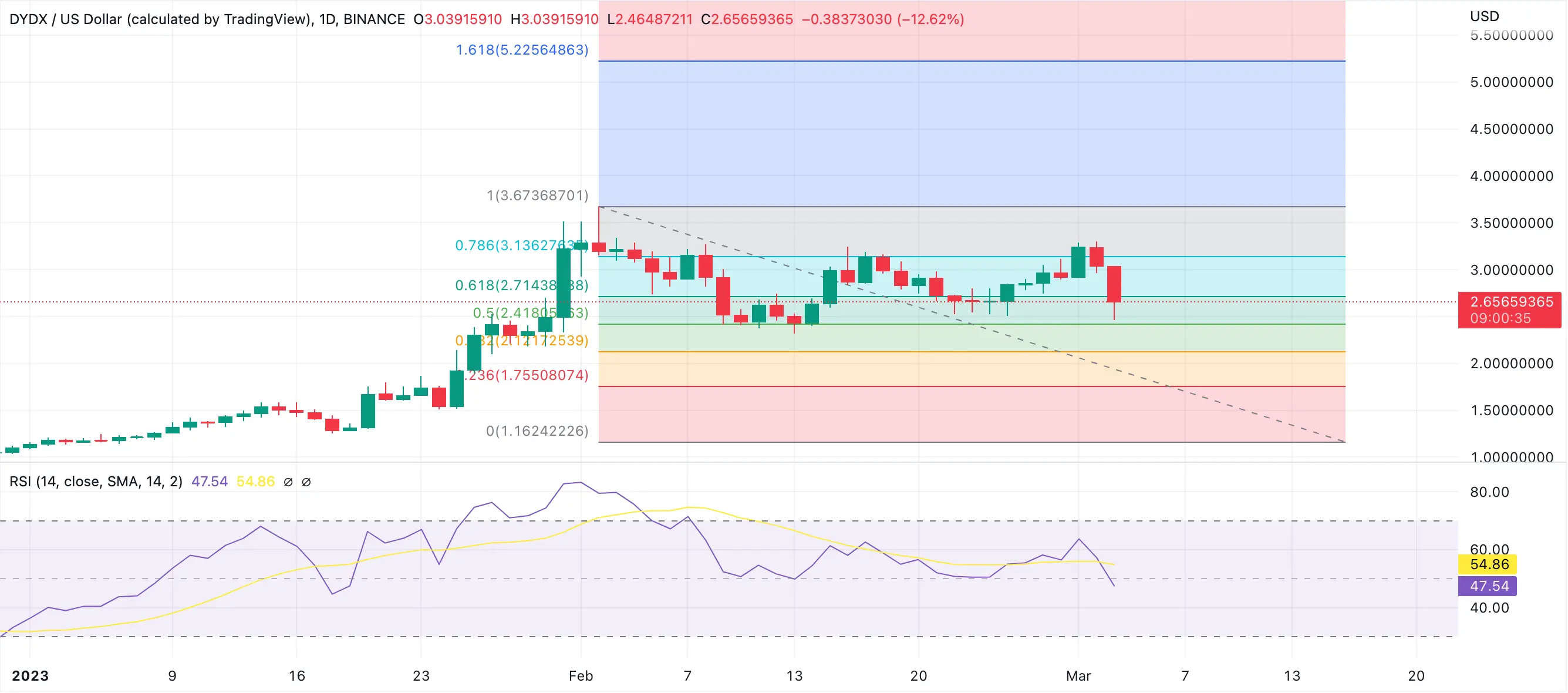 Let's try to see how DYDX can move in the near future based on what we have today. We'll be taking the level from which DYDX bounced in January as the lowest support level currently available ($1.16) and the local high of $3.67. The relative strength index (RSI) is balancing nicely between the overvalued and undervalued areas with a slight bias to the former. This and the relative lack of trading volumes suggest we might be stuck in this range for a while.
The prevalent levels currently in play are $2.71 and $2.41. If the sharp dip reverses, we should be looking at the resistance levels of $3.14 and next, $3.67.
DYDX Price Prediction 2023, 2024
Another short-term dYdX forecast we will share for reference is by The Coin Republic. They notice a breakout from the previously existing range, and the new token price corridor is between the support at $2.10 and the resistance of $3.50.
YouTube channel Crypto Archive in just five minutes recapped everything you need to know about dYdX and its price dynamics. Its team concludes by the end of 2023, DYDX can be worth $7.24 or more if the bullish momentum persists. Keep in mind that scheduled token releases can introduce downward pressure but just like that, news about the project's development can negate bearish price action, so it's best to stay tuned to the project's social media.
Similarly, in the second half of 2023, Captain Altcoin analysts see some green after a long and arduous crypto winter. From $3, the DYDX price is set to pull back to $2.63 to launch up to $4 by the year's end. A year from now, their prediction claims, the average trading price of DYDX will already be $4.11.
DYDX Price Forecast for 2025 and 2028
Let's turn to a more distant future. If you intend to hold DYDX long-term, then your best shot is to pay attention to the following forecasts, rather than the short-term ones.
The Trading Education website uses an algorithmic DYDX price prediction that gets data from several sources. They arrive at the conclusion that in 2025, the average price of the DYDX token will exceed $10.
Another algorithm based on historical data by DigitalCoinPrice has a bullish DYDX prediction for 2025. Although their forecasts are usually moderate, for dYdX in 2025 they project growth to $9.17 on average and to $9.45 maximum. Last but not least, PricePrediction.net establishes a predicted range between $7.96 minimum and $9.23 maximum for the DYDX price in 2025.
How about dYdX five years from now? Let's see what the same sources predict for 2028. Trading Education's algorithm claims the average trading price of DYDX will be $18.32. DigitalCoinPrice sees dYdX continue the growth and end up trading for $14.24 on average in 2028. In PricePrediction.net's analysis, the DYDX price range moves higher to $23.60–27.98 by that year.
dYdX Price Forecast 2030, 2033
Some of the crypto experts dare to try and see into the future at the end of the decade or ten years from now. Despite even the currently existing adversary factors, their predictions are bullish.
AMB Crypto calculates that by 2030, DYDX will be trading in the range between $11.36 and $17.04. Ten years from now, the average price of DYDX is expected to hit $33.41. By applying historical analysis and projection, Coin Lore gets the following figures: a minimum price of $2.74 and a maximum price of $41.13 in 2030. In 2033, the incredibly huge range of the DYDX price will move higher to $3.96–91.57.
Where Can You Get DYDX?
DYDX is freely tradeable on exchanges, including ChangeHero, where you can get it instantly and without registration. If you already have cryptocurrencies, you can exchange them for DYDX in five simple steps:
Choose the currencies on the home page, the amounts, and the type of exchange. Provide your wallet address in the next step and check the sums;
Double-check the provided information, read and accept the Terms of Use and Privacy Policy;
Send in a single transaction the sum of the cryptocurrency you will be exchanging. Fixed Rate transactions have a 15-minute limit;
Done? Now let us take care of your exchange as soon as the deposit arrives;
As soon as the exchange has been processed, your DYDX is on its way to your wallet.
Our support service is available anytime in the chat on our website or through the email: [email protected].
Conclusion
dYdX is far from an underrated gem. On the contrary, it is one of the most popular DeFi platforms. However, the majority of crypto industry experts agree that it has strong potential to continue growing in the future.
Do you think these predictions are correct? Discuss and sign up for ChangeHero's updates on Twitter, Facebook, Reddit, and Telegram. Read even more content about the crypto world's prospects in our blog.
---
Frequently Asked Questions
Will the dYdX price increase in the future?
The overwhelming majority of the sources cited give an optimistic prediction for dYdX in the short and long term. A couple of sources, however, see the DYDX price dipping to figures lower than the current price.
In 1 year from now, what will 1 dYdX be worth?
dYdX (DYDX) will cost roughly $4 to $7.24 USD – at least two times more expensive than the currently available DYDX.
How much will dYdX be worth in 2030?
DYdX offers outstanding value at very attractive prices. The forecasts predict an increased valuation for the DYDX. Namely, it is expected to be trading for anywhere between $2.47 to $41.13.
Can dYdX coin reach $10?
Several bullish projections see DYDX arrive above $10 as soon as 2025. Mind that for that to happen, its market capitalization will have to increase more than fivefold, and that is not adjusting for supply dilution.
Disclaimer
This article does not constitute financial or investing advice. No price prediction or forecast is guaranteed to provide exact information on the future price. Past performance is not indicative of future results.
When dealing with cryptocurrencies, remember that they are highly volatile and thus, a high-risk investment. Always stay informed and be aware of those risks by conducting your own research. Consider investing in cryptocurrencies only after careful consideration and analysis and at your own risk.
Learn more: