Bitcoin and cryptocurrencies are gaining more and more attention in the media and society. Many people who had not been familiar with cryptocurrencies are considering buying some to hedge against inflation or to use it anywhere in the world. The primary gateway to acquiring crypto is currently cryptocurrency exchanges. However, in this article, we are going to tell you how to exchange crypto with ChangeHero, why is it a better alternative and how we provide the best crypto exchange experience for beginners.
Why is Trading on Exchanges Complicated?
Before comparing exchanges with the best crypto exchange alternatives, we should introduce them in detail first. On the surface level, cryptocurrency exchanges connect market makers and takers on a variety of markets through an automated order book. To gain access to an exchange and start trading, a user must first register an account, go through a KYC procedure and make a deposit in cryptocurrency or fiat currency. Then they can choose a market (i.e. pair, like BTC_USDT) and place an order there. In this order they specify the amount of a cryptocurrency they will be selling or buying and at what price. Depending on that, an order might get fulfilled at once or placed to wait until (and if) the price reaches the necessary level. Let's suppose that a trader has successfully fulfilled their order(s). The assets they acquired as a result of their trading must be withdrawn from the exchange balance first, because as long as they are in the trader's account balance, technically the assets belong to the exchange.
Disadvantages of exchanges
If the process necessary to convert Bitcoin and cryptocurrencies described above sounds complicated, it is because it is. In addition to the hurdles that stand between the trader and the process of exchanging, there are more serious drawbacks:
User Interface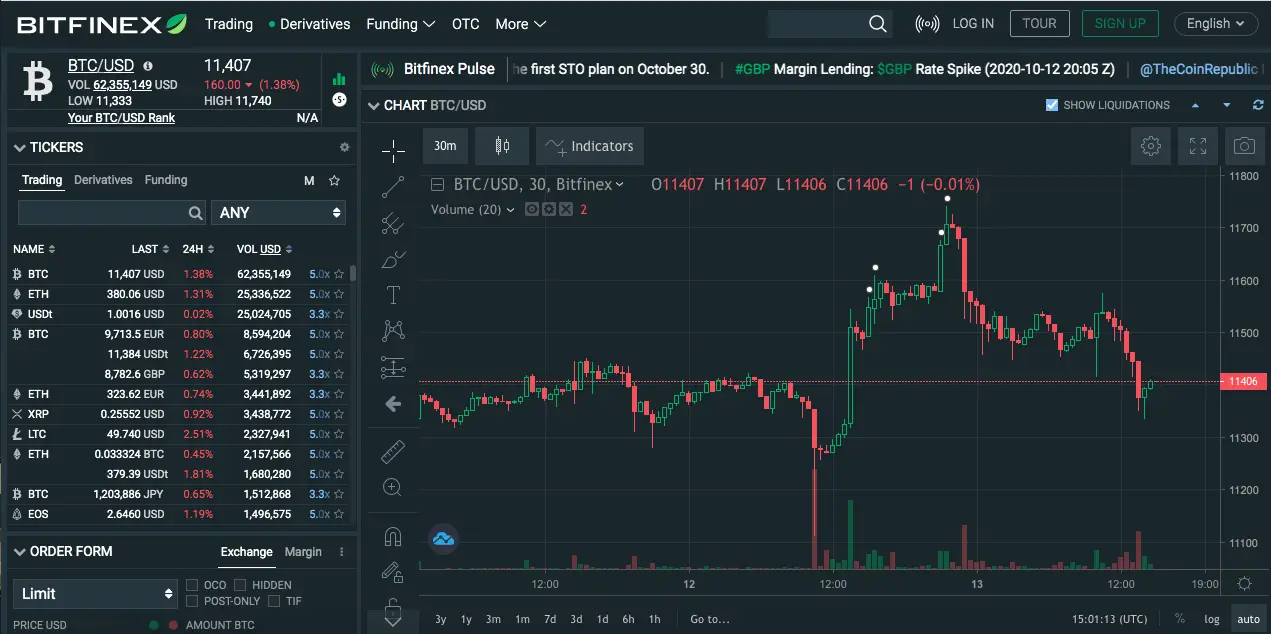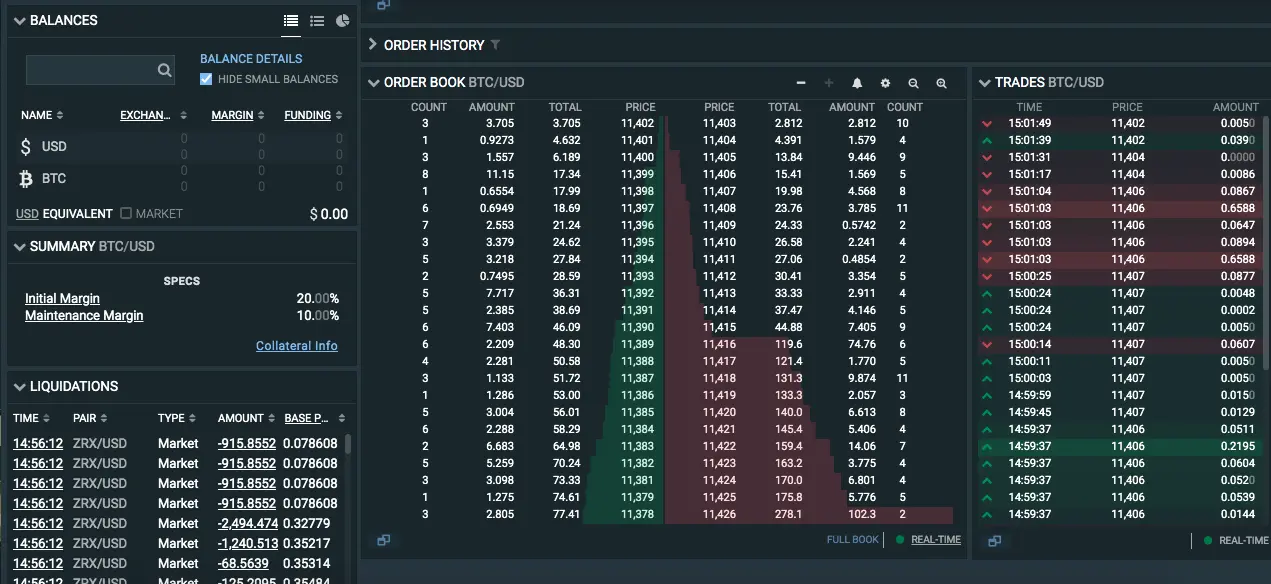 A usual user interface of a traditional crypto exchange consists of an orderbook, chart, order timeline and order placement element. This is the bare minimum, as the exchanges can often include other even more superfluous UI elements: trades, balances, summaries, chat boxes… The overload of information can easily distract a newcomer. This is not to mention that the UI usually displays the information of one market only, so a user will have to switch pages to check out different markets.
Fees
It is no secret that the main source of income for any crypto exchange is maker and taker fees. In addition to that, there may or may not be deposit and withdrawal fees, as well as other various additional fees for the services provided by an exchange. To make a swap on a centralized exchange, either a market of a certain pair is needed or placing orders on multiple markets is inevitable. For example, if we want to exchange XRP to LINK, these XRP should be converted to BTC or ETH first, and the fees stack. Needless to say, the more experienced in trading you are, the better you get at managing orders and trades, but this is a nightmare for someone who has just begun.
Custody
On centralized exchanges, accounts have balances. However, the funds in these accounts technically belong to the exchange. There is a solid reason one of the main rules of being in crypto is "Not your [private] keys — not your crypto": only the owner of a seed phrase can access the funds on an address, and in case with exchanges, they are the owner of it, and users can access the deposit in their account only if the exchange allows it. This circumstance enables fraudulent activity when fake exchanges collect enough of users' funds and make an exit scam. Some examples include Coinroom and Bitsane. It is especially tough for a user not familiar with the crypto landscape to find a legitimate best crypto exchange, and they might fall for any ploy.
Hacks
However, even the seemingly best crypto exchange can get hacked and the money will be lost for the same reason. Less than a month ago, KuCoin (which is the 7th largest exchange according to CoinMarketCap) was hacked and it resulted in loss of $280 million USD worth of BTC, ETH and other currencies, making it the third largest hack so far. The stolen funds were being stored in hot (online) wallets of the exchange, and the official version is that it was a result of a social engineering attack on an employee. Even the largest cryptocurrency exchange to date, Binance, lost 7070 BTC ($40 million USD) in May, 2019, due to a phishing attack. Along with the user funds, Binance lost personal data of its users which they provided in the KYC procedure upon registration. As many as 60 thousand customers' data was exposed and started being circulated in Telegram groups and cloud servers. This data included sensitive information like real people's IDs. More experienced crypto traders get used to storing their funds in their own cold wallets and manage their deposits, but this may not be obvious to a person new to crypto.
Registration
Obligatory KYC procedure is a necessary step for an exchange to comply with anti-money laundering regulations, but this case shows that it is not safe to disclose it even to the most trusted best crypto exchange for the reasons mentioned in the previous section. In some cases, the images provided for the KYC procedure cannot be processed automatically, and it can take up to a few days until they are going to be reviewed and approved (if they are approved at all) manually. Isn't this the opposite of fast and convenient, is it?
What is the alternative?
So what can be the best crypto exchange alternative? Something that is easy to use and navigate, secure and inexpensive? An instant crypto exchange platform like ChangeHero might as well be the answer. Let us explain how we address all of the issues with crypto exchanges:
Simple User Interface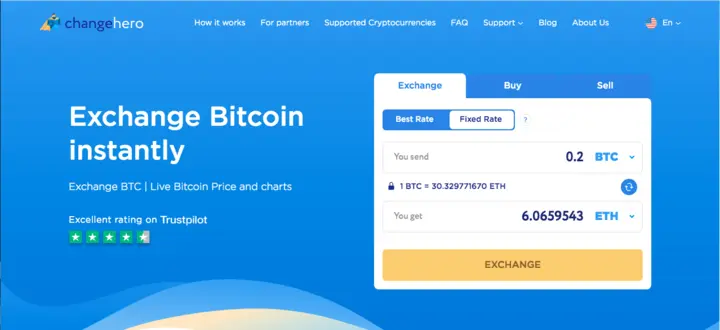 The user interface on ChangeHero includes only the most necessary information: rate, amounts and currencies. The best part — no need to go anywhere, you can initiate a transaction right from the home page. In case you do need additional information, check out our coin pages which include a price graph and other data of an each supported coin. Keep reading for a step-by-step guide on how to exchange crypto with ChangeHero — when we say it's easy, we mean it!
Crypto and Fiat Purchases
ChangeHero is your one-place stop, regardless of whether you want to convert cryptocurrencies or buy or sell crypto with a credit or debit card. Just like swaps, the purchases do not require depositing or withdrawing any funds in an account, though it is necessary to make an account and go through a simple automated KYC procedure if it's your first time using the service.
Fees
ChangeHero handles order matching and swapping through liquidity providers in exchange for a 0.5% fee which is applied only once to any transaction. In return, we also scour the markets to find the best crypto exchange fee available at the market. In addition, we offer Fixed Rate exchanges: the fee is only slightly higher to cover the volatility risks, but you will always get the same exact amount that was estimated at the moment of creating the transaction.
Non-Custodial Solution
ChangeHero is a non-custodial crypto exchange platform. It means that there are no user accounts to make deposits to, and in each transaction a new address is generated. You never have to deposit more than you are going to exchange and do not give up control over your funds. The exchange starts as soon as the deposit is made, and the status of your transaction is clearly communicated at all times. When an exchange is finished, the funds are sent directly to the wallet address you provide when creating the transaction. There is no need to withdraw your money either, and no additional fees are incurred.
Registration-Free Service
To use ChangeHero, no registration of an account is needed. Users can convert Bitcoin and other cryptocurrencies absolutely anonymously. Please note that ChangeHero is compliant to AML safety guidelines and can enforce a KYC procedure to the transactions the security system marks as suspicious. A user can go through with it or decline, but in any case we make sure that no sensitive information is stored in a vulnerable way. It goes without saying that we provide customer support 24/7 at any step of an exchange.
How to exchange crypto with ChangeHero
The main focus of the platform is to provide the best crypto exchange service to users. To this end, the process of swapping cryptocurrencies is streamlined, so that even an absolute beginner has no problems with it. The rate search and order matching is in their hands, so you only have to make a few simple steps to convert Bitcoin or other cryptocurrency for another.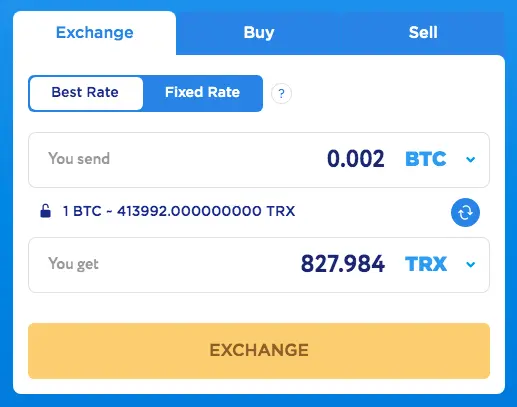 It all starts even before a transaction is created. When you choose a pair, rate and enter amounts, a bot finds the market with the best offer. Doing this yourself on an exchange takes time, but since it's automatized here, you get a result only in a few seconds;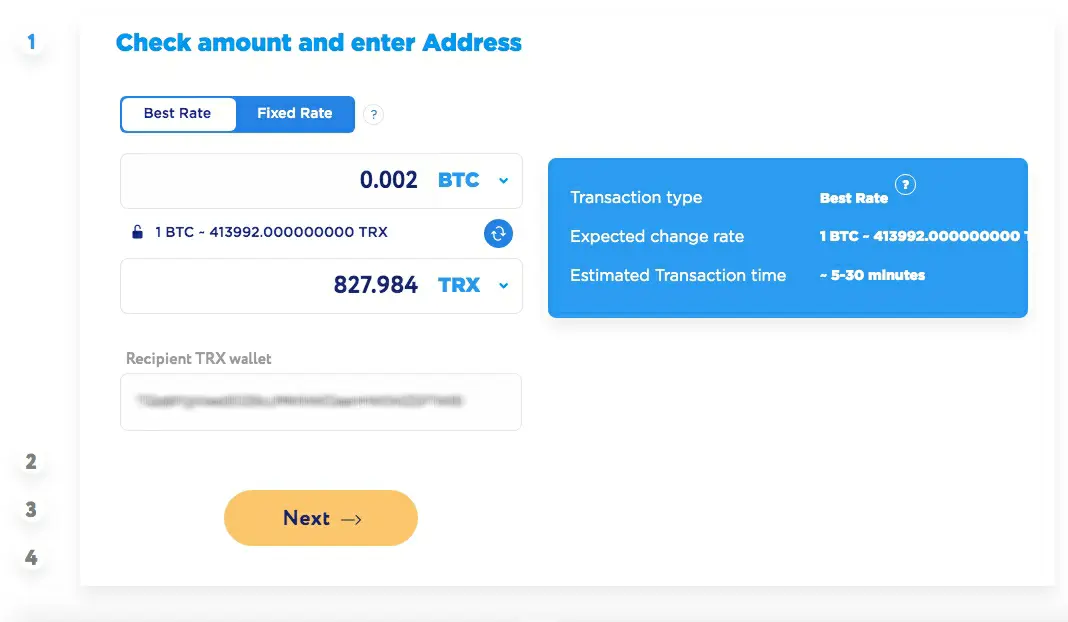 Once you are ready to proceed, hit "Exchange". At the next step, you will be asked to provide your wallet addresses and memos/tags, if applicable. Sometimes you will be prompted to enter a refund address in case your transaction gets refunded: don't ignore this as it can save a lot of trouble. If you notice that amounts or pairs are wrong, you can fix them in this step, too;
Transfers on blockchains are, as a rule, irreversible. Not to lose your money, it's important to check if all the addresses you provided are valid. Another important thing to check at this point is ChangeHero Terms of Use and Privacy Policy;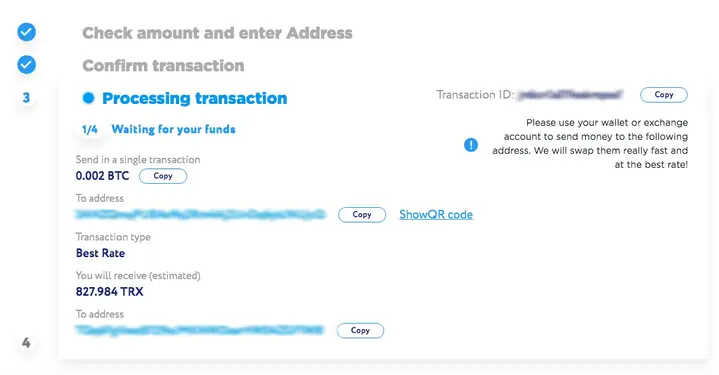 Once you are sure of the info and accept the terms, proceed. At the next step, an address will be generated for you to send the sum you are exchanging in a single transaction. In Fixed Rate transactions, the time limit is 15 minutes, since the result amount is fixed when you create a transaction.
Once the funds are delivered (or the transfer is registered with the platform), ChangeHero will be finding the rates and making the orders on exchanges for you. Once it is done, the currency B (in our case, TRX) will be on the way to your wallet. All changes in status of a transaction are timely reflected in the interface.
That is it! Not hard, right? The whole process takes only a few minutes, and you don't need to worry about registering or giving up more than you want to swap into custody. Just these two advantages make ChangeHero the best crypto exchange alternative.
Conclusion
Using an exchange for trading is absolutely fine, but can be a challenge for a beginner or just a hassle if you simply want to convert Bitcoin and other cryptocurrencies. To this end, the best crypto exchange alternative would be an instant crypto exchange platform like ChangeHero — check it out and share the knowledge around! If you'd like to keep up with our updates, as well as crypto and blockchain news, subscribe to ChangeHero Blog and our social networks: we're on Twitter, Facebook, Reddit and Telegram.
---
Learn more:
Quick links: