It is bewildering to imagine that a few years ago, decentralized exchanges were not as popular as they are today. 0x Protocol emerged when DEXs had just appeared, and its ZRX token was among the first governance tokens. Six years later, the project is still renowned but almost forgotten. Is there any hope for the future left? Yes, and the consensus on the ZRX price prediction might even surprise you! Read our new article to find out what the future looks like for 0x Protocol and ZRX.
All 0x Price Predictions: 2023-2033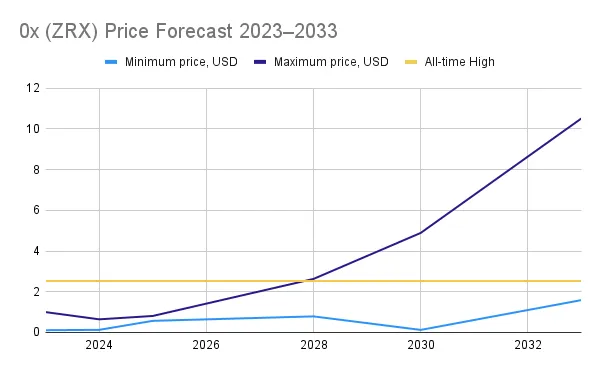 The degree of confidence in the 0x Protocol forecasts is quite high. As soon as in five years, it can overtake its current ATH from 2019;
Bullish ZRX predictions chart a parabolic trajectory for the token in the long term, citing strong fundamentals. After 2028, it will keep going past its price record up to $10 and further;
At the same time, bearish 0x coin price predictions foretell that the token price will stagnate near the current price levels with only minor improvements. They have a good reason to believe that: the ZRX news is rare these days, and for the years on the crypto market, the team has less to show than their competitors.
What are 0x Protocol and ZRX?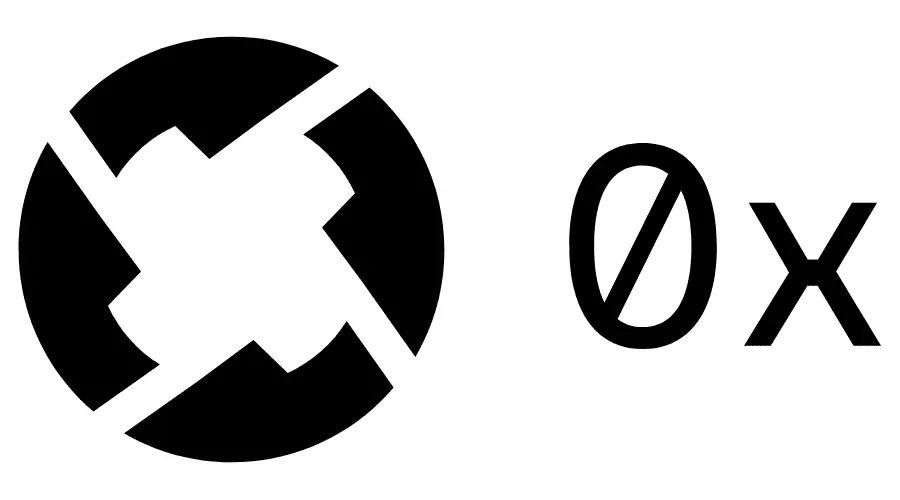 0x Protocol is an open-source infrastructure that enables the peer-to-peer exchange of digital assets on the Ethereum blockchain. Its decentralized exchange (DEX) ecosystem lets users trade tokens directly with one another without the need for intermediaries.
Most notably, 0x Protocol launched in 2017, thus securing a first-mover advantage in the nascent decentralized finance (DeFi) sphere.
0x Protocol operates on the Ethereum blockchain, ensuring transparency, security, and censorship resistance. As a DEX aggregator, the protocol uses off-chain order books to match buyers and sellers, reducing network congestion and gas fees. This approach enables fast and efficient trades while leveraging the security benefits of the Ethereum blockchain.
0x Protocol is designed to be compatible with other decentralized applications (DApps) and smart contracts. This allows developers to integrate the protocol into their projects, creating a seamless experience for users across different platforms. 0x Protocol provides a set of modular and composable smart contracts that facilitate the exchange of assets. These contracts handle the various stages of the trading process, including order creation, order matching, and settlement.
ZRX is the native ERC-20 utility token of the 0x Protocol. It plays a crucial role within the ecosystem and offers various benefits and functionalities to token holders:
ZRX token holders have the power to participate in the decentralized governance of the 0x Protocol. They can use their tokens to vote on proposals and decisions about the protocol's future development, upgrades, and parameters. This governance model ensures that the community has a say in shaping the direction of the protocol.
The 0x Protocol introduces liquidity incentives to encourage users to provide liquidity to the decentralized exchange ecosystem. ZRX tokens reward market makers who contribute to the liquidity pool by placing orders on the network. These incentives aim to foster a vibrant and liquid marketplace.
0x Protocol allows relayers (entities that host and maintain off-chain order books) to charge fees for facilitating trades. These fees are denominated in ZRX tokens. Users who hold ZRX tokens can use them to pay for these fees, potentially receiving discounts or other benefits.
If you are interested in a deeper dive into the use cases of ZRX and how 0x Protocol works, we recommend reading our Beginner's Guide to the project before reading this article.
0x Coin Price Performance
ZRX Price in 2017–2020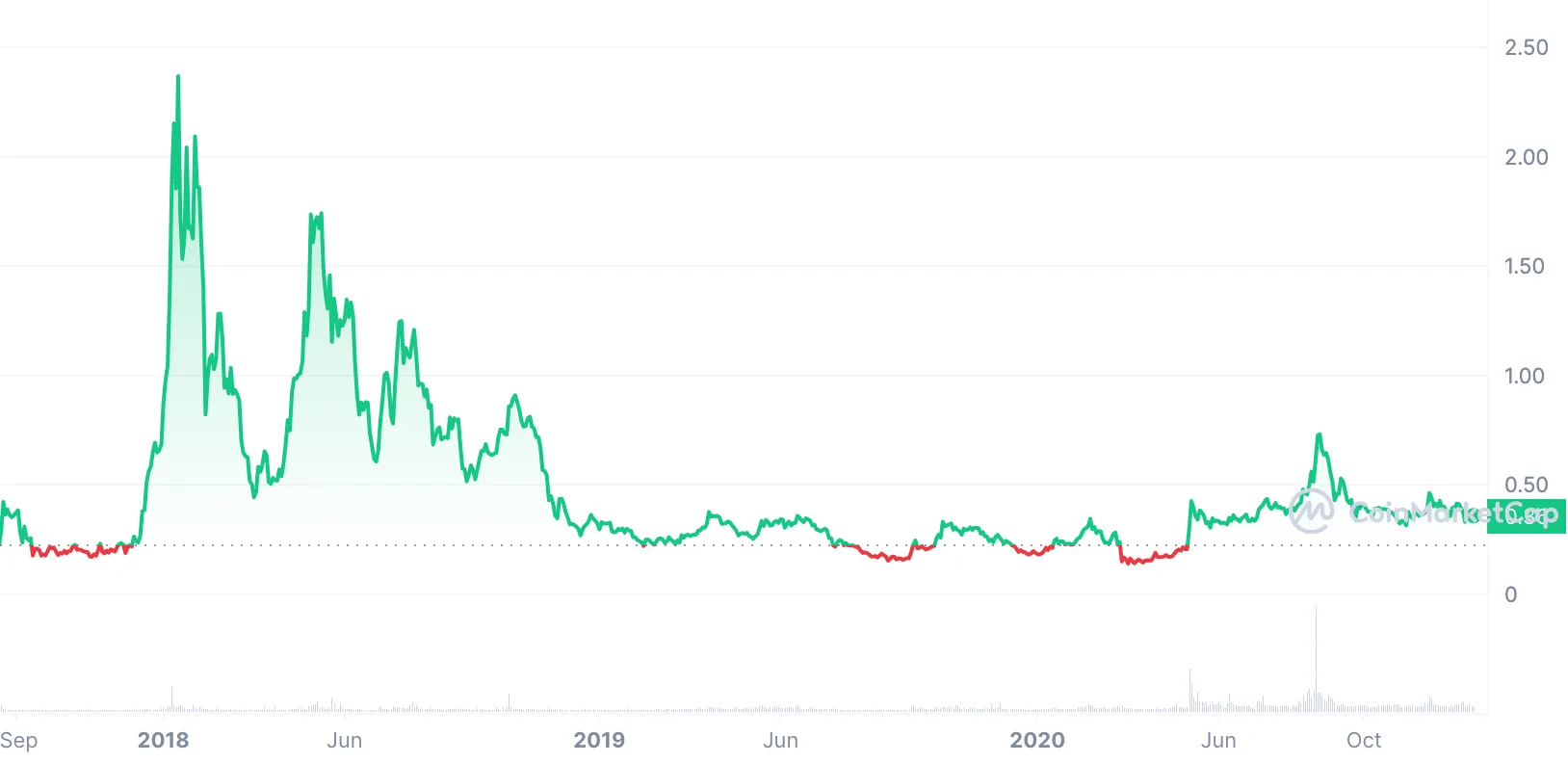 0x's presale, which distributed half of the total supply, took place in August 2017, raising $24 million. In the Initial Coin Offering (ICO), ZRX's price was approximately $0.048. Upon being listed on exchanges in September, the token started trading at around $0.2. The price pulled back shortly after as the first ICO participants cashed out but by the year's end was caught by a rising wave of a bull run.
ZRX started 2018 at around $1 and peaked on January 9, 2018, at $2.53 (an all-time high). Due to the bearish market sentiment that came after a bull run, ZRX declined throughout the year. It reached a low of $0.33 by December but kept going lower into 2019.
In 2019, ZRX fluctuated between $0.35 to $0.15. By that time, the protocol had gained some traction and would be ready to introduce governance voting by November. This helped ZRX rise from the bottom at $0.16 to $0.33 in a few weeks but by the time of the upgrade, it was slightly down, to $0.30.
ZRX began 2020 on the track to recover but on March 13, 2020, when the COVID-19 pandemic officially started, it was back to $0.14. Nevertheless, the good news was on the way: mid-2020 became known as the "DeFi summer", and being one of the first protocols to offer DEX aggregation, 0x Protocol saw great growth. In August 2020, it surged by 71% in a day, reaching $0.9. After this spike, the price trajectory more or less returned to the previous levels, but even crazier price action was just around the corner.
ZRX Price in 2021–2023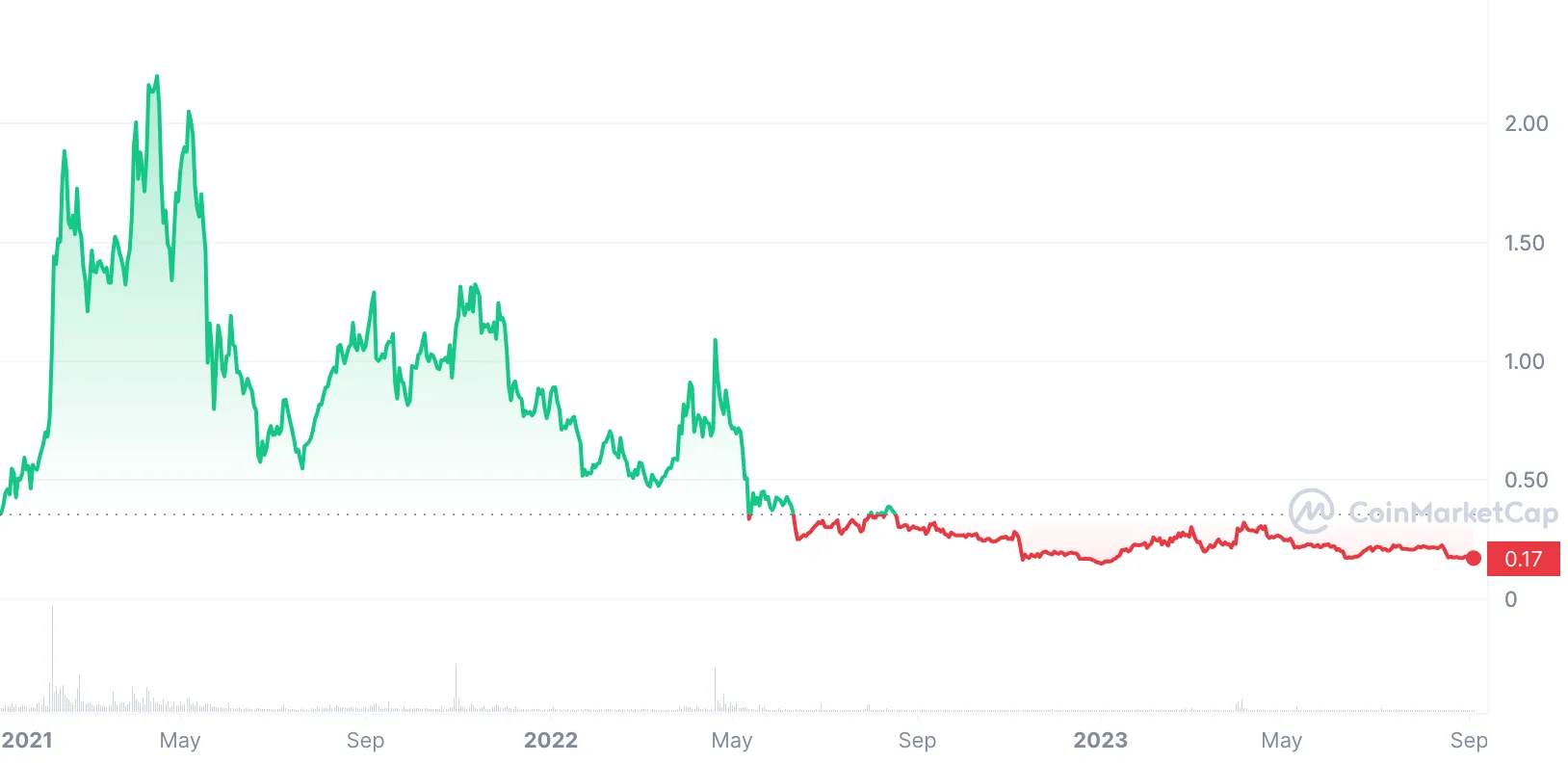 Late 2020 was the calm before the storm that was the 2021 bull run on the crypto market. 0x was also boosted by this market trend and surged to $2.162 by April. It coincided with the announcement of the 0x DAO, which would give ZRX even more value and utility. But still, this was not enough to break the 2018 price record. The second wave in fall 2021 also failed to become record-breaking but it did see ZRX trading for $1.3. If you notice the similarities between the charts, you can probably guess what was next for 0x in 2022 and 2023 so far.
2022 has started relatively optimistic for 0x Protocol, and unlike most cryptocurrencies, it was actually on an upward trajectory for the beginning of the year. By April, it was one of the most profitable assets on the cryptocurrency market, but a whale selloff caused a 59% pump and a 20% dump afterward. It probably exacerbated the drop that would follow, this time caused by a market-wide crash in the wake of a Terra collapse. For the remainder of the year, ZRX would not go over $0.42.
After a year of crypto winter, 2023 looked a bit more promising but a recovery to $0.32 would not last. In July, a sell-off of the assets held by a bankrupt crypto lender Celsius pushed the ZRX price down. The current price of ZRX at the time of writing is $0.1699 and the coin ranks 155th by market capitalization (according to CoinMarketCap).
What affects the 0x Protocol Token price?
Partnerships and Collaborations
Most recently, the ZRX token rallied on the news that the Coinbase NFT marketplace will use 0x Protocol for fee optimization. A tweet from the crypto project's team propelled the token price up by 53%.
News plays a crucial role in shaping the current sentiment. Positive news about ZRX, such as partnerships, technological advancements, or adoption by major companies, can generate optimism among investors and traders. Conversely, negative news, such as regulatory concerns, security breaches, or project setbacks, can create a sense of pessimism and lead to a decline in market sentiment.
Protocol Updates
In the previous section, we already brought up examples of ZRX rallying after the news about protocol updates. Before 0x v2, which would introduce voting, in December 2020, ZRX rapidly doubled in price. Another time when a similar thing happened was around the release of v4 when ZRX rallied 35% in January 2021.
Updates and developments within the 0x Protocol ecosystem have an observable impact on the price of ZRX. Launch of new features or improvements in scalability and usability generate interest and confidence in the protocol. The demand for ZRX increases, potentially leading to a higher price. On the other hand, delays, security vulnerabilities, or negative news related to the protocol can have the opposite effect.
Market Trends
There is no denying that usually, the general crypto market leads the way when it comes to the ZRX price. Whether we are looking at the 2018 and 2021 bull runs or the crypto winters in 2019 and 2022.
The case of a DeFi boom in 2020 is also a curious one: At that time, Bitcoin was not experiencing a lot of growth but DeFi coins blew up in value. 0x Protocol was among the first successful crypto projects to take advantage of this narrative. This was not a trend encompassing the entire crypto ecosystem but a certain subset of it, yet it caused the ZRX price to move as well.
In short, if the overall market is experiencing a bull run, with increased investment and positive sentiment toward cryptocurrencies, ZRX is likely to benefit from the upward trend. Conversely, during a bear market or periods of market downturn, the price of ZRX may experience a decline as investors become more risk-averse and shift their focus away from cryptocurrencies.
0x Price Analysis and Forecast by ChangeHero
Looking at the 2023 price chart for ZRX, we can say with confidence that the year has been tumultuous for the token. It saw multiple drastic sell-offs (in March, June, and August) and pumps which threw a wrench into the organic trajectory of its price action. Between the yearly high in April and a recent bottom, the Fibonacci extensions both support the ZRX price movements and it breaks through these levels as well.
We have all the reasons to expect things to proceed similarly in the future, too. But assuming the price can recover (the relative strength index is in the undervalued area, favoring buyers), it should return to the range between $0.2010 and $0.2463 first. Both levels are previously tested support and resistance levels, respectively. In the most bullish scenario, if ZRX manages to be propelled past its 2023 high, it should make a brief stop at $0.4382.
0x (ZRX) Price Prediction 2023
How much will 0x be worth in the near future? Let's hear what analysts think.
YouTuber Crypto Aarav is confident that the fair value of the 0x token is closer to $1. He bases his claims on the relatively low circulating supply of ZRX (1 billion). It would be easy to reach a market cap above $1B for a project like 0x Protocol, he says in the video, so holding the token long-term is viable.
On the other hand, Rene Peters, writing for Captain Altcoin, provides a surprisingly bearish scenario for 0x (ZRX) in the short term. He believes this year the price will keep declining until the year's end down to $0.11 but start a recovery in November and end 2023 at $0.1364.
Lastly, their fellow analyst David Cox at CryptoNewsZ gives a generous range for ZRX to possibly trade within. The predicted maximum price is $0.55 but he points out this is an optimistic forecast.
ZRX Price Prediction 2024
BitScreener assumes the average price of ZRX in 2024 will move like in 2019. The service forecasts a 155.8% gain for 0x. This makes the average ZRX price next year $0.6448.
According to TechNewsLeader, 2024 looks mildly optimistic for ZRX holders: On average, the coin will be trading for $0.35. The maximum value 0x will be able to reach is $0.40.
An algorithmic forecast by CoinCodex does not promise a very bullish future for 0x. In a year, its expected price is $0.192476, and at the start of 2024, it may cost $0.159496. Other ZRX predictions for 2024 include a minimum price of $0.128382 and a maximum price of 0x at $0.289357.
0x Coin Price Prediction 2025, 2028
Expert opinions and estimates are a better fit for the near term. The further we try to look into the future, the more reliable it is to turn to algorithms that use historical analysis.
PricePrediction.net keeps expectations reasonable. According to their ZRX price prediction, in 2025 its average trading price range will grow to be between $0.65 and $0.81. In five years, ZRX will be trading for $2.12–2.63.
Another algorithm employed by Bitnation is similarly moderate on 0x. They see the average price of ZRX rise to $0.582645 in 2025 and further to $1.08 in 2028.
Digital Coin is not bearish on the 0x forecast either but is as moderate as the other two. According to their estimations, on average, ZRX in 2025 will be worth $0.57, possibly rising to $0.59. Five years from now, it can cost anywhere from $0.79 to $0.89.
0x Price Prediction 2030, 2033
For the 0x price forecast at the end of the decade and even ten years in advance, let's refer to historical and algorithmic analysis.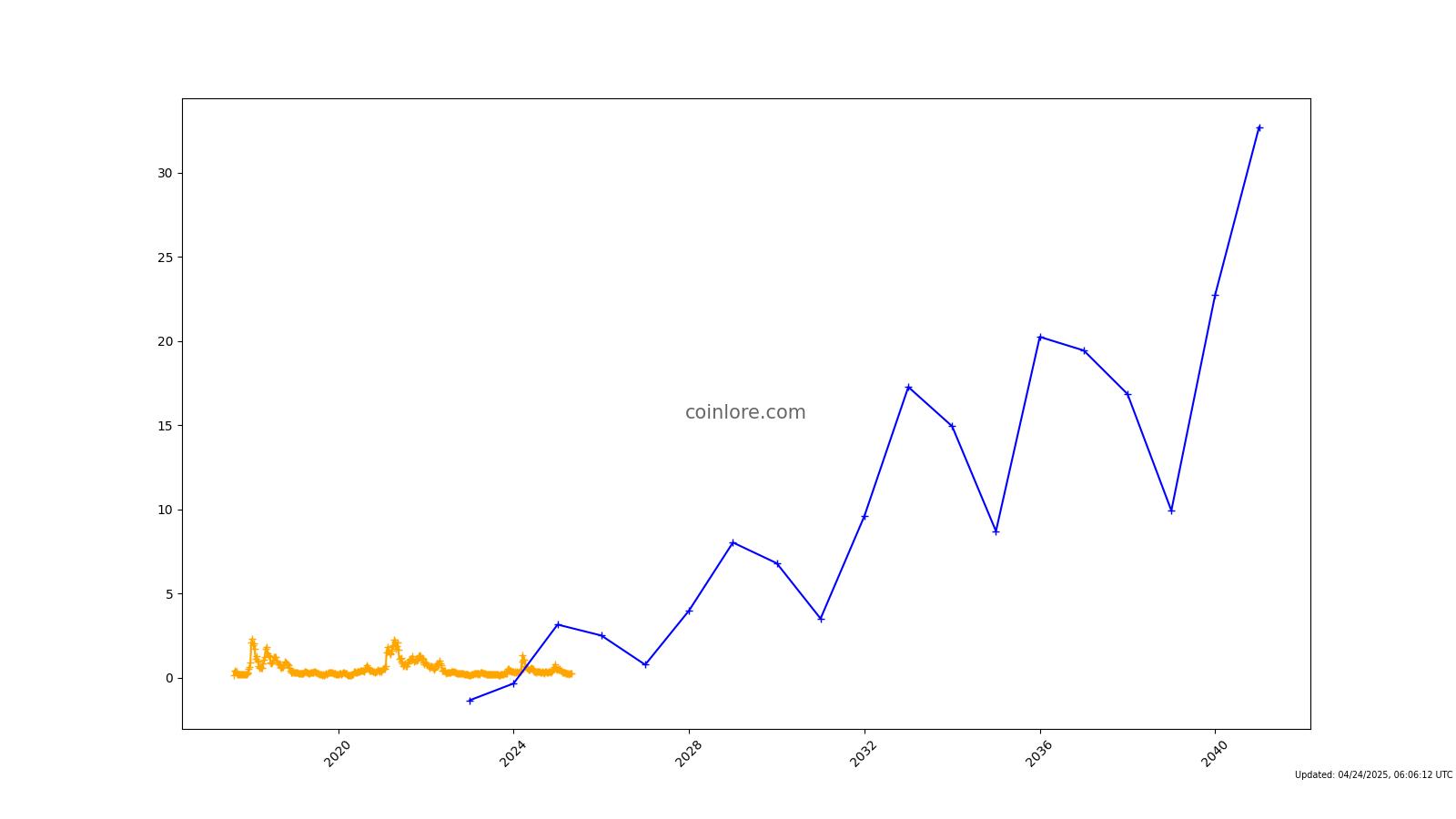 CoinLore's forecast goes the farthest in time, all the way up to 2050. It's balanced out by the noticeable imprecision of their price ranges. For example, in 2030 they see ZRX being worth up to $2.18 but dipping to $0.1248 minimum. A similar picture is painted for 2033: the maximum price of ZRX will reach $4.87 or at the very least, rise to $1.59.
AMBCrypto is more definitively bullish on the price of ZRX, although they don't see massive gains in the future. In 2030, its price range will slightly move up to $0.91–1.37. By 2033, a whole decade from now, they see 0x Protocol coin steadily trading above $1.96 and rising up to $2.93 max.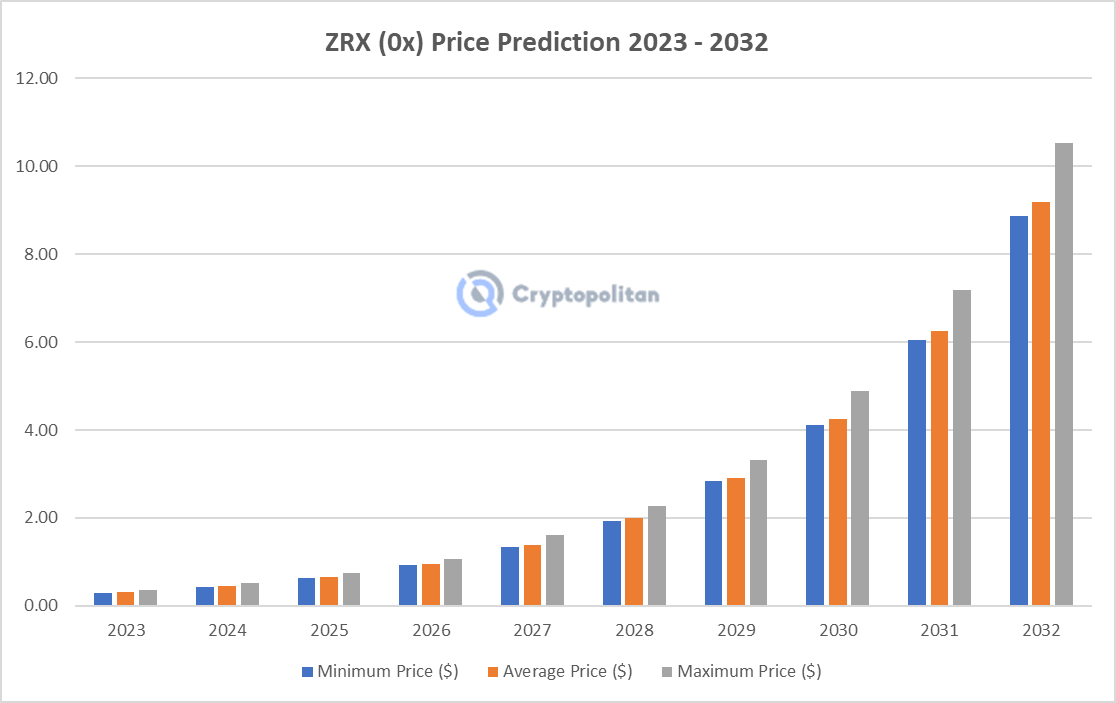 The most bullish long-term 0x price prediction out of all reviewed ones has to be by Cryptopolitan. They chart a parabolic growth pattern for ZRX which promises modest gains in the short term but massive appreciation by many years in advance. In 2030, they predict ZRX for $4.12–4.89, and by 2032, 0x will cost $9.18 on average.
How to Buy 0x (ZRX)?
Swap any crypto for 0x coin (ZRX) on ChangeHero: Get ZRX at the best rates, in a few steps without obligatory KYC or registration.
Choose the currencies on the home page, amounts, and the type of exchange. Provide your wallet address in the next step and check the amounts;
Double-check the provided information, read and accept the Terms of Use and Privacy Policy;
Send in a single transaction the cryptocurrency you will be exchanging. Fixed Rate transactions have a 15-minute limit;
Done? Now we are doing all the work: checking the incoming transaction and doing the exchange as soon as it arrives. The Best Rate transactions will use the rate current to the time when your funds arrive. The Fixed Rate will use the rate at the time of step 1;
As soon as the exchange has been processed, your ZRX is on its way to your wallet.
The support team is here to help you 24/7, and in any case, reach them in the chat on the website or through the email: [email protected].
Conclusion
0x Protocol has been in the crypto arena long enough for investors to write it off as an abandoned relic of an ICO era. However, this dinosaur still packs some heat and will not give up its DeFi pioneer advantage this easily.
Share what you think about these predictions on our Telegram, X (Twitter), Reddit, and Facebook, and subscribe so as not to miss out on any news! For more content to explore the crypto world, take a tour around our blog.
---
Frequently Asked Questions
Does 0x have a future?
Despite the lack of bullish signals in the recent ZRX price action, most forecasts see the minimum price expected above the current value of 0x.
What is the price prediction for Ox coin in 2025?
Depending on the source, 0x (ZRX) is expected to be changing hands for somewhere between $0.57 and $0.81 in 2025.
How high can Ox coin go?
The most bullish 0x price prediction that we reviewed sees it reach $10 in 2032.
Is 0x worth buying?
At the moment, the 0x token is in a neutral position according to most sources. The updates from the team are few and far between but the project is not abandoned. At the same time, ZRX went down in market capitalization rankings, and the demand for it in 2023 is low.
Disclaimer
This article is not a piece of financial or investment advice. No price prediction is guaranteed to provide exact information on the future price.
When dealing with cryptocurrencies, remember that they are extremely volatile and thus, a high-risk investment. Always make sure to stay informed and be aware of those risks. Consider investing in cryptocurrencies only after careful consideration and analysis of your own research and at your own risk.
Learn more:
Quick links: