Verge Currency has the ambitious goal of becoming a widely accepted means of payment. The partnerships that put Verge in the spotlight prove there are plenty of attractive things about XVG. In this Verge guide, ChangeHero team is going to introduce Verge token XVG and how it drives crypto mass adoption.
Key Takeaways
Verge Currency is a cryptocurrency which is suitable for everyday transactions and has optional privacy features. IP obfuscation is done with the help of TOR and I2P. The Wraith protocol of XVG allows users to optionally mask the addresses;
Verge is traded under the ticker symbol XVG. Thousands of sellers online and offline accept payments in their stores. Verge is known for its partnerships that make strides for mass adoption worldwide: PornHub, MobiePay and MeconCash.
Verge halving has just happened, reducing the miner reward from 200 to 100 XVG. Along with it, the issuance rate of the currency slowed down. It is given significance, since the event is supposed to increase the demand to supply ratio.
What is Verge Currency (XVG)?

Verge Currency (XVG) is an open source cryptocurrency protocol and its decentralized network, designed as a medium of peer-to-peer value exchange. Like Bitcoin, Verge's founding principle is decentralization and independence from intermediaries, as written in Verge Currency's blackpaper. However, Bitcoin did not provide enough privacy to its users. The Verge developers decided to address the privacy and scalability issues of Bitcoin. As a result, the transactional throughput is higher in Verge network, making it viable for daily transacting and a user-friendly digital currency. At the moment, XVG can handle 100 transactions per second. But most importantly, Verge can boast opt-in privacy features, while keeping all transactions soundly recorded on the blockchain.
Verge Crypto Beginnings and Team
Verge as a project started in late 2014 under the name Dogecoin Dark. Initially, it was a one-man development team by Justin, also known by his pseudonym Sunerok. Some time later the community formed around the coin and a team of volunteers joined the cause. In 2016, Dogecoin Dark rebranded to Verge Currency. At the moment, the Verge team is quite large, handling tasks like development, marketing, business development on a voluntary basis.
Notable XVG Features
Obfuscation of IP addresses
Verge coin is renowned for its privacy features made possible by blockchain technology. They are completely optional and customizable. This is achievable thanks to the integration of TOR and I2P. Both TOR and I2P direct traffic through network participants to obfuscate the sender's whereabouts. The difference is that TOR is circuit-based and I2P is packet-based, meaning the latter can also reroute traffic around congestion. TOR bounces data between a network of relay computers, changing the IP data of the sender constantly. Traffic coming into I2P is spread between participating computers, so the incoming and outgoing channels are processed separately. Having two systems in place guarantees sustainable uptime and effectiveness of the mechanism.
Wraith Protocol: Empowering Privacy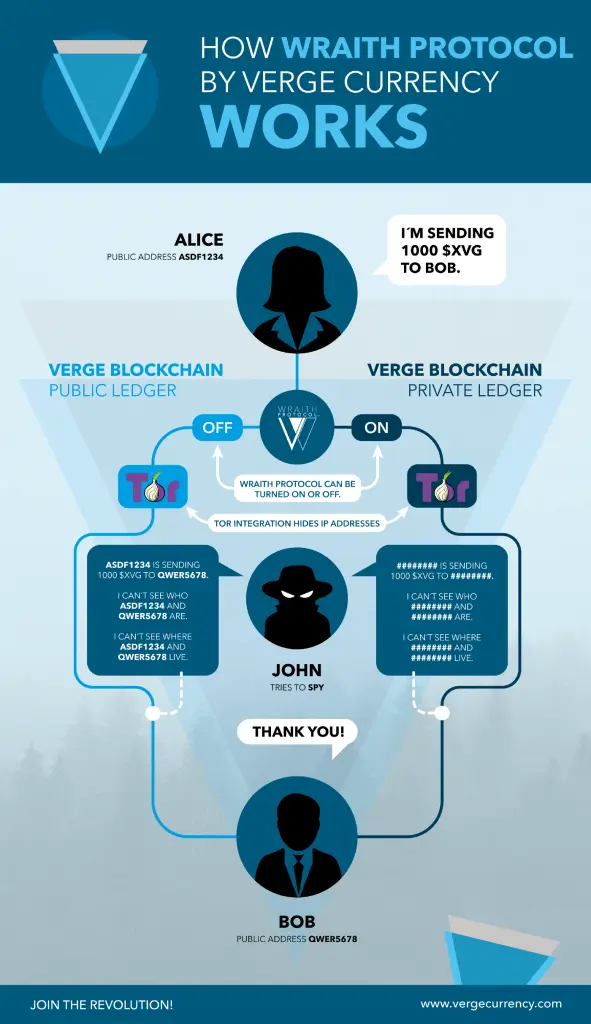 With Wraith protocol, Verge network users can opt-in to use two kinds of private transactions: stealth shielded and anonymous.  Stealth opt-in transactions guarantee receiver's anonymity: in such a transaction, one-time wallet addresses are created on behalf of the recipient. It is impossible to link one-time stealth addresses with the original receiver's address or with each other. Stealth transactions can be handy when some transparency is required, for example, for accounting purposes or fundraising. Anon transactions enable full privacy by combining address obfuscation with RingCT (ring signatures) and IP obfuscation with Tor/I2P. In an anon transaction, all the data is encrypted and seen only by the transacting sides. The ledger only registers the fact that a transaction took place but it is not visible to an outsider. What else? Well, for one, Verge has the support of Atomic swaps. Thanks to it, Verge XVG can be traded cross-chain with other currencies on decentralized exchanges.
What is XVG?
Verge Currency uses a native coin that goes by the XVG ticker. Verge's vision is a coin for daily use that is fast and keeps the privacy of its users protected. It is indeed faster than Bitcoin and has the potential to scale better. Verge has a small fixed fee of 0.1 XVG for sending transactions. Until mainstream adoption is fully achieved, the XVG price is decided solely by the existing market. Like Bitcoin, it is a deflationary currency with a hard cap on its supply. Right now, out of 16.555 billion XVG, 16,424,512,866 XVG (99%) are already in circulation.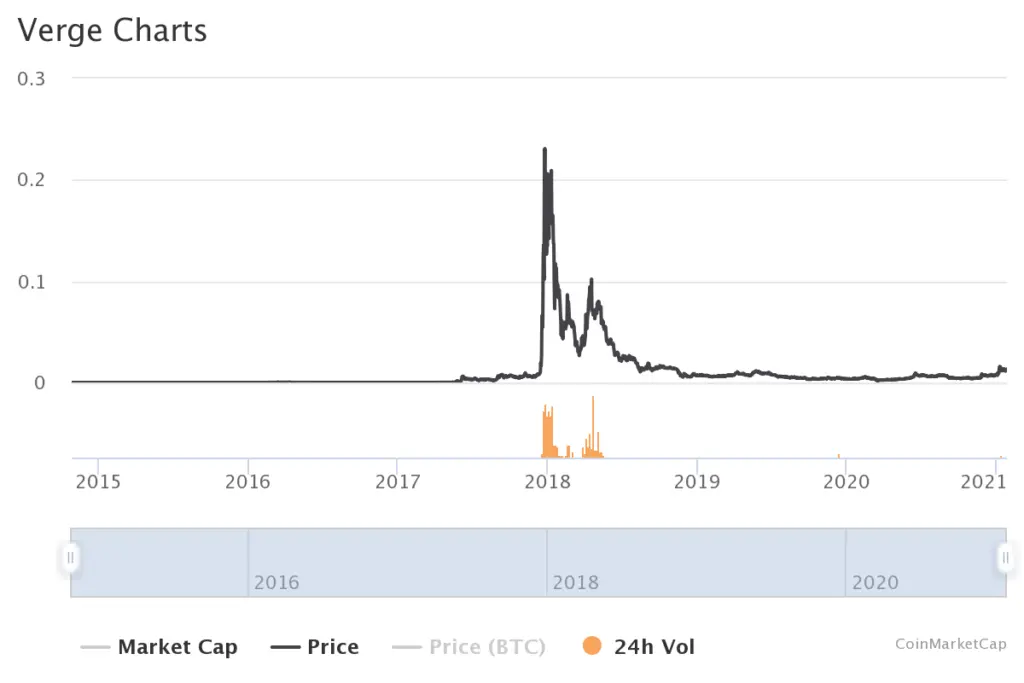 Up until mid-2017, Verge was changing hands at no more than 55 satoshis ($0.000191 at the time). A first real bull run started in May 2017 and culminated in December. An unexpected rise took the XVG price up to a current all-time high — $0.300588. Just like with the rest of the crypto market, the correction was as abrupt. The hype before the Pornhub partnership announcement in April allowed the Verge price to recover almost up to $0.108695. The anticipation was building up for months and the partnership is indeed large, so it's not surprising at all. The price momentum couldn't be saved, though, and by the end of 2018 XVG scraped the levels of 150–200 satoshis. 2019 was not kind to Verge, and as a result the 2020 opening price was only 50 sats ($0.003555). Surprisingly, the COVID-19 pandemic induced global economic shock did not seem to affect XVG drastically. Instead, it entered a slow but steady uptrend. In the second half of 2020, Verge XVG almost reached 1 cent in July, but got rejected back down to $0.005 USD price. Another attempt at breaching this level happened at the start of Bitcoin's rally in late November. However, it was finally overcome only in 2021, and so far XVG price stayed above $0.012. At the moment of writing, the XVG price is $0.004906 and by market capitalization it ranks 308th.
Verge XVG Halving
What is Verge halving? Like Bitcoin, Verge XVG goes through the miner reward halving procedure to keep the issuance deflating. Verge halving occurs roughly every 210 days due to fast block times. The first 2021 XVG halving happened on January, 26. The block reward was reduced to 100 XVG. Another one will take place in September 2021. Both these events delay the total supply of Verge XVG from being completely minted. This in turn will keep miner's rewards in place for a bit longer. When the XVG max supply will be minted, miners will only receive rewards from transaction fees. New XVG coins will not be issued, and in theory, the value will be accumulated in the existing coins.
Where to spend XVG?
In addition to the already mentioned Pornhub digital payments option, there are quite a few merchants that acceptVerge (XVG). It can be shops that have cryptocurrency gateways like XCELPAY installed for digital payments, or businesses that choose to accept XVG themselves. You can buy a large variety of goods from the shops that support the Verge cryptocurrency. You can also use XVG to tip Twitter, Discord and Telegram users with the help of bots. They are easy to use with commands only and do not need to be installed anywhere.
Comparison with Similar Projects: Dash
The closest to Verge cryptocurrency in the design principles project would be Dash. Dash is a UTXO-based lightweight P2P value transfer protocol with optional privacy features. When Dash was recently delisted from Bittrex, the team made it clear that the currency was not meant to be a "privacy coin". Verge also positions itself as a currency for digital payments with privacy features. Dash is a UTXO cryptocurrency, and has some limitations inherited from the Bitcoin protocol. As a result, its throughput is quite modest in comparison to Verge: only about 30–60 tps.
What is Verge Criticized For?
Verge coin has seen some controversy during its lifetime. In late 2017, John McAffee expressed his support of Verge, putting it on par with Monero and Zcash. A few days later, after XVG started to experience the correction from the $0.3 ATH, McAffee did a turnaround. He claimed he had never endorsed the Verge cryptocurrency as an investment for a reason outside of its cheap price. However, the more damaging event, or more precisely, a string of events, happened later in 2018. In April 2018, a hacker managed to mine 250,000 XVG by exploiting block timecodes in a 51% attack. The fix that Sunerok rolled out resulted in a hardfork. The attack was repeated in May, that time, a hacker got hold of $1.7 million worth of XVG. Despite this, the community support in Verge coin was not shaken, and the fixes were implemented in the new codebase.
Verge Partners
Verge is most known for its partnership with Pornhub. The adult content platform picked Verge coin specifically for its privacy features, safety and security after a selection process. Even the critics of Verge admit that this use case is significant and will help with the adoption of cryptocurrencies. After Visa and Mastercard refused to provide services to the platform, crypto is the only option to support the models. Most recently, Verge and Voice Life announced a strategic partnership to create a powerful and fast mobile charging system. Verge provides the blockchain technology to support Voice Life's innovations. As a part of the Fueled by Verge initiative, the community partnered with Manny Pacquiao Foundation. The foundation accepts donations in XVG and helps with housing for the families in need while raising awareness about the digital currency. Other participants of the initiative include Nascar racer Gil Linster and eSports Upstate Racing League.
What is Verge Currency's Future?
The Verge development team does not have a roadmap for years ahead. Their approach is not to plan further than for three months, since everything in crypto space changes so quickly. There is, though, a massive feature that is planned for release some time in the future. It is the Rootstock (RSK) sidechain implementation. RSK is a sidechain that enables Ethereum style Turing-complete Virtual Machine infrastructure (i.e. smart contracts) onto Bitcoin-based blockchains. Not only will it help with building on-chain but also increase transaction throughput up to 2000 per second.
Who are the Verge Fam? Verge on Twitter
The Verge coin supporters call themselves Verge Fam or Verge Army. The community can be found on the most major social media sites and services: Twitter, Reddit, Discord and so on. What is happening with Verge XVG? There is no one better to answer this than the Verge Fam social media accounts!
$xvg #xvg #vergecurrency halving is just 36 hours away! The new mining reward will be just 100 #xvg per block! Scarcity will increase value. pic.twitter.com/YxPXkwDEEK

— Professor Xvg (@Tbrown1981) January 24, 2021
One of the hot topics in the community is the upcoming Verge halving. It's not so long before the full supply enters circulation, but halving postpones the process. At this point, it is still important to have incentives for miners and keep flow of currency for new users.
Congratulations to @vergecurrency $XVG partner @NetCentsHQ for edging one step closer to the @visa launch. We look forward to any future possibilities offered, with #VergePAY, and being able to supply the community with the ability to pay anytime, anywhere pic.twitter.com/fARjIuNIvE

— Verge Canada #CES2021 (@VergeCanada) January 19, 2021
The Verge community focuses on outreach and adoption. One of Verge's partners, NetCents disclosed the details of the process of launching their brand crypto card. When it is finished, card users will be able to use XVG for daily payments and purchases.
Verge Currency | Voice Life Inc - The Road to Wireless Power https://t.co/oI6p8EudMw via @YouTube @CES #CES2021 @vergecurrency

— Voice Life (@VoiceLife_inc) January 12, 2021
The most discussed Verge news is in connection with the announcement of wireless charging technology by VoiceLife. The unique technology powered by the Verge blockchain is able to charge a device fully in just two minutes.
How to buy XVG?
In case you need to trade Verge, instead of going to cryptocurrency exchanges, you can do it directly on the Verge currency's official website with the help of ChangeHero.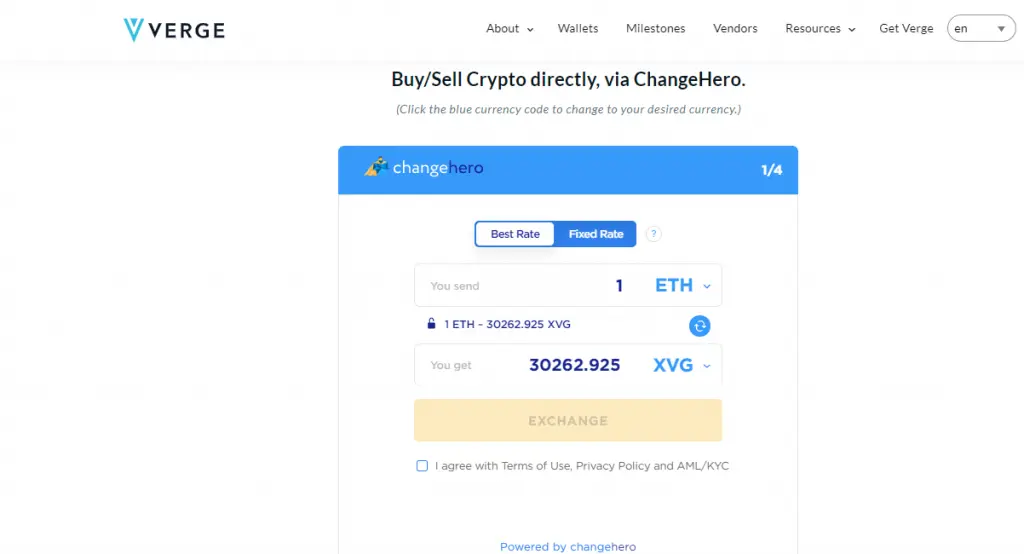 Of course, after you finish your own research, you can head straight to changehero.io, to swap crypto for XVG without any hassles:
Choose the currencies, amounts and the type of exchange. Provide your XVG wallet address in the next step and check the amounts;
Double-check the provided information, read and accept the Terms of Use and Privacy Policy;
Send in a single transaction the cryptocurrency you will be exchanging. Fixed Rate transactions have a 15 minute limit;
After that, we are doing all the work: you can sit back and relax;
As soon as the exchange is processed, your XVG is on the way to your wallet. We'll be happy to hear your feedback!
In any case, our support specialists are available 24/7 in the chat on the website or through the email: [email protected].
Where to store XVG?
The Verge team developed an official vergePay QT wallet in the form of clients for most platforms: Windows, Mac, Android, iOS, Linux. It provides access to all the features of the blockchain, like opt-in privacy. However, QT will require a full copy of the Verge blockchain (~1 GB). Electrum is another wallet integrated into the system. With it, users can use MultiSig on the Verge chain. Simple Payment Verification makes transactions even faster and eliminates the need to download a copy of blockchain. Electrum clients are compatible with Trezor hardware devices.
Rounding Up
The most interesting and viable projects are not always the ones attracting the most capital. However, by standing the test of time and keeping the loyalty of the community, Verge crypto platform proves that it deserves the place higher in the market cap rank. There's no telling where the impending Verge halving will take the currency. In the long term, though, Verge's future is looking fine.  To keep up with the news, get informative articles and posts, stay tuned to our blog. Make sure to follow ChangeHero on social media: Twitter, Facebook, and Telegram.
---
Learn more:
Quick links: