While all eyes are on Bitcoin, especially lately, there are plenty of altcoins that outperformed it. One of these altcoin is NEM, which was climbing up the ranks all year. In this NEM guide, ChangeHero team is going to tell you what is NEM and why is it special, and what is XEM.
What is NEM?

NEM started as a cryptocurrency peer-to-peer platform that grew over time into an ecosystem. The name, NEM stands for "New Economic Movement". The blockchain has a strong emphasis on developing solutions for businesses and developers.
History and Team
NEM started as a project developed by Bitcointalk users Jaguar0625, BloodyRookie and Gimre in 2014. The genesis (or, as it is called in NEM, nemesis block) was mined on March 31, 2015. On launch, NEM blockchain has had most of its distinguishing features. For example, MultiSig which is a technology that enables transactions with several signatures for more security. NEM also has decentralized time-synching, unlike other networks which rely on clients and so on. Initially, NEM was going to be based on NXT source code, but the developers decided to build it from the ground up. Later down the line, to sustain the development of the network, NEM Group and NEM Foundation came to be. NEM Foundation was founded by Erik Van Himbergen, Jeff McDonald, Lon Wong and Leon Yeoh. NEM Group is led by David Shaw (CEO), Iain Wilson (CFO), David Mansell (COO), Dave Hodgson (CIO), Kristy-Leigh Minehan (CTO) and Anthony Welfare (CCO).
How does NEM work?
In design, NEM is a distributed network which can act as a ledger for recording transactions and as a platform for creating decentralized applications and solutions. Sounds like all the other networks out there, doesn't it? Let's see what is NEM's distinguishing feature, that truly makes it unique.
Reputation System
The distinguishing feature of NEM network is its consensus algorithm. It uses a system called Proof-of-Importance (PoI) that relies on a "reputation" system to propagate network and reward its participants. The process of creating blocks in NEM is called Harvesting. Harvesting is different from mining in that it does not require energy-intensive work. Unlike in staking, in harvesting not only the size of a stake matters. Harvesting also does not result in minting new tokens, the revenue comes from transaction fees. For a node to have a non-zero trust score, some conditions need to be met:
10,000 XEM vested (funds accumulate trust score over time) into the account;
At least 1,000 XEM transferred within a month.
What is XEM? More on that in the next sections of the guide.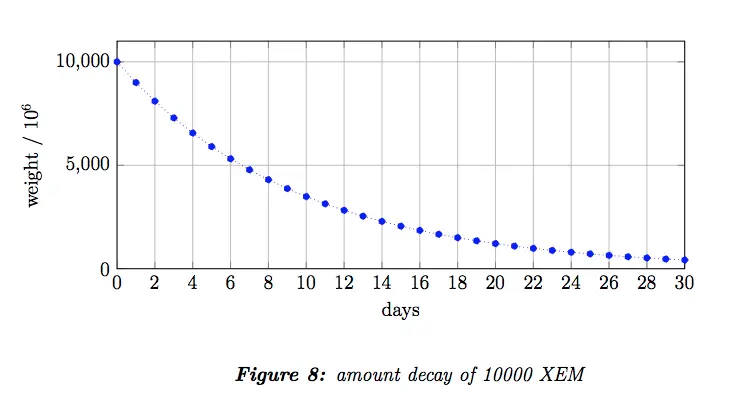 Over time, the weight of these two factors will decay, so to keep a score high, transactions have to be made frequently. This way, the network recognizes participants that actively take part in the work of the ecosystem and rewards them. In addition to the PoI consensus, NEM also uses EigenTrust++ to identify malicious nodes and shut them off the network. It collects trust value for each node and distributes trust scores across the network, which is then modified accordingly. Thus, nodes that are unreliable or attempt to attack the network get negative reputation and the nodes stop communicating to them.
Namespaces and Mosaics
Namespaces and mosaics work like domains and files on the Internet. With the help of mosaics, assets can be issued on NEM blockchain. Mosaic "files" are "hosted" on a namespace "domain", which validates its authenticity. However, no matter how many features NEM blockchain has, its primary use case is its cryptocurrency. Read next, what is NEM coin called and what are its stats.
What is XEM?
XEM is a native cryptocurrency of NIS1 blockchain.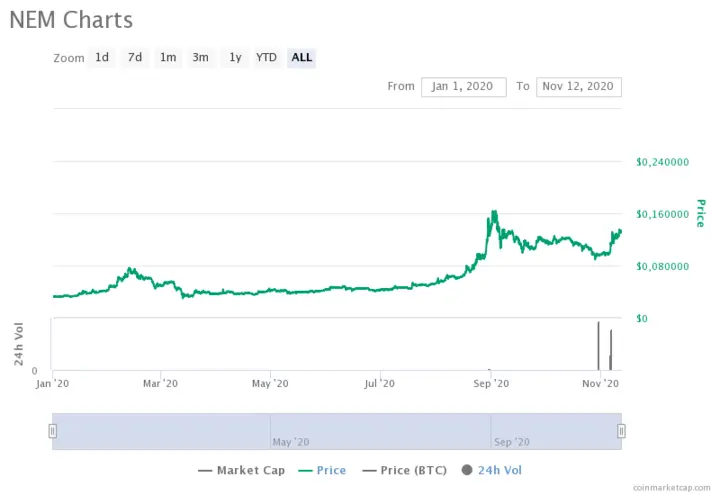 2020 has been a good year to be a XEM holder so far. At the start of the year, it was worth a little more than $0.3. Then XEM followed a bull trend in the market and appreciated to $0.7 in February. The March market crash brought it back to the same level as at the start of 2020. However, in August, when another Bitcoin rally began, XEM not just appreciated, but shot up. At the peak, it was worth $0.168927. How much is NEM worth? At the time of writing, XEM price is $0.132075 USD with a 24-hour trading volume of $26,911,542 USD. The current CoinMarketCap ranking is 21, with a market cap of $1,188,672,758 USD. It has a circulating supply of 8,999,999,999 XEM coins and the current cap on max supply is the same.
What is NEM Used For?
XEM can be used as a token to monetize applications on NEM NIS1 network. There are a few shops that accept XEM as a payment: MyNem.store, Zazzle and Nembid, an auction marketplace similar to eBay. And, of course, you can treat XEM as an investment asset and trade it on exchanges. However, don't rush to buy XEM just yet — read the NEM guide until the end for more information on what is XEM and how to buy it.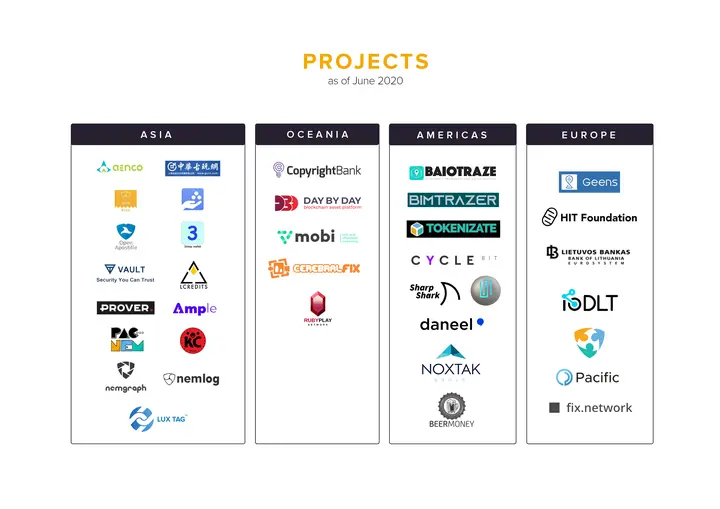 NEM was built to offer solutions for businesses. The ecosystem offers a permissioned blockchain Mijin for businesses to use. Use cases can include accounting, messaging, supply chain control and finance.
What is NEM's difference from similar coins?
NEM positions themselves as a platform that improves on both Bitcoin and Ethereum.
In comparison with both, NEM has higher transaction throughput (4,000 tps) and has limited supply;
Compared to Bitcoin, NEM has more functions: application layer, asset issuance etc.;
If we compare it with Ethereum, it relies more heavily on node communication with its reputation system, and as a result, more decentralized.
What Is NEM Criticized For?
In the largest hack to date, Coincheck users lost 500 million NEM coins. NEM Foundation reacted by issuing a statement they were able to tag and freeze stolen funds. This statement raised some red flags in the community, as this technically means the Foundation can control the network in a centralized manner.
Partnerships and Future

The largest goal for the ecosystem in the nearest future is to launch the Symbol blockchain. Symbol is described as a value transfer platform for business and it will have its own cryptocurrency XYM. Basically, one can think of it as NEM 2.0, but the original network will also remain operational. The mainnet is set to launch December 17. Read on to find out how you can claim your XYM! The group is a part of many blockchain associations, mainly in the Asian region. The ecosystem encompasses dozens of projects such as NEMLog, Copyright Bank and CycleBIT, to name a few.
NEM on Twitter
1 #XEM Today = 1 XEM & 1 #XYM after snapshot. The more XEM you have at #Snapshot, the more XYM you get when #Symbol launches. Opt-in today on your #NEM wallet.#tokenallocation #Symbollaunch #optin pic.twitter.com/Km4Y4KtW3O

— NEM (@NEMofficial) November 8, 2020
The official account of NEM reminds the users and ecosystem participants about the opt-in XYM airdrop. The more NEM you have, the more XYM you can claim when the new network launches.
$NEM that's what leaders do pic.twitter.com/igTuEivZ2p

— Gold Ventures (@TheLastDegree) November 9, 2020
On a chart XEM has broken out of a downtrend. User Gold Ventures suggests that the dip that followed is a decent buying opportunity.
How do I Get XEM?
Now is the best time to get XEM before the launch of Symbol. To opt-in, you would need to use a new official wallet and manually select to opt-in in the app. The apps and instructions for each platform are available on the official website. XEM can be bought on some centralized exchanges. If you wouldn't like to run into the hurdles that these exchanges face, the best crypto exchange alternative would be ChangeHero! You can quickly exchange your crypto for XEM without registering an account or making a deposit. We will find the best rate on the market for your exchange, be it a Best Rate or Fixed Rate transaction. And if you run into any difficulties, you can always ask our support members for assistance in chat or by email: [email protected].
Where to Store XEM?
XEM has an official Nanowallet, available on iOS and Android apps, Chrome extension. More tech savvy users can always run a full node in NEM Installation Software or NIM Community Client. For everyone else, ChangeHero recommends Exodus desktop and mobile wallets. With Exodus you can store hundreds of assets, as well as exchange them right in the app with the exchange function provided by ChangeHero integration.
How to exchange XEM? Step-by-step Guide
To make our NEM guide complete, here is a step-by-step instruction on how to buy XEM on ChangeHero with crypto. It's really easy:
Choose the currencies on the home page, amounts and the type of exchange. Provide your XEM wallet address in the next step and check the amounts;
Double-check the provided information, read and accept the Terms of Use and Privacy Policy;
Send in a single transaction the cryptocurrency you will be exchanging. Fixed Rate transactions have 15 minutes before expiration;
After that, you won't need to do anything else. At this step we are doing all the work: checking the incoming transaction and making the exchange as soon as it arrives;
As soon as the exchange has been processed, your XEM is on the way to your wallet. And so, the transaction is finished! We'll really appreciate it if you leave a review!
Key Takeaways
The platform was designed as a decentralized platform that offers solutions for personal users and businesses;
XEM, the NEM coin, can be used as digital currency in the ecosystem or at points of purchase;
NEM is one of the most popular altcoins that significantly outperformed Bitcoin in 2020;
NEM uses a unique consensus algorithm (Proof-of-Importance) that separates it from other altcoins;
In a month, NEM Group launches the Symbol platform that will be basically an enhanced version of the original and will significantly expand the ecosystem.
Conclusion
Now you surely have a better grasp on what is NEM after reading our guide! This year NEM became one of the most interesting altcoins to follow, and it shows no signs of stopping. By the end of the year, it may see competition from Symbol, so it will be more than exciting to see how the ecosystem fares in the future. Not to miss our coverage on this, subscribe to our blog for future guides, digests and other content and follow us on Twitter, Facebook, Reddit and Telegram!
---
Learn more:
Quick links: