The Uniswap DEX accounts for almost $6 billion in total value locked but other DeFi protocols are a fierce competition. Will its users help it stay at the top or choose other DEXes? ChangeHero gives a UNI price prediction 2021 and even further in the future.
UNI Price Prediction 2021–2030
[table id=28 /]
Uniswap price prediction 2021 makes it evident that different experts have varying outlooks on the short-term future of UNI. The range of possible prices is huge: from $21.58 to $90;
Uniswap price prediction 2022 is also bullish but moderate. UNI will not reach $100 even in a year, capping at $61;
By 2025 or even 2030, depending on the source, most opinions put the target for UNI above $100 or even $1,000.
What is Uniswap and UNI?

Uniswap is one of the most popular decentralized exchanges (DEX) powered by an automated market maker (AMM) protocol. On this DEX, any token can freely be traded, provided it is given some liquidity. The UNI token was launched in September, 2020, with Uniswap V2.  The official airdrop rewarded everyone who has used the first version of the protocol at least once. The primary purpose of UNI is to serve as a governance token: its holders can vote on proposals and decide the future of Uniswap. Find out about Uniswap and its native token UNI in the ChangeHero's Guide to Uniswap exchange and UNI for Beginners.
UNI Price History 2020–2021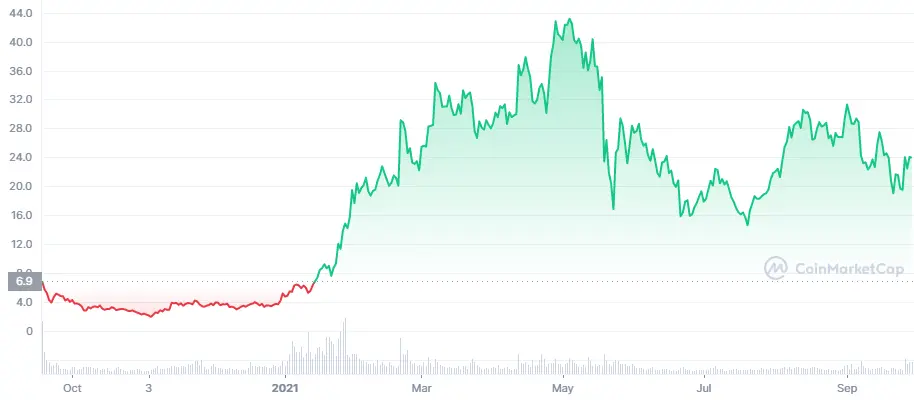 At the very start of its journey, in September 2020, UNI was highly appreciated because of Uniswap's utility. But as users started to sell off airdropped tokens, its price declined from 2020 maximum $7.7 to $4.94 on closing. In 2021 Uniswap broke into the top-10 cryptocurrencies by market capitalization and performed exceptionally well. It managed to reach the current ATH on May 3, $44.97. Later in May and in summer, UNI was following the market trend and bottomed at $15 in May, June and July. The launch of v3 helped the price to bounce to $30, but the downtrend is prevailing at the moment. At the time of writing, the UNI price is $23.97. Its circulating supply is 611,643,723.83 UNI out of a total 1 billion UNI, and the market capitalization is $14,664,763,406 USD (rank 12).
What Can Make the UNI Price Change?
Governance Proposals
UNI is a governance token, meaning it acts as a voting power representation. Speaking simply, UNI holders have more say in voting the more tokens they own or deposit into a proposal. Some of the proposals may have a direct impact on the price of the UNI token. For example, in 2020 there was a voting for retroactive airdrop for users who did not interact with Uniswap directly. That proposal failed to meet the quorum and was rejected. More recently, UNI holders voted to reduce the submission requirement to 2.5 million UNI to make governance more accessible.
Competition
At the time of the UNI launch, the token airdrop and liquidity mining were novel and helped Uniswap stay ahead of the competition. With the abundance of DeFi protocols these days, this would not be enough. The Uniswap team is focusing on improving the protocol instead. In May, they launched Uniswap V3, which thanks to improved slippage and liquidity pools flipped V2 soon after. On the other hand, Uniswap faces competition from already existing and established centralized exchanges. Amid China's crackdown on cryptocurrencies, all DEXes, including Uniswap, spurt into the lead ahead of them.
Ethereum and L2 Development
Ethereum 2.0, which shifted consensus from PoW to PoS, is getting ready to merge with the legacy network. This is a first step in making the Ethereum network, which Uniswap is built on, more scalable.  Uniswap itself does not seem to be sitting around waiting for the merger. They are moving the AMM to Optimism, which is a layer-two protocol to scale Ethereum. And still, PoW Ethereum fees significantly affect the DEX. According to ETH Gas Station today, Uniswap V3 is the largest consumer of Ethereum gas fees.
UNI Posts on Twitter
A few #DeFi #crypto assets have seen double-digit gains and the leader of the pack is #Uniswap which has jumped 20.9% in the last 24 hours. https://t.co/oIEESZKl6k

— Bitcoin News (@BTCTN) September 26, 2021
Bitcoin.com reported that because of the news from China, Uniswap and other DeFi tokens see surges in prices. Uniswap, being the most established of those, is in the lead.
SEC is about to fix Uniswap and it pumps on a Sunday with very to no volume.

— JunkoSuzuki (@JunkoSu22993224) September 26, 2021
Uniswap news earlier this month reported that the DEX caught the eye of the US Securities and Exchange Commission. However, as user Junko Suzuki pointed out, this seemed to have no effect on the price at all.
Getting into #UNI / $UNI right now! pic.twitter.com/oaTJC8geoU

— Noah Lutz (@noahlutzz) September 26, 2021
With the pump mentioned in the two previous tweets, the UNI chart broke out of a downtrend. Traders now expect sentiment to flip bullish and rally in the short term.
Uniswap Price Prediction 2021
Crypto Scope Uniswap Price Prediction 2021: $90
In this YouTube video, predictions from various sources and for different terms are summed up to conclude Uniswap has tremendous potential. As soon as this year, the token is expected to break out of the consolidation and close 2021 at $90.
LongForecast Uniswap Price Prediction 2021: $21.58
More modest estimates are given by a usually bullish LongForecast prediction model. By December 2021, the price will not leave the current range and even go lower. 2021 will close with UNI at the $21.58 mark.
RippleCoinNews UNI Price Prediction 2021: $40.864
In this prediction published in Ripple Coin News, the analyst gives a more optimistic prediction for UNI holders. According to their technical analysis, the expected range for UNI price in 2021 is between $30.762 and $50.238, making the average $40.864.
UNI Price Prediction 2022–2024
CryptoNewsZ UNI Price Prediction 2022: $61
According to the prediction published on CryptoNewsZ, following the bull run of 2021, UNI has the chance to reach $61 in 2022. However, they predict a sharp correction in October of the same year.
Digital Coin Price UNI Price Prediction 2023: $49.4
Digital Coin platform predicts that in 2023 UNI will keep growing in price. **In Uniswap price prediction 2023, its price on average will amount to $49.4. **
CoinArbitrageBot UNI Price Prediction 2024: $118.28
Another algorithm, housed at CoinArbitrageBot, forecasts a 388.17% growth for the UNI token by 2024. According to their Uniswap price prediction 2024, it will grow to $118.283.
Uniswap Price prediction 2025
Coinpedia UNI Price Prediction: $280–312
Coinpedia authors expect the whole crypto market to grow explosively in the next five years. With it, the price of UNI can go up to $312 per token. In case UNI fails to meet market expectations, it will still grow but only to $280.
Digital Coin Price UNI Prediction: $71.01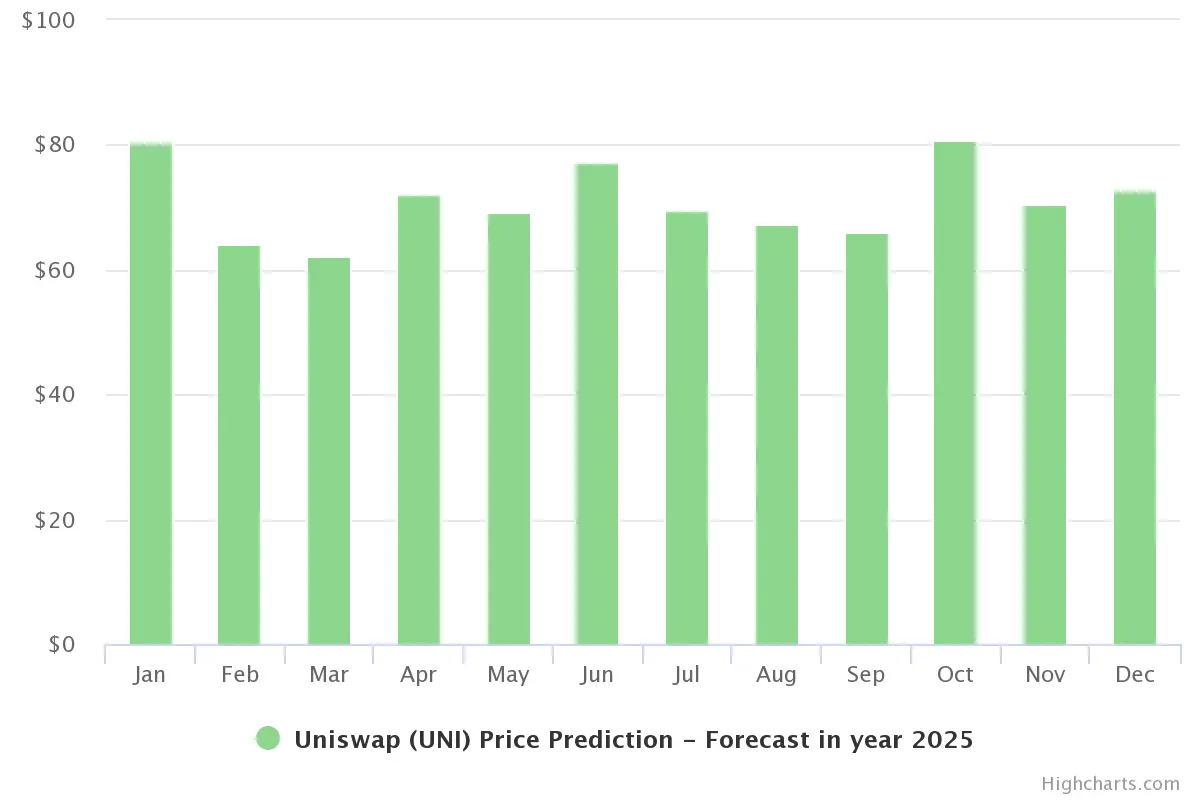 In the DigitalCoinPrice projections, in 2025 UNI will be worth about up to 235% more than it is now. The range in which monthly averages will stay for the whole year is between $62.08 (March) and $80.83 (October).
CoinPriceForecast UNI Price Prediction: $62.15
According to this forecast, 2025 will not be a very productive year for UNI prices. At the time of writing, they predict that it will open at $57.07 and close at $62.15.
Uniswap Price Prediction 2030
Of course, Uniswap is an up-and-coming project with great potential. But it is still hard to tell what regulations or volatility will do to the UNI token in such a long time. CryptocurrencyPricePrediction website takes their shot at pinpointing a possible UNI price at the end of the decade. They speculate that **during 2030 it will grow from $770.98 in January to $1,011 in December. **
ChangeHero Uniswap Price Prediction
With Uniswap V3 and launch on Optimism, UNI gained more use cases and became more attractive for investors. This could drive demand up, especially before the current max supply of 1 billion UNI is distributed. We may see triple and even four digits in a few years. If Bitcoin surges as a result of its rally, UNI is popular enough to follow suit.
How to Get UNI with ChangeHero?
You can buy UNI using ChangeHero in five simple steps:
Choose the currencies on the home page, amounts and the type of exchange. Provide your UNI wallet address in the next step and check the amounts;
Double-check the provided information, read and accept the Terms of Use and Privacy Policy;
Send in a single transaction the sum of cryptocurrency you will be exchanging. For  Fixed Rate transactions you have 15 minutes before it expires;
From here on, you won't need to do anything. At this step we are doing all the work: checking the incoming transaction and doing the exchange as soon as it arrives;
As soon as the exchange has been processed, your UNI is on the way to your wallet. Congratulations, it's done! You may even leave a review for us.
Our support Heroes are always there for you in the chat on our website or through the email: [email protected].
Conclusion
Is UNI token a good investment? The consensus is yes: the team is one of the most consistent update shippers in the DeFi sector. UNI token being tied to the value of the DEX is a guarantee it will keep accruing value in the long term. For more articles like this, check out our blog and subscribe for future updates on our Twitter, Facebook, Reddit and Telegram channel.
Frequently Asked Questions
[sc_fs_multi_faq headline-0="h4" question-0="Is Uniswap (UNI) a good investment?" answer-0="UNI will continue appreciation this year but most experts do not expect large returns from it in the short term. Others think that by the end of 2021, UNI can reach $90." image-0="" headline-1="h4" question-1="Can Uniswap reach $100?" answer-1="In the long term, Uniswap can reach $100 and more but not earlier than in 2024." image-1="" headline-2="h4" question-2="What will UNI be worth in 2021?" answer-2="Depending on the source, estimates for the Uniswap token price in 2021 range between $21.58 and $90." image-2="" headline-3="h4" question-3="What will UNI be worth in 2022?" answer-3="One of the cited sources provides a target of $61 for UNI in 2022." image-3="" headline-4="h4" question-4="What will UNI be worth in 2025?" answer-4="In different opinions, estimates for the UNI token price in 2025 range between $57.07 and $312." image-4="" headline-5="h4" question-5="What will UNI be worth in 2030?" answer-5="Estimates for the Uniswap token price in 2030 range between $771 to $1,011." image-5="" count="6" html="true" css_class=""]
---
Disclaimer
_This article is not a piece of financial advice. No price prediction is guaranteed to provide exact information on the future price. _ When dealing with cryptocurrencies, remember that they are extremely volatile and thus, a high-risk investment. Always make sure to stay informed and be aware of those risks. Consider investitions in cryptocurrencies only after careful consideration and analysis and at your own risk.
Learn more:
Quick links: