From top-200 to top-25, Toncoin of The Open Network made huge strides last year. For the past twelve months, it was steadily growing like the "crypto winter" is nothing. Especially so after the Telegram messenger started actively using the TON platform and its crypto. With all this in mind, let's take a closer look at Toncoin's fundamentals, TON news, and give a TON price prediction for 2023 and as far as ten years.
Toncoin Price Predictions 2023–2033
| | | |
| --- | --- | --- |
| Year | Minimum price, USD | Maximum price, USD |
| 2023 | $1.729 | $2.935 |
| 2024 | $1.69 | $6.38 |
| 2025 | $2.16 | $100 |
| 2028 | $10.85 | $20.79 |
| 2030 | $9.33 | $42.47 |
| 2033 | $20.97 | $31.45 |
Toncoin is evaluated as a crypto asset with great potential by most experts. It is strong on its own merits, and its relationship with Telegram is a massive factor in a bullish outlook;
Toncoin (TON) price can reach double digits as soon as in 2025. By 2028, five years from now, its lowest value will not be below $10;
The most surprising target — $100 for 1 TON — is given by a human analyst based on his knowledge of the crypto market. He argues that in the bull run of 2025 TON can easily do 50x, warranting the outrageous target.
What is Toncoin and TON?
Toncoin (TON) is a layer-one blockchain for quick payments and decentralized services, for example, DeFi and data storage. It is based on an energy-efficient Proof-of-Stake algorithm, which makes it similar to Solana and Ethereum. What sets it apart from competitors is its multi-chain architecture, faster finality, and sharding optimization.

TON stands for The Open Network, and it was built on the basis of a crypto network by Telegram. The team of the messaging app attempted to develop a decentralized network for payments and other services around the same time as Facebook did Libra, but both projects met regulatory trouble and were shut down. While the Libra (later named Diem) groundwork was applied to Aptos (APT) by developers from Meta, TON went open-source and could continue in a truly decentralized fashion.
TON and Toncoin today are parts of an open-source project affiliated with Telegram. While the partnership gives them a solid use case, they are independent enough to build Web3 and crypto products without the backing of the messenger.
TON Price History (2021–2023)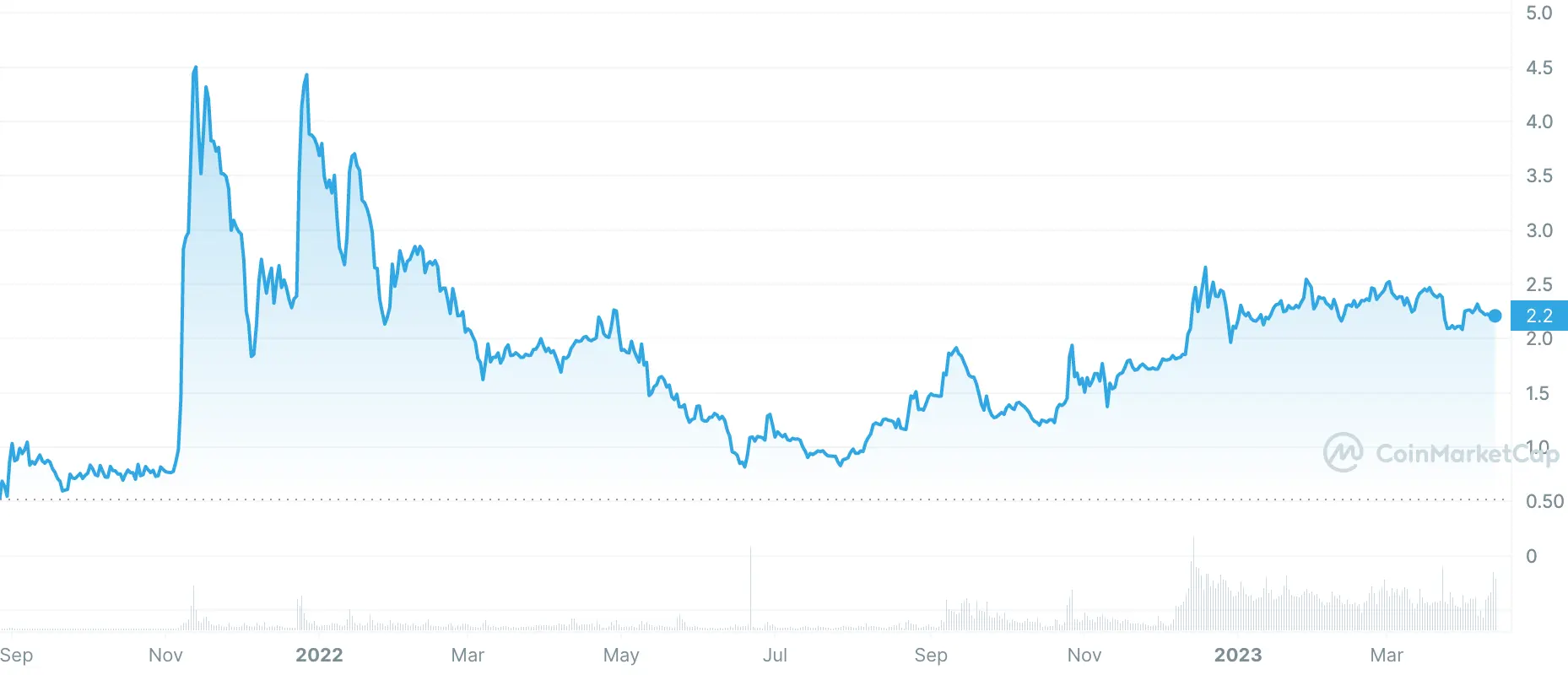 The history of Toncoin starts all the way back in 2017 when Telegram was musing the development of their own layer-one network for crypto payments in the messaging app. Unfortunately for them, the team has encountered pushback from the U. S. Securities and Exchange Commission (SEC), and in May 2020 announced the project is discontinued.
While initially in opposition to the idea of a third-party-built The Open Network, in 2022 it made a comeback and found support from the project founders. They made it possible in the first place by making the code open-source. While the SEC was opposed to a digital payments system controlled by Telegram, the new iteration of TON is developed and governed independently.
And so, in August 2021, Toncoin (TON) entered circulation. A few months later it was listed on its first exchanges, just in time for the second leg up of the Bitcoin bull run. In a matter of days, it jumped from under a dollar to $5.8373 on November 12, 2021 — its current all-time high.
In 2022, however, the entire crypto market entered a downtrend, which affected TON as well. It saw its price drop from $4 to 80 cents by summer. Surprisingly, after July 2022, Toncoin's price decoupled from this downtrend and started climbing up again. Around the same time, The Open Network received explicit endorsement from the Telegram team. They now use the coin for username, group and channel link auctions, and Telegram Premium subscriptions.
In 2023 so far, the bullish momentum continues to build up, and the trading volumes grow. The TON price action for the past few weeks seems to have entered a sideways trend but otherwise, the majority of the holders are currently in profit. The current price of TON at the time of writing is $2.2080 and the network ranks 26th by market capitalization (according to CoinMarketCap).
What affects the price of Toncoin?
Tech Updates
Updates to a protocol almost always create conditions for the price to go up. One of the perks of open-source community development is that it is hard to push through a change that will actively make the product worse.
The TON Foundation developers have shipped many useful features to the TON blockchain that bring it closer to the vision of a perfect decentralized payment system. And not only payments: in late 2022, they unveiled TON Storage for decentralized data storage.
They also actively support efforts from the community. Just a few days ago, the TON dev community held TON Awards 2022 and gave dozens of grants to independent projects. These included various projects, from SDKs in different programming languages and libraries to chain analytics tools and a TON-specific smart contract language.
On their own, the effect a single app or update has on the TON price is rarely noticeable. At the same time, the cumulative effect of them, signaling an expanding ecosystem and continuous improvement, drives the value of Toncoin up.
Adoption by Telegram
As mentioned above, TON gained traction on its own but recognition from Telegram helped it to perform better than the chunk of the crypto market.
The messenger platform accounts for 700 million monthly and 55 million daily active users worldwide. Its subscription service Telegram Premium, which was launched in mid-2022, had a million subscribers at the start of 2023. To loyal Telegram users and TON users alike, the app offers to buy a username or a virtual phone number in an auction with Toncoin. A couple of weeks ago, the auction platform Fragment added an option to buy a Premium subscription, too.
Despite not launching as an official network, TON has found its way into the messenger app that millions of users access daily.
Ecosystem Development
The TON blockchain on its own is a pretty decent decentralized payment network but it is its smart-contract-powered applications and protocols where its strong suits really shine. And to apply its functionality to various use cases, the TON Foundation incentivizes blockchain developers to build within their ecosystem.
To boost the already active development on the TON platform, the Foundation helped Tonstarter with raising funds from blockchain VCs. The funds will go to the incubation of DeFi, DEX, wallet, lending and borrowing, gaming, and metaverse projects. One example of launchpad users is Megaton Finance, which opted to launch an incentive program on Tonstarter Launchpad to 17 thousand users.
Toncoin (TON) on Twitter
💎💎💎

Tontech (https://t.co/KIIa4EdXCR), a prominent contributor to the @ton_blockchain community, has recently been awarded three prizes at the prestigious $TON Awards! The team is thrilled to announce that their projects - blueprint, sandbox, and ton-contract-executor - have… pic.twitter.com/DYSvsSfCop

— Aleksei Solovev 💎 (@yogasolovey) April 13, 2023
Speaking of TON Awards, here is Tonpound rep Aleksei Solovev giving a shout-out to some of its winning projects. Check his post out for more examples of the development in the TON ecosystem.
$USDT on $TON is closer than you think 🚀 #TON #TonCommunity pic.twitter.com/onlnl9vYa1

— Ali 💎 (@Tleubayev) April 4, 2023
A community member Ali shared a screenshot showing himself using USDT on TON. It's a wrapped token right now but in time, it will be available natively, he believes.
According to our current #Toncoin price forecast based on short and long positions, the value of Toncoin is expected to increase by 31% , reaching $3.2 by April 17/ 2023 .$TON #btc $eth pic.twitter.com/JJrCdRluxg

— stop loss🛡 (@stop_loss3) April 12, 2023
An algorithmic forecast service going by "stop loss" on Twitter shared a TON forecast for the next few days. According to their calculations, in a few days, a 30% pump is coming. At the same time, the moving averages are also expected to cross, signaling a trend reversal.
Our TON Price Analysis and Forecast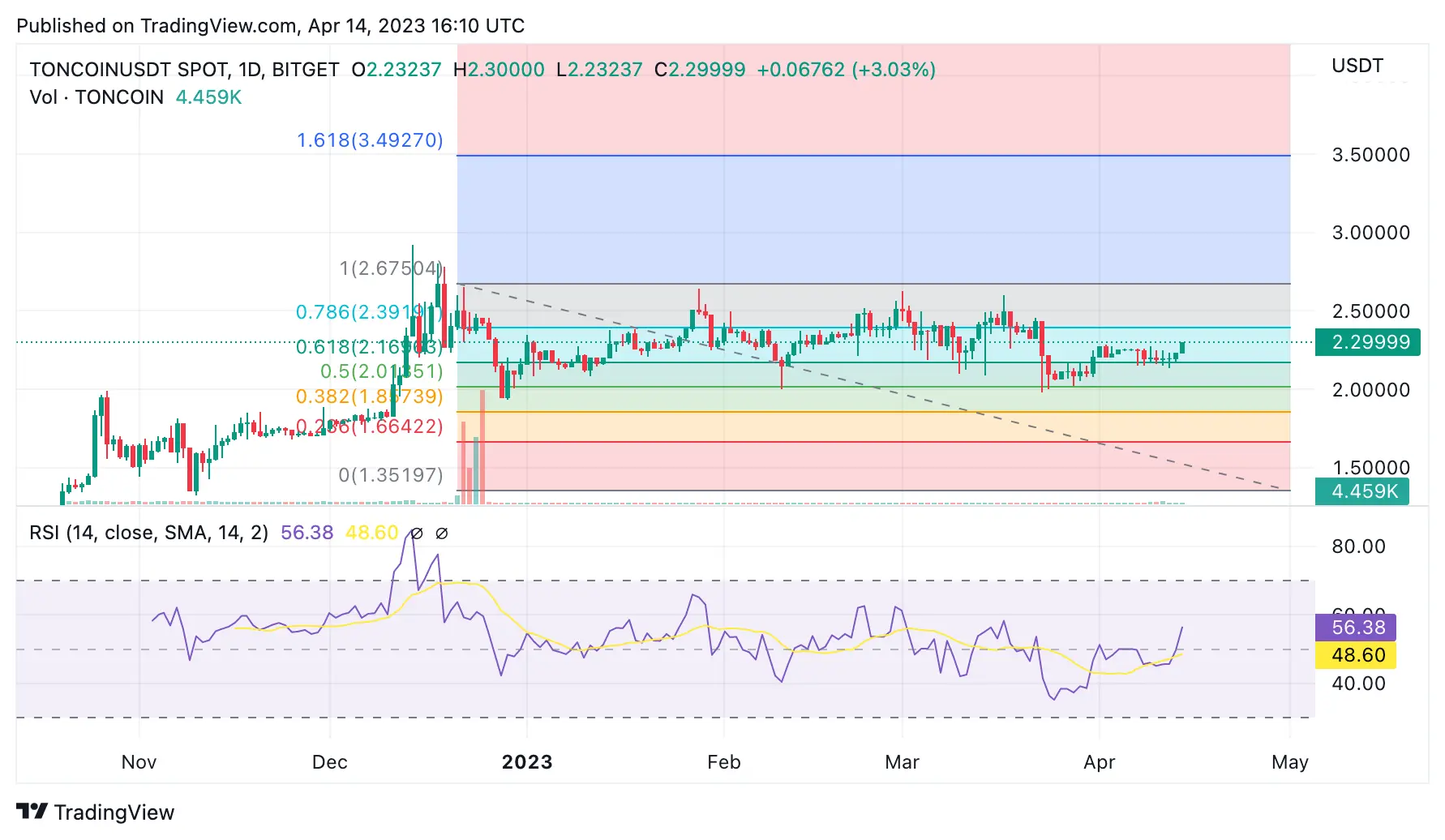 On a daily time frame, the TON price seems to indeed be trading in the $2+ range. As a local high, we have taken a December 2022 spike, and the closest resistance level on the way up to reclaiming it is $2.39. Should TON breach $2.67 again, with enough momentum it can pump up to $3.49. However, such a rapid move up is not very likely, as the relative strength index is entering the oversold area, though after a crossover with its simple moving average.
TON Coin Price Prediction 2023
Per TheNewsCrypto analysis, the correlation between TON with BTC and ETH is minimal. So, applying technical analysis to the TON price changes, they arrive at the conclusion that it is trading sideways with no significant pressure from either side. The range's limits lie at the support level of $1.944 and the resistance level of $2.405. Should buyers have the upper hand, the next resistance is $2.165, and if sellers regain the initiative, a level to watch is $1.754.
The Coin Republic sees a clear bullish bias in the TON price action. While they predict that TON will continue to trade sideways and establish a base near $2, it will keep growing on a weekly basis within a long-term ascending channel. In case the crypto market goes south, though, $1.80 per 1 TON is a likely scenario.
Algorithmic prediction based on historical data by CryptoPredictions contrasts these opinions. The price trend is due for a change, and as soon as by May 2023, it can shed up to 10% of its current worth. This makes the minimum forecast price for 2023 $1.729. However, the upward trend is here to stay, and by the end of 2023, the maximum forecast price of TON is $2.935.
Toncoin Price Prediction 2024, 2025
YouTuber IA Crypto puts Toncoin in the spotlight thanks to its fundamentals and the exciting TON coin news. The official channel has announced that the Democratic Republic of Kongo, Republic of Kongo, and Cameroon are all considering the TON blockchain for their CBDCs.
In his opinion, Toncoin has the potential to rise by 2x, 5x, and even 50x, which would put its market cap on par with the current Solana's, XRP's, and Ethereum's market caps respectively. In case TON eclipses any of these coins, it could go up to $4.05, $12, and over $100.
Let's see what other methodologies suggest. Algorithmic TON price prediction by Bitnation expects it to trade in the range of $5.02–6.38 in 2024 and $7.30–7.98 in 2025. Projecting tech sector growth on Toncoin (a method CoinCodex uses) gives us various targets: from $1.69 to $5.07 in 2024 and $2.16–11.25 in 2025.
Toncoin Price Forecast 2028, 2030, 2033
​​How about a Toncoin forecast for five or ten years from now? While the TON forecast for so long in advance is bound to be less accurate, some services still try.
For example, in the projections by Digital Coin Price, the average price of Toncoin in five years will fluctuate between $10.85 and $12.18. In 2030, it will already be worth anywhere between $22.28 and $23.93.
PricePrediction.net is even more bullish on the trajectory of the TON price. In 2028, it is expected to reach at least $17.57 and at most $20.79. As for 2030, its minimum price will increase to $34.52, and the maximum price — $42.47.
More moderate estimates are provided by AMB Crypto. In their TON prediction, they see it growing to $9.33–13.19 in 2030, and $20.97–31.45 by 2033 — ten years from now. If this plays out, your $100 investment in TON today will be worth $1,424.36 in ten years.
How to Buy Toncoin?
You can do it on the ChangeHero website in a few steps:
Go to the purchase page or click "Buy or sell crypto from Visa" in the widget on the home page. Choose your country, check the currency of purchase/selling and rate;
Proceed and provide the blockchain address for purchase or selling. Check the Terms of service before finalizing the transaction;
Verify your phone number, email address, and ID details. Next, provide the information on the bank card. If you are selling, you would also need to choose refund options and transfer crypto to the generated address;
Go through the KYC procedure with your state-issued ID and a selfie to finalize verification;
And from here on, our partner processes the purchase.
But there is also a way to get TON without obligatory KYC or registration. Just swap any crypto for TON on ChangeHero!
Choose the currencies on the home page, amounts, and the type of exchange. Provide your wallet address in the next step and check the amounts;
Double-check the provided information, read and accept the Terms of Use and Privacy Policy;
Send in a single transaction the cryptocurrency you will be exchanging. Fixed Rate transactions have a 15-minute limit;
Done? Now we are doing all the work: checking the incoming transaction and doing the exchange as soon as it arrives. The Best Rate transactions will use the rate current to the time when your funds arrive. The Fixed Rate will use the rate at the time of step 1;
As soon as the exchange has been processed, your TON is on the way to your wallet.
Customer support is here for you 24/7 in the chat on the website or through the email: [email protected].
Conclusion
TON succeeded where Meta gave up, and now they are tapping into the user base of one of the most popular messengers in the world. All the while remaining true to their open-source beginnings and the ethos of decentralization. TON has already shown explosive growth, and the Toncoin holders have high hopes for the future.
Do you agree with the predictions we reviewed? Join the discussion and subscribe to us on Twitter, Reddit, Facebook, and Telegram. For more content to help you navigate the crypto world, explore our blog.
---
Frequently Asked Questions
How much will Toncoin be worth in 2030?
Depending on the source, the Toncoin price is expected to rise at least to $9.33 and at most — up to $42.47,
How much will Toncoin be worth in 5 years?
In 2028, five years from now, TON is predicted to trade for anywhere between $10.85 and $20.79.
What will be TONCOIN's highest forecast price for 2023?
The maximum trading price TON is expected to hit in 2023 is $2.935.
Disclaimer
This article is not a piece of financial or investment advice. No price prediction is guaranteed to provide exact information on the future price.
When dealing with cryptocurrencies, remember that they are extremely volatile and thus, a high-risk investment. Always make sure to stay informed and be aware of those risks. Consider investing in cryptocurrencies only after careful consideration and analysis of your own research and at your own risk.
Learn more:
Quick links: