In 2020 there are plenty of crypto projects that make things unimaginable just a couple of years ago possible. However, this is not a new trend: such projects have been around for a while. If you tried telling someone in 2015 that a cross between Bitcoin and Ethereum on Proof-of-Stake is possible, they would probably not believe you. But that is precisely what Qtum is, and it has been running since 2017! In our Qtum guide, we will look at the project's specifics, review the features, and Qtum news.
What is Qtum?

Qtum came about as a result of the success of Ethereum. The platform has proven that smart contracts and distributed computing have great potential. However, as a financial system, Ethereum was incompatible with Bitcoin and lacking in security, the devs thought.
The founders and developers of Qtum set out to make a platform that would combine the best of the two worlds: Bitcoin's UTXO-based transaction system connected with Ethereum's smart contract functionality, through the account abstraction layer, with an energy-efficient Proof-of-Stake consensus algorithm, which enables the Qtum blockchain. In the end, they got a platform that would be deemed suitable for adoption by organizations & developers.
How did Qtum start?
The developers and founders of Qtum started the Qtum Foundation in Singapore in 2016. At the head of the team were Patrick Dai, Neil Mahi, and Jordan Earls. The next year, to fund the launch and development, the Foundation held an ICO (Initial Coin Offering, a pre-sale of tokens at a special price). It raised $15 million, and the backers received 51% of the total QTUM supply (100 million). The rest of QTUM was allocated to the team, early backers, and used for further development & education. Later the same year, in October, the Qtum platform went live.
The Qtum team consists of dozens of blockchain specialists from around the world. Prominent crypto community members backed the project: Roger "Bitcoin Jesus" Ver, Ethereum co-founder Anthony Di Iorio, and Augur co-founder Jeremy Gardner.
How did the Qtum project end up so successful? Thanks to its architecture, which we will cover in the Qtum guide next.
How does Qtum work?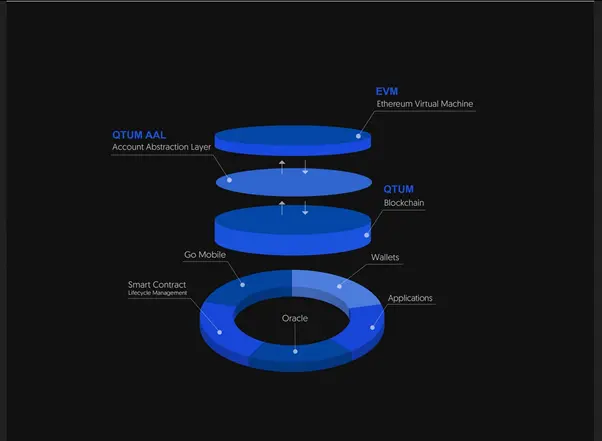 To make the combined features work, Qtum employs a multi-layer architecture. Qtum uses the Account Abstraction Layer (AAL), a signature technology that essentially translates information from the UTXO layer into VM-executable calls and updates to the UTXO ledger. 
Qtum also has produced wallets, mobile apps, and other infrastructure pieces crucial to their success. The platform has other features such as a Decentralized Governance Protocol, which allows voting to change parameters and characteristics such as block size or gas fees without hard-forking. 
Since the Qtum platform uses smart contracts in the same way Ethereum does, one of the best known and widely used applications for it, tokens, are also possible. Qtum uses the QRC-20 standard for fungible tokens and QRC-721 for non-fungible tokens (NFTs) that can represent any unique digital product on blockchain.
Offline Staking
Earlier this year, Qtum underwent the first major network upgrade and now exists as Qtum 2.0. The upgrade introduced the Offline Staking Protocol. Offline Staking is a relatively new concept in crypto, and Qtum is one of the first to introduce a working protocol. Previously, to stake and earn rewards, one had to run a full node. With Qtum's Offline Staking Protocol, a user can contribute to the network consensus by staking QTUM without losing their tokens' custody. To participate, a user should store QTUM in their wallet and delegate the wallet address to a superstaker through a smart contract transaction. Superstakers handle all the technical work and take a percentage from the staking rewards agreed upon between the superstaker and the delegator, all while the delegator has full control of their coins. 
We have a detailed guide on Qtum Offline Staking coming up. Subscribe to ChangeHero blog to be the first to get notified.
How is Qtum different from others?
A comprehensive Qtum guide should cover similar projects to make the features of the subject stand out. So how exactly is Qtum different from its competitors?
Qtum and UTXO blockchains

Qtum is the most up-to-date Bitcoin fork out.
Unlike Bitcoin, Qtum has the functionality of smart contracts built right into the protocol and uses a PoS consensus algorithm;
There is another platform that can be used for dApp development and utilizes UTXO: DigiByte. However, DigiByte does not employ a virtual machine and also runs on Proof-of-Work.

Qtum and Proof-of-Stake blockchains

Qtum upgraded PoSv3 (the original consensus) to v3.5, which added the Offline Staking Protocol concept into the existing overall consensus model (changed the requirements for signatures in staking transactions as an exception). Other PoS networks use their applications of PoS: Pure PoS (Algorand), Delegated PoS (EOS, TRON), and such.
What is QTUM?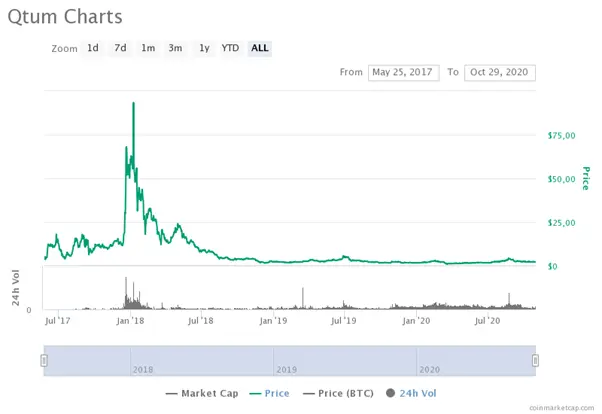 In this Qtum guide, we have to define the native cryptocurrency of the Qtum platform, QTUM. Like in most networks, it is used to pay the transaction fees and denominated the stake necessary to participate in validation. The ongoing issuance model of QTUM is the same as in Bitcoin: each block rewards the validator with 4 QTUM, but roughly every four years, the reward halves.
How to use QTUM?
As is the case with similar currencies, the primary use case for QTUM is means of payment. With the help of payment gateways like CoinGate and PundiX, businesses can accept QTUM. The list includes apparel stores, web services, hosting, mining equipment, and more.
But don't jump into buying QTUM just yet — in the Qtum guide, we cover more fundamentals, news and give tips, so make sure you read it until the end!
Partners and Future of QTUM
Qtum launched to become a blockchain platform for businesses to build on. For example, they have integrated their software into AWS (Amazon Web Services) developer offerings and Google Cloud. These services offer sandboxes to anyone wishing to build on the Qtum blockchain.
In Q4 2020, the developers plan to improve Offline Staking by extending support to more wallets in which users can stake and keep their QTUM. Qtum Phantom, specified in the whitepaper as confidential assets, will bring privacy to the smart contract layer. This is an essential feature for enterprises since it can help them confidentially make private transactions on the blockchain. Qtum Neutron is another blockchain innovation that is currently in development. Neutron will be a middleware technology to allow multiple virtual machines to run on Qtum.
Qtum on Twitter
And here it is, the QiSwap LitePaper:https://t.co/FvCFkfYAiM #LitePaper #QiSwap #Qtum #blockchain #DeFi

— QiSwap (@QiSwap) November 24, 2020
QiSwap is the first DEX to be built on the Qtum blockchain. The project recently published its LitePaper. We expect more DeFi projects to roll out from Qtum.
2020 Wanxiang #Blockchain #Hackathon closed on Oct.25th. Congratulations to prize winners! Looking forward to see you on other events of 2020 Shanghai International Blockchain Week! Visit https://t.co/McxkzTDust to learn more!@protocollabs @AcalaNetwork @qtum pic.twitter.com/HD3mhKzAhS

— Wanxiang Blockchain (@WXblockchain) October 25, 2020
In more recent Qtum news, the team took part in the most recent Wanxiang Blockchain hackathon. They are known to be frequenting such events like summits, conferences and hackathons, proving their diligence in improving the project.
6 Good news is Qtum is ready to speed up to 16s and will have higher TPS than ETH and same time as decentralize as Bitcoin. ( Qtum is compatible with Bitcoin and ETH)

— Patrick Dai (@PatrickXDai) November 22, 2020
Qtum founders are pretty active on Twitter, and as always, extremely enthusiastic about their successes. Patrick Dai might have taken a page or two out of Justin Sun's book, given how the two enjoy announcing Qtum news and features before anyone else.
Now that we have covered the Qtum news and fundamentals, it's high time we give the practical advice in our Qtum guide.
How to get QTUM?
The less exposure a coin has, the trickier it is to find a trusted provider from which you can buy a coin. You don't have to worry, though, because we have handled the search of trusted providers already! You can get it on ChangeHero at the most competitive rates by exchanging it with any other cryptocurrency from our long list. We made sure that the experience will be easy and secure, and if anything goes wrong, you can get help from our support specialists at any time of the day.
What is the Best QTUM Wallet?
The most reliable way to store QTUM and use its features like staking is to run a full node, but not everyone has the memory and data bandwidth to keep it active. For hardware storage of QTUM, users can use Trezor with Qtum Electrum. For more convenience, in the Exodus wallet, you can use the exchange option provided by ChangeHero right in the app to swap crypto with QTUM.
QTUM Guide to Exchanging on ChangeHero
To make our Qtum guide complete, we include the step-by-step instruction on how to buy QTUM on ChangeHero with crypto. It's effortless:
Choose the currencies on the home page, amounts, and the type of exchange. Provide your QTUM wallet address in the next step and check the amounts;
Double-check the provided information, read and accept the Terms of Use and Privacy Policy;
Send in a single transaction the sum of cryptocurrency you will be exchanging. For Fixed Rate transactions, you have 15 minutes before it expires;
From here on, you won't need to do anything. At this step, we are doing all the work: checking the incoming transaction and doing the exchange as soon as it arrives;
As soon as the exchange has been processed, your QTUM is on the way to your wallet. And so, the transaction is finished!
Remember that you can reach our support in the chat on our website or through the email: [email protected] — they are available 24/7!
Conclusion
The crypto landscape was different when QTUM first launched, and at the time we're writing our Qtum guide, it has to compete with other projects with a similar purpose. However, they continue to prove that they have a lot of potential with their hard work. Qtum has a lot ahead of them, and we'll be keeping our readers in the loop with Qtum news — subscribe to our Twitter, Facebook, Reddit, and Telegram not to miss out!
---
Learn more:
Quick links: