Despite what naysayers claim, the crypto community still believes Web3 is just around the corner and builds every day to make it a reality. Flux is among the most dedicated to the cause, creating a decentralized cloud platform and Blockchain-as-a-Service. In this guide by the ChangeHero team, learn more about Flux and its digital assets.
Key Takeaways
Flux is a blockchain network that is purpose-built for creating decentralized projects. Its goal is to build a decentralized architecture for Web 3.0.
The native asset of this network is FLUX, although it is also available as tokens on other blockchains. Users can mine FLUX tokens by contributing GPU power to secure the network.
With FLUX, users can avail of services on Flux Cloud, earn passive income on staking, or participate in governance.
What is Flux and How Does It Work?

As is almost always the case with any blockchain project, there was an issue that Flux was created to solve. For sure, it is a blockchain platform designed to support decentralized applications (DApps). It aims to provide a scalable and secure Web3 infrastructure for developers to build and deploy applications. However, Web3 still relies heavily on centralized infrastructure, so Flux set out to build a decentralized alternative operating system, as well as provide a Blockchain-as-a-Service (BaaS) platform.
At the same time, Flux employs a number of features that make it easier for developers to migrate their projects to this blockchain and make it interoperable with other platforms. Its developer-friendly tools such as the API and SDKs facilitate the creation and migration of DApps. Flux Cloud, a decentralized online file storage solution uses the industry-standard Docker Hub as a deployment on-ramp, which is interoperable with all coding languages. Last but not least, so-called Flux Parallel Assets, meaning wrapped FLUX on other blockchain platforms, let you trade FLUX across other chains.
The Flux Blockchain Features
What makes Flux unique? For one, a unique hybrid consensus mechanism that is different from traditional PoW chains: it inherits staking from Proof-of-Stake but reimagines Proof-of-Work completely. However, it is still in the works, and for the time being, Flux is best described as working on a PoW consensus mechanism.
Unlike other staking networks, Flux does not make node operators lock up the collateral or wait before they are able to withdraw it. There are three tiers of staking nodes: Cumulus, Nimbus, and Stratus, ranging from the easiest to set up and maintain to the hardest. The Stratus nodes, which are already costly and have high requirements but yield more in rewards, have a special subset called Titan. Titan nodes are enterprise-grade but to help the network stay decentralized, the Flux community set up a few of them. A minimum Titan collateral of as little as 50 FLUX can be delegated to a Titan node stake but in this case, it cannot be withdrawn until the lock-up period expires.
History Behind Flux and Team
The most recent Flux whitepaper is credited to the Flux Development Team and three authors: Tadeáš Kmenta, Daniel Keller, and Parker Honeyman. Keller is the Chief Operations Officer, Honeyman is responsible for strategy as a CSO, and Kmenta is the lead developer. As for the development team, the same paper lists dozens of contributors from all kinds of backgrounds: from developers and engineers to marketers.
Flux started out as Zelcash or Zel, and traces of this name remain in their official wallet Zelcore, and DID solution ZelID. It is a fork of Zcash with heavy modifications to add masternodes and a staking mechanism. The rebrand to Flux happened in March 2021.
After the launch of the Flux blockchain in January 2018, it gained attention from developers and blockchain enthusiasts worldwide. The Flux Foundation actively worked on expanding the ecosystem by collaborating with various partners and developers to foster innovation and build a thriving community. The Flux Foundation is a non-profit organization that aims to promote the adoption and development of the Flux blockchain. They provide support, resources, and guidance to individuals and businesses interested in leveraging the Flux blockchain for their projects.
What is FLUX crypto?
As a decentralized blockchain network, Flux uses a native asset to incentivize network security and enable financial use cases. FLUX is the native cryptocurrency of the Flux ecosystem and has various uses, including purchasing resources, securing nodes, and fueling transactions on FluxOS.
Back then known as Zel, Flux was launched fairly and without a premine. The initial blockfind (a block discovery event in Flux terms) reward used to be 150 FLUX, and since it has halvings every 2.5 years, after one halving event, the reward is 75 FLUX today.
The maximum supply of FLUX is capped at 440 million. The total supply exists on any of the parallel asset chains or the native Flux chain, as it can be moved between chains and gets rewarded from mining and staking. In other words, native FLUX and parallel assets FLUX all count toward the circulating and maximum supply.
FLUX has one of the most democratic tokenomics out there: 94.7% of FLUX (as both native and parallel) belongs to the users. The Flux Foundation set aside for itself only 2.9% of the supply, the team reserved 0.7% for itself and 1.7% for exchange listing and liquidity.
Another thing to remember is that the block reward is split 50/50 between miners and masternode operators. The 50% that goes to FluxNodes is further divided into 30% to Stratus, 12.5% to Nimbus and 7.5% to Cumulus.
How to Use Flux Coin?
As the native asset of the Flux network, FLUX does its fair share of work. It doesn't even matter how involved you are in the Flux community for FLUX to be of use to you.
First and foremost, users can send and receive FLUX as a means of payment for goods and services.
Not only off-chain cases: there are a multitude of apps built on Flux that you can pay for in FLUX. For example, Flux Drive and WordPress on Flux Cloud.
If you transact on the Flux blockchain, you will be charged a small network fee in FLUX. Transaction fees go to miners and node operators and compensate them for securing the network.
By dedicating a certain amount of FLUX as collateral, users can participate in the consensus mechanism of the network and earn staking rewards in return. This incentivizes users to hold and stake FLUX, thereby contributing to the security and stability of the Flux blockchain.
Flux node operators who hold locked FLUX tokens can participate in the governance of Flux. Their voting power is based on the number of locked FLUX tokens in their nodes.
Comparison with Similar Projects
As we mentioned, Flux is a fork of Zcash that made significant changes from its original codebase. By now, Flux has neither the same privacy focus nor the mining algorithm as Zcash. The latter in Flux is specifically modified to be ASIC-resistant, making mining more accessible to more users worldwide. Attentive users might notice that Flux has not changed the address format, among other things.
As a Web3 network that provides cloud and distributed computing services, Flux has a lot of competition, too. There are Filecoin (FIL) and Internet Computer (ICP), too, which are both bigger projects, at least if we go by their coins' market caps. By the size of the network though, Flux surpasses them: currently, it is maintained by 12,120 nodes worldwide.
Flux Ecosystem, Partners, and Future Plans
Flux is already doing well enough but for the future, they have even more ambitious plans. The aforementioned reimagination of Proof-of-Work, called Proof of Useful Work, is one example. The usual cryptographic random problems, which only serve to propagate a blockchain, end up eating up immense amounts of energy. Flux proposes to put the collective output of GPU miners worldwide into things more productive to traditional industries: from rendering to training machine-learning models. The proof of concept is due sometime in Q3 2023, and the progress can be followed at the dedicated X account.
Through parallel asset Flux, the network spans across ten blockchains in addition to its native chain. They are TRON, Algorand, Kadena, Ergo, Ethereum, Avalanche, BNB Chain, Solana, and most recently, Polygon. In this relationship, Flux is not the only party benefiting from active partnerships: let's take Kadena. Most of Kadena's nodes are hosted on the Flux network. This long-standing relationship has steadily grown over the years and today Flux is the default cloud platform for most projects in the Kadena ecosystem such as KDLaunch, Kaddex, KDSwap, Docushield, Timpi, Babena, Miners of Kadenia, KDABet, Kadcars NFT, KadeFi, and more.
At this moment the Flux ecosystem consists of a native, minable POW cryptocurrency (FLUX), a powerful decentralized computational Flux Network (FluxNodes), a Linux-based operating system (FluxOS), the premier digital asset platform (Zelcore) and, finally, the Flux blockchain for on-chain governance, economics and parallel assets to provide interoperability with other blockchains and DeFi access.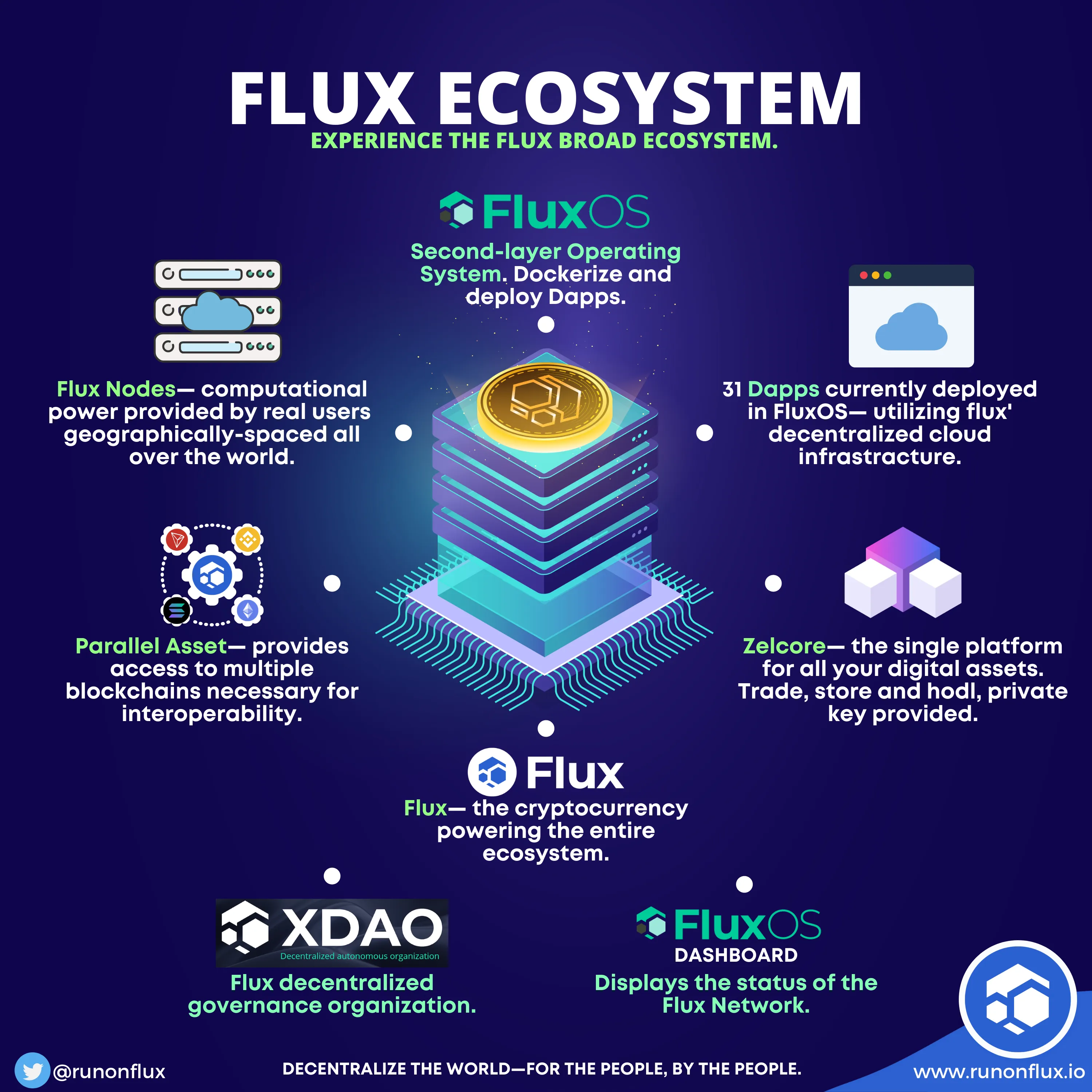 However, the Flux ecosystem is far from a walled garden. It collaborates and interacts with many other blockchain networks (Kadena being one of them). Other partners of Flux's include the Zcash community to collaborate on the codebase, OpenZeppelin for libraries, and ChainSafe for research and development. These partnerships demonstrate the collaborative nature of the Flux ecosystem and its commitment to building a robust and vibrant Web3 ecosystem.
Which Crypto Wallet to Use for FLUX?
To store and manage FLUX, stake, and avail of all the functionality offered by this blockchain, nothing beats Zelcore. It is available for desktop (Windows, Mac, Linux) and mobile (iOS, Android) systems alike, and as a multi-coin wallet, supports other crypto assets like BTC and ETH.
If for any reason you wouldn't like to change wallet applications and already use Trust Wallet, Exodus, or Coinbase Wallet, you are in luck. Note that these do not make the distinction between native Flux and parallel asset Flux as evident as Zelcore, so you will need to pay attention to the asset network.
Where to Buy Flux (FLUX)?
The answer is easy: trade FLUX with any cryptocurrency from a 200+ list of supported assets on ChangeHero. We will find the best rate across popular cryptocurrency exchanges and other liquidity providers in real time, and you can start immediately without signing up.
Please note that only native FLUX is supported on ChangeHero.
Choose the currencies on the home page, amounts, and the type of exchange. Provide your FLUX wallet address in the next step and check the details;
Double-check the provided information, read and accept the Terms of Use and Privacy Policy;
Send the cryptocurrency for the swap in a single transaction. In a Fixed Rate transaction, you have 15 minutes before it expires;
Sit back and relax. Now we are doing all the work: checking the incoming transaction and making the exchange as soon as it arrives;
As soon as the exchange has been processed, your FLUX is on its way to your wallet. And so, the transaction is finished!
The whole process is as easy as it gets but if you struggle with something, don't worry. Our support team is available 24/7 to help you in the chat or through the email: [email protected].
Conclusion
As useful as the most popular cloud storage solutions are, they still have a centralized point of failure. At Flux, they believe that the future of the Web is decentralized, so they are already out there providing future-proof services.
If you found this guide useful, check out our blog for coverage of other crypto projects. Subscribe to our social media for updates: Telegram, X (Twitter), Facebook, and Reddit.
---
Frequently Asked Questions
What is a FLUX coin?
FLUX is a community-driven Proof-of-Work (PoW) cryptocurrency with fair distribution. It is a part of the Flux blockchain ecosystem that started out in 2018 as a fork of Zcash but since then has grown to become a global decentralized computing platform.
What is the use of FLUX coin?
FLUX has multiple use cases, ranging from a payment method on the Flux platform to staking and governance. For example, you can pay service fees for Flux Drive or fund the hosting of a WordPress site on Flux Cloud with FLUX.
How do you get FLUX Crypto?
One of the most convenient ways to get native FLUX is by swapping any cryptocurrency to it on ChangeHero. If you need parallel asset FLUX, after buying FLUX you will be able to swap it to any of the ten blockchain assets in Zelcore.
Learn more:
Quick links: