The Ethereum Merge upgrade was unprecedented: the second-largest crypto protocol changed on the consensus mechanism level. And of course, moving to Proof-of-Stake created certain expectations about the future of Ethereum price. We talked with Crypto Caesar and discussed the impact of the event on ETH and the crypto market, and we were extremely lucky to get his prediction for Ether price.
Meet Our Guest Expert — Crypto Caesar
Crypto Caesar has 15 years of experience in traditional markets and almost 7 years of experience in crypto. He has a degree in law and economics and a postgraduate law degree. In other relevant credentials, he manages a private fund, is the CEO and founder of Crypto Caesar Capital, the leader of one of the best community Discord servers in crypto, and routinely advises crypto projects, exchanges, and start-ups.
Crypto Caesar's Background — Why ETH?
ChangeHero (CH): When and how did you start trading crypto?
Crypto Caesar (CC): I discovered Bitcoin at the beginning of 2016 and was immediately drawn to it purely on a volatility basis to begin with. However, I then soon started to enter the rabbit hole of Bitcoin and cryptocurrency and was immediately hooked. Since that moment I never looked back.
CH: Why did you choose to trade crypto?
CC: Having traded traditional markets for many years, the volatility in the crypto markets was something that really interested me. I quickly noticed that the huge swings allowed me to trade with little to no leverage.
CH: Why are you bullish on Ethereum?
CC: 90% of altcoins are built on or were originally built on the Ethereum network. Most of DeFi is built around the Ethereum network. Most stablecoins run on the Ethereum network. In short, Ethereum is a beast. Now that it has successfully merged, Ethereum is a beast on steroids.
Why was the Merge a big deal for Ethereum Blockchain?
For starters, Ethereum is a distributed blockchain-based network with smart contract functionality. It means that it has a public ledger that records all transactions on the blockchain. Thanks to Ethereum Virtual Machine, developers can also write scripts and even programs that can be executed by any full Ethereum node. Previously, all security of the Ethereum blockchain was achieved thanks to the Proof-of-Work algorithm.
In Proof-of-Work, validators known as miners solve cryptographic hashes to produce a block and include a batch of transactions in it. The more miners compete, the higher the difficulty, so the amount of computing resources and energy consumption grows rapidly. Even early cypherpunks knew the carbon footprint of Bitcoin is bound to be a problem on a global scale of adoption. This is why Ethereum Foundation designed it with an eventual transition to Proof-of-Stake, a more environmentally-friendly algorithm, in mind.
It happened in 2020, when Beacon Chain, known as Ethereum 2.0 at the time, was launched. It introduced a new consensus mechanism and its rules for staking and gas fees. Until September 15, 2022, both chains coexisted but on that day, Beacon Chain became the consensus layer of Ethereum. This event was called consensus layer merge, or Ethereum merge for short.
Post-Merge Factors of Influence on ETH Price
In our guide, we mentioned that long-term, improved incentives, a robust Ethereum ecosystem, and mass appeal can position it as a better Proof-of-Stake network. Reasons to be concerned are centralization, stake sell-offs, and security regulations. We asked Crypto Caesar, what else to look out for:
"The Ethereum merge was arguably one of the biggest things in crypto to date. Consequently, Ether ran from the lows of $883 to $2,000 in 9 weeks (a 129% move to the upside). However, prior to the successful merge, Ethereum started to sell off and continues to do so. This was a classic "sell the news" event.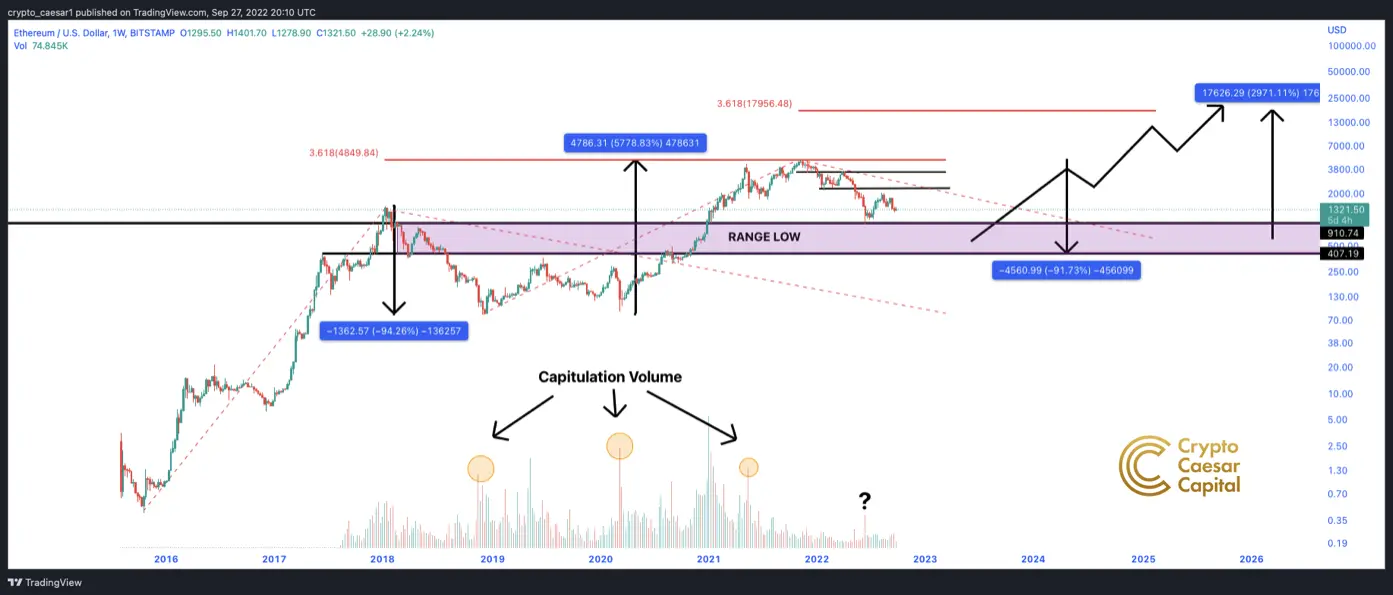 It is my view now that there are deeper lows for Bitcoin to come which will in turn pull Ethereum down with it. Furthermore, there hasn't yet been that high capitulating volume yet (see chart) with Ethereum indicating to me that sellers are not yet exhausted enough. In short, I believe there is likely more pain to come.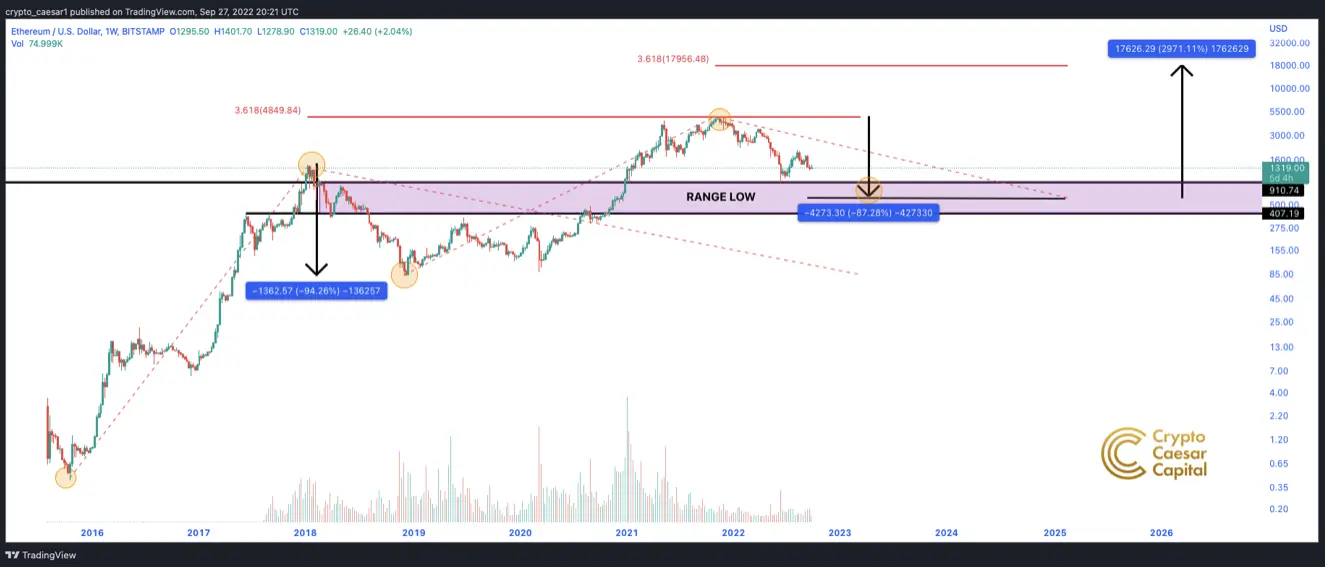 However, with pain comes opportunity and it is my view that Ethereum will present as a huge 'opportunity' to the crypto investor. My buying range for Ethereum starts at $900 and runs down to $400 (see chart). I am not convinced that $400 will be hit, as the buying pressure down there will be too intense. That being said, in my view a real opportunity might be around the $600 mark."
Ethereum Price Prediction 2022–2025
In our pre-Merge Ethereum price prediction, we gave targets from $1,500 to $8,000 as soon as 2022's end. For 2025, experts gave a predicted range of $8,000 to $20,000. Let's see what Crypto Caesar's technical analysis shows:
"When looking at the Ethereum chart on the weekly time frame with trend-based Fibonacci extension tool, it's fairly evident that Ethereum likes the Fibonacci extension 3.618. This tool is used by running it from the price low to the price high and back to the price low thus giving us a projected next target. Therefore, from the low of 2016 to the high of 2018 then back to the low of 2018 gave us the target of $5,000 this cycle which was hit exactly in November 2021.
On that basis, we can run the trend-based Fibonacci extension from the low of 2018 to the high of 2021 and then to the middle of my range ($600), which gives us the next possible target of $17,626. This would be a 2,971% move versus the 5,778% move from the last cycle. Therefore, it would in fact be a diminished return compared to the last move. Consequently, in my view is a reasonable target for Autumn 2025.
In the midterm (after the lows are run) I can see Ethereum trading at a high of $3,400 by the summer of 2023 with a pullback to about $2,000, then a sideways range into 2024 where the real fireworks will begin.
In conclusion, I would say there is a real prospect of Ether trading on, above, or close to $17,626 by Q4 2025."
If you are interested in hearing more of his Ethereum analysis, watch an update from his YouTube channel:
Conclusion
So far, the Merge and move to Proof-of-Stake have been a success, despite not launching ETH to the Moon just yet. Such a massive Ethereum protocol upgrade usually yields results in the long term, and Crypto Caesar agrees that Ether will prove to be a wise choice.
Many thanks to our guest, Crypto Caesar for his valuable input. See more on his Twitter and YouTube, and follow ChangeHero's blog and social media for more content like this!
Twitter | Facebook | Reddit | Telegram
---
Disclaimer
This article is not a piece of financial or investment advice. No price prediction is guaranteed to provide exact information on the future price. When dealing with cryptocurrencies, remember that they are extremely volatile and thus, a high-risk investment. Always make sure to stay informed and be aware of those risks. Consider investing in cryptocurrencies only after careful consideration and own research, and at your own risk.
Learn more:
Quick links: