Despite being often seen as a singular landmass, North and South America are extremely different when it comes to crypto adoption. The northern part leads in institutional adoption, while in the south cryptocurrencies are being adopted for daily use. What countries have adopted cryptocurrency in the region? ChangeHero team looks into the latest research to answer this question.
Preface
This article is the third entry in our November series on 2020 crypto adoption. In previous articles we covered Asia, Africa, Europe and the Middle East. Find the information about these regions, sources and methodology in the previous entries.
Crypto Adoption in North America
North America might be the region with only two countries, but the cryptocurrency adoption statistics coming from it are intriguing nonetheless.
[table id=6 /]
The USA
The USA is at the center of the institutionalization of the crypto market. 90% of value transfers are above retail value ($10k), signaling use by organizations moving capital. Moreover, transfers over $1M USD in value have also grown in 2020. Such amounts are generally inaccessible to retail investors, so it definitely demonstrates the growing influence of institutional investors on the market. Largest and best-known examples of such companies are Grayscale Investments and MicroStrategy, which hold 2.4% (500 thousand) and 0.08% (16,796) of the entire supply of BTC respectively.
America also leads in Bitcoin adoption. More than 70% of on-chain activity coming from North America is in Bitcoin, and the trading activity is low, which means that investors prefer to hold. It makes sense that there is not much interest in stablecoins, as most of them are pegged to USD.
The US has some regulations that concern crypto trading but are not crypto specific. Most restrictions that apply to US citizens have to do with offers of assets unregistered by the US Securities and Exchange Comissions. Strict regulations might have slowed down the crypto adoption in the USA, as could have been seen with the Libra project.
Canada
Vancouver in Canada was the very first city to install a Bitcoin ATM in the entire world. According to CoinATMRadar, it is second only to the USA in number of crypto ATMs. P2P volumes peaked in 2018, but in 2020 stayed rather low, with about $500 CAD weekly.
Canadian crypto-related laws shape up to become one of the earliest comprehensive legal frameworks for crypto. We have covered it in a guide about crypto regulations around the world.
Canada also makes a contribution into Bitcoin adoption. It has regulated and licensed crypto businesses and exchanges, like Wealthsimple Crypto. The only downside is that it is currently restricted to Canadian citizens only. As more regulatory frameworks appear and exchanges choose to comply, this might become the new norm.
Crypto Adoption in Latin America
Unlike the North, Latin America is quite diverse when it comes to the mass crypto adoption. Cryptocurrency adoption by country varies in quality: some countries make use of P2P trading, others use crypto for remittances.
[table id=7 /]
Venezuela
In terms of crypto adoption, Venezuela is behind Russia and Ukraine only. It is a unique case in which the adoption of cryptocurrencies in the nation is twofold, and on both sides crypto is seeing significant use.
On the one hand, there are a few initiatives coming directly from the government and supposedly favorable for crypto. Venezuela has launched its own national cryptocurrency pegged to oil price, Petro. It also has several officially operating crypto exchanges. The reason for that, though, is quite simple: Venezuelan government is currently under sanctions enforced by the US. To circumvent them, the sanctioned individuals use petro and the exchanges. This assumption is proven by the fact that most volumes going through the official exchanges are well above retail value: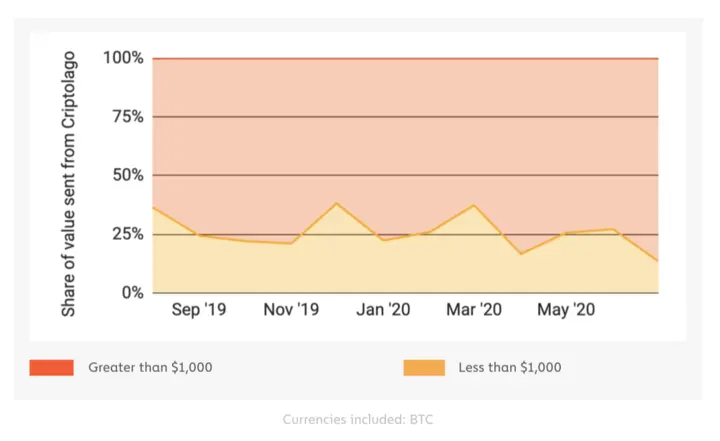 From this chart it is clear that the majority of transfers on one of the officially licensed Venezulan exchanges, Criptolago, are more than $1,000 in BTC equivalent. Last year, Venezuelan bolivar (VES) hit 10,000,000% in hyperinflation, and the regional expert interviewed by the Chainalysis team admitted the region is facing an economic crisis. The only logical conclusion is that only the wealthy few actually use the official exchanges.
But why is Venezuela the third country leading the world in crypto adoption in 2020? There is also a great deal of mass crypto adoption, which is signaled by the P2P volumes. Unsurprisingly, Venezuela leads the region in this metric. On average in 2020, weekly volumes of P2P trades in bolivar would be about $5 million in USD equivalent. However, since the hyperinflation is still in play, trades in VES skyrocketed in 2020 from 50 billion to almost 150 billion.
Colombia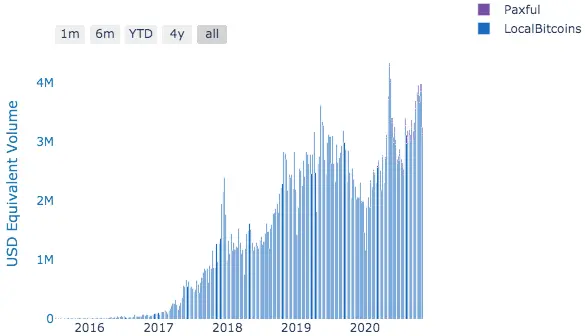 Colombia is second only to Venezuela when it comes to P2P trading volumes, and it is not too far behind! The graph of P2P trades in USD equivalent shows active growth: from $1M in January to $4M in October. Colombia also has the highest number of Bitcoin ATMs in the region.
Colombian government is actively working on promoting blockchain technology and included crypto payments in the national development strategy.
Brazil
Brazilian government seems to have a favorable stance on blockchain. There is news about the national CBDC, blockchain-based IPO for a state-run bank, the use of blockchain to track COVID-19 vaccination efforts and so on.
The P2P trade volumes do not seem to be as high as in the countries previously covered. On average, the weekly volume on Paxful and LocalBitcoins would come up to approximately $0.5 million in USD equivalent. However, Brazil ranks high on the global rank because it leads in the value received on-chain: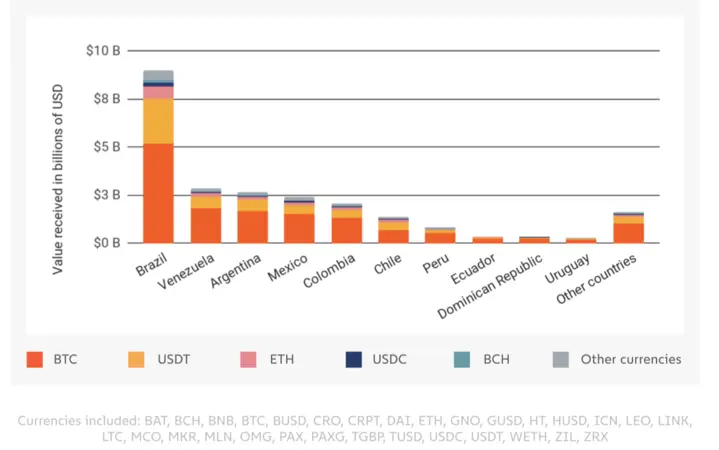 This means that Brazilians seem to prefer centralized services to P2P platforms. The degree of Bitcoin adoption is quite high but also altcoins are in demand.
Peru
Peru and Venezuela have tight connections that manifest in some facts related to P2P trading and remittances markets. In March, 2019 there was the largest blackout in the history of the nation, which brought down about 70% of electricity in Venezuela.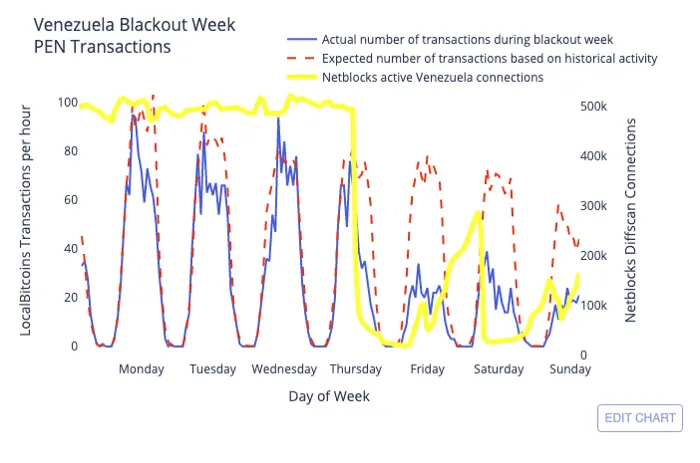 In the research made by Matt Ahlborg, he found out that on that week not only Venezuelan P2P trades diverged from the expected trends but also several Latin American markets. The Peruvian sol (PEN) markets had the most visible effect of influence by that incident.
The amount of migrants and refugees from Venezuela is estimated to be 768,000 people, second only to Colombia. The aforementioned research found that Bitcoin is being used as a bridge to transfer fiat currencies to other countries of the region. This might be what drove the growth of P2P volumes to over $1 million in USD in 2020.
Key Takeaways
North America is at the center of growing interest from institutional investors towards Bitcoin adoption. Investors there favor BTC and tend to hold;
Latin America uses cryptocurrencies to hedge against inflation and as a vehicle for value transfer more;
Which country adopted cryptocurrency in these two regions? By the mass crypto adoption metrics, it is Venezuela;
What percentage of the population owns cryptocurrency? Even with the data collected by analysts, it is impossible to reliably track all the activity to real people. However, if we compare the two regions, judging by the trends, it looks like there is a higher percentage of crypto owners in Latin America than in North America.
Conclusion
Americas are an intriguing subject to investigate crypto adoption in. The two regions known as the New World show two completely different pictures. 
With that we covered pretty much the entire world! We're already looking forward to future series of articles like that, and not to miss them, make sure to subscribe to our blog and give us a follow on social media: Twitter, Facebook, Reddit and Telegram.
---
Learn more:
Quick links: