The crypto market is turbulent these days, and assets that were popular months or years ago ended up in very different places in the market capitalization rankings. However, Bitcoin SV still has holders, users, and even fans. What is happening with Bitcoin SV price?
Key Takeaways
Bitcoin SV is a fork of the Bitcoin blockchain which did away with the limitations on throughput, enabling new use cases. With Ethereum transitioning to Proof-of-Stake, BSV can potentially become a place for miners and developers to move on to;
The general sentiment around the BSV coin is neutral, if controversial. Traders in particular express hopes for BSV's price, though admitting that the performance of the coin was underwhelming;
The BSV–USD pair is currently in an undervalued position, but the volumes and volatility do not create enough impetus to move the price.
Fundamentals of Bitcoin SV
Bitcoin SV is a fork of the Bitcoin Cash blockchain which parted ways with Bitcoin Cash and by proxy, the original Bitcoin blockchain in late 2018. Its name stands for "Bitcoin Satoshi's Vision", after the pseudonymous creator of Bitcoin Satoshi Nakamoto. By 2020, after the Genesis hard fork, it achieved its goal of lifting the limit on the number of coin transactions in a single block.
The Bitcoin Association, an organization that coordinates the community members, maintains that BSV is the original Satoshi protocol. The lengths they went to spread this narrative caused the coin to gain infamy with the crypto community at large. Putting all narratives aside, despite their undeniable contribution to the perceived value of a crypto asset, BSV is a digital currency not entirely devoid of intrinsic value on its merits alone.
Factors to Consider
Several factors contribute to the value of the Bitcoin SV network. One of them is utility and the opportunities for building applications powered by BSV's blockchain. The current iteration of the Bitcoin network has neither BSV's scalability nor versatility. Many of the apps supported by the Bitcoin SV blockchain make use of microtransactions, which are feasible without the block limit and low transaction fees. Examples of those include a social network Twetch and an NFT marketplace by RelayX.
Another point that may turn the market in favor of Bitcoin SV is the Ethereum merge. At the moment, the Ethereum ecosystem is incomparably larger with all native applications and sidechains. For that reason, Ethereum is also pretty profitable to mine — at the moment. The Merge will do away with this since Ethereum is changing a consensus algorithm from Proof-of-Work to Proof-of-Stake. From a development perspective, BSV does most of the things Ethereum does, while being a Proof-of-Work chain. The only significant hurdle to this would be finding a way to switch from Ethash to SHA256.
Read More
A more detailed description of the Bitcoin SV platform and its native cryptocurrency can be found in our helpful guide. And if you are more interested in how much the coin will be in the years to come, peep our BSV price prediction 2022 to 2030.
Insights into Bitcoin SV (BSV) Price Action
YouTube
AI
Algorithmic technical analysis of the Bitcoin SV price charts provided by CentralCharts suggests that indicators vary from neutral to bullish. A short-term Bitcoin SV (BSV) price prediction they provide is bearish but going to the weekly time frame and up, indicators point to a trend reversal.
Twitter
possible for sure - there is a resistance at $75
Short term $BSV pic.twitter.com/YW00SVklSS

— ❣️Lisa N Edwards ❣️ (@LisaNEdwards) August 26, 2022
Twitter users and traders also seem to shrug off the skeptical sentiment and focus on the value of the Bitcoin SV network. Even if BSV coin stumbles at $75 before going to $200 by the end of 2022, their outlook is optimistic.
Our Bitcoin SV Price Analysis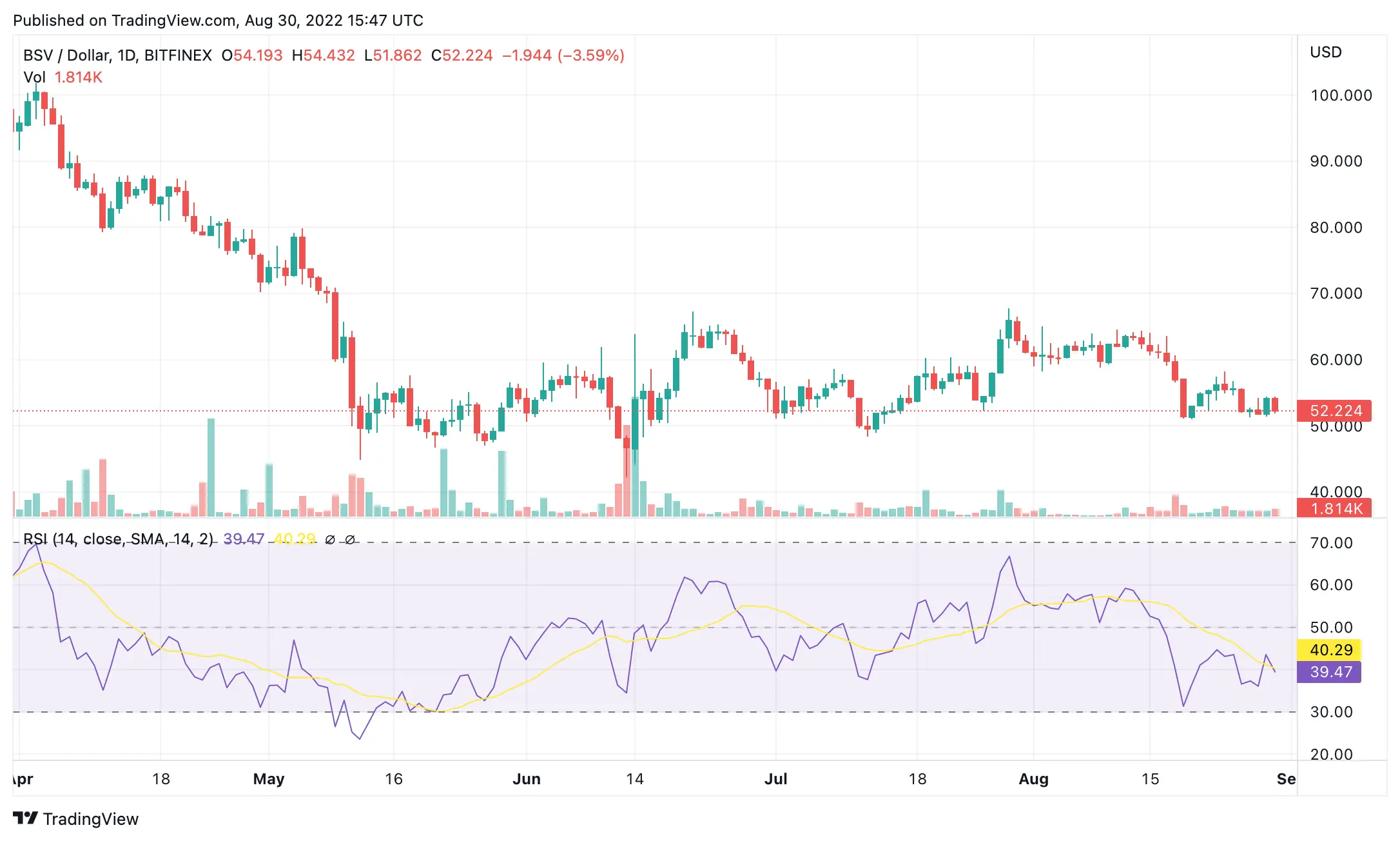 So far in the last two quarters, holding BSV has not been easy. The coin lost almost half of its value by May, concurrently entering the oversold area. Since then, its range has been tightening very close to its current price. At the moment of writing, the relative strength index suggests that BSV stays in the undervalued area, but the volatility and trading volume aren't there to support a breakout just yet.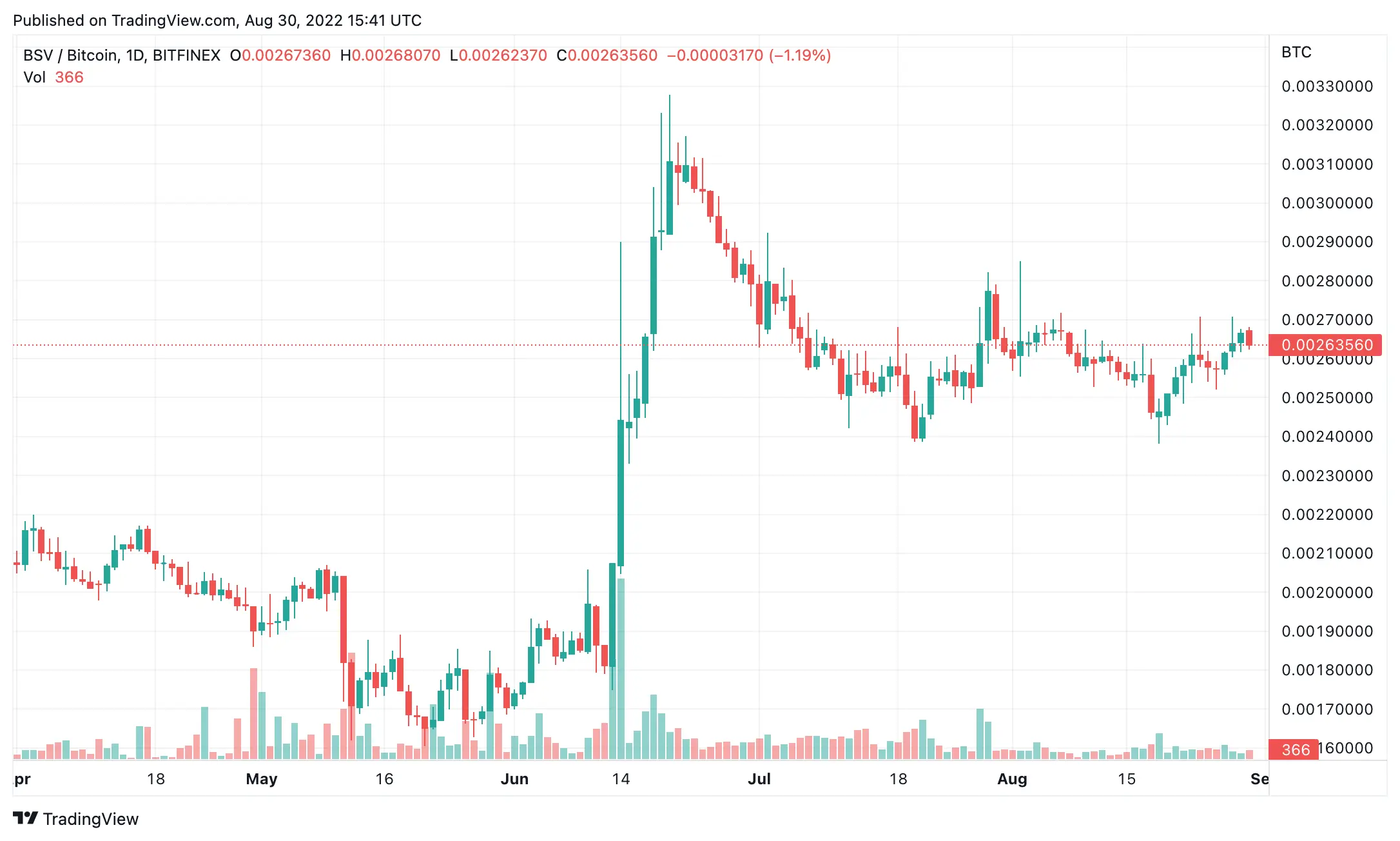 Viewing the charts for BSV–USD and BSV–BTC provides a deeper understanding of the price movements: what is in tune with the market or not. The daily chart clearly shows that for a week in June, BSV was massively and consistently outperforming Bitcoin. Now it is no longer noticeably decoupled and also moving in a sideways trend. Still, occasionally, BSV has its streaks of doing better than its original chain.
Conclusion
Even the long-term fallout doesn't stave off the optimism about Bitcoin SV's price, though it's generously seasoned with harsh negativity. The Ethereum Merge is an event that opens up an unexpected opportunity for both the crypto market and the Bitcoin SV network.
Did you like this article? Our blog has even more articles on both Bitcoin SV and other digital assets. And so do our social feeds, where you can get updates and engaging activities every day: Twitter, Facebook, Reddit and Telegram.
Disclaimer
This article is not a piece of financial or investment advice. No price prediction is guaranteed to provide exact information on the future price.
When dealing with cryptocurrencies, remember that they are extremely volatile and thus, a high-risk investment. Always make sure to stay informed and be aware of those risks. Consider investing in cryptocurrencies only after careful consideration and analysis and at your own risk.
Quick links: