For the last couple of weeks, Bitcoin was the center of attention because of an impressive rally. However, crypto space is not only about Bitcoin — there are thousands of altcoins making up the market, too. In this guide to the best 2021 altcoins, ChangeHero team will explain the merits of the top altcoins and give ideas which ones will be the best altcoins to trade.
What are Altcoins?
In crypto lingo, altcoin refers to any cryptocurrency that is not Bitcoin. Forks of Bitcoin, Ethereum tokens, standalone currencies — all fall into this category. Historically, Bitcoin alone has made up half of the crypto market capitalization or more. The rest of total market cap has been split between hundreds and thousands of altcoins — hence the general term.
Despite there being tons of different projects (not always legitimate!), there are many truly worthy of investing in. Many experts claim that the best cryptocurrency to invest in 2021 is an altcoin, although opinions vary on which one. Some are more fit for long-term investing, and some are more fit for trading. Let's see first, what is the difference and then check out our suggestions for the best altcoins to trade in 2021.
Why Trade Altcoins?
Bitcoin might be the go-to cryptocurrency for some traders, but trading altcoins has its merits. First, with more institutional traders purchasing Bitcoin, its price will get more closely correlated with the stock market. On the other hand, altcoins tend to follow Bitcoin trends but can also break away from it. There are always some altcoins that outperform Bitcoin at any given time. We will see that on concrete examples in the following section.
Secondly, it is still possible to become an early adopter of an altcoin. Bitcoin was launched more than ten years ago and multiplied by thousand times over its history. Lower cap assets tend to fluctuate stronger, so there is a higher risk to reward ratio. Still, we recommend that the best altcoins to invest in 2021 be more established and reliable projects with a reputation. Even the top altcoins can see double-digit growth as high as by 50%, as seen a few days ago:

Thirdly, altcoins have various utilities. Some power a platform, some can be used in fiat currencies' stead. Bitcoin, as it is now, arguably offers storage of value and hedge against inflation. In case of a project's success, an altcoin can occupy a similar niche. It is still likely that the best 2021 altcoin to invest in hasn't got into the spotlight yet!
Best Altcoins to Trade in 2021
Ethereum
The second largest by capitalization cryptocurrency, Ethereum, has already gained a solid reputation in the crypto community over five years. The Ethereum platform is used as a decentralized computing system which utilizes smart contracts to execute transactions when certain conditions are met. Ethereum platform houses tokens and stablecoins, as well as DeFi. It means ETH has a great deal of utility and is in high demand, which makes it the best 2021 altcoin to invest in terms of reliability.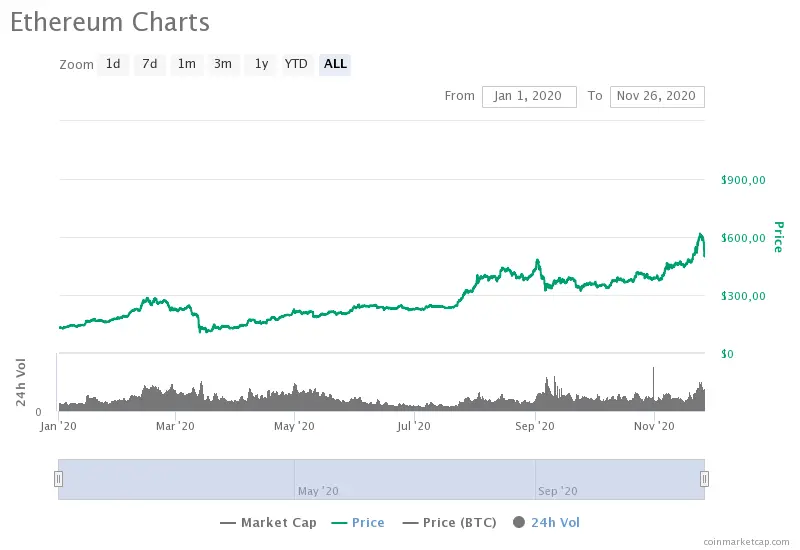 In 2020, Ethereum outperformed Bitcoin: in comparison to the year's lowest, Bitcoin is up by 296% but ETH is up by 430%. At the time of writing, 1 ETH is worth $504.89. Since August, it was following the uptrend in Bitcoin without correcting as strongly. In less than a couple of months, it grew well above $300 and even touched $621 when Bitcoin neared $19k.
Ethereum is one of the most promising altcoins right now, and can be the best altcoin to have in 2021. The biggest prospect for it is the launch of ETH 2.0 Phase One. Essentially, it will transition to Proof-of-Stake by the end of the year, which will drastically change the economic model of the platform. After the transition, any holder that owns enough ETH can lock it up in the system and let the stake accumulate passive income.
With that in mind, our Ethereum price prediction is very hopeful: despite the corrections, it has enough momentum to reach a new ATH as soon as this year or in early 2021.
Litecoin
Litecoin is one of the oldest currencies in the list. It is a code fork of Bitcoin with increased supply and transaction throughput. LTC is often called "digital silver" to Bitcoin's "digital gold", meaning it is similar but less scarce and valuable.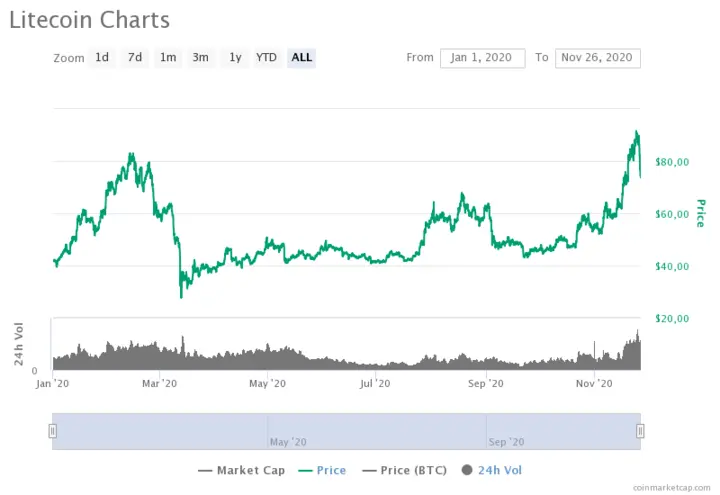 In 2020, Litecoin made a comeback into top altcoins. Currently, it is up 171% from the year's lowest. During the last 30 days alone, LTC grew by 35%, outperforming Bitcoin in the same time frame (BTC grew by 30%).
The rise in 2020 might have to do with updates and new partnerships. Litecoin Foundation earlier this year announced collaboration with Atari and a few other new partnerships. The community is now closely watching the progress of the Litecoin testnet, where new updates, including the MimbleWimble protocol, are being tested. This update, already dubbed "Litecoin 2.0", will make the network more scalable and privacy-oriented. The new version has the potential to make LTC one of the best altcoins 2021. MimbleWimble is also supposed to hit mainnet this or early next year, our Litecoin price prediction for 2020 and early 2021 is close to triple-digit numbers.
XRP
XRP is an open-source cryptocurrency. Its purpose is to serve as a real-time gross settlement (RTGS) system. RTGS is used in money transfers, such as remittances.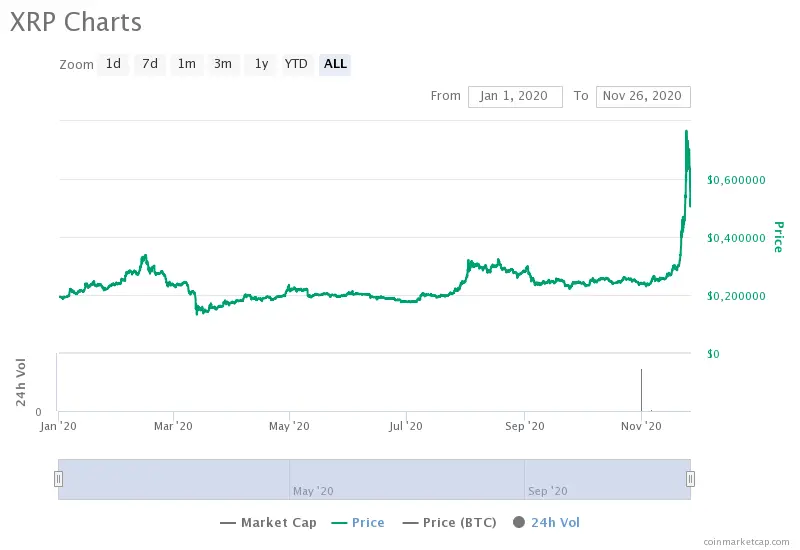 Out of all major cap altcoins, XRP looks like the biggest winner from the current market rally. Over 2020, XRP appreciated as high as 338%, and most of its growth happened at the end of the year. The difference between the 7d lowest and highest prices is 134%, meaning at the peak, XRP gained more than twice of its value, and it happened in a few days.
The reasons for this jump in price could be the news of Ripple buybacks and new trademarks. In particular, Ripple labs registered the "Paystring" trademark and described the product in the application as remittance and virtual finance service. The new product can serve as a use case for XRP, so the investors flocked in to acquire the asset. In the light of the news, our XRP price prediction in this bull run is a new ATH and even double digits in the longer run.
Chainlink
Chainlink is a decentralized oracle platform: with it, on-chain protocols can get real-world data from operators. Being decentralized means the Chainlink oracles do not have a single point of failure. LINK is the token that is used to reward node operators and represents their reputation.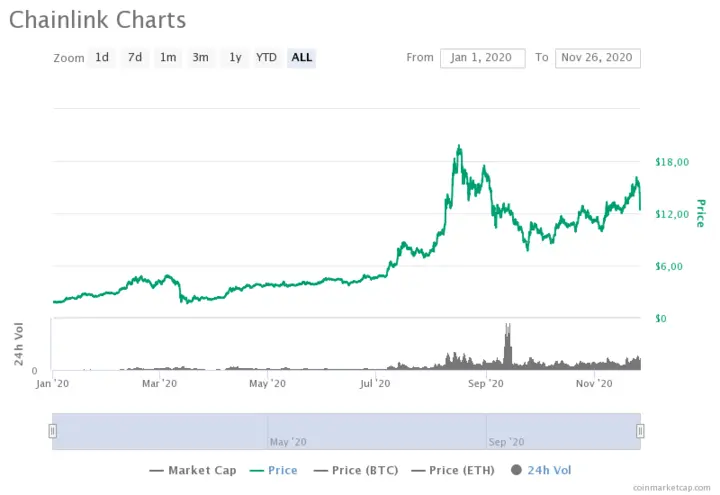 Which cryptocurrency is growing the fastest? Definitely, Chainlink's LINK is one of the biggest winners of 2020. The token found its way into the top altcoins and appreciated by a whopping 696.9%, outperforming Bitcoin more than twice. It is currently down from its current ATH ($19.85) but in a clear uptrend. The Bitcoin rally can help it grow further, and our Chainlink price prediction for the rest of the year is that a new ATH can still happen in 2020! As for 2021, LINK is not off the list of the best 2021 altcoins either.
Bitcoin Cash
Bitcoin Cash is a Bitcoin (BTC) fork which split from it in 2017. The main change that BCH brought to the table is the increased block size, which means that BCH can process more transactions at once. It was designed to become the version of Bitcoin that is more suited for day-to-day transactions.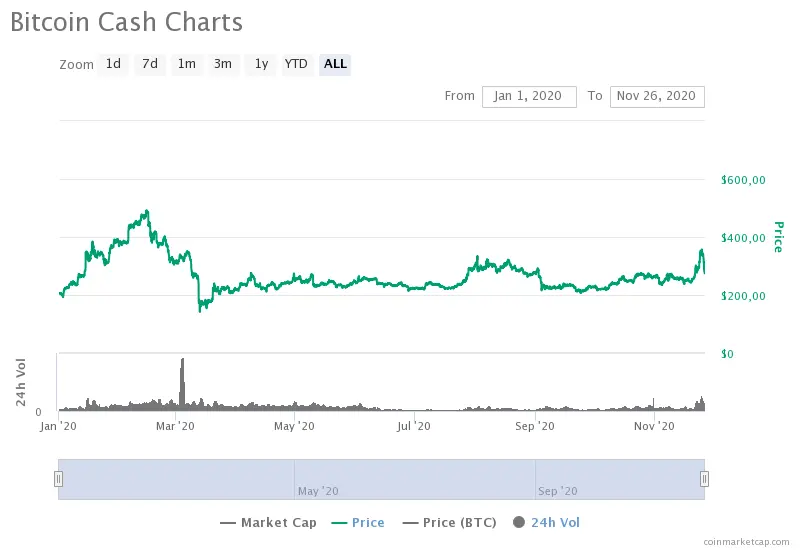 Lastly, we include Bitcoin Cash, which recently saw a hard fork, in this list. Bitcoin Cash was doing pretty well this year, reclaiming its position among top altcoins and growing by 89%. Its price action might get tumultuous in the short term, as traders finish selling off the assets they bought to claim the airdrop. However, in the long run, Bitcoin Cash still got it. New partnerships such as PayPal support and BCH-based Flexusd stablecoin prove that there is demand for BCH.
So, our Bitcoin cash price prediction is we may see it over $400 again this year, should the Bitcoin rally continue.
How to Get Best Altcoins 2021? Step-by-step instructions
You have probably made up your mind about which are the best altcoins for you to invest in 2021. Ready to make your alt bags heavier or purchase a brand new coin to your portfolio? Here's how you can do it in few easy steps:
Choose the currencies on the home page, amounts and the type of exchange. Provide your wallet address in the next step and check the amounts;
Double-check the provided information, read and accept the Terms of Use and Privacy Policy;
Send in a single transaction the sum of cryptocurrency you will be exchanging. For  Fixed Rate transactions you have 15 minutes before it expires;
From here on, you won't need to do anything. At this step we are doing all the work: checking the incoming transaction and doing the exchange as soon as it arrives;
As soon as the exchange has been processed, your assets are on the way to your wallet. And so, the transaction is finished!
Remember that you can reach our support in the chat on our website or through the email: [email protected] — they are available any day, any time!
Key Takeaways
Ethereum by 2020 has shaped up to be the classic altcoin. Owning it in the current crypto space is a good idea if you use tokens, stablecoins or DeFi protocols, and ETH stands well on its own as an investment;
Chainlink is one of the best altcoins in 2020 and can as well be the best 2021 altcoin, at least early into the year;
XRP has shown amazing growth during this market rally, and future plans of Ripple Labs can propel it even further in terms of price and adoption. In our opinion, a solid contender for the title of the best altcoin 2021;
Litecoin is back in the spotlight and will be an interesting asset to watch for the rest of 2020 and in 2021;
Bitcoin Cash may be going through some motions and did not outperform Bitcoin in 2020, but it should not be disregarded. BCH deserved its spot in the top altcoins and keeps holding onto it rather well.
Conclusion
In the end of the day, it is up to you to decide what is the best cryptocurrency to invest in 2021 and what is the best altcoin to buy right now. Still, we hope this article provided you with enough information to make up your mind and plan your purchases. ChangeHero is always at your service to help you swap cryptocurrencies effortlessly. We also help to keep up to date with the market: read news and informative guides in the ChangeHero Blog. Follow our social media for regular updates: we're on Twitter, Facebook, Reddit and Telegram.
---
Learn more:
Quick links: