A new trend on the crypto market, "move-to-earn" was truly started by the STEPN app. Its governance token GMT added 2,000% to the value in a month, but does this show where GMT will go next or will the rally end soon? We compiled analysts' opinions in this STEPN price prediction 2022 and further into the future.
STEPN Price Prediction 2022-2030
| | |
| --- | --- |
| Year | Price Forecast, USD |
| 2022 | $6–60 |
| 2023 | $3.643–5.831 |
| 2024 | $46.206–73.1 |
| 2025 | $4.93–100 |
| 2030 | $15.57–21.56 |
Even though STEPN has just entered the public market, forecasts for GMT are already being drafted. STEPN price prediction 2022 vary wildly, from a moderate target at $6 to $60;
There are both bearish and bullish predictions for GMT in the next few years. Some analysts do not see it reaching $6 but others claim it can exceed $70;
Some experts give an extreme GMT price prediction 2025 of $100 but others give more realistic estimates even for 2030.
What is STEPN and GMT?
STEPN is a novel move-to-earn Web3 and NFT application: users receive rewards for walking or running, provided they own (or rent) NFT "sneakers". STEPN is powered by the Solana blockchain, making it less dependent on network fees and more environmentally friendly.
Once a user buys a "sneaker" NFT with SOL, they can start earning app's native tokens: Green Satoshi Token (GST) and with more exclusive "sneakers", the governance Green Metaverse Tokens (GMT).
GMT has a limited supply, 6 billion. To control the value of the circulating supply and meet demand of the growing user base, the developers introduced burning and randomized issuance.
For more information and insights on STEPN and GMT, check out our article on Move-to-Earn and the project.
GMT Price History (2022)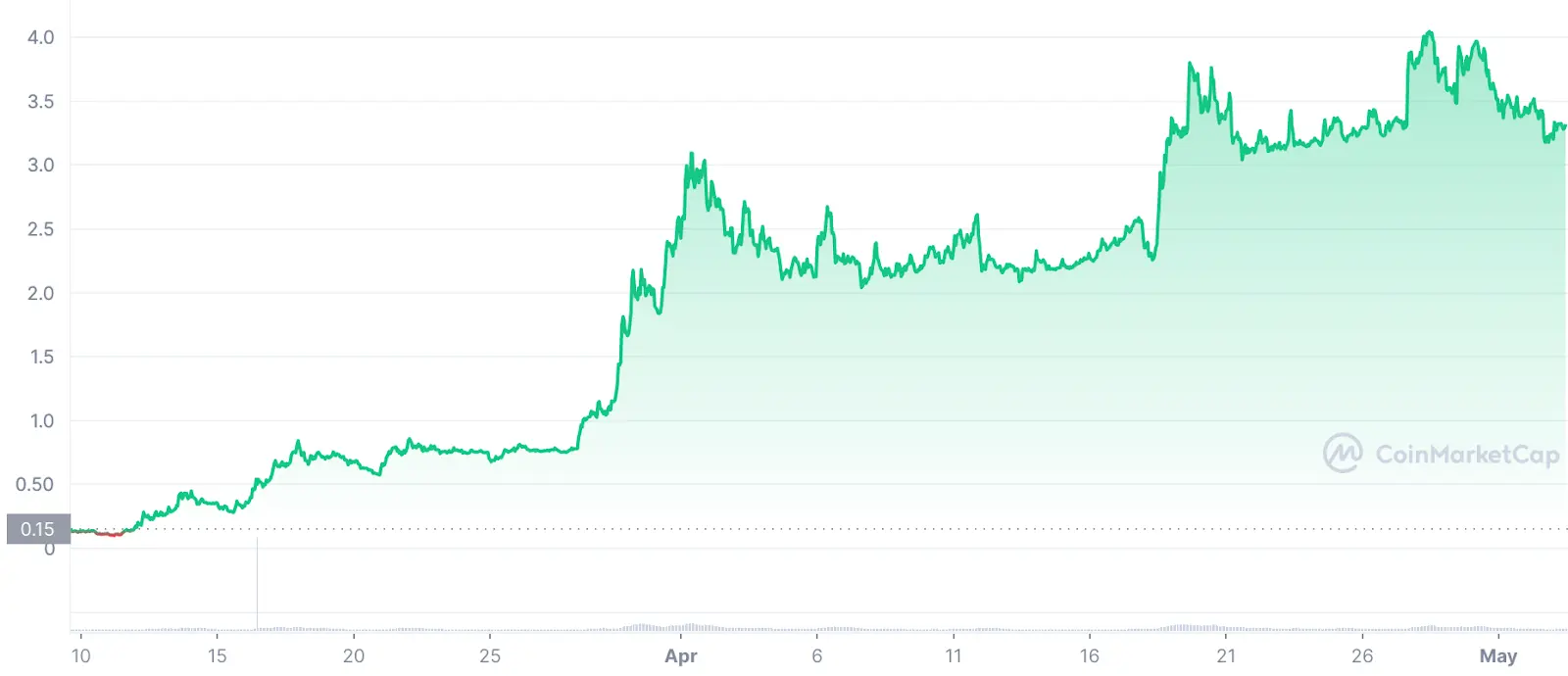 Even though the development of STEPN started in 2021, the app's tokens entered the public market in March, 2022. Since then, for GMT it has been pretty much up all the way, so far.
The first surge of about 2000% coincided with the start of April, when the project announced a burning mechanism and hinted at a partnership with a large sports brand. Later it was revealed to be Asics, which caused a new jump in price. By the end of April, on April 28, 2022, it has reached an all-time high: $4.11.
At the time of writing, GMT is worth $3.31 and the token ranks 47th by market capitalization according to CoinMarketCap.
What can Influence the Price of GMT?
App Development
GMT is a native token in the STEPN app, which means it largely depends on this single project and has little use outside of it. Therefore, new features in milestones for STEPN have direct influence over the GMT price.
As of May, the app has entered its fourth phase of public beta. Participants of previous phases will be eligible to receive a piece of the exclusive NFT collection on the BNB blockchain.
Partnerships
STEPN has been developed with the support of prominent crypto VCs and backers, such as Binance, Sequoia and Alameda Research.
Most recently, the price of the app's tokens surged on the news that they collaborated with a sports shoes brand Asics. Another launchpad for the price came from Coinbase and Gemini listings.
Move-to-Earn Sustainability
STEPN was lucky enough to occupy a nascent Move-to-Earn niche and is now its most prominent project. Will it be enough to ensure the longevity of the project?
The Block has expressed concerns about the transparency and longevity of the tokens, though they positively evaluate the app's "stickiness". Our team members also described it as less sound than Bitcoin by far.
GMT on Twitter
#GMT is going to make it's new high in no time.
It's volume have increased by 13% in 24 Hours.#cryptotrading #CryptoSignals #Cryptos #STEPN pic.twitter.com/Qt9g1Chqtv

— Monica Thorne (@MonicaThorne8) May 4, 2022
According to user Monica Thorne, the volumes on the GMT market are surging. The volume action is usually followed by price swings.
$GMT 📉

Strong bearish sell signal / reversal signal on the daily.

i will not be surprise the the price will drop toward 2.400$ during the next few days. pic.twitter.com/5aIfMqgA61

— Crypto_Jobs🏂 (@CryptoJobs3) May 3, 2022
Trader Crypto Jobs is on the contrary bearish on GMT at the moment. The price has been soaring but in all markets what goes up must come down, or so they say.
❤️‍🔥For now, 8% of the available 600M $GMT supply have been burned since April 14th (buy-back-and-burn strategy) (10k tokens an hour currently + 3 extra-juicy burning (from players ? from the team?)). As a reminder, only 10% of total supply have been released yet.@Stepnofficial pic.twitter.com/Cxtva3B9JV

— Krit | STEPNstats (@Krit_STEPNstats) May 4, 2022
User Krit applies fundamental analysis to their GMT forecast: there is a clear correlation with large burning events and price drops. Will a new one cause another sell-off?
STEPN Price Prediction 2022
Hassan Shafiq of CoinMarketCap's Alexandria thinks that GMT has strong prospects because of the usability of the app. He puts a short term target at $6 but warns that the GMT price can change sharply both ways due to the low market cap ($1,929,436,535 at the time of writing).
Analyst Michael Abetz tried comparing GMT to the star of 2021, Shiba Inu, to see if the former is performing as well.
What he found is that GMT still has ways to go to reach SHIB's performance: it has to add 20 times more to its market cap to come close to its popularity. At that point, GMT will have to be trading for 20 times the current price, for $60.
YouTuber Yuri Bishko (BiKo Trading) also compares GMT to Axie Infinity's AXS. He is confident that it can repeat AXS's success but the absolute maximum price GMT will ever reach is at $16.
GMT Price Predictions for 2023 and 2024
Even with little data, prediction services can build projections, and so far, they seem to be bullish. For example, the cryptopredictions.com service forecasts a 30 to 40% increase in price for GMT in 2023, making it worth $3.643 to $5.831.
However, the low amount of data makes such predictions unreliable. Wallet Investor suggests that by 2024, if GMT moves in the same patterns, it will arrive at $46.206 and even $73.1.
STEPN Price Prediction 2025
Though the previous prediction may seem too far-fetched, there are other forecasts that share the sentiment. CoinQuora's prediction for GMT in 2025 puts the target as high as $100.
The other estimates are more modest than this, though. UpToBrain author Nitin Kashyap does not see GMT repeating a parabolic rally — or sticking to the highs of it — and predicts its price in 2025 will be $4.93.
Something more bullish but still moderate for GMT holders in 2025 is predicted by Digital Coin. They claim that on average the token's price can hold on to $5.96 and up to $7.99.
STEPN Price Prediction 2030
What about the end of the decade? It is as uncertain as it can get, but some ideas guessing the GMT price around that time still float around.
For one, PricePrediction.net puts the target for GMT to reach in 2030 at $21.56. Digital Coin is a bit less bullish and estimates it to reach $15.57 maximum.
ChangeHero STEPN Price Prediction
STEPN has stormed into the move-to-earn market and made strides in a very short amount of time. The swiftness of their growth makes it incredibly tough to make reliable claims about its sustainability and stickiness.
STEPN's token GMT has quickly barged into top-50 assets but it still has a relatively small market cap, making it very susceptible to volatility. Due to the growing interest and even hype around the app, we may see a new ATH pretty soon.
That being said, there is still a possibility of a negative scenario: prominent backers can make the project seem legitimate but even this support will not prevent the project from fading into obscurity if M2E does not catch on. Be sure to evaluate your risks before investing into a risky asset.
Conclusion
Even though GMT is only a few weeks on the market, analysts speculate about its future. The plurality of opinions hints that most of them expect STEPN to stick around.
Check out and subscribe to our blog for more tips and guides. Give ChangeHero a follow on Twitter, Facebook, Reddit and Telegram for live updates and even more content.
---
Frequently Asked Questions
What is STEPN?
STEPN is a Solana-based move-to-earn app, in which users can receive rewards based on the quality and stats of their NFT sneakers. The application rewards users with the GST or GMT tokens, the latter have a capped supply and are used in platform governance.
What will STEPN be worth in 2022?
Analysts give varied targets for GMT in 2022, from $6 to $16 and even $60.
What will STEPN be worth in 2025?
Depending on the source, GMT is estimated to reach only $4.93 or soar to $100 in 2025.
What will STEPN be worth in 2030?
If STEPN is around in 2030 and does not change the tokens dramatically, GMT is predicted to be worth $15–20.
Is STEPN the next Shiba Inu?
Analysts tried to compare the two assets, on the basis of their growth and consistent trending. However, for GMT to compare to SHIB's growth in 2021, it has to multiply its market cap and price by 20 times more.
Disclaimer
This article is not a piece of financial advice. No price prediction is guaranteed to provide exact information on the future price.
When dealing with cryptocurrencies, remember that they are extremely volatile and thus, a high-risk investment. Always make sure to stay informed and be aware of those risks. Consider investing in cryptocurrencies only after careful consideration and analysis and at your own risk.
Learn more:
Quick links: