Following the example of Shiba Inu, many meme coins in 2021 tried to become something more than just "dog money". And what is more, this one is not just a copycat. In this article, the ChangeHero team reviews Saitama Inu news and updates, analyzes its fundamentals and technical indicators, and gives a Saitama price prediction.
All Saitama Price Predictions: 2023–2033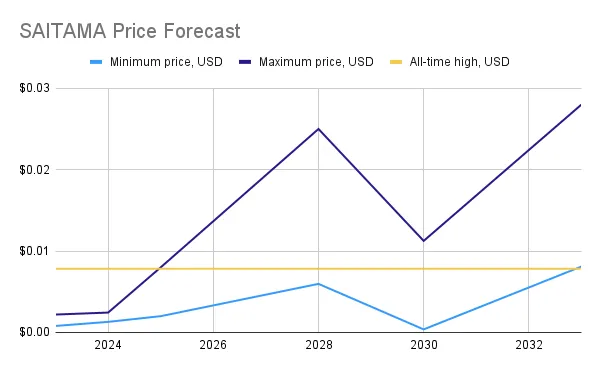 Optimistic and moderate SAITAMA predictions do not agree on whether it can overtake its current price record of $0.00433786. A bull case claims that it can do it as soon as 2025 but cautiously optimistic Saitama's price predictions see it happening after a whole decade;
Bullish Saitama's price estimations see it peak around $0.025 before 2030;
On the other hand, more moderate predictions concede SAITAMA can dip as low as $0.000375 before then.
What is Saitama (SAITAMA)?
Saitama Inu is a community-driven cryptocurrency project launched in 2021 and, as the name suggests, inspired by dog-themed meme coins. Despite its origins, it claims to have departed from a meme coin status to become a Web3 project that will make this groundbreaking industry safe and simple.
Saitama Inu is built on the Ethereum blockchain and initially had a total supply of 1 quadrillion tokens. Half of the tokens have been burned, and 45% have been added to the liquidity pool, with the remaining 5% allocated for marketing and development.
The project aims to create a strong community by involving token holders in decision-making processes. It also incorporates a deflationary mechanism through token burns, potentially increasing the token's value over time. By adding a significant portion of the token supply to the liquidity pool, Saitama aims to enhance liquidity and stability.
In June 2022, the project was soft-rebooted to Saitama v2. It overhauled its branding and announced a departure from its meme origins. From here on, they would focus on real-world use cases and utility. The migration also saw the supply redenomination: six zeroes were removed from the total, maximum, and circulating supply of SAITAMA.
Saitama Coin Price Performance
SAITAMA Price in 2021–2022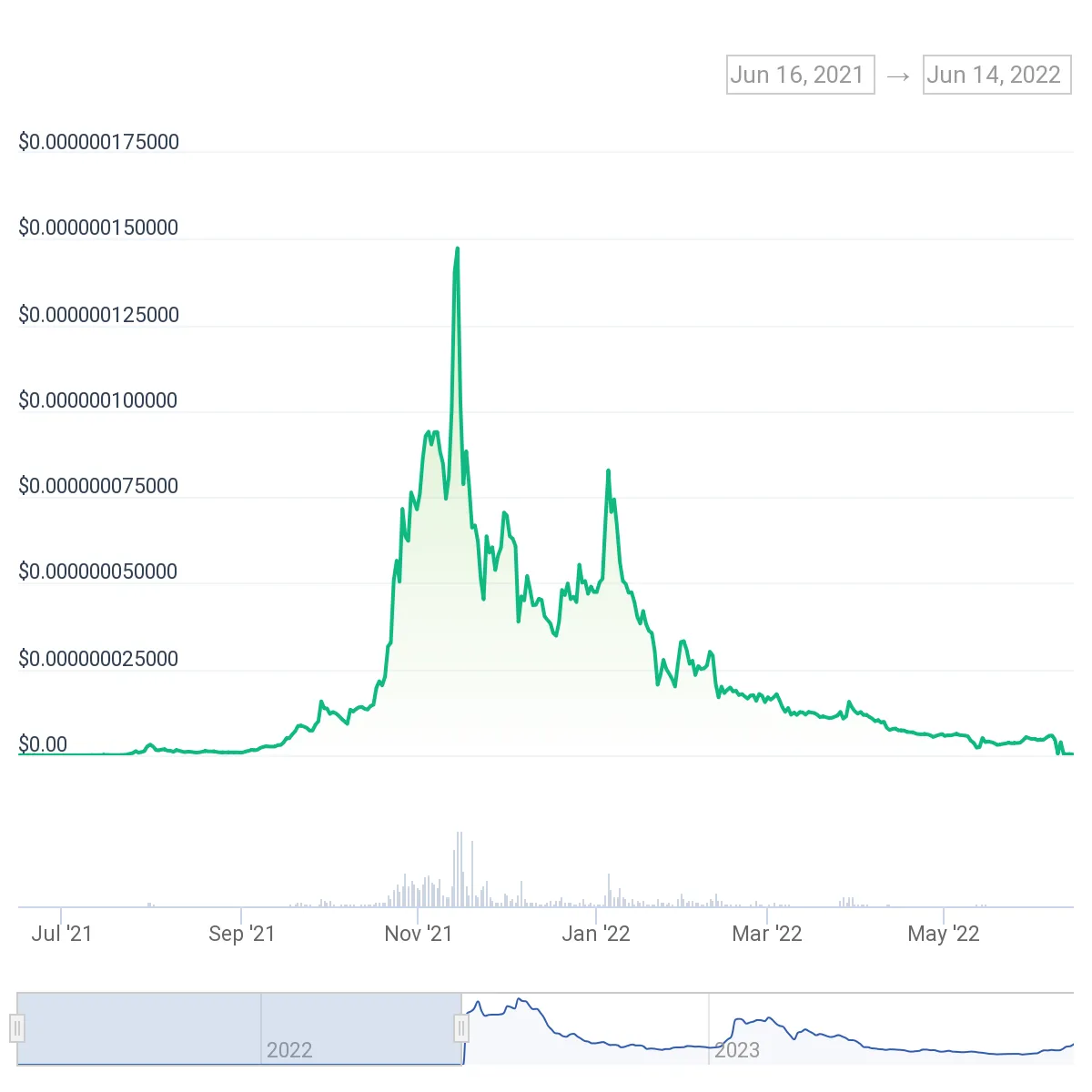 Saitama Inu was launched on May 9, 2021, with a total supply of 1,000,000,000,000,000 SAITAMA. Even with one half of it burned immediately, it still left 500 trillion SAITAMA tokens in circulation.
With this in mind, it is not very surprising that the price of one token was so miniscule. The maximum price it managed to reach during this period was $0.0000001473 on November 14, 2021, the very peak of the bull run.
SAITAMA V2 Price in 2022–2023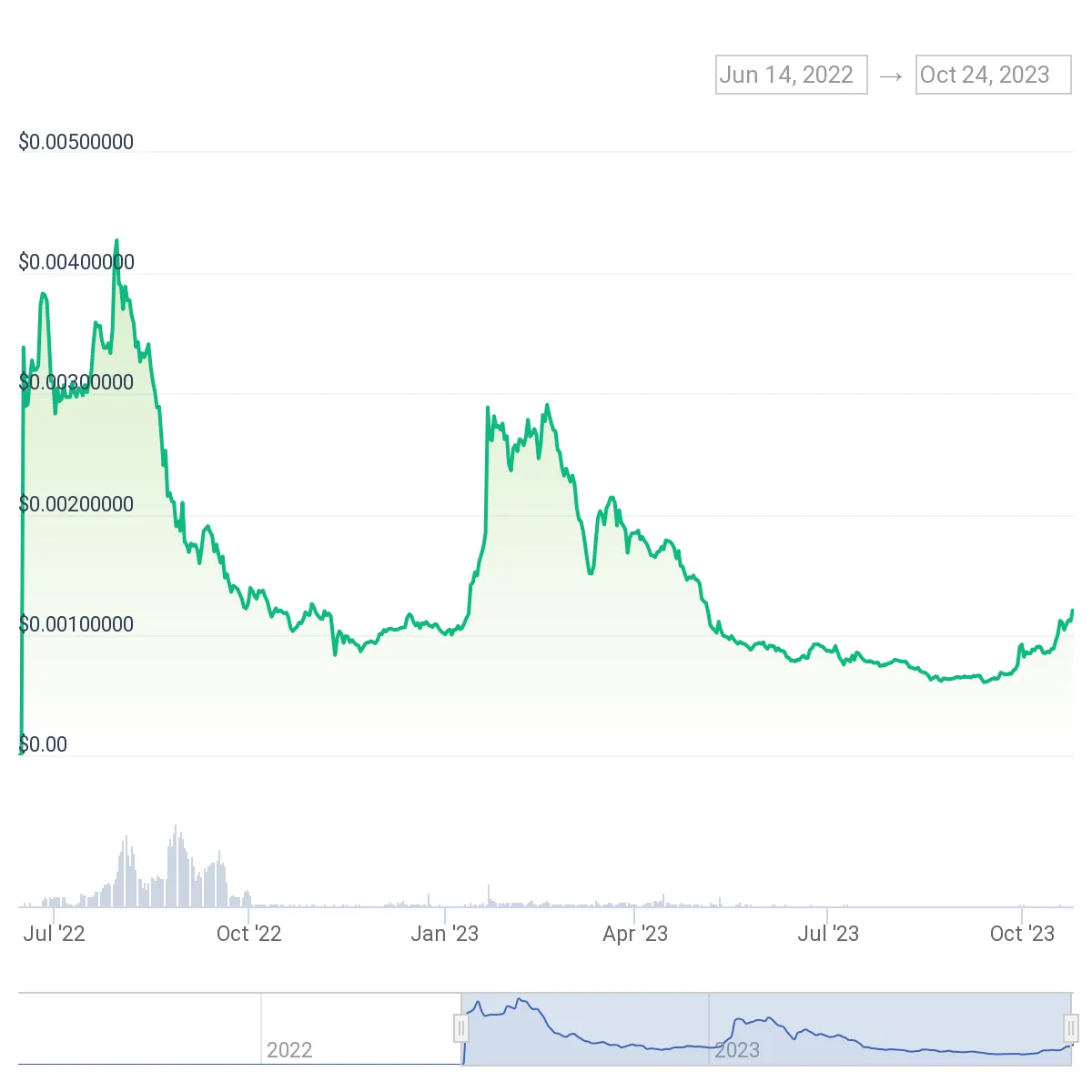 Things changed after the v2 migration when the supply was redenominated and decreased by a million times. This triggered bullish momentum which culminated in SAITAMA reaching its current ATH: $0.00433786 on July 29, 2022.
From there on, however, the price has been in a downtrend. It was briefly disrupted in January 2023, following a pump in Bitcoin, but failed to hold past March.
The price of SAITAMA today at the time of writing is $0.001262 and the coin ranks 374th by market capitalization (according to CoinMarketCap).
What affects the Saitama Token price?
Market Sentiment
Firstly, it is not a surprise that Saitama would be influenced by the sentiment on the crypto market. For the past week, for example, it has grown 22% in tune with the rest of the market.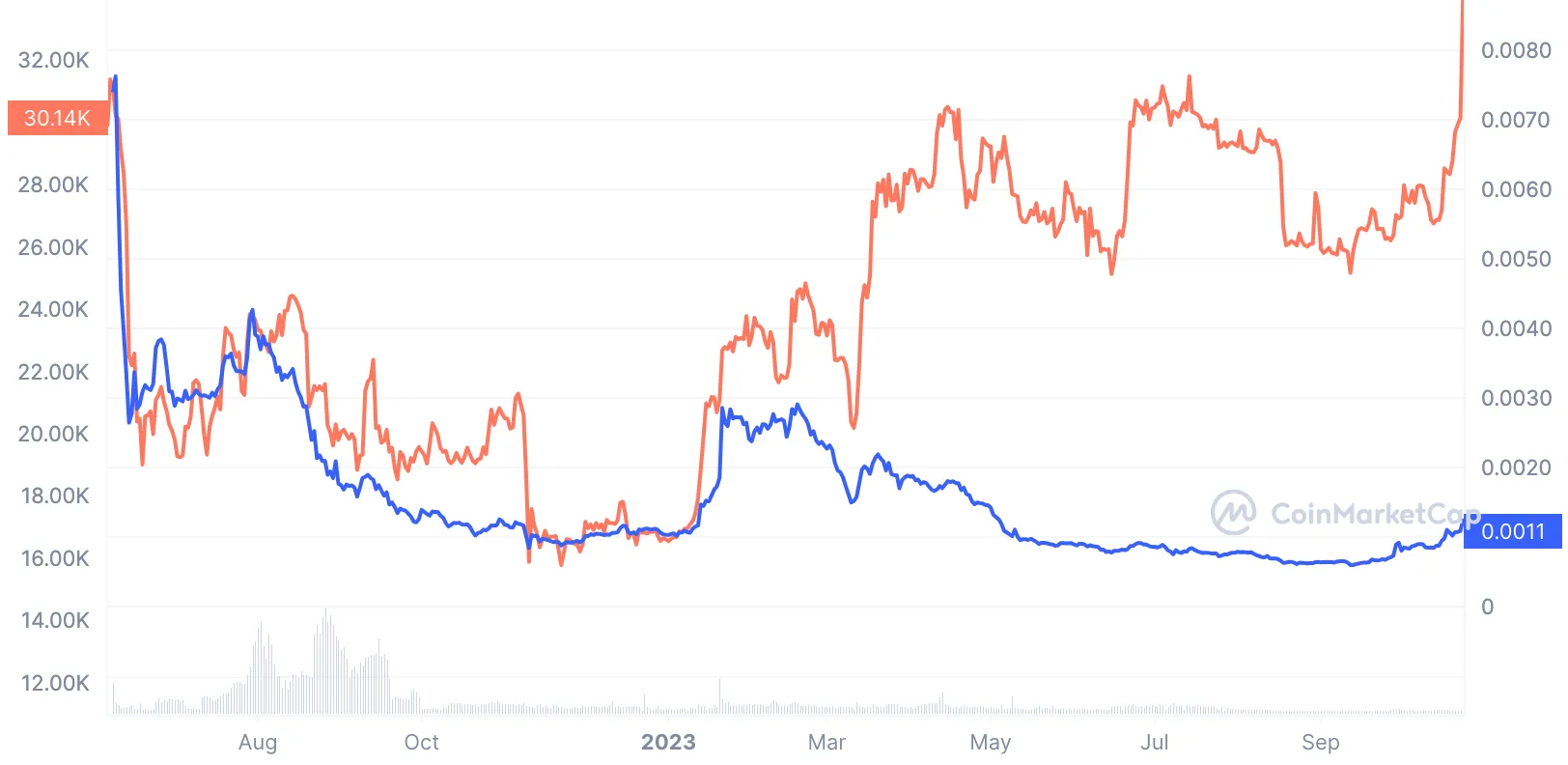 However, saying that the price of all altcoins is directly linked to the price of Bitcoin is not exactly true. The correlation between BTC and SAITAMA price, as seen in the chart above, is often direct but not always.
For instance, the FTX-collapse-induced crash in price in November 2022 was a blip for SAITAMA. Similarly, the yearly growth of Bitcoin did not reach deep into the market to move the price of Saitama up in 2023. Nevertheless, it is safe to say that it would be much easier for SAITAMA to move up in a bull market, and vice versa.
Tokenomics
A portmanteau of "token economics", it is one of the most crucial factors for determining the value and viability of a crypto asset. And Saitama's tokenomics are rather interesting, to say the least.
The initial total supply of Saitama Inu was 1 quadrillion tokens, and half of them have been sent to a burn address — exactly like Shiba Inu (SHIB). However, this is where the similarities start to disappear: the founding Saitama team set aside 5% for marketing and development, locking the remaining 45% in a liquidity pool.
Like many dog coins of that time, Saitama introduced taxes: in addition to the transacted amount, it will charge you 4% extra. 1% will go to burn and reflections (redistribution to holders in proportion to the amount of a token held) each, and 2% more is a so-called sustainability tax.
Taxes coded into the contract in particular can rub some of the crypto community members the wrong way. Those in the Saitama community can defend it by pointing out that at least, they have a clear idea of where these funds end up and what they will fund.
In addition, as we mentioned earlier, the supply of Saitama v2 has been redenominated. It certainly helped to make the price seem higher, as well as made the values easier to grasp.
Ecosystem and Utility
As they position themselves, Saitama is now a project that aims to make waves in the crypto, DeFi, and Web3 industries. Every few days, an announcement of some kind comes out: one of the most recent ones has to do with Saita Logistics. This is a brand-new foray to make shipping crypto-friendlier: they accept crypto assets for payment, including SAITAMA, and claim to optimize the deliveries with AI.
Other outlets for SAITAMA into the real world are Saita Card, a crypto debit card, and Saita Reality — tokenized real estate.
Together with the NFT marketplace FANG, the decentralized exchange SaitaSwap, and the official wallet SaitaPro, this sums up the entirety of the current Saitama token ecosystem. But what an ambitious ecosystem that is! As soon as November 2023, SaitaChain which will eventually house all these blockchain applications is estimated to start its alpha testing phase.
How realistic the roadmap, promising SaitaChain and global partnerships for existing products, is debatable. The past performance of the team casts a shadow of doubt on the future development: there are still a few community members who have not received the SAITAMA v2 airdrop, a year and a half after the release.
Saitama Price Forecast and Analysis by ChangeHero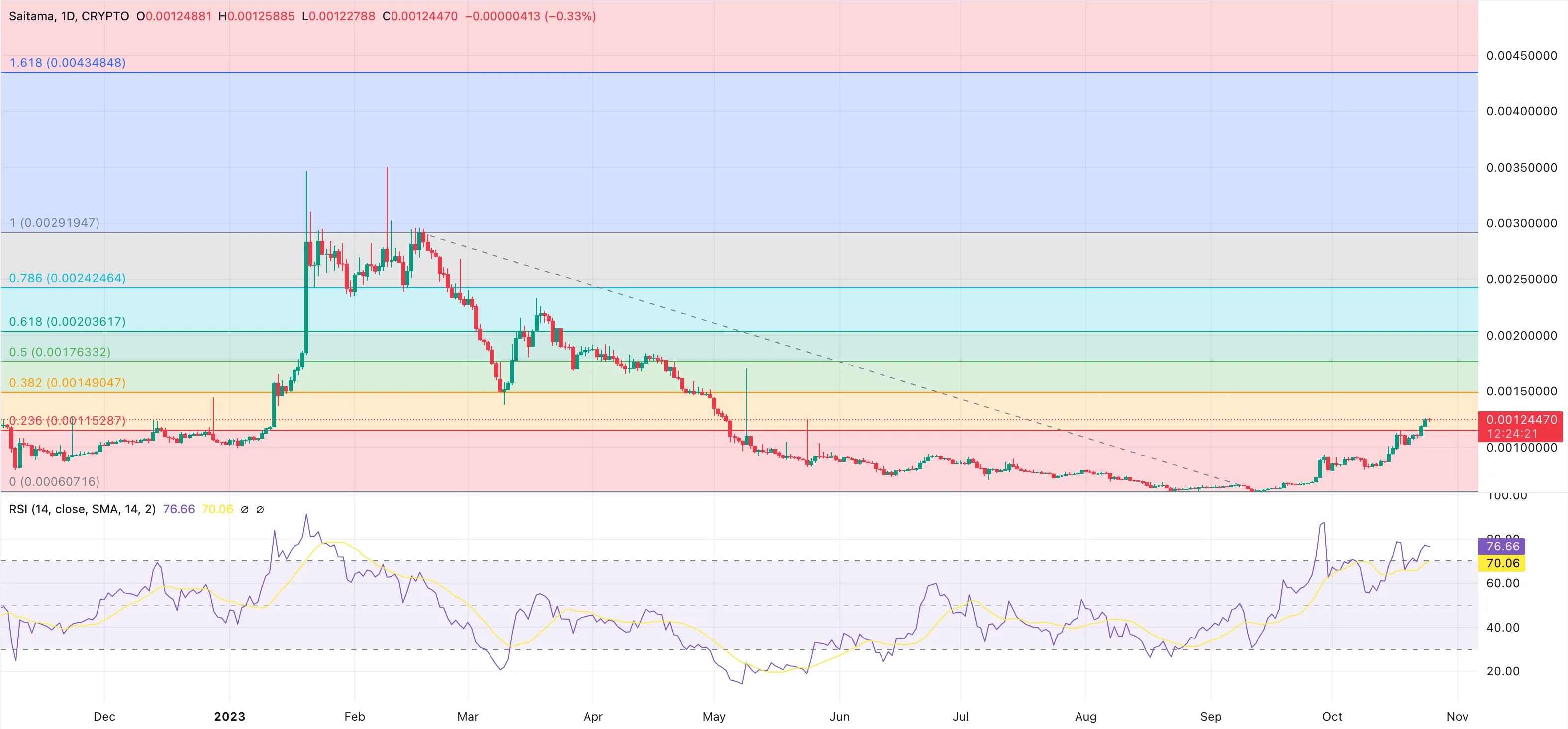 For the technical analysis of SAITAMA price in 2023, we'll take a look at the year so far. After the spectacular flight up to $0.0029, it managed to stay there for a couple of weeks but then tumbled down to the bottom near $0.0006.
At the moment of writing, SAITAMA is doing its best to recover, although the relative strength index (RSI) is flashing overbought. Nevertheless, for the time being, the crossover between the RSI and its simple moving average is on the bullish side.
Saitama has decent chances to find a foothold near 0.236 Fib ($0.00115) but it is increasingly unlikely that the bullish momentum will take its price over further resistances.
Saitama (SAITAMA) Price Prediction 2023
How much will Saitama be worth in the near future? Let's hear what analysts think.
YouTuber Jake Gagain provides updates on Saitama from time to time, being one of the few channels to give unbiased views on it. In his words, SAITAMA's market cap reaching its previous ATH is not impossible. However, he believes the probability of it is extremely low and puts his money where his mouth is.
On the other hand, Petar Jovanović of Captain Altcoin provides a bearish scenario for Saitama in the short term. He believes for the remainder of 2023 and well into early 2024, the price will keep declining. The expected closing price for SAITAMA in 2023 is $0.0008.
Lastly, their fellow pseudonymous analyst Subhash at Crowd Wisdom Live gives a definitively more bullish Saitama price prediction for 2023. If the buying pressure carries SAITAMA up, a rally can take it up $0.0022.
SAITAMA Price Prediction 2024
CoinWire claims the average price of SAITAMA in 2024 will see positive action. The service forecasts Saitama will be trading in the range between a $0.001791 minimum price and a maximum price of $0.002024. This makes the average SAITAMA price next year $0.001908.
According to CoinCheckup, 2024 looks mildly optimistic for SAITAMA holders. In exactly a year from now, they forecast SAITAMA to be changing hands for $0.0024 (+99.34 from now). At the start of the year, its opening average price is expected to reach $0.0013.
An algorithmic forecast by CoinCodex has a surprisingly optimistic Saitama coin price prediction for the following year. In exactly a year, its expected price is $0.002443, and at the start of 2024, it may cost $0.001361.
Saitama Price Prediction 2025, 2028
Expert opinions and estimates are a better fit for the near term. The further we try to look into the future, the more reliable it is to turn to algorithms that use historical analysis.
PricePrediction.net keeps expectations reasonable. According to their SAITAMA price prediction, in 2025 its average trading price range will float around $0.002. In five years, SAITAMA will be trading for $0.006–0.007.
Projections made by Cryptopolitan are more bullish on the Saitama market in the coming years. They see the average price of SAITAMA rise to $0.008 in 2025 and further to $0.025 in 2028.
Digital Coin is not bearish on Saitama's price forecast either but is as moderate as the other two. According to their estimations, on average, SAITAMA in 2025 will be worth $0.00422, possibly rising to $0.00457. Five years from now, it can cost anywhere from $0.00597 to $0.00691.
Saitama Price Prediction 2030, 2033
For the Saitama price forecast at the end of the decade and even ten years in advance, let's refer to historical and algorithmic analysis.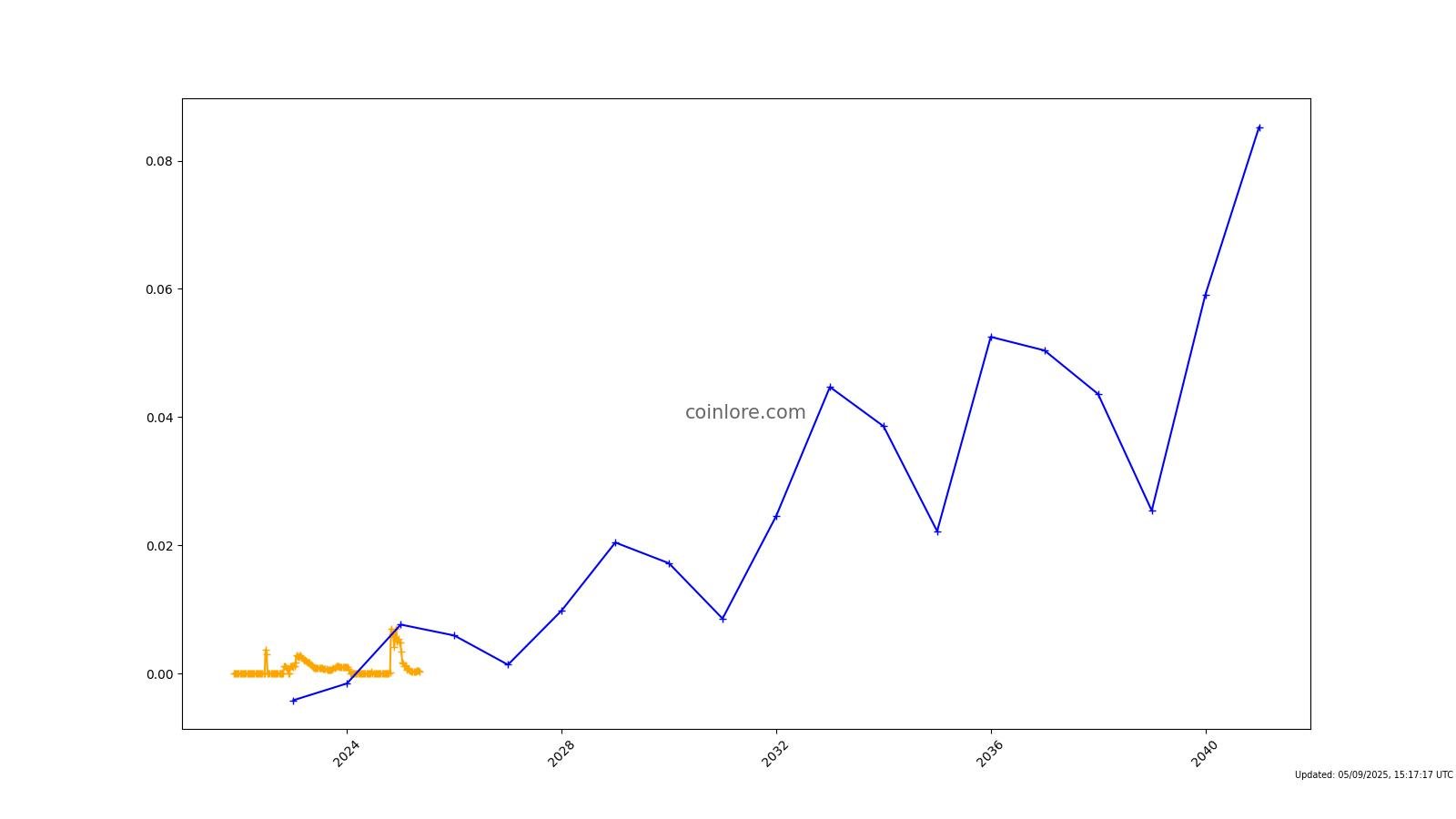 CoinLore's forecast goes the farthest in time, all the way up to 2050. It's balanced out by the noticeable imprecision of their price ranges.
For example, in 2030 they see SAITAMA being worth up to $0.0112573 but dipping as low as $0.0003747 minimum. A similar picture is painted for 2033: the maximum price of SAITAMA will reach $0.0255561 or at the very least, rise to $0.0081328.
AMBCrypto is more definitively bullish on the price rise of SAITAMA. In 2030, its price range will move up to $0.0065–0.0098. By 2033, a whole decade from now, they see the Saitama coin steadily trading above $0.015 and rising up to $0.023 maximum.
One of the most bullish long-term Saitama Inu price predictions out of all reviewed ones has to be the one by Coin Data Flow. In 2030, they foresee SAITAMA for $0.002333–0.008023, but by 2033, SAITAMA will be able to reach as high as $0.027687 (+2,069.33%).
How to Get Saitama v2?
Swap any crypto for Saitama coin (SAITAMA) on ChangeHero! Get SAITAMA at the best rates, in a few steps without obligatory KYC or registration.
Choose the currencies on the home page, amounts, and the type of exchange. Provide your SAITAMA wallet address in the next step and check the details;
Double-check the provided information, read and accept the Terms of Use and Privacy Policy;
Send the cryptocurrency for the swap in a single transaction. In a Fixed Rate transaction, you have 15 minutes before it expires;
Sit back and relax. Now we are doing all the work: checking the incoming transaction and making the exchange as soon as it arrives;
As soon as the exchange has been processed, your SAITAMA is on its way to your wallet. And so, the transaction is finished!
The support team is here to help you 24/7, and in any case, reach them in the chat on the website or through the email: [email protected].
Conclusion
A lot of SAITAMA holders are not impressed with how the price was failing to go up after the v2 update. Nevertheless, it is far from an abandoned project, and the team set out to build an ambitious project.
Share what you think about these predictions on our Telegram, X (Twitter), Reddit, and Facebook, and subscribe to not miss out on any news! For more content to explore the crypto world, take a tour around our blog.
---
Frequently Asked Questions
Will Saitama coin reach $1?
For SAITAMA to reach $1, it has to amass a $44B market cap and get ahead of BNB (according to the CoinMarketCap ranking at the time of writing). BNB Smart Chain has 1 million daily active users (per BSCScan), while SAITAMA averages 100–300 (per Etherscan). Unless the Saitama network finds a similar degree of adoption as BNB, it is not feasible.
How much is the Saitama coin worth today?
The price of SAITAMA today at the time of writing is $0.001262 and the coin ranks 374th by market capitalization (according to CoinMarketCap).
How much will Saitama coin cost in 2025?
Crypto experts' forecasted price of SAITAMA ranges from $0.002 to $0.008 depending on the source and method.
Disclaimer
This article is not a piece of financial or investment advice. No price prediction is guaranteed to provide exact information on the future price.
When dealing with cryptocurrencies, remember that they are extremely volatile and thus, a high-risk investment. Always make sure to stay informed and be aware of those risks. Consider investing in cryptocurrencies only after careful consideration and analysis of your own research and at your own risk.