We all know that sharing is caring, so ChangeHero is willing to share some of our revenue with our crypto Affiliate program participants! Interested? Find out in this article how you can earn Bitcoin by becoming ChangeHero's partner.
About ChangeHero
ChangeHero is an instant cryptocurrency exchange platform. Having started in 2018, we have been providing our users with quick exchanges between supported currencies with low fees and without any logins or registrations.
Just like the whole crypto industry is driven by communities and cooperation, we also see a world of opportunity in cooperating with our users. To help with that, we have developed a crypto affiliate program that will let you earn Bitcoin online by referring users to make exchanges with ChangeHero.
Why ChangeHero?
Because your users benefit
ChangeHero is the go-to place to swap crypto currencies at the best rates on the market. The platform is easy to use and we are trusted by thousands of users worldwide. The support heroes are there to help you 24/7!
Because you benefit
ChangeHero's crypto affiliate program lets you earn more than other ones because:
You earn revenue share in Bitcoin: no conversion, no spread between different altcoins – just pure Bitcoin from any and all exchange transactions;
Basic revenue share starts at 50% but depending on the traffic coming from your site, we are willing to bump it up to 80%!
Partners that install our API can set their own fee: decide for yourself, how much you would like to receive from the transactions made by your customers.
Now that you are ready to join our Partner Heroes, choose the way to earn Bitcoin that suits your platform and needs best.
Referral program
Suits you if
You are a publisher, influencer or just an active member of a community. With referral links and banners, anyone can become a participant of the crypto affiliate program on ChangeHero! Cryptocurrency aggregators are also very welcome to use the links and participate in the program.
How to earn Bitcoin with it?
Apply for the affiliate program, get your referral link and you are good to go! Every time a referral makes a crypto exchange with the help of your link, you earn Bitcoin equivalent to 50% of our revenue from the swap. Extend your affiliate network to spread the word and get Bitcoin risk-free.
Main Features of Referal links
Virtually effortless integration: just share the link on your platform of choice;
Convert views into clicks and revenue.
ChangeHero Widget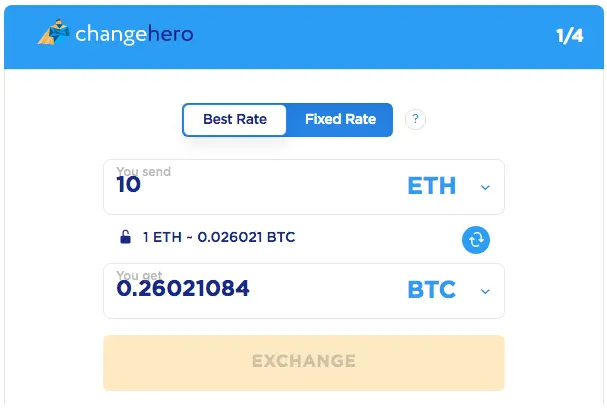 The crypto exchange widget is a handy tool for integrating a crypto-to-crypto exchange function right in the website.
Suits you if
You have a crypto-related Web platform or application. It can be a Web crypto wallet, blockchain explorer, media, coin or token website — you name it!
How to earn Bitcoin with it?
The code string for integrating the widget can be found in the affiliate dashboard. It already comes with the referrer ID built in it, so all you need to do is paste the iframe code to your website's code. The widget is ready to be used!
All the user has to do is to choose a rate, enter the desired input amount and currencies, provide the addresses and tags if needed in the next step, send the assets and wait a bit for the exchange and transfers to be completed. The flow is exactly the same as on ChangeHero's website with the difference that your users will not even have to visit it or leave your site!
Main Features of Widget
Quick and easy integration;
All the functionality available on the main platform;
Same rules of revenue sharing apply.
ChangeHero API
For more advanced uses ChangeHero developers have created ChangeHero API for exchange option integration.
Suits you if
You have a product to integrate the functions of API into: crypto wallet app, payment gateway, any application that can send and receive crypto, basically. The API is versatile and can be applied for a variety of purposes both on front and backend.
How to earn Bitcoin with it?
The cryptocurrency exchange API developed by ChangeHero can be found on our website: Cryptocurrency API for developers. To use it to the full extent, however, you need an API key, which is found in the affiliate dashboard after you register as our partner.
Unlike widget and referral links, API instead of revenue share uses a partner fee earning method. Each successful transaction will yield a commission that is paid to you. The percent that you are willing to charge for API swaps is decided by you.
Main Features of API
Stable and reliable API;
Easy integration with tech support from our team;
Earn Bitcoin by commission.
How to earn Bitcoin?
Enough words, let's get to action! Visit our "For partners" page, click on the "Become Hero Partner" button to open the application form. Check the boxes and provide a valid email address, then click "Register". By doing this, you will send us an application, and we will reach out to you within the day.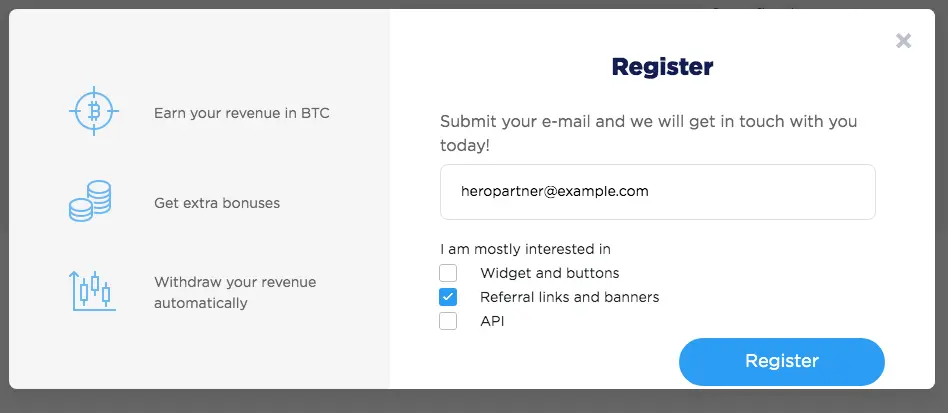 Please note that we might ask you for additional information by email. Nothing too serious — we just want to know our partners better and find a fitting solution to your needs!
Contact us
For any inquiries about our crypto affiliate program, feel free to write to [email protected]. This is the contact in case you are interested in any kind of partnership with ChangeHero, including exchange API integration and listing of coins and tokens on our exchange platform.
How to use the crypto affiliate program dashboard?
Let's suppose you have already been registered as a partner in our crypto affiliate program. This gives you access to your affiliate dashboard — the tool to track your earnings and statistics and a place where you can find the program assets and withdraw the Bitcoin you earned.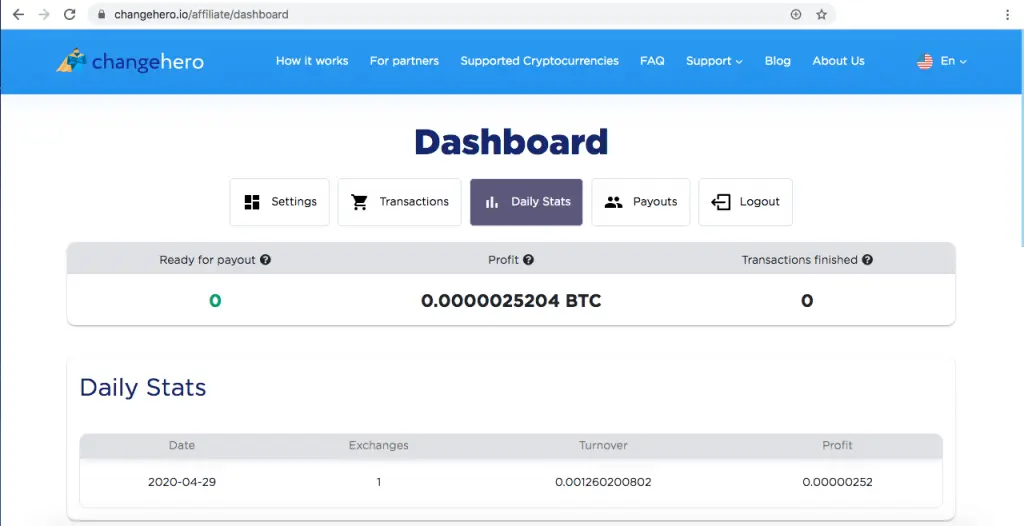 There are four tabs in the crypto affiliate program dashboard:
"Settings": there you can find most of the program's assets — API key, cryptocurrency exchange widget iframe code, referral link. In "Settings" you can also change your password as well. If you have accrued more than 0.05 BTC, you can ask to withdraw them (make sure to let us know your BTC wallet address by writing to

[email protected]

first!), and the team will have the payout processed within a day.
"Transactions": in this tab, you get a detailed breakdown of each transaction your referrals made.
"Daily Stats": go to this tab to see how much your affiliate network has exchanged on each day and how much profit you got from it.
"Payouts": in this tab you can see the history of your withdrawals — the date, amount and the status of payout. Once a payout is processed, we notify you, so no need to check this tab all the time.
Conclusion
ChangeHero crypto affiliate program lets you earn Bitcoin with no investment, free and easy. No matter, if you run a large platform or share the links around, anyone can earn Bitcoin with ChangeHero, so what are you waiting for? Apply at the website and drop us a line at [email protected].
In this article, ChangeHero team told you more about our platform, but we also have other kinds of content to offer!
Subscribe to ChangeHero Blog and follow us on Twitter, Facebook, Reddit, Telegram to be the first to get notified.
---
Learn more:
Quick links: