While the market is still in fear and Bitcoin printed a record eighth weekly red candle in a row, some altcoins like Kyber Network's token still scored some gains. In this article, we will give a Kyber Network price prediction for 2022 and the future, based on its history, news, and fundamentals.
Kyber Network Price Prediction 2022–2030
| | |
| --- | --- |
| Year | Price, USD |
| 2022 | $0.687–5.21 |
| 2023 | $5.04 |
| 2024 | $6.597–9.217 |
| 2025 | $3.74–50 |
| 2030 | $12.52 |
Depending on the source, the Kyber Network price prediction 2022 is varying from $0.687 to $5.21;
By 2025, KNC will gradually be climbing toward $7.20. However, extremely bullish predictions give a target of $50;
KNC can exceed $10 by 2030, according to most sources.
What are Kyber Network and KNC?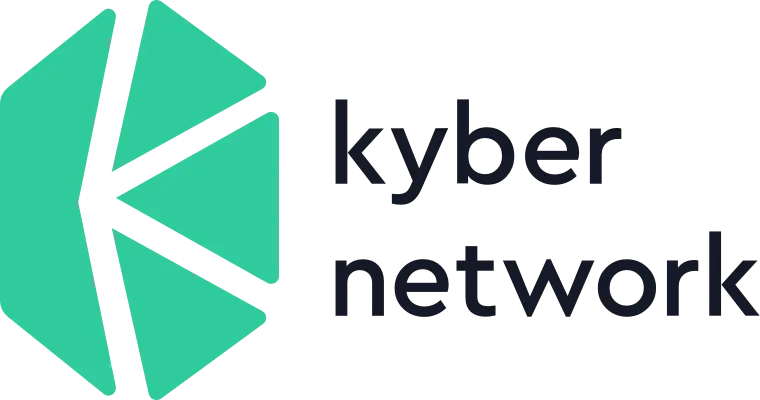 Kyber Network is a liquidity aggregation protocol for DeFi, pooling liquidity from different sources and settling the trades on the Ethereum blockchain. In layman's terms, it is a decentralized exchange aggregator, but what sets it apart from other similar protocols is its dynamic market-making protocol.
Kyber Network's native token, KNC grants access to participation in Kyber DAO. Holders can vote on community proposals, and as is often the case, stake KNC to receive a proportional share of trading fees of the platform.
KNC Price History
Kyber Network Crystal Price in 2017–2021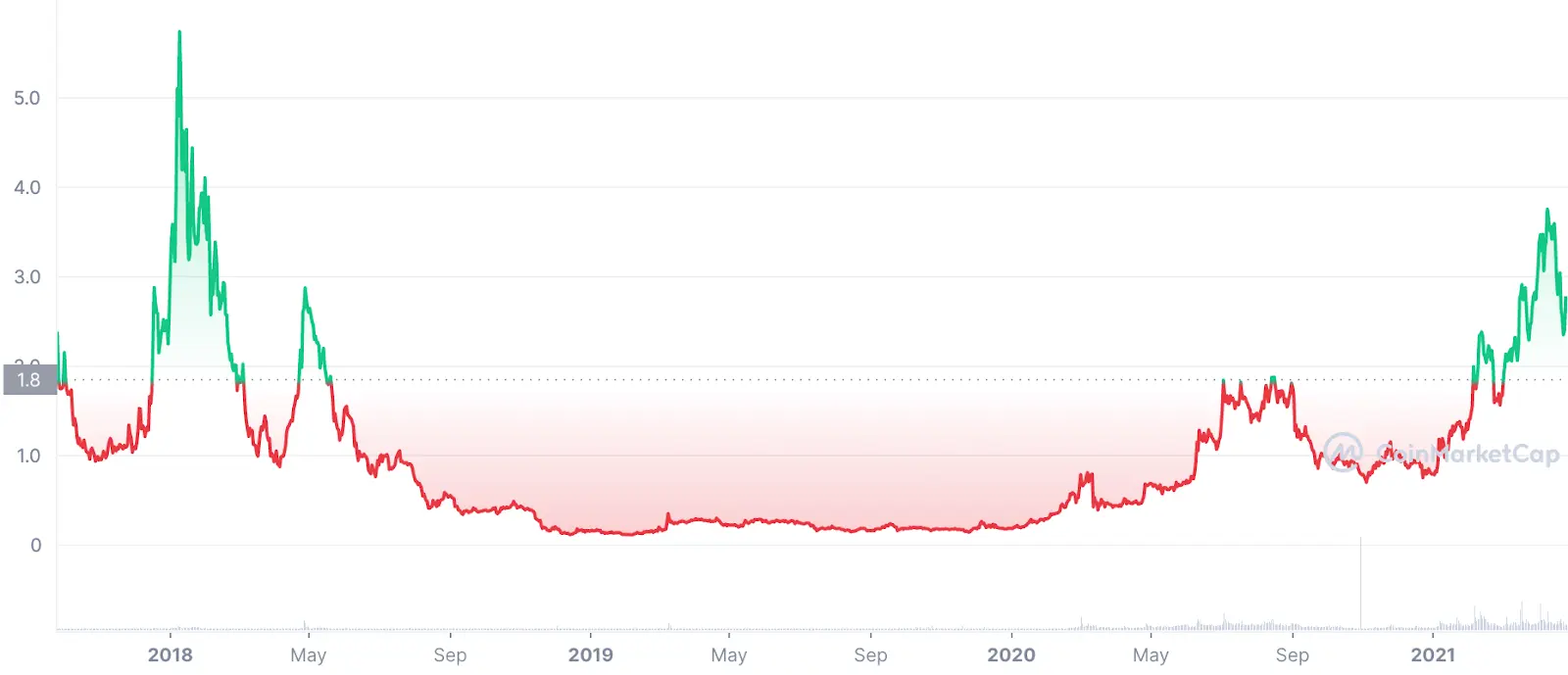 The KNC token launched in September 2017 and started trading in very late 2017. However, it did not stop it from rallying together with Bitcoin and reaching $6 on January 9, 2018.
The realistic price of the token was established in the following years when the euphoria left the crypto market. In 2018 it went down to only $0.15, and in 2019 it did not rise above $0.35.
2020 was a better start for KNC when the market was exiting the "crypto winter". It established an uptrend with local peaks at $0.8 in March, $1.25 in June, and $1.84 in July and August.
However, it really took off just before the migration to an upgraded contract, named Crystal v2. The change removed a hard cap on the supply of KNC and introduced upgradeability to the contract. In early 2021, KNC rapidly rose from $0.8 to $3.76 in April, right before the migration.
Kyber Network Crystal v2 Price in 2021–2022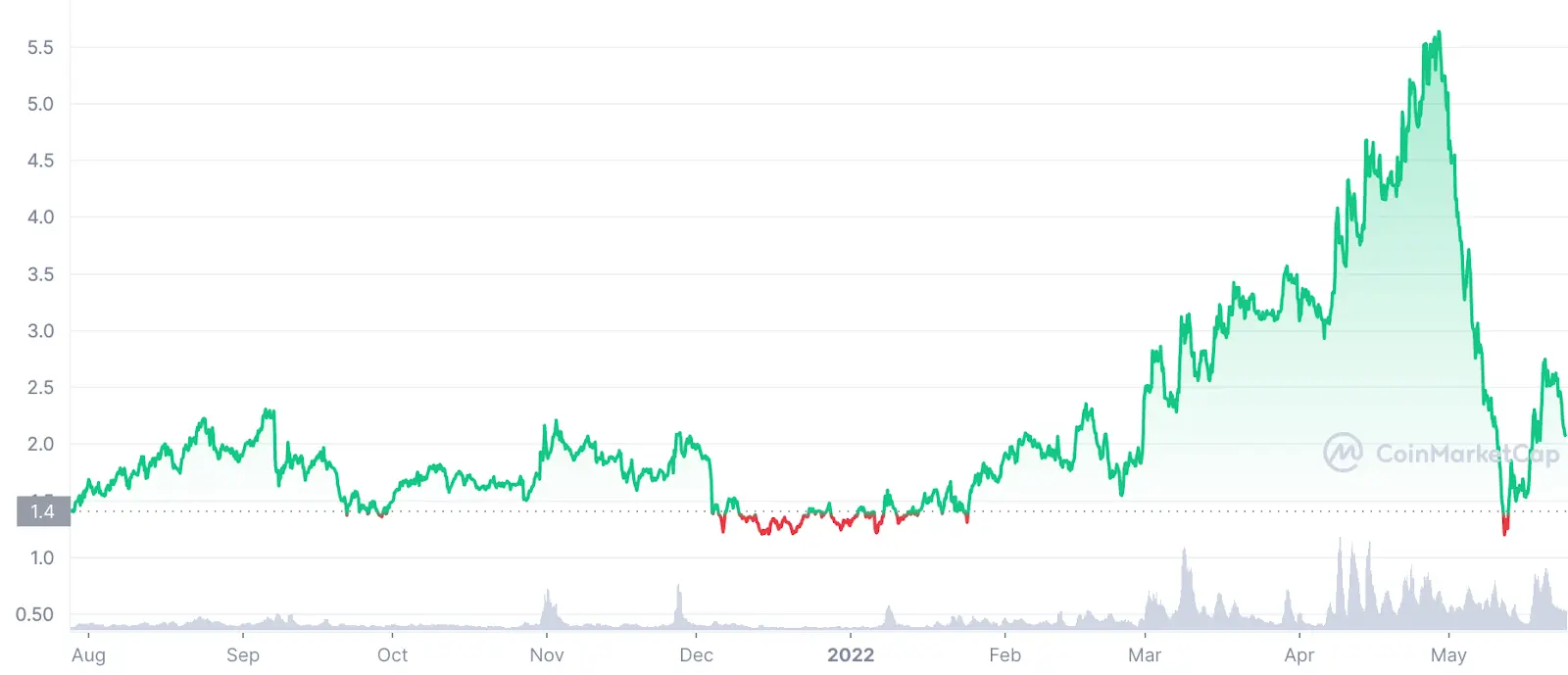 In April 2021, Kyber Network started the migration of its native token to a new contract. The old version is still maintained but was named Kyber Network Crystal Legacy (KNCL) to avoid confusion.
Even in the bull market of 2021, the new KNC token performed well but not spectacularly. Having started at $1.40, it only maxed out at $2.295 in September 2021. At 2021's close it was at a local low of $1.27.
2022 saw the downtrend change to a rally, and KNC's price has been steadily growing. By April 28, 2022, it reached an all-time high for KNC v2: $5.72.
At the time of publishing, KNC's price is $2.04 and the currency ranks 101st on CoinMarketCap. Kyber Network Protocol has $66.9M in total value locked according to DeFi Pulse.
What Influences the Price of KNC?
Protocol Updates
It is a given that protocol updates that improve its functionality are a positive influence on the price of its tokens. The migration to a new contract helped KNC appreciate significantly.
The April rally was accelerated by the Uniswap v3 integration and the launch of liquidity mining on Avalanche. Trading volumes spiked and KNC rose 50% as a result.
Community Voting
The native token KNC is a governance token, which means two things: owning it grants one a right to vote for improvement proposals, and the more tokens one puts into voting, the more weight there is to their vote.
The token contract migration was only one of the significant improvements decided by the community. The latest vote was to determine how the community funds should be spent, and voting was rewarded with more KNC.
Privacy Features
As an on-chain decentralized exchange, Kyber Network is considered to be a more privacy-preserving alternative to centralized ones. Despite all data being open publicly, DEXs do not enforce "know-your-customer" procedures.
Due to this association, it can move in sync with other privacy-centered protocols when the news favors it. For example, analysts noted KNC breaking out and outperforming other altcoins in March 2022, at the onset of the sanctions imposed on Russia after its armed invasion of Ukraine.
KNC News from Twitter
Goodbye to $KNC
Loved trading the moves on it. pic.twitter.com/Ovm62LYWMQ

— ScalpArtist 🎯 (@scalpartistog) May 23, 2022
Trader ScalpArtist shared their unflattering forecast for Crystal: a red candle like that usually strongly signals a trend reversal.
$KNC closed out shorts in lower half of range defined few weeks ago.

It's had a relentless 140% bounce off range lows.

I'll take a stab at shorting this next week if it prints a H4 divergence into key resistance zone followed by rejection. https://t.co/U05RZOejhn pic.twitter.com/WcgARZCYhj

— XO (@Trader_XO) May 21, 2022
Another influencer, XO provided an update into KNC by taking the bounce from a local low into the account. Given that it did not defend the key support, the short-term might favor the bears.
⌛️ Friday's top-performing #coins!

💎 @KyberNetwork $KNC became the best performing asset from TOP-100, gaining 37.45% within the last 24 hours.

💸 @terra_money $UST became the worst-performing asset from TOP-100, losing 14.10% within the last 24 hours.#GoodCryptoTop pic.twitter.com/I1BkSor5Ys

— Good Crypto (@GoodCryptoApp) May 20, 2022
Bearish sentiment seems to dominate the topic but the numbers don't agree. KNC became one of the best-performing altcoins this week.
Kyber Network Price Prediction 2022
There are many ways of forecasting the price of an asset in the future: technical analysis, historical trend projections — even educated guesses based on fundamental analysis. Gov.capital uses algorithmically calculated results grounded in price history: by the end of the year, KNC is forecast to land somewhere in the range between $3.85 and $5.21.
YouTuber Cowboy Trades charts the near future of Kyber Network Crystal. He believes the KNC price can be rejected from the resistance all the way down to $0.687 at first but then recover to $3.12.
TechNewsLeader bases the Kyber Network price prediction on fundamentals; they have higher hopes for KNC long-term but in 2022 it can still appreciate up to $3.20 and even $3.69.
Kyber Network Crystal v2 Price Prediction for 2023–2024
CryptoNewsZ is cautiously optimistic about the future of Kyber Network: they do not think 2023 will become a high note for KNC. It will reasonably appreciate to $5.04 but it largely depends on whether competing protocols overtake the market niche or not.
In 2024, according to WalletInvestor, KNC is predicted to start at near $6.597 and end up somewhere around $9.217.
Kyber Network Price Prediction 2025
Looking into the future so long in advance is nearly impossible and definitely uncertain: PricePrediction.net attempts it with algorithms. According to their projections, the KNC price in 2025 will range from $4.17 to $7.20.
The most bullish prediction has to come from CoinQuora, which is confident Kyber Network Crystal can reach $50 by 2025. It's worth remembering that anything can happen on the crypto market!
And Digital Coin Kyber Network prediction has to take the cake for being the most conservative: they see KNC crossing $3.81 by 2025. The highest monthly average is expected in January 2025, $4.90, and the lowest immediately after — in February, $3.74.
Kyber Network Price Prediction 2030
Predictions about the end of the decade are even more uncertain but Captain Altcoin calculations predict KNC can be trading at $12.52. That is if business proceeds as usual and no unexpected factors cause drastic changes to Kyber Network or the crypto market.
Kyber Network KNC Price Prediction by ChangeHero
In social networks, bearish sentiment around Kyber Network seems to prevail but there are users who believe in its future, as well. This climate in a market can lead to prices being more dependent on market-wide trends and heightened volatility.
In 2022, it will take extraordinary circumstances to push KNC to $6 again and even above, however, this target is absolutely feasible long-term. If Kyber Network Crystal maintains relevance, it can exceed $10 in the next few years.
How to get KNC on ChangeHero?
Now that you know more about Kyber Network, you can easily swap it with 100+ other assets with ChangeHero!
Choose the currencies on the home page, amounts, and the type of exchange. Provide your wallet address in the next step and check the amounts;
Double-check the provided information, read and accept the Terms of Use and Privacy Policy;
Send in a single transaction the sum of the cryptocurrency you will be exchanging. Fixed Rate transactions have a 15-minute limit;
All done? Now we are doing all the work: checking the incoming transaction and doing the exchange as soon as it arrives;
As soon as the exchange has been processed, your KNC is on its way to your wallet.
Customer support is available any time, any day in the chat on the website or through the email: [email protected].
Conclusion
Kyber Network came around in 2017 when the concept of a DEX was still novel. Five years later it still survives in the increasingly diverse DeFi sector but whether it keeps up with the competition is anyone's guess.
Make sure to check out more similar articles from our blog! If you want updates on a daily basis, why not sign up for our Twitter, Facebook, and Telegram?
---
Frequently Asked Questions
What is KNC?
Kyber Network is a decentralized finance trading protocol that aggregates liquidity from different sources. It is managed by a decentralized autonomous organization (KyberDAO) and KNC is its governance token.
What will KNC be worth in 2022?
Experts name very varying figures for KNC price in 2022, from $0.867 to $5.21.
What will KNC be worth in 2030?
Bullish predictions state that the Kyber Network token will be worth $12.52 by 2030.
What will KNC be worth in 2025?
According to forecasts, the KNC token can be worth anywhere between $3.74 to $50.
Is Kyber Network a good investment in 2022?
Experts are divided on whether Kyber Network is a decent investment that will return a profit in both the short and long term. There are both bearish and bullish opinions on the future of Kyber Network.
Disclaimer
This article is not a piece of financial advice. No price prediction is guaranteed to provide exact information on the future price.
When dealing with cryptocurrencies, remember that they are extremely volatile and thus, a high-risk investment. Always make sure to stay informed and be aware of those risks. Consider investing in cryptocurrencies only after careful consideration and analysis and at your own risk.
Learn more:
Quick links: