In the second article in the series devoted to cryptocurrency adoption statistics around the world, we are going to introduce you to the next two regions: Europe and Middle East. Who leads the world in the adoption race? Do formal bans hinder crypto adoption? How did the landscape change in these regions in the past years? Find the answers in this article!
Preface
Last week, we covered Africa and Asia in a similar article. We found out that though African crypto market is the smallest, it is also seeing a huge degree of grassroots adoption of crypto. As for Asia, East Asia and China in particular is one of the most significant crypto markets in the world. However, it seems like crypto is more favored with traders and miners there. Southeast Asia and India are a better example when it comes to mass adoption. For more information on methodology, sources and the degree of mass crypto adoption in Africa and Asia, read the part one article.
2020 Crypto Adoption in Europe
Cryptocurrency Adoption by Country
[table id=11 /] Thanks to Ukraine, Russia and Belarus, Eastern Europe seems to be leading the way in mass crypto adoption in comparison to other regions. Northern and Western Europe do not fall too far behind, although crypto seems to be more favored by professionals. The degree of Bitcoin adoption seems to be higher, because Europeans do not feel the need to transact in dollar-pegged currencies.
Ukraine
In general, the cryptocurrency adoption statistics in Ukraine, weighed against the population, are not too different from Russia. However, since Ukraine is a smaller country, crypto makes more impact on its economy. The leading metrics that led Ukraine to the top spot are on-chain value transfers (global rank 4). Ukraine has a large remittances use case, as many Ukranians go to western European countries as labor migrants. P2P trading volumes have not exceeded 12 million Ukrainian hryvnias weekly since 2019. Ukraine is currently in the process of drafting its first cryptocurrency-related laws. Until recently, the development of this sphere of economic activity had been happening in regulatory uncertainty.
Russia
A recent survey showed that Russia ranks last in terms of trust in government, media and banks. Corruption and seizure of funds are also reported to be commonplace. Paxful reported that the trading volumes in Russia have grown by 350% during the pandemic. The local Bitcoin market is still dominated by LocalBitcoins, though. Cumulative P2P trading volume on these two platforms in RUB in 2020 is on average in range of $7–8 million. All these factors and changes signal favorable conditions for growing in 2020 Bitcoin adoption. Russian government has been sending mixed signals toward cryptocurrency legislation. Earlier this year, a bill giving digital assets legal status was signed, but soon another set of laws was passed that gave cryptocurrencies a very narrow window to be used and held legally.
United Kingdom
Crypto holders in Western Europe tend to favor Bitcoin and hold, the findings of Chainalysis show. The British pound is also in a more comfortable position in relation to USD to make traders pick their local currency over dollar-pegged stablecoins. Nonetheless, the P2P volumes in UK are steadily growing, often even exceeding 1 million GBP weekly: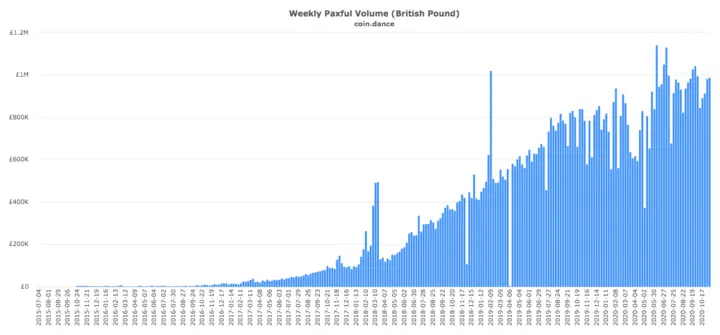 Regulation-wise, the United Kingdom is in an uncertain position. Until recently, there have been two frameworks in place, the one suggested by the European Union and the national one. However, as the UK intends to leave the EU, the authorities will have to complete the national laws regarding crypto to cover all grounds.
Belarus
Belarus ranked third by cryptocurrency adoption statistics in Eastern Europe. It has strong P2P trading activity relative to the size of its economy. According to the Arcane Research report, Belarus accounts for 2.5% of the trading volume in the region, which comes up to $175 thousand USD weekly. East Asia is the main recipient of outgoing on-chain value transfers from Belarus. This could be attributed to Chinese merchants working in the region. Their currency of choice is Tether, which challenges the Bitcoin adoption in the region. Belarus does not have strict or comprehensive regulations regarding crypto, but there have been signs of both favorable and cautious stances on it. On the one hand, in 2017 there was an attempt to start the Park of High Technologies, a national project for tech startups, including crypto-related ones. On the other hand, the authorities have issued several warnings regarding the use of cryptocurrencies in tax evasion and money laundering.
France
French government and businesses were quite open towards blockchain technology and crypto for a few years now. Western Europeans in general seem to prefer centralized exchanges to P2P platforms: in 2020, the weekly volume on Paxful and LocalBitcoins combined hardly passed $7 million weekly. Unlike the UK, France has all the chances to reap the benefits of the EU developing a comprehensive legislative framework by 2023.
2020 Crypto Adoption in Middle East
Cryptocurrency Adoption by Country
[table id=12 /] With the exception of Turkey, none of the region's countries have made it into top-50. Strict regulations might be the main reason. Just a couple of years ago, there was an explicit ban on cryptocurrencies in most of these countries. However, the situation is already changing.
Turkey
Overall, in the region, volumes of value transfers suggest that the use of cryptocurrencies is concentrated in the professional sphere. However, Turkey is an exception to this.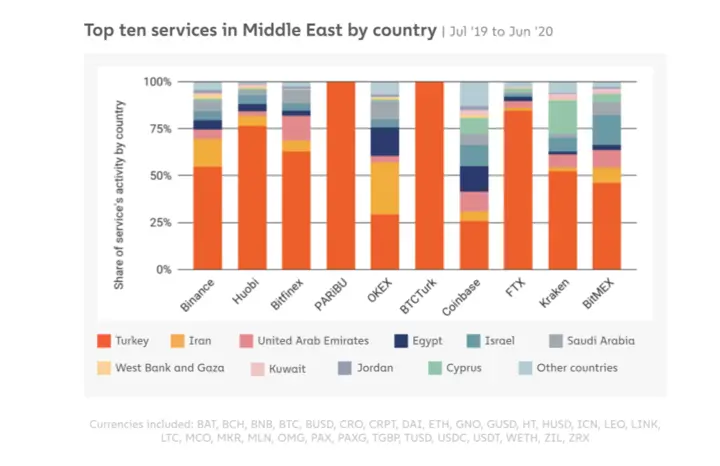 Out of top ten used crypto services, Turkey-based exchanges PARiBU and BTCTurk rank 4th and 6th. The popularity with Turkish users is easily explained by the fact that these exchanges offer pairs with the local currency, Turkish lira. Paxful is gaining traction in the country, and the P2P trading volume for Turkish lira has grown from $55 thousand weekly to $150 thousand. Turkish government also is developing a legal framework for crypto and intends to launch a CBDC tied to the lira.
Iran
In 2018, the devaluation of Iranian rial has driven Bitcoin prices on local P2P exchanges to almost $34k. This data led the researchers to suggest that, volatility of the local currency drives the mass crypto adoption in Iran, much like in many other countries. As of 2020, however, the P2P trading volume is trailing as low as 3 BTC equivalent of Iranian rial weekly. Iran has a high rate of value transfers involving miner addresses because the government treats mining as a licensable business. Iranian authorities are also not too shy to admit that they are planning to develop their own national digital currency to avoid sanctions.
Egypt
In 2020, the Bitcoin Egypt Community saw a rise in popularity in the pandemic. P2P trading volumes have also grown up to 2 million Egyptian pounds weekly: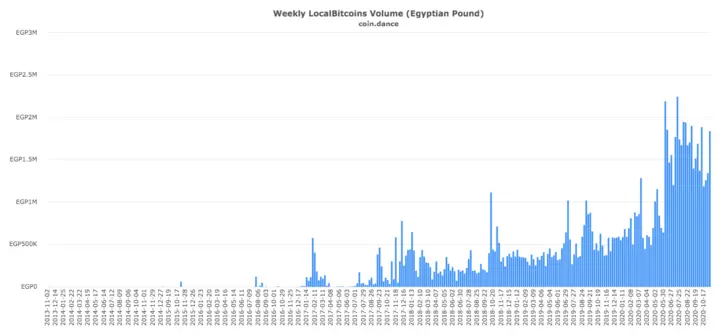 In 2018, cryptocurrencies were declared illegal under Sharia law in Egypt. However, the secular Egyptian law does not criminalize the use of cryptocurrencies. In 2020 Bitcoin adoption is having a revival moment in Egypt.
Cyprus
Cyprus citizens seem to favor centralized exchanges like Kraken and Coinbase over P2P trading platforms. The country has a reputation as a tax haven, so many businesses, including crypto firms, are attracted there. The legal status of cryptocurrencies is not defined by local laws. Moreover, the government has included blockchain into its national development strategy.
United Arab Emirates
Despite being quite low in the global rank, UAE is making significant steps towards adopting blockchain technology and helping crypto businesses. Its Securities and Commodities Authority is currently collecting feedback on the regulations proposal. State-owned corporations lead blockchain-powered projects such as the Digital Silk Road, and the Abu-Dhabi Global Market attracted several crypto enterprises to help them operate in this region.
Key Takeaways
In both Middle East and Europe, with the exception of Eastern Europe, P2P trading seems to be less prevalent than trading professionally on exchanges;
In these regions, more attention is paid to Bitcoin, though dollar-pegged stablecoins also seem to be quite popular (though not as popular as in, say, East Asia);
The main factors contributing to crypto adoption seem to be local currency volatility and legislation. This is most noticeable in the Middle East, but somewhat influences other countries, too;
Remittances and ideological reasons also play a part in swaying the opinion on cryptocurrencies. These factors are most apparent in Eastern Europe: Russia, Ukraine, Belarus;
In the Western European countries, like the UK, cryptocurrencies are more popular as investitions than as means of hedging against inflation or gaining access to the US dollar.
Bottom Line
From the data summed up above, we can try to answer a few burning questions. What percentage of the population owns cryptocurrency? Even in Ukraine, which ranks first in adoption, by all metrics it is less than a few percent. This is why we can't say yet which country adopted cryptocurrency. As of 2020, hardly any nation in the world has fully embraced cryptocurrency. Nevertheless, the process of mass crypto adoption has already begun. This is it for the second article in our November series, but more are coming! Stay tuned for the announcements in ChangeHero Blog and on social media: Twitter, Facebook, Reddit and in Telegram.
---
Learn more:
Quick links: